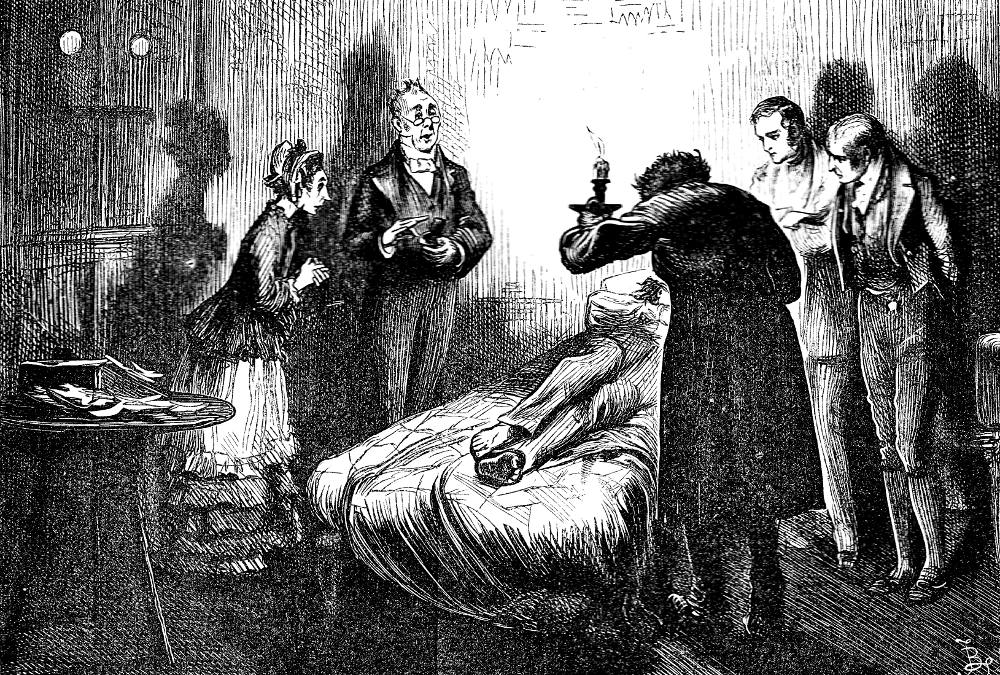 Nemo, eleventh illustration by Fred Barnard in the Household Edition (1873). 8.4 cm high by 13.8 cm wide (3 ¾ by 5 ½ inches), framed, p. 61. Chapter 11. Running head: "Too much opium" (71). [Click on the images to enlarge them.]
Passage Illustrated: The Drug-overdose of the Anonymous Law-writer
The dark young surgeon passes the candle across and across the face and carefully examines the law-writer, who has established his pretensions to his name by becoming indeed No one.
"I knew this person by sight very well," says he. "He has purchased opium of me for the last year and a half. Was anybody present related to him?" glancing round upon the three bystanders.
"I was his landlord," grimly answers Krook, taking the candle from the surgeon's outstretched hand. "He told me once I was the nearest relation he had."
"He has died," says the surgeon, "of an over-dose of opium, there is no doubt. The room is strongly flavoured with it. There is enough here now," taking an old tea-pot from Mr. Krook, "to kill a dozen people."
"Do you think he did it on purpose?" asks Krook.
"Took the over-dose?"
"Yes!" Krook almost smacks his lips with the unction of a horrible interest.
"I can't say. I should think it unlikely, as he has been in the habit of taking so much. But nobody can tell. He was very poor, I suppose?"
"I suppose he was. His room — don't look rich," says Krook, who might have changed eyes with his cat, as he casts his sharp glance around. "But I have never been in it since he had it, and he was too close to name his circumstances to me."
"Did he owe you any rent?"
"Six weeks."
"He will never pay it!" says the young man, resuming his examination. "It is beyond a doubt that he is indeed as dead as Pharaoh; and to judge from his appearance and condition, I should think it a happy release. Yet he must have been a good figure when a youth, and I dare say, good-looking." He says this, not unfeelingly, while sitting on the bedstead's edge with his face towards that other face and his hand upon the region of the heart. "I recollect once thinking there was something in his manner, uncouth as it was, that denoted a fall in life. Was that so?" he continues, looking round. [Chapter XI, "Our Dear Brother," 71]
"Nemo is Latin for no one." Has "nobody" died?
Mr. Tulkinghorn has seen the entry, found it before the law-stationer, read it while the forefinger was coming down the hill.
"What do you call him? Nemo?" says Mr. Tulkinghorn. "Nemo, sir. Here it is. Forty-two folio. Given out on the Wednesday night at eight o'clock, brought in on the Thursday morning at half after nine."
"Nemo!" repeats Mr. Tulkinghorn. "Nemo is Latin for no one." [Chapter X, "The Law-Writer," 68]
Dickens uses the law-writer's assumed name to invest him and his untimely death with an air of mystery. The figure of Captain Hawdon, the law-writer living and dying in drug-addicted poverty, obscurity, and squalor, becomes the novel's first mystery.
In Barnard's group scene he arrays the figures as if they are on stage: the dead man's landlord, Krook, his back towards us, holds the candle that throws the scene into eerie chiaroscuro; the local physician, a Scot (centre), appears to be in charge of the inspection of the corpse, but he soon departs, deferring to the young surgeon (right); Miss Flite (left) has just entered from the landing. By the portmanteau, slightly aloof (right) is the lawyer, Tulkinghorn, distinguished by his old-fashioned breeches. The "dark young man on the other side of the bed" (71), the local surgeon, is significant as ir was he that sold Nemo his opium.
Related Material, including Other Illustrated Editions of
Bleak House
Scanned image, colour correction, sizing, caption, and commentary by Philip V. Allingham. [You may use this image without prior permission for any scholarly or educational purpose, as long as you (1) credit the person who scanned the image, and (2) link your document to this URL in a web document or cite the Victorian Web in a print one.]
Bibliography
"Bleak House — Sixty-one Illustrations by Fred Barnard." Scenes and Characters from the Works of Charles Dickens, Being Eight Hundred and Sixty-six Drawings by Fred Barnard, Gordon Thomson, Hablot Knight Browne (Phiz), J. McL. Ralston, J. Mahoney, H. French, Charles Green, E. G. Dalziel, A. B. Frost, F. A. Fraser, and Sir Luke Fildes. London: Chapman and Hall, 1907.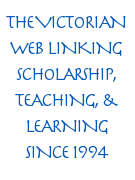 Davis, Paul. Charles Dickens A to Z: The Essential Reference to His Life and Work. New York: Facts On File, 1998.
Dickens, Charles. Bleak House. Illustrated by F. O. C. Darley and John Gilbert. The Works of Charles Dickens. The Household Edition. New York: Sheldon and Company, 1863. Vols. 1-4.
_______. Bleak House. Illustrated by Sol Eytinge, Jr, and engraved by A. V. S. Anthony. 14 vols. Boston: Ticknor & Fields, 1867. VI.
_______. Bleak House, with 61 illustrations by Fred Barnard. Household Edition. London: Chapman and Hall, 1873. IV.
_______. Bleak House. Illustrated by Harry Furniss [28 original lithographs]. The Charles Dickens Library Edition. Vol. 11.​ London: Educational Book, 1910.
_______. Bleak House, ed. Norman Page. Harmondsworth: Penguin, 1971.
Hammerton, J. A. "Chapter 18: Bleak House." The Dickens Picture-Book. The Charles Dickens Library Edition. London: Educational Book, 1910. XVII, 366-97.
Vann, J. Don. "Bleak House, twenty parts in nineteen monthly instalments, October 1846—April 1848." Victorian Novels in Serial. New York: The Modern Language Association, 1985. 69-70.
---
Created 28 February 2021