Deportment — fourteenth illustration by Fred Barnard in the Household Edition (1873). 10.7 cm high by 13.8 cm wide (4 ⅛ by 5 ½ inches), framed, p. 85. Chapter 14. Running head: "Young Mr. Turveydrop and Old Mr. Ditto" (95). [Click on the image to enlarge it.]
Passage Illustrated: A Remnant of the Regency
I found  the academy established in a sufficiently dingy house at the corner of an archway, with busts in all the staircase windows. In the same house there were also established, as I gathered from the plates on the door, a drawing-master, a coal-merchant (there was, certainly, no room for his coals), and a lithographic artist. On the plate which, in size and situation, took precedence of all the rest, I read, MR. TURVEYDROP. The door was open, and the hall was blocked up by a grand piano, a harp, and several other musical instruments in cases, all in progress of removal, and all looking rakish in the daylight. Miss Jellyby informed me that the academy had been lent, last night, for a concert.
We went upstairs — it had been quite a fine house once, when it was anybody's business to keep it clean and fresh, and nobody's business to smoke in it all day — and into Mr. Turveydrop's great room, which was built out into a mews at the back and was lighted by a skylight. It was a bare, resounding room smelling of stables, with cane forms along the walls, and the walls ornamented at regular intervals with painted lyres and little cut-glass branches for candles, which seemed to be shedding their old-fashioned drops as other branches might shed autumn leaves. Several young lady pupils, ranging from thirteen or fourteen years of age to two or three and twenty, were assembled; and I was looking among them for their instructor when Caddy, pinching my arm, repeated the ceremony of introduction. "Miss Summerson, Mr. Prince Turveydrop!"
I curtsied to a little blue-eyed fair man of youthful appearance with flaxen hair parted in the middle and curling at the ends all round his head. He had a little fiddle, which we used to call at school a kit, under his left arm, and its little bow in the same hand. His little dancing-shoes were particularly diminutive, and he had a little innocent, feminine manner which not only appealed to me in an amiable way, but made this singular effect upon me, that I received the impression that he was like his mother and that his mother had not been much considered or well used.
"I am very happy to see Miss Jellyby's friend," he said, bowing low to me. "I began to fear," with timid tenderness, "as it was past the usual time, that Miss Jellyby was not coming."
"I beg you will have the goodness to attribute that to me, who have detained her, and to receive my excuses, sir," said I.
"Oh, dear!" said he.
"And pray," I entreated, "do not allow me to be the cause of any more delay."
With that apology I withdrew to a seat between Peepy (who, being well used to it, had already climbed into a corner place) and an old lady of a censorious countenance whose two nieces were in the class and who was very indignant with Peepy's boots. Prince Turveydrop then tinkled the strings of his kit with his fingers, and the young ladies stood up to dance. Just then there appeared from a side-door old Mr. Turveydrop, in the full lustre of his deportment.
He was a fat old gentleman with a false complexion, false teeth, false whiskers, and a wig. He had a fur collar, and he had a padded breast to his coat, which only wanted a star or a broad blue ribbon to be complete. He was pinched in, and swelled out, and got up, and strapped down, as much as he could possibly bear. He had such a neckcloth on (puffing his very eyes out of their natural shape), and his chin and even his ears so sunk into it, that it seemed as though he must inevitably double up if it were cast loose. He had under his arm a hat of great size and weight, shelving downward from the crown to the brim, and in his hand a pair of white gloves with which he flapped it as he stood poised on one leg in a high-shouldered, round-elbowed state of elegance not to be surpassed. He had a cane, he had an eye-glass, he had a snuff-box, he had rings, he had wristbands, he had everything but any touch of nature; he was not like youth, he was not like age, he was not like anything in the world but a model of deportment. [Chapter XIV, "Deportment," 96]
Commentary: A Fashionable Relic of the Previous Era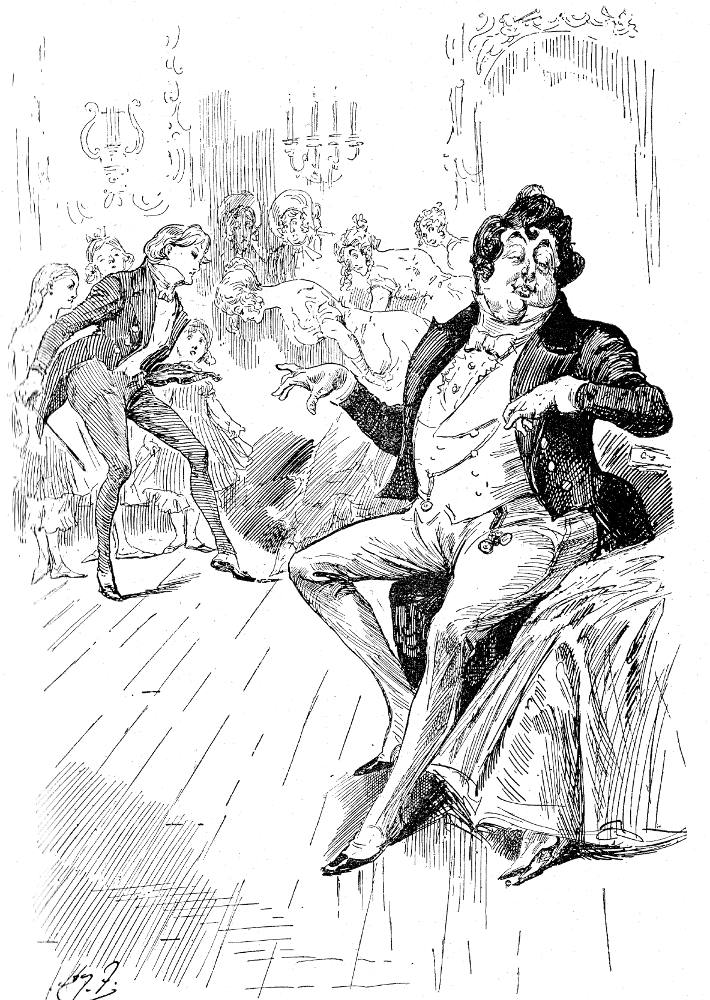 Harry Furniss's lithograph of the Regency Master of Deportment and his musical son for the Charles Dickens Library Edition: The Turveydrops, Senior and Junior (1910).
The Regency revenant and his pleasant son have been the subject of every illustrator from the original Phiz serial illustrations of 1852-53 to the Charles Dickens Library Edition of 1910. The superannuated Regency buck who has modelled himself on the First Gentleman of Europe, the Prince Regent (afterwards, King George IV), demonstrates like his model the triumph of style over substance. The indolent senior Turveydrop had lived on his wife's exertions until she died from overwork, whereupon he took up sponging off his son, the musician and dancing-master whom he christened "Prince" in deference to his model of deportment and fashion. Like his mother, Prince maintains his father in comfort and style by over-working himself in running the Newman Street Dancing Academy. The job of the illustrator is challenging since Turveydrop must look elegant, but must reveal himself to be egotistical, exploitative — and near-sighted. The characteristic posture is therefore looking down and upon his own accoutrements rather than at others, as in the Furniss treatment The Turveydrops, Senior and Junior (1910).
The later illustrators such as Furniss and Sol Eytinge, Junior, have followed Phiz's notion of exaggerating the physical bulk of Mr. Tturveydrop to suggest his massive egotism. However, whereas Phiz has contextualized the dominating figure of the master of deportment in The Dancing School (June 1852) and A model of parental deportment (October 1852), but Eytinge merely juxtaposes the slight son with the super-sized father without even suggesting the activities of the dancing academy in the background.
Other​Illustrations​of The Turveydrops, 1852-1910
​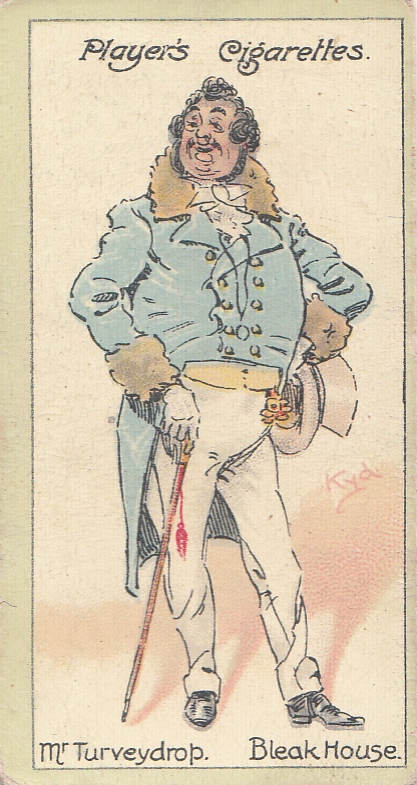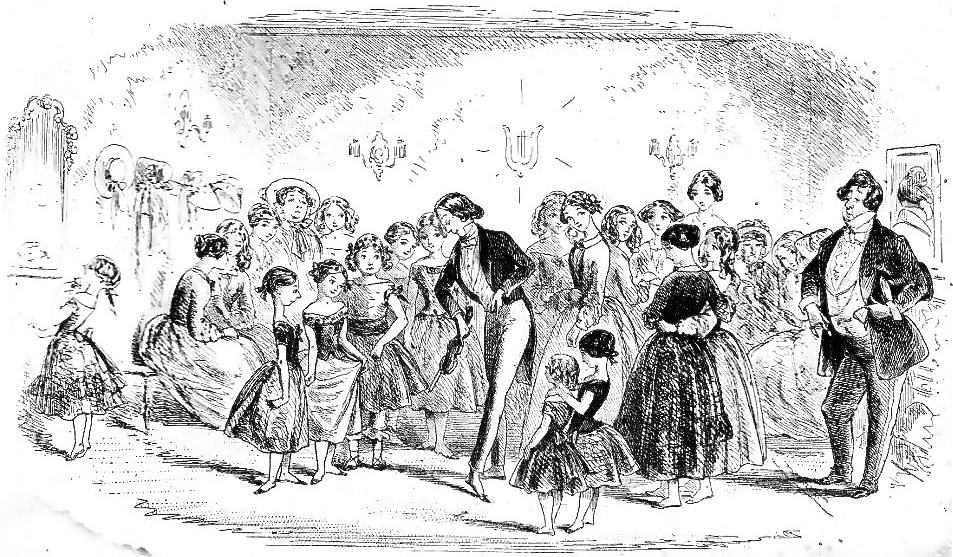 ​
​
Left: The Kyd wartercolour study of the Regency Master of Deportment for Player's Cigarette Card No. 47, Mr. Turveydrop (1910). Centre: Phiz's original serial illustration of the school of deportment in full swing: The Dancing School (July 1852). Right: Sol Eytinge, Jr.'s 1867 Diamond Edition of the Turveydrops at the Newman Street Academy: Mr. Turveydrop and his Son.
Related Material, including Other Illustrated Editions of
Bleak House
Related Material, including Other Illustrated Editions of
Bleak House
Scanned image, colour correction, sizing, caption, and commentary by Philip V. Allingham. [You may use this image without prior permission for any scholarly or educational purpose, as long as you (1) credit the person who scanned the image, and (2) link your document to this URL in a web document or cite the Victorian Web in a print one.]
Bibliography
"Bleak House — Sixty-one Illustrations by Fred Barnard." Scenes and Characters from the Works of Charles Dickens, Being Eight Hundred and Sixty-six Drawings by Fred Barnard, Gordon Thomson, Hablot Knight Browne (Phiz), J. McL. Ralston, J. Mahoney, H. French, Charles Green, E. G. Dalziel, A. B. Frost, F. A. Fraser, and Sir Luke Fildes. London: Chapman and Hall, 1907.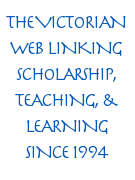 Davis, Paul. Charles Dickens A to Z: The Essential Reference to His Life and Work. New York: Facts On File, 1998.
Dickens, Charles. Bleak House. Illustrated by F. O. C. Darley and John Gilbert. The Works of Charles Dickens. The Household Edition. New York: Sheldon and Company, 1863. Vols. 1-4.
_______. Bleak House. Illustrated by Sol Eytinge, Jr, and engraved by A. V. S. Anthony. 14 vols. Boston: Ticknor & Fields, 1867. VI.
_______. Bleak House, with 61 illustrations by Fred Barnard. Household Edition. London: Chapman and Hall, 1873. IV.
_______. Bleak House. Illustrated by Harry Furniss [28 original lithographs]. The Charles Dickens Library Edition. Vol. 11.​ London: Educational Book, 1910.
_______. Bleak House, ed. Norman Page. Harmondsworth: Penguin, 1971.
Hammerton, J. A. "Chapter 18: Bleak House." The Dickens Picture-Book. The Charles Dickens Library Edition. London: Educational Book, 1910. XVII, 366-97.
Vann, J. Don. "Bleak House, twenty parts in nineteen monthly instalments, October 1846—April 1848." Victorian Novels in Serial. New York: The Modern Language Association, 1985. 69-70.
---
Created 2 March 2021