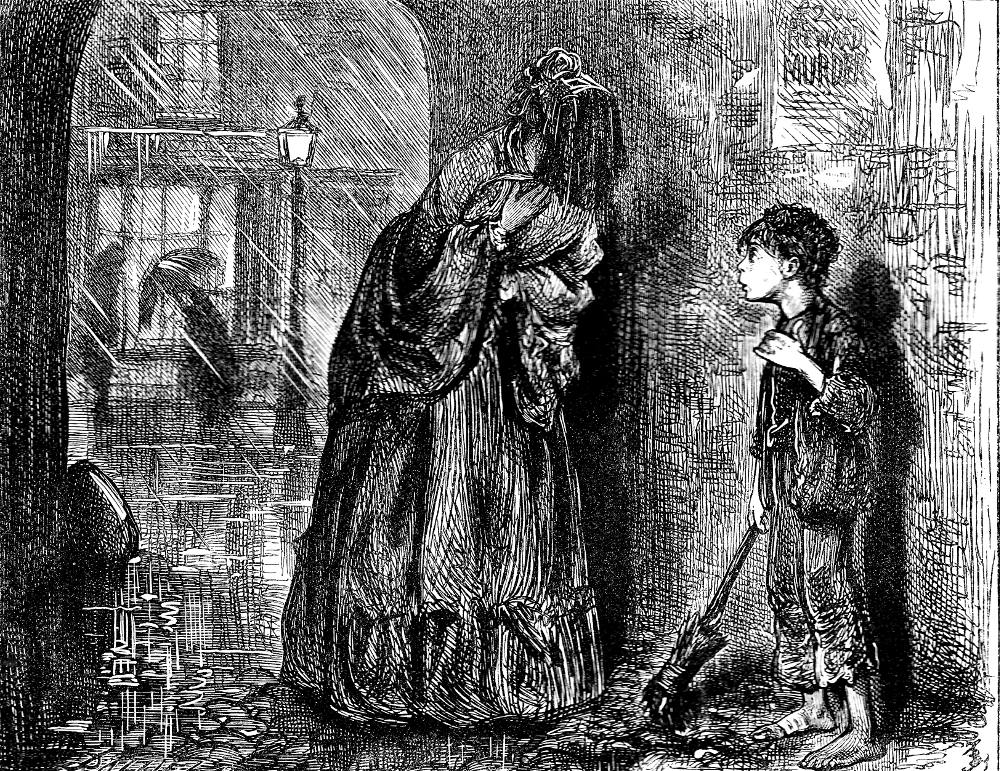 "I'm fly," says Jo. "But fen larks, you know. Stow hooking it!" — sixteenth illustration by Fred Barnard in the Household Edition (1873). 10.7 cm high by 13.8 cm wide (4 ¼ by 5 ½ inches), framed, p. 101. Chapter 16. Running head: "Jo and the Jolly Servant" (113). [Click on the image to enlarge it.]
Passage Illustrated: Lady Dedlock's Clandestine Expedition to Bell Yard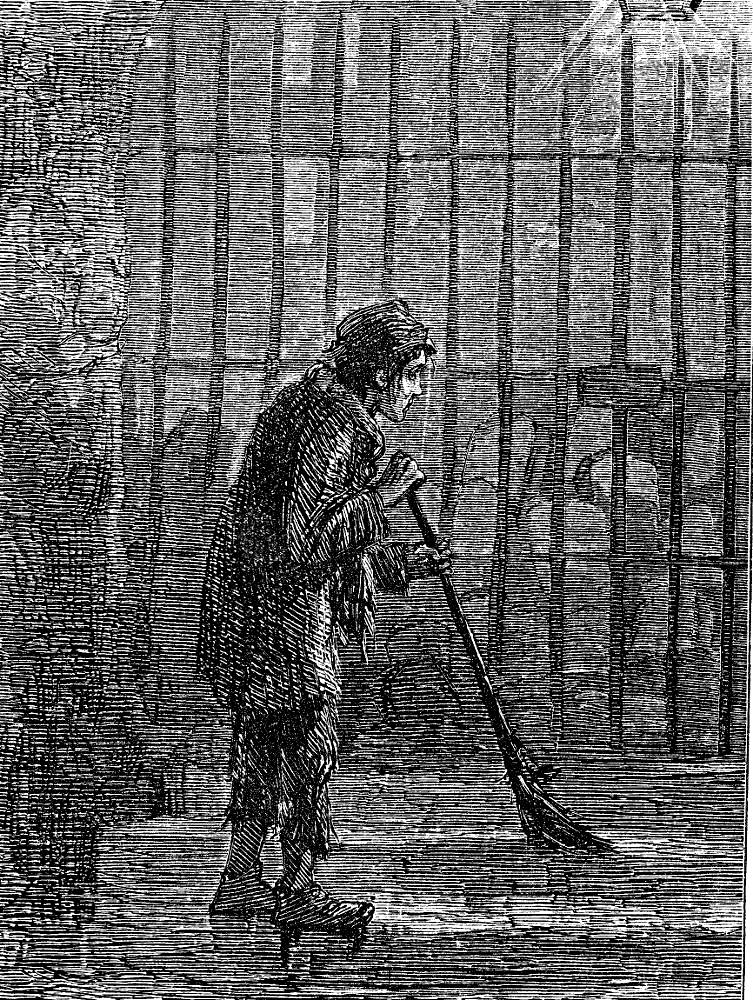 Eytinge's study the Cockney crossing-sweeper includes his looking into the cemetary where Nemo has recently been interred: Jo (1867).
"Come farther up."
"You mean about the man?" says Jo, following. "Him as wos dead?"
"Hush! Speak in a whisper! Yes. Did he look, when he was living, so very ill and poor?"
"Oh, jist!" says Jo.
"Did he look like — not like you?" says the woman with abhorrence.
"Oh, not so bad as me," says Jo. "I'm a reg'lar one I am! You didn't know him, did you?"
"How dare you ask me if I knew him?"
"No offence, my lady," says Jo with much humility, for even he has got at the suspicion of her being a lady.
"I am not a lady. I am a servant."
"You are a jolly servant!" says Jo without the least idea of saying anything offensive, merely as a tribute of admiration.
"Listen and be silent. Don't talk to me, and stand farther from me! Can you show me all those places that were spoken of in the account I read? The place he wrote for, the place he died at, the place where you were taken to, and the place where he was buried? Do you know the place where he was buried?"
Jo answers with a nod, having also nodded as each other place was mentioned.
"Go before me and show me all those dreadful places. Stop opposite to each, and don't speak to me unless I speak to you. Don't look back. Do what I want, and I will pay you well."
Jo attends closely while the words are being spoken; tells them off on his broom-handle, finding them rather hard; pauses to consider their meaning; considers it satisfactory; and nods his ragged head.
"I'm fly," says Jo. "But fen larks, you know. Stow hooking it!"
"What does the horrible creature mean?" exclaims the servant, recoiling from him.
"Stow cutting away, you know!" says Jo.
"I don't understand you. Go on before! I will give you more money than you ever had in your life."
Jo screws up his mouth into a whistle, gives his ragged head a rub, takes his broom under his arm, and leads the way, passing deftly with his bare feet over the hard stones and through the mud and mire. [Chapter XVI, "Deportment," 113]
Other​ Illustrations​ of Lady Dedlock's Clandestine Expedition, 1852-1910
​
​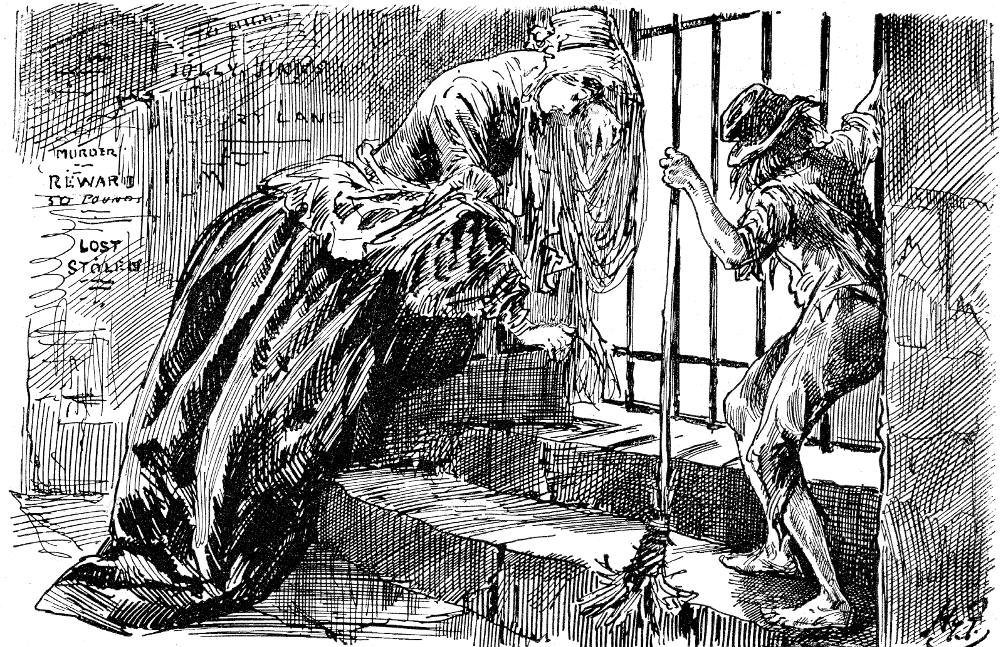 Left: Phiz's original serial illustration of Lady Dedlock's expedition with Jo in Bell Yard: Consecrated Ground (July 1852). Right: Harry Furniss's 1910 Charles Dickens Library Edition full-page lithograph of the same scene: Lady Dedlock and Jo.
Related Material, including Other Illustrated Editions of
Bleak House
Scanned image, colour correction, sizing, caption, and commentary by Philip V. Allingham. [You may use this image without prior permission for any scholarly or educational purpose, as long as you (1) credit the person who scanned the image, and (2) link your document to this URL in a web document or cite the Victorian Web in a print one.]
Bibliography
"Bleak House — Sixty-one Illustrations by Fred Barnard." Scenes and Characters from the Works of Charles Dickens, Being Eight Hundred and Sixty-six Drawings by Fred Barnard, Gordon Thomson, Hablot Knight Browne (Phiz), J. McL. Ralston, J. Mahoney, H. French, Charles Green, E. G. Dalziel, A. B. Frost, F. A. Fraser, and Sir Luke Fildes. London: Chapman and Hall, 1907.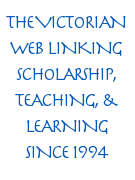 Davis, Paul. Charles Dickens A to Z: The Essential Reference to His Life and Work. New York: Facts On File, 1998.
Dickens, Charles. Bleak House. Illustrated by F. O. C. Darley and John Gilbert. The Works of Charles Dickens. The Household Edition. New York: Sheldon and Company, 1863. Vols. 1-4.
_______. Bleak House. Illustrated by Sol Eytinge, Jr, and engraved by A. V. S. Anthony. 14 vols. Boston: Ticknor & Fields, 1867. VI.
_______. Bleak House, with 61 illustrations by Fred Barnard. Household Edition. London: Chapman and Hall, 1873. IV.
_______. Bleak House. Illustrated by Harry Furniss [28 original lithographs]. The Charles Dickens Library Edition. Vol. 11.​ London: Educational Book, 1910.
_______. Bleak House, ed. Norman Page. Harmondsworth: Penguin, 1971.
Hammerton, J. A. "Chapter 18: Bleak House." The Dickens Picture-Book. The Charles Dickens Library Edition. London: Educational Book, 1910. XVII, 366-97.
Vann, J. Don. "Bleak House, twenty parts in nineteen monthly instalments, October 1846—April 1848." Victorian Novels in Serial. New York: The Modern Language Association, 1985. 69-70.
---
Created 3 March 2021