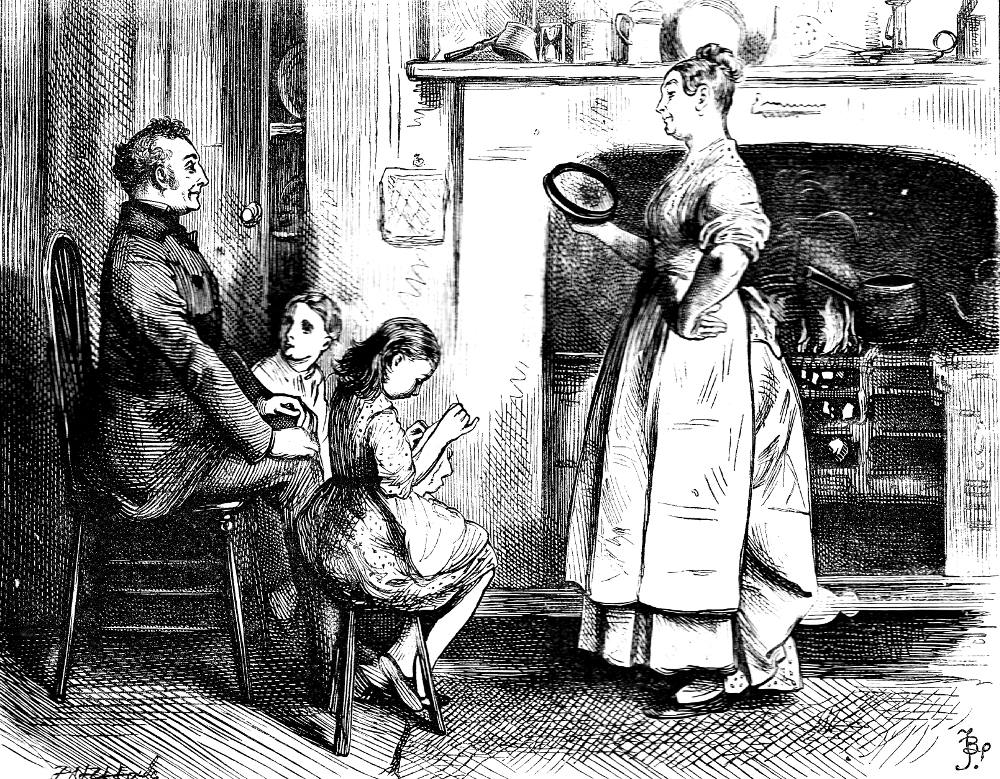 "I believe you!" says Mrs. Bagnet. "He's a Briton. That's what Woolwich is. A Briton!" — twenty-sixth illustration by Fred Barnard in the Household Edition (1873). 10.8 cm high by 13.7 cm wide (4 ⅛ by 5 ½ inches), framed, p. 181. Chapter 27. Running head: "The Old Girl" (193). [Click on the images to enlarge them.]
Passage Illustrated: Mr. George consults the Bagnets about Tulkinghorn's Request
By the cloisterly Temple, and by Whitefriars (there, not without a glance at Hanging-Sword Alley, which would seem to be something in his way), and by Blackfriars Bridge, and Blackfriars Road, Mr. George sedately marches to a street of little shops lying somewhere in that ganglion of roads from Kent and Surrey, and of streets from the bridges of London, centring in the far-famed elephant who has lost his castle formed of a thousand four-horse coaches to a stronger iron monster than he, ready to chop him into mince-meat any day he dares. To one of the little shops in this street, which is a musician's shop, having a few fiddles in the window, and some Pan's pipes and a tambourine, and a triangle, and certain elongated scraps of music, Mr. George directs his massive tread. And halting at a few paces from it, as he sees a soldierly looking woman, with her outer skirts tucked up, come forth with a small wooden tub, and in that tub commence a-whisking and a-splashing on the margin of the pavement, Mr. George says to himself, "She's as usual, washing greens. I never saw her, except upon a baggage-waggon, when she wasn't washing greens!"
The subject of this reflection is at all events so occupied in washing greens at present that she remains unsuspicious of Mr. George's approach until, lifting up herself and her tub together when she has poured the water off into the gutter, she finds him standing near her. Her reception of him is not flattering.
"George, I never see you but I wish you was a hundred mile away!"
The trooper, without remarking on this welcome, follows into the musical-instrument shop, where the lady places her tub of greens upon the counter, and having shaken hands with him, rests her arms upon it.
"I never," she says, "George, consider Matthew Bagnet safe a minute when you're near him. You are that restless and that roving —"
"Yes! I know I am, Mrs. Bagnet. I know I am."
"You know you are!" says Mrs. Bagnet. "What's the use of that? WHY are you?"
"The nature of the animal, I suppose," returns the trooper good-humouredly.
"Ah!" cries Mrs. Bagnet, something shrilly. "But what satisfaction will the nature of the animal be to me when the animal shall have tempted my Mat away from the musical business to New Zealand or Australey?"
Mrs. Bagnet is not at all an ill-looking woman. Rather large-boned, a little coarse in the grain, and freckled by the sun and wind which have tanned her hair upon the forehead, but healthy, wholesome, and bright-eyed. A strong, busy, active, honest-faced woman of from forty-five to fifty. Clean, hardy, and so economically dressed (though substantially) that the only article of ornament of which she stands possessed appear's to be her wedding-ring, around which her finger has grown to be so large since it was put on that it will never come off again until it shall mingle with Mrs. Bagnet's dust. . . . .
"And how's young Woolwich?" says Mr. George.
"Ah! There now!" cries Mrs. Bagnet, turning about from her saucepans (for she is cooking dinner) with a bright flush on her face. "Would you believe it? Got an engagement at the theayter, with his father, to play the fife in a military piece."
"Well done, my godson!" cries Mr. George, slapping his thigh.
"I believe you!" says Mrs. Bagnet. "He's a Briton. That's what Woolwich is. A Briton!"
"And Mat blows away at his bassoon, and you're respectable civilians one and all," says Mr. George. "Family people. Children growing up. Mat's old mother in Scotland, and your old father somewhere else, corresponded with, and helped a little, and — well, well! To be sure, I don't know why I shouldn't be wished a hundred mile away, for I have not much to do with all this!" [Chapter XXVII, "More Old Soldiers Than One," 192-193]
Related Material, including Other Illustrated Editions of
Bleak House
Scanned image, colour correction, sizing, caption, and commentary by Philip V. Allingham. [You may use this image without prior permission for any scholarly or educational purpose, as long as you (1) credit the person who scanned the image, and (2) link your document to this URL in a web document or cite the Victorian Web in a print one.]
Bibliography
"Bleak House — Sixty-one Illustrations by Fred Barnard." Scenes and Characters from the Works of Charles Dickens, Being Eight Hundred and Sixty-six Drawings by Fred Barnard, Gordon Thomson, Hablot Knight Browne (Phiz), J. McL. Ralston, J. Mahoney, H. French, Charles Green, E. G. Dalziel, A. B. Frost, F. A. Fraser, and Sir Luke Fildes. London: Chapman and Hall, 1907.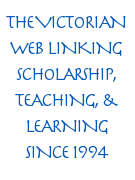 Collins, Philip. Dickens and Crime. London: Macmillan, 1964.
Davis, Paul. Charles Dickens A to Z: The Essential Reference to His Life and Work. New York: Facts On File, 1998.
Dickens, Charles. Bleak House. Illustrated by F. O. C. Darley and John Gilbert. The Works of Charles Dickens. The Household Edition. New York: Sheldon and Company, 1863. Vols. 1-4.
_______. Bleak House. Illustrated by Sol Eytinge, Jr, and engraved by A. V. S. Anthony. 14 vols. Boston: Ticknor & Fields, 1867. VI.
_______. Bleak House, with 61 illustrations by Fred Barnard. Household Edition. London: Chapman and Hall, 1873. IV.
_______. Bleak House. Illustrated by Harry Furniss [28 original lithographs]. The Charles Dickens Library Edition. Vol. 11.​ London: Educational Book, 1910.
_______. Bleak House, ed. Norman Page. Harmondsworth: Penguin, 1971.
Hammerton, J. A. "Chapter 18: Bleak House." The Dickens Picture-Book. The Charles Dickens Library Edition. London: Educational Book, 1910. XVII, 366-97.
Vann, J. Don. "Bleak House, twenty parts in nineteen monthly instalments, October 1846—April 1848." Victorian Novels in Serial. New York: The Modern Language Association, 1985. 69-70.
---
Created 8 March 2021