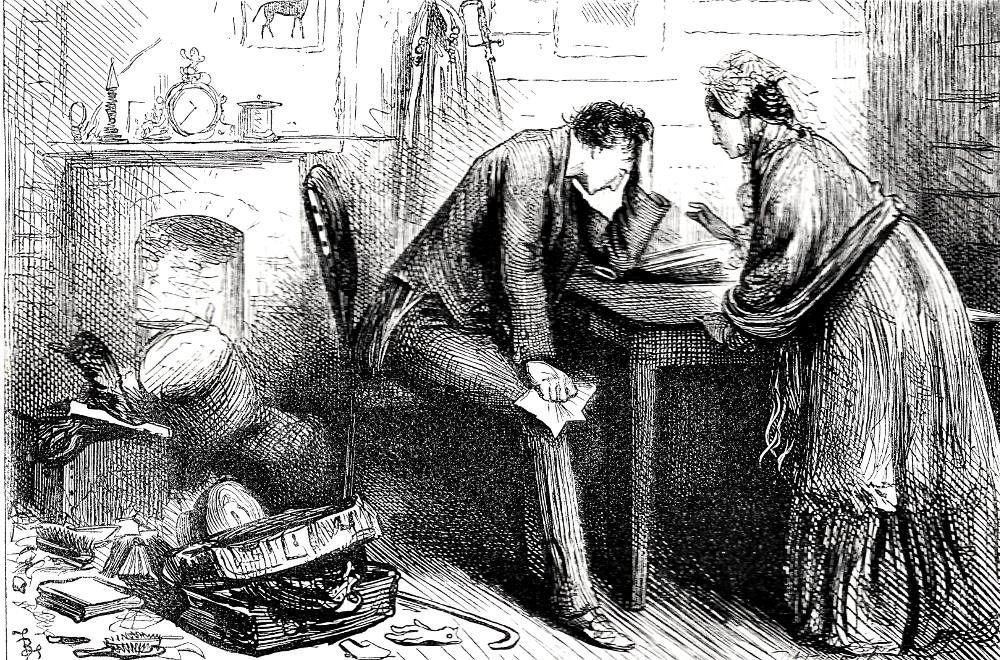 Richard — forty-third illustration by Fred Barnard in the Household Edition (1873). 10.5 cm high by 13.6 cm wide (4 ⅛ by 5 ⅜ inches), framed, p. 293. Chapter 43. Running head: "Only One Thing on Richard's Mind" (311). [Click on the image to enlarge it.]
Passage Illustrated: Richard Despondent at Deal
"Now then!" cried Richard from within. So I left Charley in the little passage, and going on to the half-open door, said, "Can I come in, Richard? It's only Dame Durden."
He was writing at a table, with a great confusion of clothes, tin cases, books, boots, brushes, and portmanteaus strewn all about the floor. He was only half dressed—in plain clothes, I observed, not in uniform—and his hair was unbrushed, and he looked as wild as his room. All this I saw after he had heartily welcomed me and I was seated near him, for he started upon hearing my voice and caught me in his arms in a moment. Dear Richard! He was ever the same to me. Down to—ah, poor poor fellow!—to the end, he never received me but with something of his old merry boyish manner.
"Good heaven, my dear little woman," said he, "how do you come here? Who could have thought of seeing you! Nothing the matter? Ada is well?"
"Quite well. Lovelier than ever, Richard!"
"Ah!" he said, leaning back in his chair. "My poor cousin! I was writing to you, Esther."
So worn and haggard as he looked, even in the fullness of his handsome youth, leaning back in his chair and crushing the closely written sheet of paper in his hand!
"Have you been at the trouble of writing all that, and am I not to read it after all?" I asked.
"Oh, my dear," he returned with a hopeless gesture. "You may read it in the whole room. It is all over here."
I mildly entreated him not to be despondent. I told him that I had heard by chance of his being in difficulty and had come to consult with him what could best be done.
"Like you, Esther, but useless, and so not like you!" said he with a melancholy smile. "I am away on leave this day — should have been gone in another hour — and that is to smooth it over, for my selling out. Well! Let bygones be bygones. So this calling follows the rest. I only want to have been in the church to have made the round of all the professions."
"Richard," I urged, "it is not so hopeless as that?"
"Esther," he returned, "it is indeed. I am just so near disgrace as that those who are put in authority over me (as the catechism goes) would far rather be without me than with me. And they are right. Apart from debts and duns and all such drawbacks, I am not fit even for this employment. I have no care, no mind, no heart, no soul, but for one thing. Why, if this bubble hadn't broken now," he said, tearing the letter he had written into fragments and moodily casting them away, by driblets, "how could I have gone abroad? I must have been ordered abroad, but how could I have gone? How could I, with my experience of that thing, trust even Vholes unless I was at his back!" [Chapter XLV, "In Trust," 310-311]
Related Material, including Other Illustrated Editions of
Bleak House
Scanned image, colour correction, sizing, caption, and commentary by Philip V. Allingham. [You may use this image without prior permission for any scholarly or educational purpose, as long as you (1) credit the person who scanned the image, and (2) link your document to this URL in a web document or cite the Victorian Web in a print one.]
Bibliography
"Bleak House — Sixty-one Illustrations by Fred Barnard." Scenes and Characters from the Works of Charles Dickens, Being Eight Hundred and Sixty-six Drawings by Fred Barnard, Gordon Thomson, Hablot Knight Browne (Phiz), J. McL. Ralston, J. Mahoney, H. French, Charles Green, E. G. Dalziel, A. B. Frost, F. A. Fraser, and Sir Luke Fildes. London: Chapman and Hall, 1907.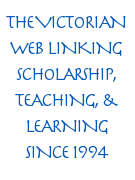 Collins, Philip. Dickens and Crime. London: Macmillan, 1964.
Davis, Paul. Charles Dickens A to Z: The Essential Reference to His Life and Work. New York: Facts On File, 1998.
Dickens, Charles. Bleak House. Illustrated by F. O. C. Darley and John Gilbert. The Works of Charles Dickens. The Household Edition. New York: Sheldon and Company, 1863. Vols. 1-4.
_______. Bleak House. Illustrated by Sol Eytinge, Jr, and engraved by A. V. S. Anthony. 14 vols. Boston: Ticknor & Fields, 1867. VI.
_______. Bleak House, with 61 illustrations by Fred Barnard. Household Edition. London: Chapman and Hall, 1873. IV.
_______. Bleak House. Illustrated by Harry Furniss [28 original lithographs]. The Charles Dickens Library Edition. Vol. 11.​ London: Educational Book, 1910.
_______. Bleak House, ed. Norman Page. Harmondsworth: Penguin, 1971.
Hammerton, J. A. "Chapter 18: Bleak House." The Dickens Picture-Book. The Charles Dickens Library Edition. London: Educational Book, 1910. XVII, 366-97.
Vann, J. Don. "Bleak House, twenty parts in nineteen monthly instalments, October 1846—April 1848." Victorian Novels in Serial. New York: The Modern Language Association, 1985. 69-70.
---
Created 29 March 2021