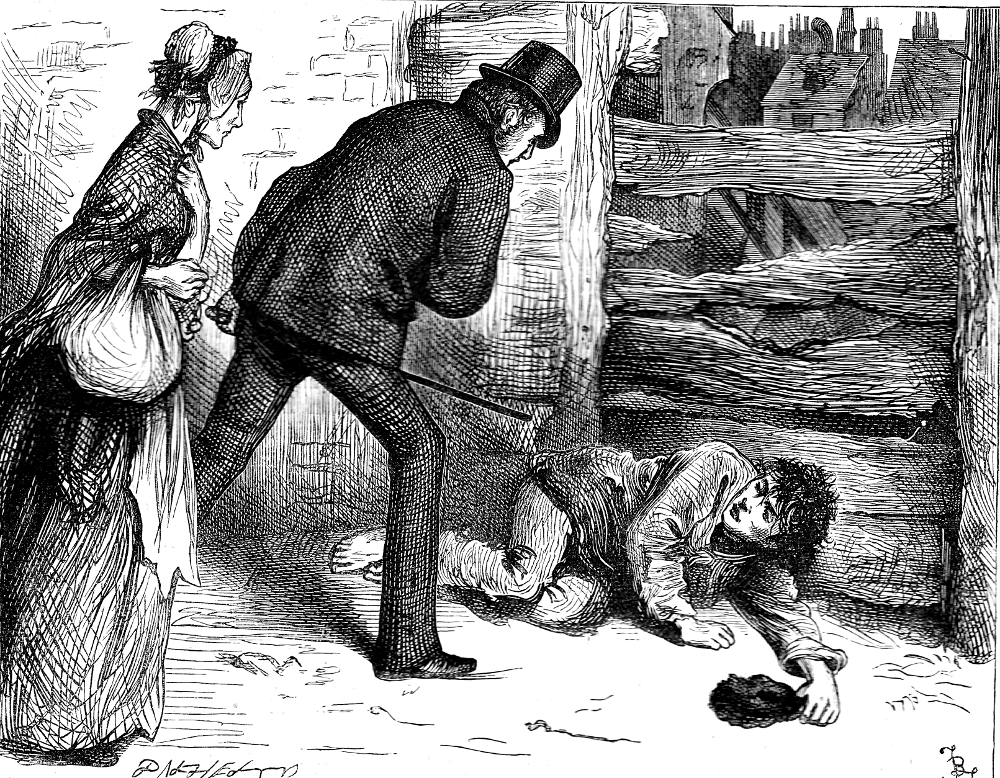 Here, against a hoarding of decaying timber, he is brought to bay. — forty-fourth illustration by Fred Barnard in the Household Edition (1873). 10.7 cm high by 13.6 cm wide (3 3/16 by 5 ⅜ inches), framed, p. 306. Chapter 45. Running head: "Unfortunate Jo" (317). [Click on the image to enlarge it.]
Text Illustrated: Jo Brought to Bay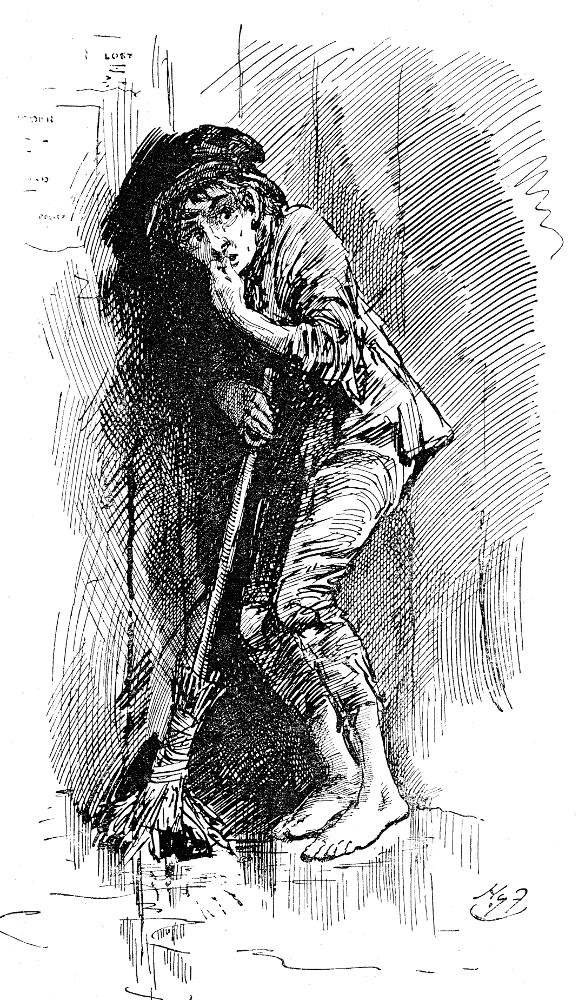 Harry Furniss's portrait of the crossing-sweeper positioned at the same point in the text: Jo (1910).
Allan Woodcourt pauses to look after him and note all this, with a shadowy belief that he has seen the boy before. He cannot recall how or where, but there is some association in his mind with such a form. He imagines that he must have seen it in some hospital or refuge, still, cannot make out why it comes with any special force on his remembrance.
He is gradually emerging from Tom-all-Alone's in the morning light, thinking about it, when he hears running feet behind him, and looking round, sees the boy scouring towards him at great speed, followed by the woman.
"Stop him, stop him!" cries the woman, almost breathless. "Stop him, sir!"
He darts across the road into the boy's path, but the boy is quicker than he, makes a curve, ducks, dives under his hands, comes up half-a-dozen yards beyond him, and scours away again. Still the woman follows, crying, "Stop him, sir, pray stop him!" Allan, not knowing but that he has just robbed her of her money, follows in chase and runs so hard that he runs the boy down a dozen times, but each time he repeats the curve, the duck, the dive, and scours away again. To strike at him on any of these occasions would be to fell and disable him, but the pursuer cannot resolve to do that, and so the grimly ridiculous pursuit continues. At last the fugitive, hard-pressed, takes to a narrow passage and a court which has no thoroughfare. Here, against a hoarding of decaying timber, he is brought to bay and tumbles down, lying gasping at his pursuer, who stands and gasps at him until the woman comes up.  [Chapter XLVI, "Stop Him!" 316]
Commentary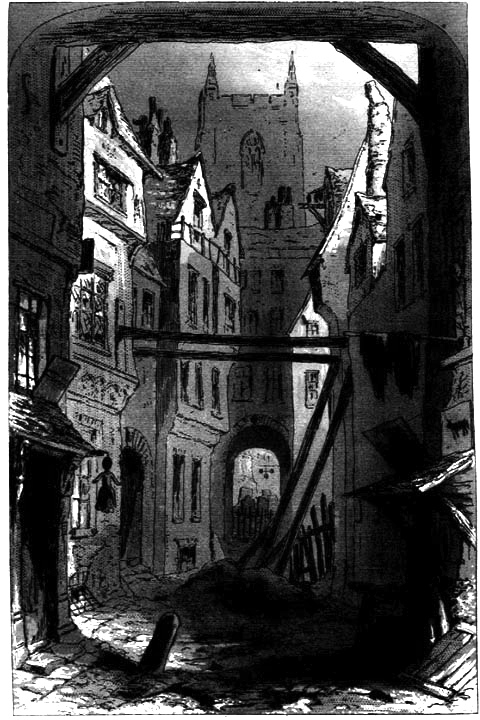 Phiz's original serial dark plate sets the sombre mood for the demise of the crossing-sweeper: Tom-all-Alone's (April 1853).
Whereas Phiz had set a sombre mood for the chapter with the dark plate entitled Tom-all-Alone's (May 1853), a plate with no figures whatsoever, Barnard has realised Dr. Alan Woodcourt's confrontation with Jo, the crossing-sweeper. The physician has responded to a woman's cry of "Stop him!" (suggesting that the boy has just stolen something), and now hears how Bucket drove the contagious street urchin out of Bleak House, put him in a hospital, and given him a little money. Believing that he is dying, the boy has now returned to his familiar neighbourhood, where he expects to expire in the street, not far from Nemo's resting place. Jo is oblivious to the fact that he infected Charley, Esther Sommerson's maid, and thereby infected her mistress with smallpox, too. He will die in George's shooting gallery in the next chapter, melodramatically repeating the lines of "The Lord's Prayer," which his compassionate physician recites.
Barnard's treatment deliberately underplays the horror and menace of the scene of the action, the disease infested slum of Tom-all-Alone's, and focuses on Woodcourt's finally encountering the waif whose orbit has brought him in contact with the more affluent classes, and has resulted in the disfigurement through the contagion of both Esther and her maid, Charley. The Household Edition illustrator presents the homeless waif as if he is a cornered rat.
Related Material, including Other Illustrated Editions of
Bleak House
Scanned image, colour correction, sizing, caption, and commentary by Philip V. Allingham. [You may use this image without prior permission for any scholarly or educational purpose, as long as you (1) credit the person who scanned the image, and (2) link your document to this URL in a web document or cite the Victorian Web in a print one.]
Bibliography
"Bleak House — Sixty-one Illustrations by Fred Barnard." Scenes and Characters from the Works of Charles Dickens, Being Eight Hundred and Sixty-six Drawings by Fred Barnard, Gordon Thomson, Hablot Knight Browne (Phiz), J. McL. Ralston, J. Mahoney, H. French, Charles Green, E. G. Dalziel, A. B. Frost, F. A. Fraser, and Sir Luke Fildes. London: Chapman and Hall, 1907.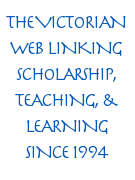 Collins, Philip. Dickens and Crime. London: Macmillan, 1964.
Davis, Paul. Charles Dickens A to Z: The Essential Reference to His Life and Work. New York: Facts On File, 1998.
Dickens, Charles. Bleak House. Illustrated by F. O. C. Darley and John Gilbert. The Works of Charles Dickens. The Household Edition. New York: Sheldon and Company, 1863. Vols. 1-4.
_______. Bleak House. Illustrated by Sol Eytinge, Jr, and engraved by A. V. S. Anthony. 14 vols. Boston: Ticknor & Fields, 1867. VI.
_______. Bleak House, with 61 illustrations by Fred Barnard. Household Edition. London: Chapman and Hall, 1873. IV.
_______. Bleak House. Illustrated by Harry Furniss [28 original lithographs]. The Charles Dickens Library Edition. Vol. 11.​ London: Educational Book, 1910.
_______. Bleak House, ed. Norman Page. Harmondsworth: Penguin, 1971.
Hammerton, J. A. "Chapter 18: Bleak House." The Dickens Picture-Book. The Charles Dickens Library Edition. London: Educational Book, 1910. XVII, 366-97.
Vann, J. Don. "Bleak House, twenty parts in nineteen monthly instalments, October 1846—April 1848." Victorian Novels in Serial. New York: The Modern Language Association, 1985. 69-70./
---
Created 17 March 2021