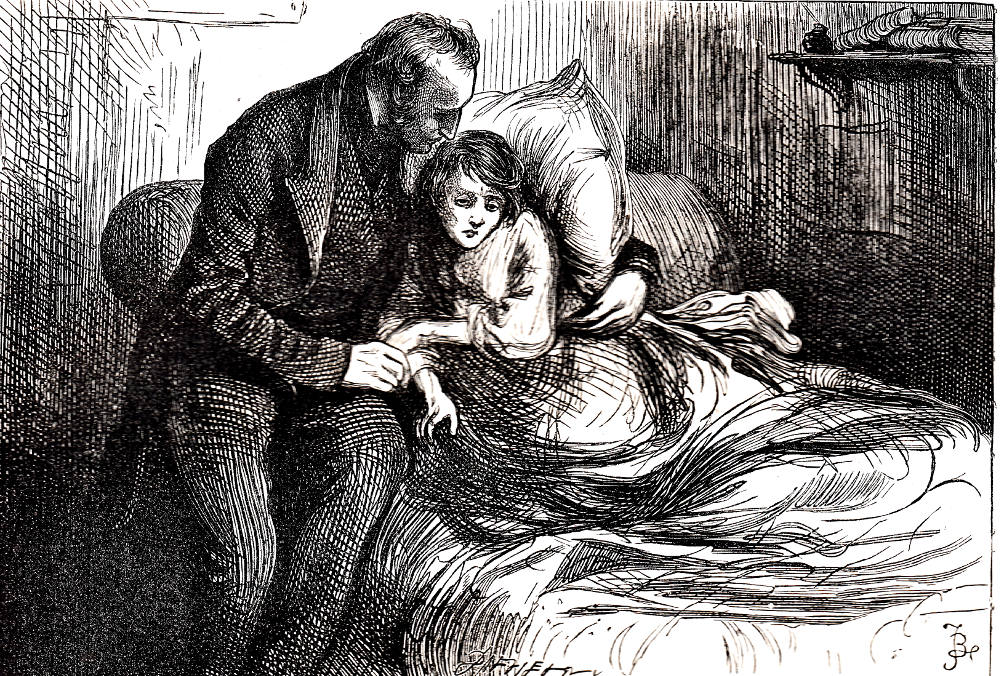 The cart is shaken all to pieces, and the rugged road is very near its end — forty-fifth illustration by Fred Barnard in the Household Edition (1873). 9.5 cm high by 13.7 cm wide (3 ¾ by 5 ⅜ inches), framed, p. 306. Chapter 47. Running heads: "Unfortunate Jo" (317) and "Jo's Death" (325). [Click on the images to enlarge them.]
Text Illustrated: Jo Brought to Bay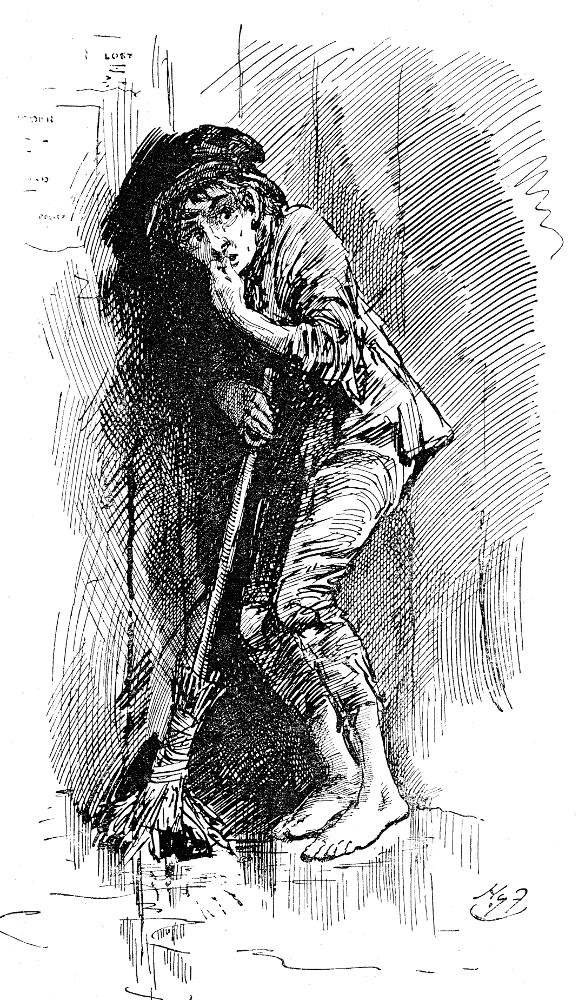 Harry Furniss's portrait of the crossing-sweeper positioned at the same point in the text: Jo (1910).
"Thankee, sir. Thankee, sir. They'll have to get the key of the gate afore they can take me in, for it's allus locked. And there's a step there, as I used for to clean with my broom. It's turned wery dark, sir. Is there any light a-comin?"
"It is coming fast, Jo."
Fast. The cart is shaken all to pieces, and the rugged road is very near its end.
"Jo, my poor fellow!"
"I hear you, sir, in the dark, but I'm a-gropin—a-gropin—let me catch hold of your hand."
"Jo, can you say what I say?"
"I'll say anythink as you say, sir, for I knows it's good."
"Our Father." [Chapter XLVII, "Jo's Will," 325]
Commentary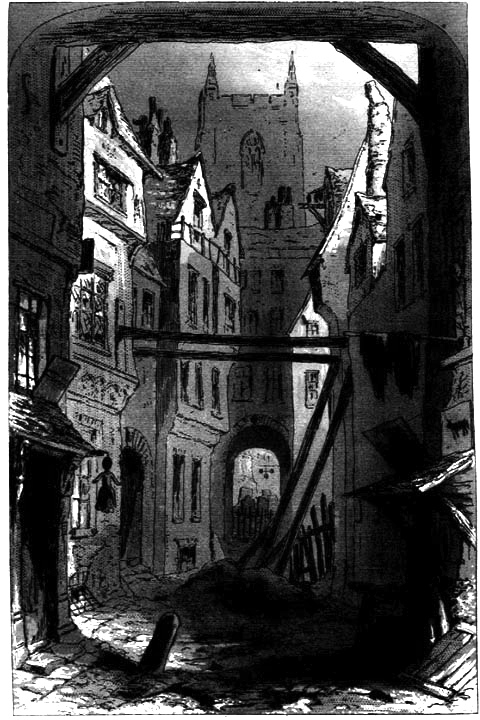 Phiz's original serial dark plate sets the sombre mood for the demise of the crossing-sweeper: Tom-all-Alone's (April 1853).
The illustration depicts the final moments Jo, the crossing sweeper, one of six notable deaths in the 1853 novel that include Lady Dedlock's expiring, Krook's auto-immolation (spontaneous combustion), Tulkinghorn's murder, and the pitiful end of Gridley, the worn-out Chancery suitor, whose death foreshadows that of Richard Carstone. Allan Woodcourt, a ship's physician who has survived ashipwreck, has returned to London, and by coincidence has encountered Jo, hiding at Tom-all-Alone's, which Barnard has just depicted in Here, against a hoarding of decaying timber, he is brought to bay in Chapter 45. The pathetic street urchin had intended to die in familiar surroundings, but Woodcort attends his final moments as he dies from Smallpox in the back of George's shooting-gallery in Leicester Square. The "cart" metaphor reveals society's rather than Dickens's or Barnard's attitudes towards the death of broken-down, used-up Jo, an exemplar of the urban working poor. Jo seems to succumb from exhaustion as much as from disease in the arms of his kindly physician in the Barnard illustration. As a result of Woodcourt's inculcation of "The Lord's Prayer" and Dickens's peroration at the close of Chapter 47 to the temporal powers who ignore the plight of the city's poor, Joe's final moments are the most vividly rendered of any character's in the novel.
Related Material, including Other Illustrated Editions of
Bleak House
Scanned image, colour correction, sizing, caption, and commentary by Philip V. Allingham. [You may use this image without prior permission for any scholarly or educational purpose, as long as you (1) credit the person who scanned the image, and (2) link your document to this URL in a web document or cite the Victorian Web in a print one.]
Bibliography
"Bleak House — Sixty-one Illustrations by Fred Barnard." Scenes and Characters from the Works of Charles Dickens, Being Eight Hundred and Sixty-six Drawings by Fred Barnard, Gordon Thomson, Hablot Knight Browne (Phiz), J. McL. Ralston, J. Mahoney, H. French, Charles Green, E. G. Dalziel, A. B. Frost, F. A. Fraser, and Sir Luke Fildes. London: Chapman and Hall, 1907.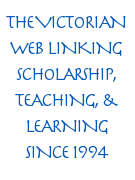 Collins, Philip. Dickens and Crime. London: Macmillan, 1964.
Davis, Paul. Charles Dickens A to Z: The Essential Reference to His Life and Work. New York: Facts On File, 1998.
Dickens, Charles. Bleak House. Illustrated by F. O. C. Darley and John Gilbert. The Works of Charles Dickens. The Household Edition. New York: Sheldon and Company, 1863. Vols. 1-4.
_______. Bleak House. Illustrated by Sol Eytinge, Jr, and engraved by A. V. S. Anthony. 14 vols. Boston: Ticknor & Fields, 1867. VI.
_______. Bleak House, with 61 illustrations by Fred Barnard. Household Edition. London: Chapman and Hall, 1873. IV.
_______. Bleak House. Illustrated by Harry Furniss [28 original lithographs]. The Charles Dickens Library Edition. Vol. 11.​ London: Educational Book, 1910.
_______. Bleak House, ed. Norman Page. Harmondsworth: Penguin, 1971.
Hammerton, J. A. "Chapter 18: Bleak House." The Dickens Picture-Book. The Charles Dickens Library Edition. London: Educational Book, 1910. XVII, 366-97.
Vann, J. Don. "Bleak House, twenty parts in nineteen monthly instalments, October 1846—April 1848." Victorian Novels in Serial. New York: The Modern Language Association, 1985. 69-70.
---
Created 30 March 2021