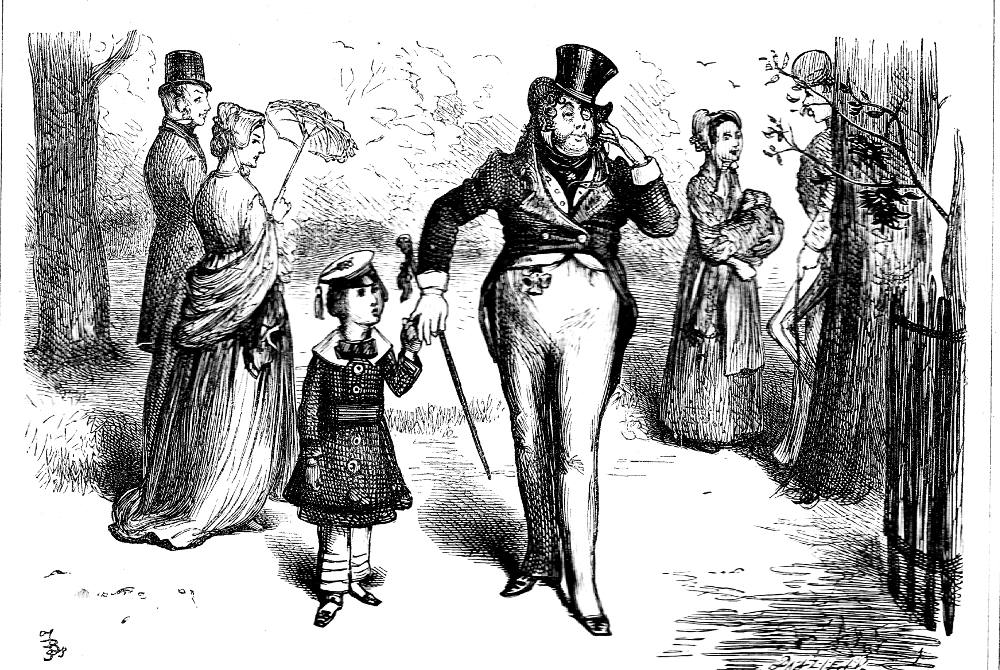 Peepy was sufficiently decorated to walk hand in hand with the Professor of Deportment — forty-seventh illustration by Fred Barnard in the Household Edition (1873). 9.5 cm high by 13.5 cm wide (3 3/16 by 5 ⅜ inches), vignetted, p. 333. Chapter 50. Running head: "Caddy and Caddy's Child" (343). [Click on the image to enlarge it.]
Passage Illustrated: The Prince Regent of Deportment
"Nay, my dears," he would remonstrate; and when I saw Caddy's thin arm about his fat neck as he said it, I would be melted too, though not by the same process. "Nay, nay! I have promised never to leave ye. Be dutiful and affectionate towards me, and I ask no other return. Now, bless ye! I am going to the Park."
He would take the air there presently and get an appetite for his hotel dinner. I hope I do old Mr. Turveydrop no wrong, but I never saw any better traits in him than these I faithfully record, except that he certainly conceived a liking for Peepy and would take the child out walking with great pomp, always on those occasions sending him home before he went to dinner himself, and occasionally with a halfpenny in his pocket. But even this disinterestedness was attended with no inconsiderable cost, to my knowledge, for before Peepy was sufficiently decorated to walk hand in hand with the professor of deportment, he had to be newly dressed, at the expense of Caddy and her husband, from top to toe.  [Chapter L, "Esther's Narrative," 343]
Related Material, including Other Illustrated Editions of
Bleak House
Scanned image, colour correction, sizing, caption, and commentary by Philip V. Allingham. [You may use this image without prior permission for any scholarly or educational purpose, as long as you (1) credit the person who scanned the image, and (2) link your document to this URL in a web document or cite the Victorian Web in a print one.]
Bibliography
"Bleak House — Sixty-one Illustrations by Fred Barnard." Scenes and Characters from the Works of Charles Dickens, Being Eight Hundred and Sixty-six Drawings by Fred Barnard, Gordon Thomson, Hablot Knight Browne (Phiz), J. McL. Ralston, J. Mahoney, H. French, Charles Green, E. G. Dalziel, A. B. Frost, F. A. Fraser, and Sir Luke Fildes. London: Chapman and Hall, 1907.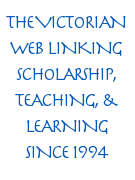 Collins, Philip. Dickens and Crime. London: Macmillan, 1964.
Davis, Paul. Charles Dickens A to Z: The Essential Reference to His Life and Work. New York: Facts On File, 1998.
Dickens, Charles. Bleak House. Illustrated by F. O. C. Darley and John Gilbert. The Works of Charles Dickens. The Household Edition. New York: Sheldon and Company, 1863. Vols. 1-4.
_______. Bleak House. Illustrated by Sol Eytinge, Jr, and engraved by A. V. S. Anthony. 14 vols. Boston: Ticknor & Fields, 1867. VI.
_______. Bleak House, with 61 illustrations by Fred Barnard. Household Edition. London: Chapman and Hall, 1873. IV.
_______. Bleak House. Illustrated by Harry Furniss [28 original lithographs]. The Charles Dickens Library Edition. Vol. 11.​ London: Educational Book, 1910.
_______. Bleak House, ed. Norman Page. Harmondsworth: Penguin, 1971.
Hammerton, J. A. "Chapter 18: Bleak House." The Dickens Picture-Book. The Charles Dickens Library Edition. London: Educational Book, 1910. XVII, 366-97.
Vann, J. Don. "Bleak House, twenty parts in nineteen monthly instalments, October 1846—April 1848." Victorian Novels in Serial. New York: The Modern Language Association, 1985. 69-70.
---
Created 30 March 2021