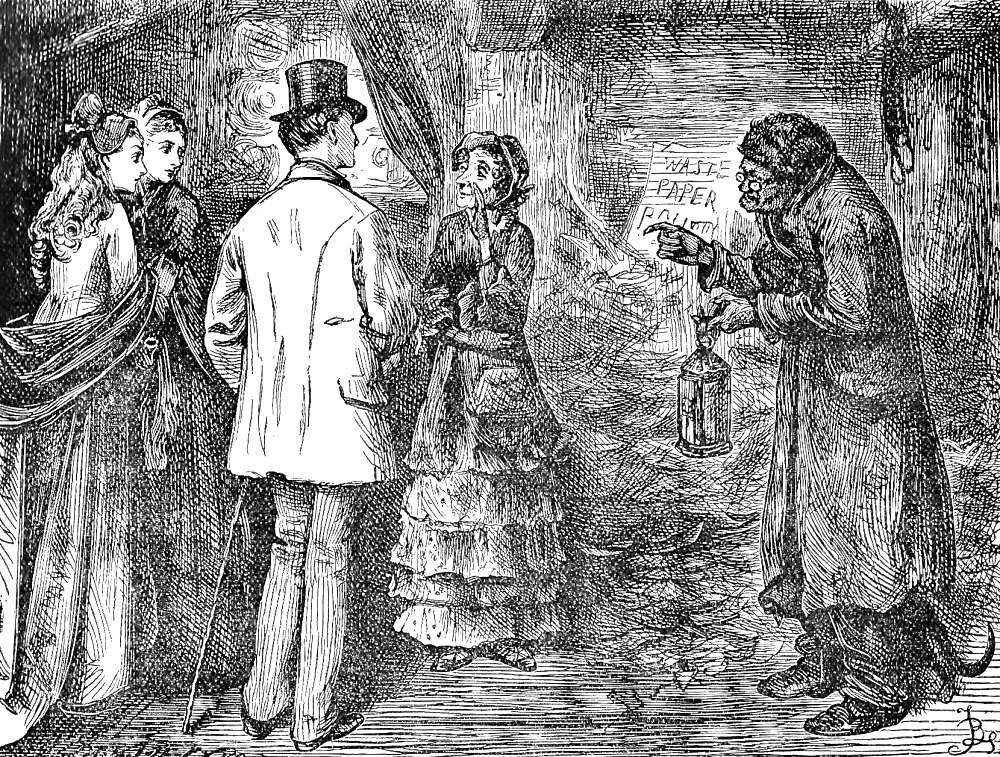 The Lord Chancellor relates the death of Tom Jarndyce, fifth illustration by Fred Barnard in the Household Edition (1873). 10.7 x 13.9 cm (4 ⅛ by 5 ½ inches), framed, p. 21. Chapter 5. [Click on the images to enlarge them.]
Passage Illustrated
"That will do, Krook. You mean well, but are tiresome. My young friends are pressed for time. I have none to spare myself, having to attend court very soon. My young friends are the wards in Jarndyce."
"Jarndyce!" said the old man with a start.
"Jarndyce and Jarndyce. The great suit, Krook," returned his lodger [, Miss Flite].
"Hi!" exclaimed the old man, in a tone of thoughtful amazement, and with a wider stare than before. "Think of it!"
He seemed so rapt all in a moment, and looked so curiously at us, that Richard said:
"Why, you appear to trouble yourself a good deal about the causes before your noble and learned brother, the other Chancellor!"
"Yes," said the old man abstractedly. "Sure! Your name now will be —"
"Richard Carstone."
"Carstone," he repeated, slowly checking off that name upon his forefinger; and each of the others he went on to mention, upon a separate finger. "Yes. There was the name of Barbary, and the name of Clare, and the name of Dedlock, too, I think."
"He knows as much of the cause as the real salaried Chancellor!" said Richard, quite astonished, to Ada and me.
"Ay!" said the old man, coming slowly out of his abstraction. "Yes! Tom Jarndyce — you'll excuse me, being related; but he was never known about court by any other name, and was as well known there, as — she is now;" nodding slightly at his lodger; "Tom Jarndyce was often in here. He got into a restless habit of strolling about when the cause was on, or expected, talking to the little shopkeepers, and telling 'em to keep out of Chancery, whatever they did. "For," says he, "it's being ground to bits in a slow mill; it's being roasted at a slow fire; it's being stung to death by single bees; it's being drowned by drops; it's going mad by grains." He was as near making away with himself, just where the young lady stands, as near could be."
We listened with horror.
"He come in at the door," said the old man, slowly pointing an imaginary track along the shop, "on the day he did it — the whole neighbourhood had said for months before, that he would do it, of a certainty, sooner or later — he come in at the door that day, and walked along there, and sat himself on a bench that stood there, and asked me (you'll judge I was a mortal sight younger then) to fetch him a pint of wine. 'For,' says he, 'Krook, I am much depressed; my cause is on again, and I think I'm nearer judgment than I ever was.' I hadn't a mind to leave him alone; and I persuaded him to go to the tavern over the way there, t'other side my lane (I mean Chancery Lane); and I followed and looked in at the window, and saw him, comfortable as I thought, in the arm-chair by the fire, and company with him. I hadn't hardly got back here, when I heard a shot go echoing and rattling right away into the inn. I ran out — neighbours ran out — twenty of us cried at once, 'Tom Jarndyce!'" [Chapter 5, "A Morning Adventure," 28]
Commentary
Fred Barnard revised in a realistic manner Phiz's April 1852 steel-engraving of Krook and his shop that accompanied the novel's second monthly instalment. In the original and revised illustrations, the wards of John Jarndyce, suitors in the Court of Chancery, decide to go for an outing with Ada's companion, Esther Summerson, and the young lady of the house where they are staying, Caddy Jellyby. They receive an invitation from the eccentric petitioner, Miss Flite (whom they had met the day before as the left the court) to accompany her to her rooms above Krook's rag and bottle shop. Shortly, the group will pass the door leading to the rented rooms of "Nemo," a legal copyist — effectively completing Dickens's introduction to the key elements of the inheritance plot and the mystery of Esther's birth. Shortly the young people will travel to Bleak House, Jarndyce's St. Alban's estate.
The proprietor of the ramshackle second-hand shop who ultimately becomes a victim of spontaneous combustion, Mr. Krook, appears just as Dickens describes him, "an old man in spectacles and a hairy cap" in Chapter 5, "A Morning Adventure," and Barnard makes him neither a majestic guide as Sir John Gilbert did in his 1863 frontispiece nor as eccentric as Harry Furniss would do in his Charles Dickens Library Edition character study of 1910:
he was short, cadaverous, and withered; with his head sideways between his shoulders, and the breath issuing in visible smoke from his mouth, as if he were on fire within. His throat, chin, and eyebrows were so frosted with white hairs, and so gnarled with veins and puckered skin, that he looked from his breast upward, like some old root in a fall of snow.
Sol Eytinge, Jr.for the Ticknor-Fields Diamond Edition (Boston, 1867) had provided a portrait of Krook, and the third frontispiece in the 1863 Sheldon and Company Household Edition (New York) by Gilbert had portrayed Krook as a guide to the mysteries of his cavernous shop, but Fred Barnard's is the first fresh depiction of Krook for a British edition after the original narrative-pictorial sequence by Hablot Knight Browne in the nineteen-month serialisation, March 1852 through September 1853. Whereas Phiz had depicted Esther Summerson following Krook through his shop, Barnard shows the other visitors and Krook as Esther, the narrator for this portion of the novel, must have seen them.
Barnard, having isolated for study the guide to the rag and bone shop in the volume's title-page vignette, now presents the self-styled "Lord Chancellor" in company without comic distortion or visual comment. Indeed, the group response to Krook's mentioning the Jarndyce case is the subject of the illustration. Krook, lantern in hand still, as they move to the door that leads to his rented rooms, seems to be telling off the principals in the suit on his hand (right), while the elderly but well-dressed Miss Flite, behind her hand, confides in the young, fashionably dressed visitors Richards, Ada, and Caddy that she believes the old man slightly insane ("For he is a little — you know! — ; M —!" said the old lady, with great stateliness.) Barnard allows us to see little of the fashionably dressed Richard Carstone, and his young women, Caddy Jellyby and his cousin, Ada Clare, are mirror images, so that Miss Flite and Krook engage the reader's attention, both associated with the Court of Chancery, and both at least a little mad from this association.
After his immolation, Krook's shop passes into the custody of his brother-in-law, the senior Smallweed, who finds among the accumulated papers and trash the key to the Jarndyce Court of Chancery lawsuit, as well as documents with which he and his clan attempt to blackmail Sir Leicester Dedlock.
The Original Phiz and Later Illustrations of Krook, April 1852-1910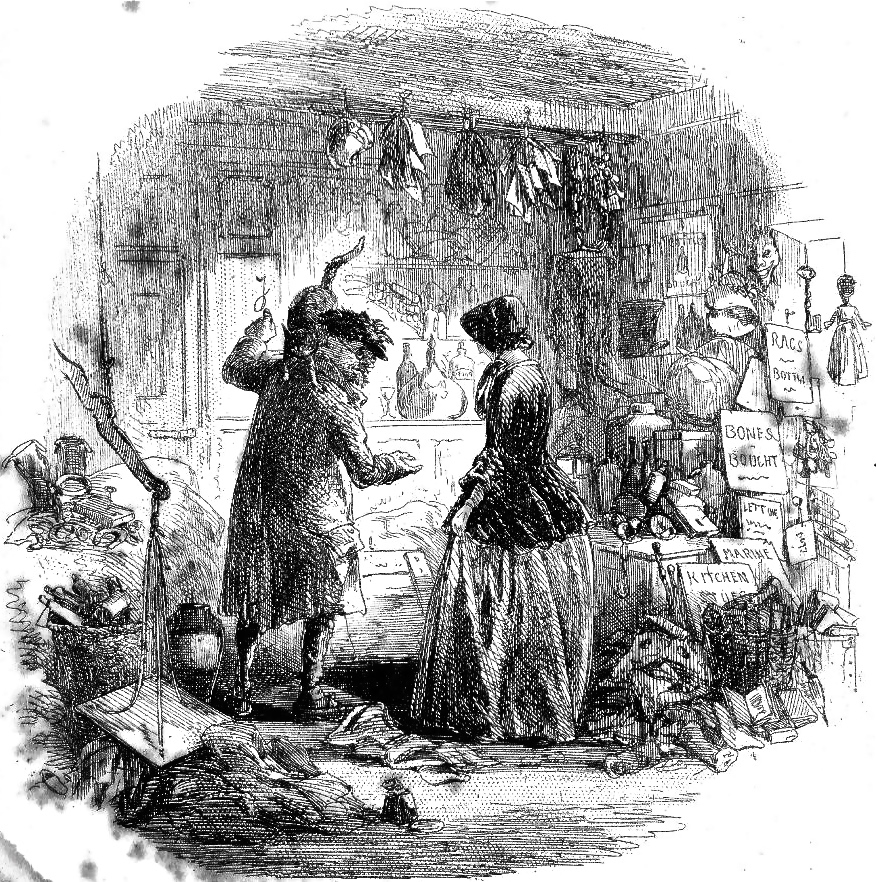 ​
​​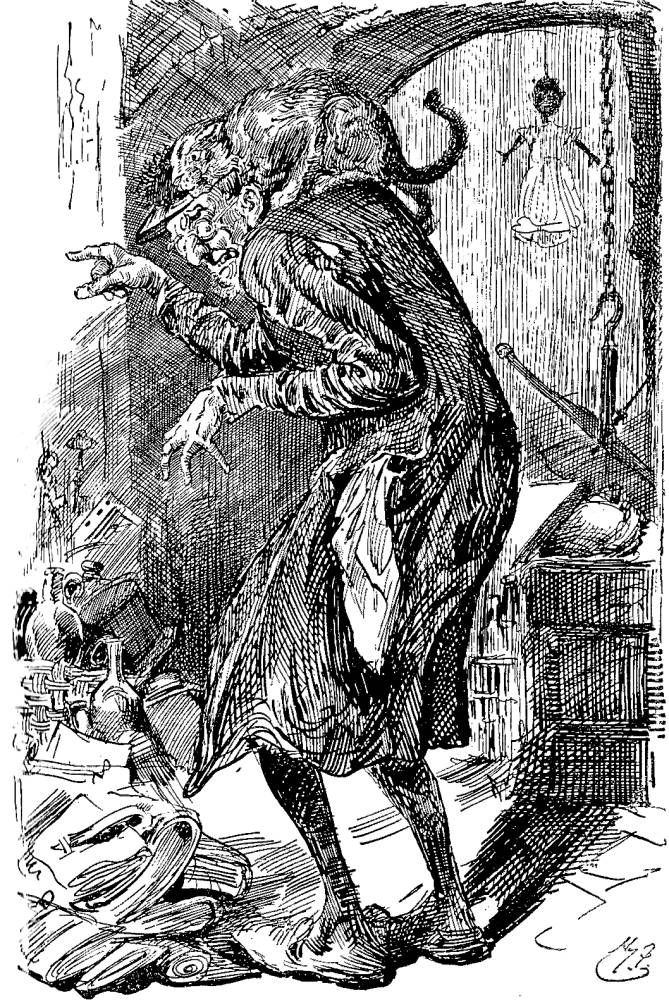 Left: Phiz's April 1852 engraving of the scene in Krook's depository, The Lord Chancellor Copies from Memory. Centre: John Gilbert's 1863 photogravure frontispiece showing Krook guiding his fashionable young visitors and the demented Miss Flite through his cavernous emporium, A large grey cat leaped from some neighbouring shelf. . .. Right: Furniss's 1910 lithograph of a closeup of a highly eccentric Krook in his shop, leading the way, Mr. Krook and His Cat.
Related Material, including Other Illustrated Editions of
Bleak House
Scanned image, colour correction, sizing, caption, and commentary by Philip V. Allingham. [You may use this image without prior permission for any scholarly or educational purpose, as long as you (1) credit the person who scanned the image, and (2) link your document to this URL in a web document or cite the Victorian Web in a print one.]
Bibliography
"Bleak House — Sixty-one Illustrations by Fred Barnard." Scenes and Characters from the Works of Charles Dickens, Being Eight Hundred and Sixty-six Drawings by Fred Barnard, Gordon Thomson, Hablot Knight Browne (Phiz), J. McL. Ralston, J. Mahoney, H. French, Charles Green, E. G. Dalziel, A. B. Frost, F. A. Fraser, and Sir Luke Fildes. London: Chapman and Hall, 1907.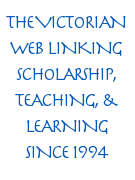 Davis, Paul. Charles Dickens A to Z: The Essential Reference to His Life and Work. New York: Facts On File, 1998.
Dickens, Charles. Bleak House. Illustrated by F. O. C. Darley and John Gilbert. The Works of Charles Dickens. The Household Edition. New York: Sheldon and Company, 1863. Vols. 1-4.
_______. Bleak House. Illustrated by Sol Eytinge, Jr, and engraved by A. V. S. Anthony. 14 vols. Boston: Ticknor & Fields, 1867. VI.
_______. Bleak House, with 61 illustrations by Fred Barnard. Household Edition. London: Chapman and Hall, 1873. IV.
_______. Bleak House. Illustrated by Harry Furniss [28 original lithographs]. The Charles Dickens Library Edition. Vol. 11.​ London: Educational Book, 1910.
Hammerton, J. A. "Chapter 18: Bleak House." The Dickens Picture-Book. The Charles Dickens Library Edition. London: Educational Book, 1910. XVII, 366-97.
Vann, J. Don. "Bleak House, twenty parts in nineteen monthly instalments, October 1846—April 1848." Victorian Novels in Serial. New York: The Modern Language Association, 1985. 69-70.
---
Created 20 November 2015

Last modified 31 January 2021