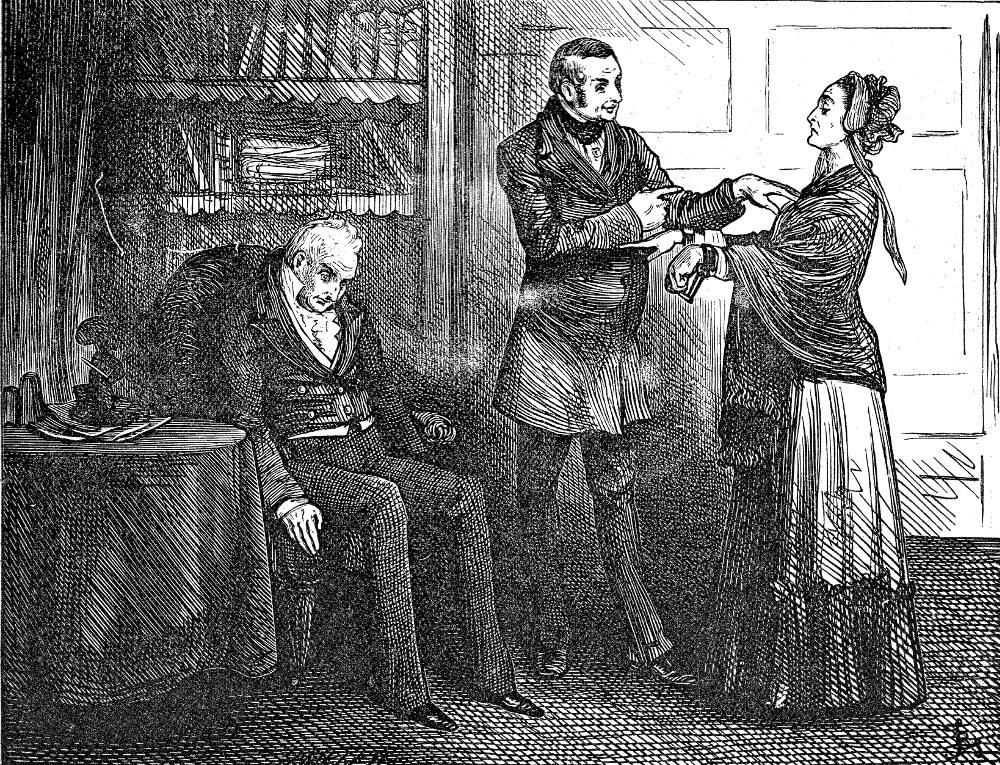 "Can you make a haughty gentleman of Him? . . . . The poor infant!" — fiftieth illustration by Fred Barnard in the Household Edition (1873). 10.6 cm high by 13.7 cm wide (3 3/16 by 5 ⅜ inches), framed, p. 357. Chapter 54. Running head: "Mr. Bucket Appropriates the Foreign Female" (371). [Click on the images to enlarge them.]
Passage Illustrated: Springing a Mine on Mademoiselle Hortense
Mademoiselle Hortense, casting an indignant eye at the glass, shakes  herself perfectly neat in one shake and looks, to do her justice, uncommonly genteel.
"Listen then, my angel," says she after several sarcastic nods. "You are very spiritual. But can you restore him back to life?"
Mr. Bucket answers, "Not exactly."
"That is droll. Listen yet one time. You are very spiritual. Can you make a honourable  lady of her?"
"Don't be so malicious," says Mr. Bucket.
"Or a haughty gentleman of Him?" cries mademoiselle, referring to Sir  Leicester with ineffable disdain. "Eh! Oh, then regard him! The poor infant! Ha! Ha! Ha!"
"Come, come, why this is worse parlaying than the other," says Mr. Bucket.  "Come along!" [Chapter LIV, "Springing a Mine," 372]
Commentary: "Springing a Mine" on the Reader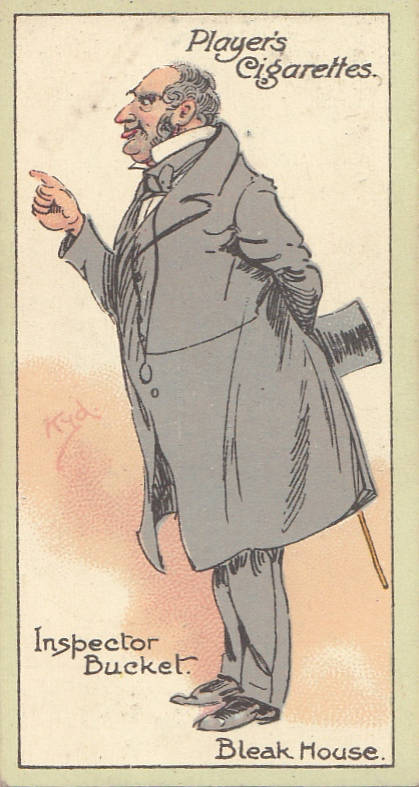 Kyd's Player's Cigarette Card No. 49: Inspector Bucket. (1910).
Although he has George Rouncewell safely behind bars for the murder of the Dedlock's attorney, Tulkinghorn, Bucket realizes that, despite his having both means, motive, and opportunity, Mr. George is not the most likely suspect. He simply is not the sort of person to shoot down an unarmed adversary, no matter how vexatious he may have found the lawyer's professional conduct. The chapter title "Springing a Mine" seems to  point initially towards Bucket's charging Lady Dedlock with the murder. But, again, appearances are deceptive. Although like George she has no proper alibi to account for her wherabouts on the evening of the murder (indeed, she like George was present at Tulkinbghorn's Lincoln's Inn chambers that night), she is far too self-controlled to allow her anger to run away with her. No, reasons Bucket, the perpetrator of the crime is a person with both a hot temper and a deep-seated grievance against the attorney: his lodger, the discharged French maid, is certainly the most likely candidate. Mrs. Bucket has had her under surveillance.
In this illustration positioned in Chapter 53 but anticipating the climax of the following chapter, Fred Barnard depicts Bucket's clapping the handcuffs on the contemptuous maid as she expresses her disdain for Sir Leicester Dedlock, obviously badly shaken by the murder, and by the revellations of Smallweed and company about Lady Dedlock's youthful relationship with Captain Haewdon and their having had a child  together. After Bucket dismisses Chadband, Smllweed, and Mrs. Snagsby (on the promise of some sort of bribe to buy their silence), he reveals to the agitated husband that both George Rouncewell and Lady Dedlock visited Tulkinghorn on the night of the murder, but dismisses them both as the perpetrators. The detective reveals that he has discovered that Mademoiselle Hortense threw a pistol into a lake, which he had the police dredge. Bucket has recovered the gun, and now springs the trap on the French woman. All of these revelations have come as such a shock to Sir Leicester that he suffers a stroke, as Barnard's illustration of the conclusion of Chapter 54 suggests.
This scene emphasizes the novel as a detective story, with competing narratives of the crime and several possiblesuspects for the crime. Barnard thus shows the crime-and-detection narrative reaching its completion in the arrest of Hortense for Tulkinghorn's murder. However, the illustration leaves Sir Leister's health hanging in the balance, and offers no closure for Honoria Dedlock's dilemma as her past has now been revealed. Even with strategically bribing Smallweed, Chadband, and Mrs, Snagsby, Bucket may not be able to prevent the story from becoming general. Bucket in this dramatic  confrontation with the ruthless murderer has proven himself a cunning sleuth whose role in the rest of the novel is unclear at this point.
Other​Illustrations​Leading up to Bucket's Revelations, 1853 through 1910
​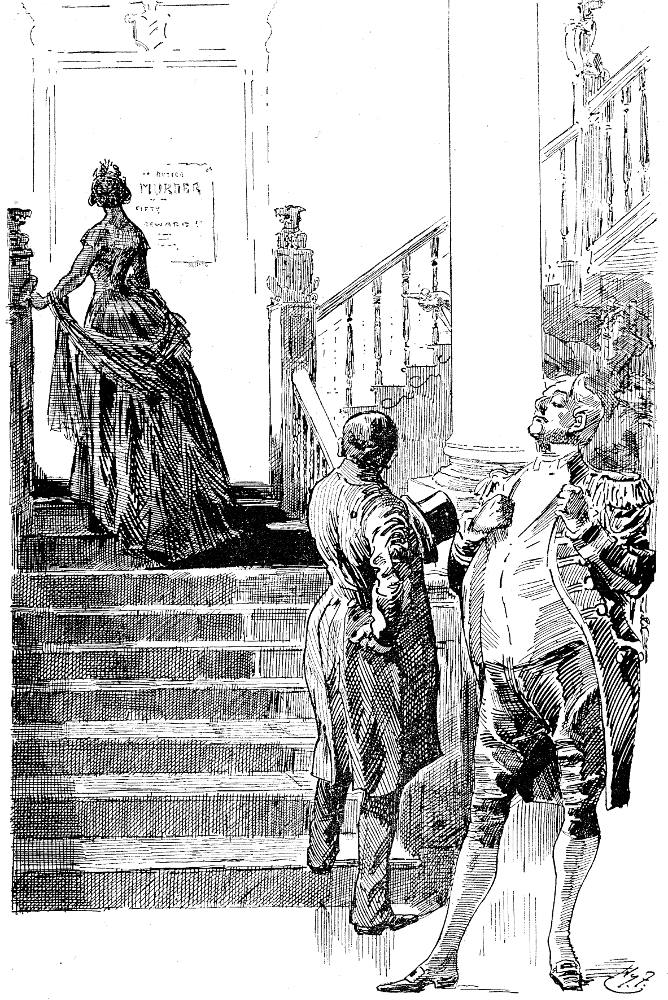 ​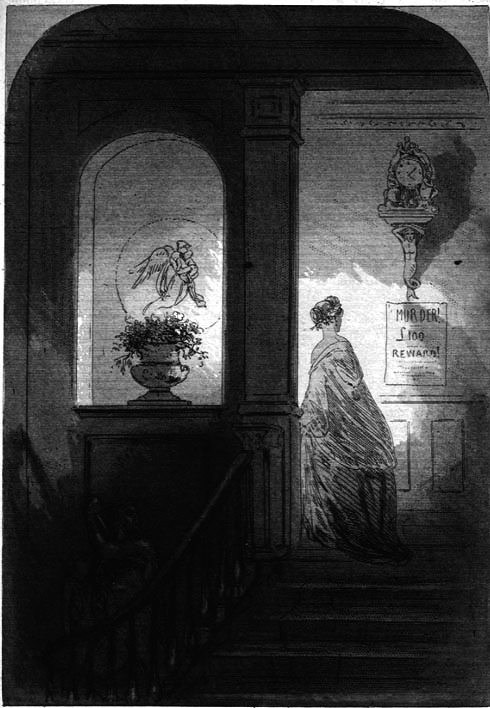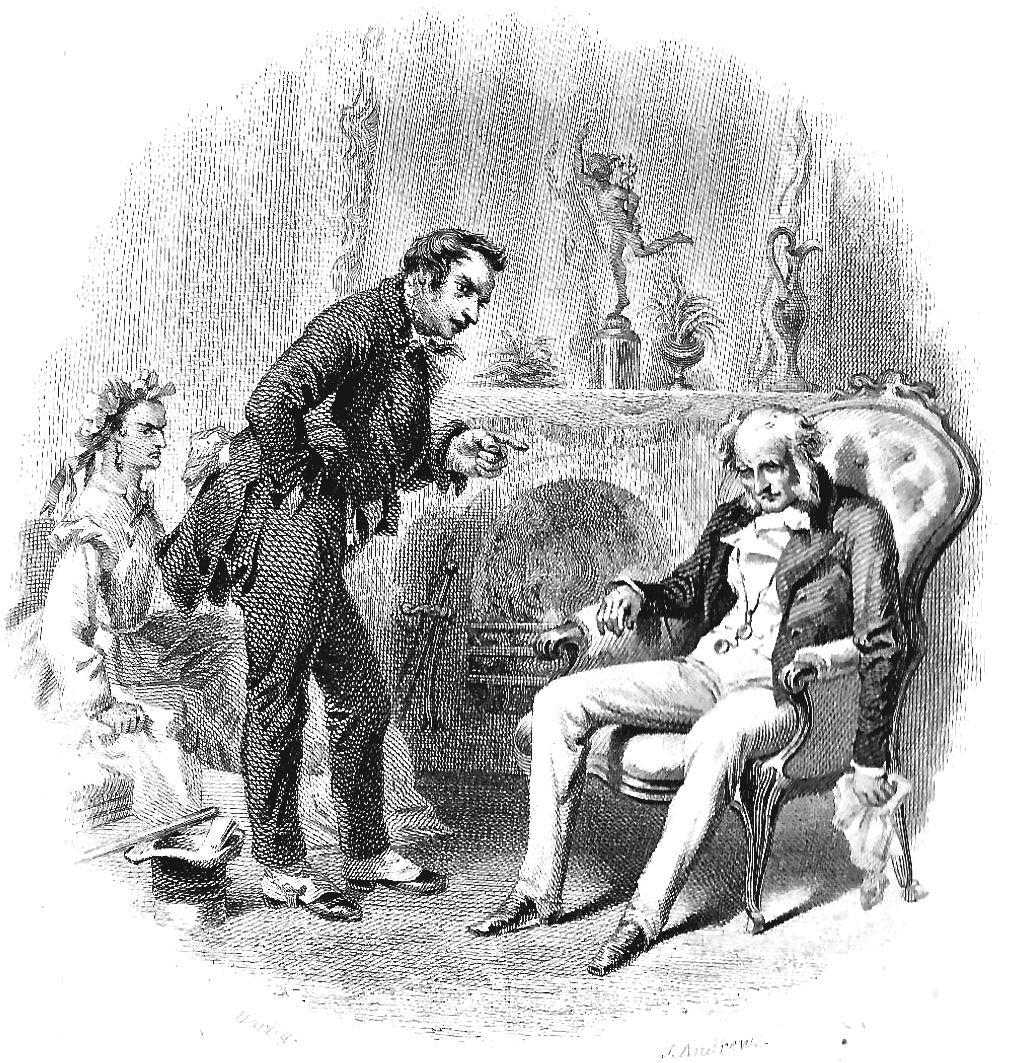 ​
Left: Harry Furniss's study of Lady Dedlock contributes to the expectation that she will be unmasked as Tulkinghorn's killer: Lady Deadlock on the Staircase (1910). Centre: Phiz's original serial engraving depicts Honoria Dedlock passing Sir Leicester's wanted poster: Shadow (June 1853). Right: Felix Octavius Carr Darley's frontispiece for vol. 4 in the Sheldon & Co. "Household" Edition: Springing a Mine (1863).
Related Material, including Other Illustrated Editions of
Bleak House
Scanned image, colour correction, sizing, caption, and commentary by Philip V. Allingham. [You may use this image without prior permission for any scholarly or educational purpose, as long as you (1) credit the person who scanned the image, and (2) link your document to this URL in a web document or cite the Victorian Web in a print one.]
Bibliography
"Bleak House — Sixty-one Illustrations by Fred Barnard." Scenes and Characters from the Works of Charles Dickens, Being Eight Hundred and Sixty-six Drawings by Fred Barnard, Gordon Thomson, Hablot Knight Browne (Phiz), J. McL. Ralston, J. Mahoney, H. French, Charles Green, E. G. Dalziel, A. B. Frost, F. A. Fraser, and Sir Luke Fildes. London: Chapman and Hall, 1907.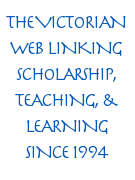 Collins, Philip. Dickens and Crime. London: Macmillan, 1964.
Davis, Paul. Charles Dickens A to Z: The Essential Reference to His Life and Work. New York: Facts On File, 1998.
Dickens, Charles. Bleak House. Illustrated by F. O. C. Darley and John Gilbert. The Works of Charles Dickens. The Household Edition. New York: Sheldon and Company, 1863. Vols. 1-4.
_______. Bleak House. Illustrated by Sol Eytinge, Jr, and engraved by A. V. S. Anthony. 14 vols. Boston: Ticknor & Fields, 1867. VI.
_______. Bleak House, with 61 illustrations by Fred Barnard. Household Edition. London: Chapman and Hall, 1873. IV.
_______. Bleak House. Illustrated by Harry Furniss [28 original lithographs]. The Charles Dickens Library Edition. Vol. 11.​ London: Educational Book, 1910.
_______. Bleak House, ed. Norman Page. Harmondsworth: Penguin, 1971.
Hammerton, J. A. "Chapter 18: Bleak House." The Dickens Picture-Book. The Charles Dickens Library Edition. London: Educational Book, 1910. XVII, 366-97.
Vann, J. Don. "Bleak House, twenty parts in nineteen monthly instalments, October 1846—April 1848." Victorian Novels in Serial. New York: The Modern Language Association, 1985. 69-70.
---
Created 19 March 2021