He puts his hands together, . . . . and raising them towards her breast, bows down with his head, and cries. — fifty-first illustration by Fred Barnard in the Household Edition (1873). Dark plate 9.3 cm high by 13.7 cm wide (3 ⅝ by 5 ⅜ inches), framed, p. 365. Chapter 55. Running head: "The Prodigal Son" (375). [Click on the image to enlarge it.]
Passage Illustrated: George in Prison begs His Mother's Forgiveness
So George, who is writing at his table, supposing himself to be alone, does not raise his eyes, but remains absorbed. The old housekeeper looks at him, and those wandering hands of hers are quite enough for Mrs. Bagnet's confirmation, even if she could see the mother and the son together, knowing what she knows, and doubt their relationship.
Not a rustle of the housekeeper's dress, not a gesture, not a word betrays her. She stands looking at him as he writes on, all unconscious, and only her fluttering hands give utterance to her emotions. But they are very eloquent, very, very eloquent. Mrs. Bagnet understands them. They speak of gratitude, of joy, of grief, of hope; of inextinguishable affection, cherished with no return since this stalwart man was a stripling; of a better son loved less, and this son loved so fondly and so proudly; and they speak in such touching language that Mrs. Bagnet's eyes brim up with tears and they run glistening down her sun-brown face.
"George Rouncewell! Oh, my dear child, turn and look at me!"
The trooper starts up, clasps his mother round the neck, and falls down on his knees before her. Whether in a late repentance, whether in the first association that comes back upon him, he puts his hands together as a child does when it says its prayers, and raising them towards her breast, bows down his head, and cries.
"My George, my dearest son! Always my favourite, and my favourite still, where have you been these cruel years and years? Grown such a man too, grown such a fine strong man. Grown so like what I knew he must be, if it pleased God he was alive!" [Chapter LV, "Flight," 375]
Parallel Scene from the Original Serial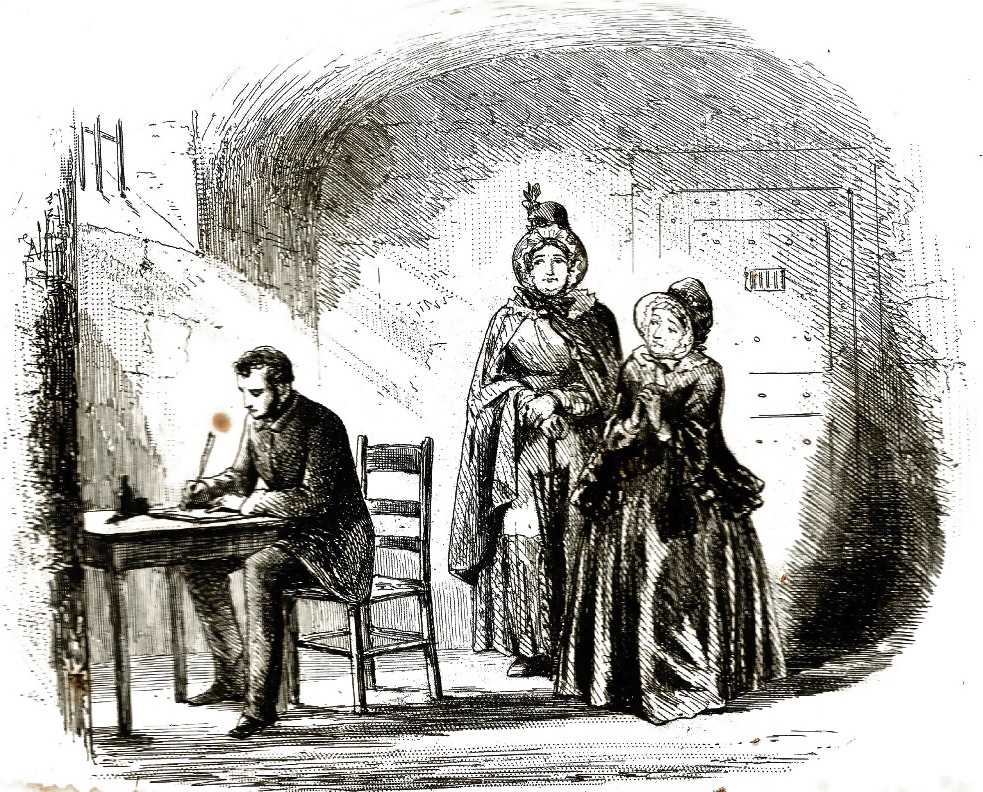 Above: Phiz's less emotional version of the scene in George's cell: Mrs. Bagnet returns from her expedition (July 1853).
Related Material, including Other Illustrated Editions of
Bleak House
Scanned image, colour correction, sizing, caption, and commentary by Philip V. Allingham. [You may use this image without prior permission for any scholarly or educational purpose, as long as you (1) credit the person who scanned the image, and (2) link your document to this URL in a web document or cite the Victorian Web in a print one.]
Bibliography
"Bleak House — Sixty-one Illustrations by Fred Barnard." Scenes and Characters from the Works of Charles Dickens, Being Eight Hundred and Sixty-six Drawings by Fred Barnard, Gordon Thomson, Hablot Knight Browne (Phiz), J. McL. Ralston, J. Mahoney, H. French, Charles Green, E. G. Dalziel, A. B. Frost, F. A. Fraser, and Sir Luke Fildes. London: Chapman and Hall, 1907.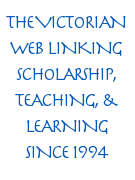 Collins, Philip. Dickens and Crime. London: Macmillan, 1964.
Davis, Paul. Charles Dickens A to Z: The Essential Reference to His Life and Work. New York: Facts On File, 1998.
Dickens, Charles. Bleak House. Illustrated by F. O. C. Darley and John Gilbert. The Works of Charles Dickens. The Household Edition. New York: Sheldon and Company, 1863. Vols. 1-4.
_______. Bleak House. Illustrated by Sol Eytinge, Jr, and engraved by A. V. S. Anthony. 14 vols. Boston: Ticknor & Fields, 1867. VI.
_______. Bleak House, with 61 illustrations by Fred Barnard. Household Edition. London: Chapman and Hall, 1873. IV.
_______. Bleak House. Illustrated by Harry Furniss [28 original lithographs]. The Charles Dickens Library Edition. Vol. 11.​ London: Educational Book, 1910.
_______. Bleak House, ed. Norman Page. Harmondsworth: Penguin, 1971.
Hammerton, J. A. "Chapter 18: Bleak House." The Dickens Picture-Book. The Charles Dickens Library Edition. London: Educational Book, 1910. XVII, 366-97.
Vann, J. Don. "Bleak House, twenty parts in nineteen monthly instalments, October 1846—April 1848." Victorian Novels in Serial. New York: The Modern Language Association, 1985. 69-70.
---
Created 30March 2021