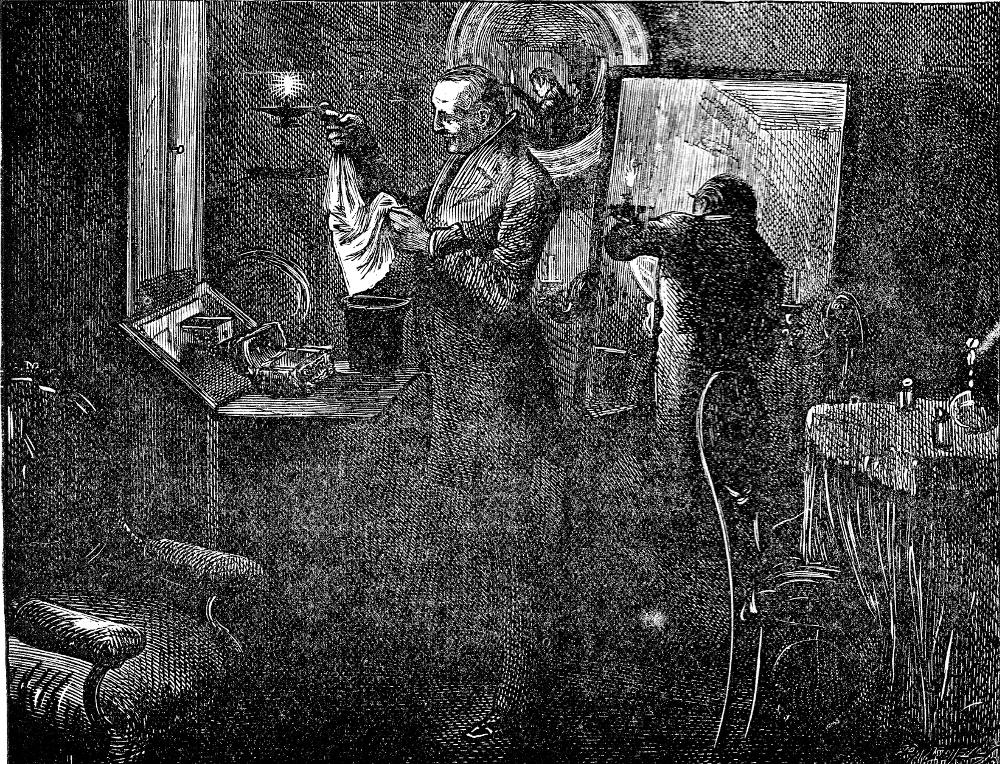 Mr. Bucket in Lady Dedlock's boudoir. — fifty-second illustration by Fred Barnard in the Household Edition (1873). 10.5 cm high by 13.5 cm wide (4 ¼ by 5 ¼ inches), framed, p. 373. Chapter 56. Running head: "Mr. Bucket Pursues His Investigations" (383). [Click on the image to enlarge it.]
Passage Illustrated: Bucket in Lady Dedlock's boudoir looking for clues as to her destination
With this peroration, Mr. Bucket, buttoned up, goes quietly out, looking steadily before him as if he were already piercing the night in quest of the fugitive.
His first step is to take himself to Lady Dedlock's rooms and look all over them for any trifling indication that may help him. The rooms are in darkness now; and to see Mr. Bucket with a wax-light in his hand, holding it above his head and taking a sharp mental inventory of the many delicate objects so curiously at variance with himself, would be to see a sight — which nobody does see, as he is particular to lock himself in.
"A spicy boudoir, this," says Mr. Bucket, who feels in a manner furbished up in his French by the blow of the morning. "Must have cost a sight of money. Rum articles to cut away from, these; she must have been hard put to it!"
Opening and shutting table-drawers and looking into caskets and jewel-cases, he sees the reflection of himself in various mirrors, and moralizes thereon.
"One might suppose I was a-moving in the fashionable circles and getting myself up for Almack's," says Mr. Bucket. "I begin to think I must be a swell in the Guards without knowing it."
Ever looking about, he has opened a dainty little chest in an inner drawer. His great hand, turning over some gloves which it can scarcely feel, they are so light and soft within it, comes upon a white handkerchief.
"Hum! Let's have a look at you," says Mr. Bucket, putting down the light. "What should you be kept by yourself for? What's/po[[['- motive? Are you her ladyship's property, or somebody else's? You've got a mark upon you somewheres or another, I suppose?"
He finds it as he speaks, "Esther Summerson."
"Oh!" says Mr. Bucket, pausing, with his finger at his ear. "Come, I'll take you." [Chapter LVI, "Pursuit," 383]
Commentary: The Inquisitive Detective Bucket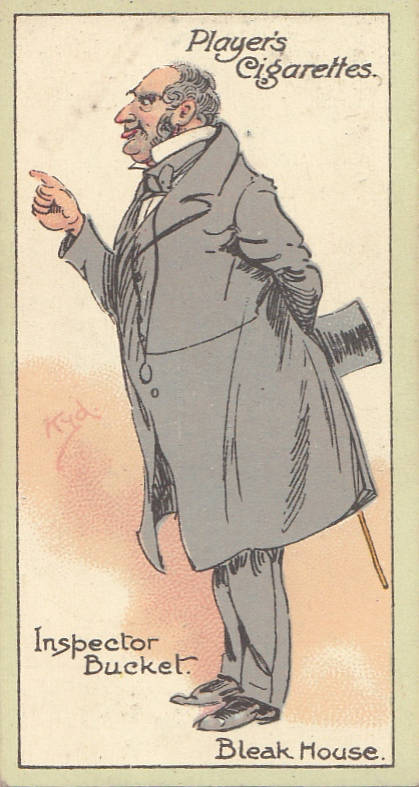 Kyd's Player's Cigarette Card No. 49: Inspector Bucket. (1910).
All nineteenth-century programs of illustration for Bleak House prominently feature Dickens's dogged criminal investigator, Inspector Bucket, a detective in London's Metropolitan Police charged with investigating the murder of the attorney Tulkinghorn. He is as important as Edgar Allen Poe's Surete detective C. Auguste Dupin, theforerunner of Conan Doyle's Sherlock Holmes, as he shares honours as the first professional criminal investigator in literature written in English. Dickens seems to have based the character of Detective Bucket on the real-life Scotland Yard investigator  Charles Frederick Field (1805-74).The tdetective and the writer became associates through Dickens's nocturnal tours of areas of seemier parts of London known to be hotbeds of criminal activity. In Household Words in its initial year of publication Dickens described his adventures with an "Inspector Wield," a thinly-disguised version of Field, in "A Detective Party" (Collins, 204-207). Dickens may also have based the character of Inspector Bucket on Jack Whicher, one of the 'original' eight detectives set upin the Detective Branch, founded at Scotland Yard in 1842. Barnard seems to have been much more interested in Bucket than Dickens's original illustrator, who depicts him just once.
Other​ Artists' Renderrings of the Dogged Mr. Bucket, 1853 through 1910
​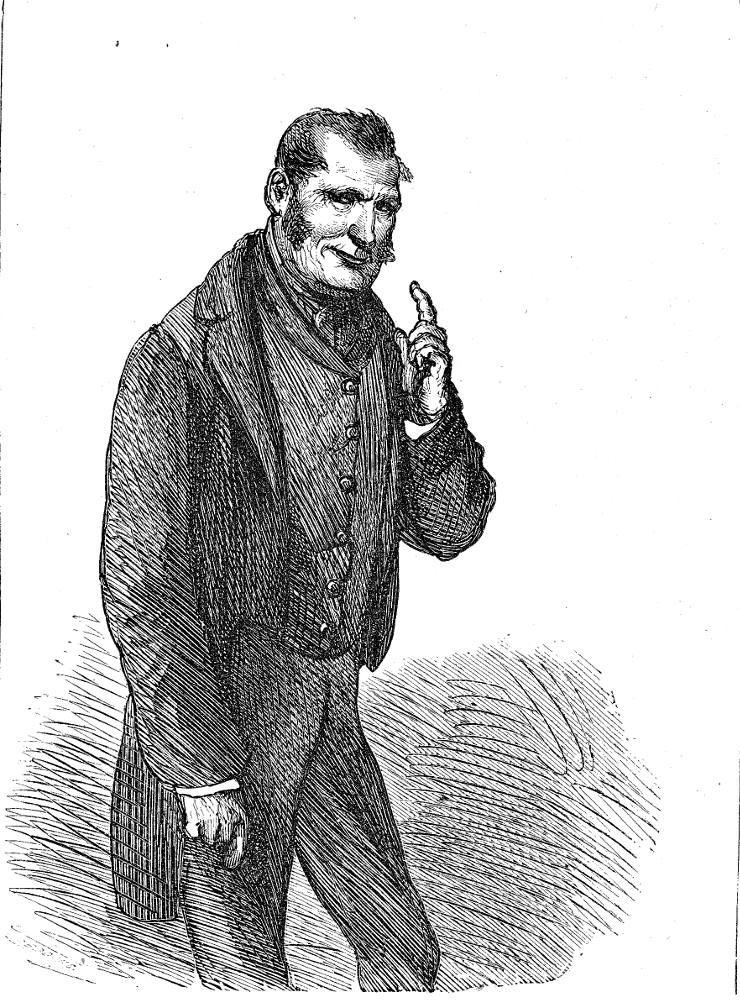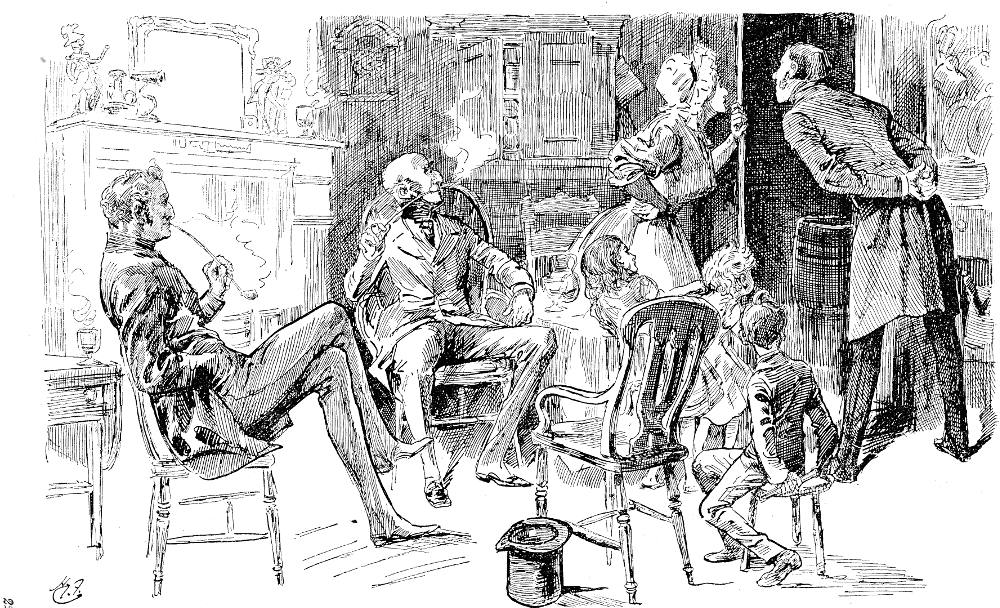 ​
Left: Sol Eytinge, Jr.'s portrait of the detective and his interrogative finger: Inspector Bucket (1867). Right: Harry Furniss's version of the convivial birthday party which Bucket crashes: Mr. Bucket's Pleasant Evening (1910). Right: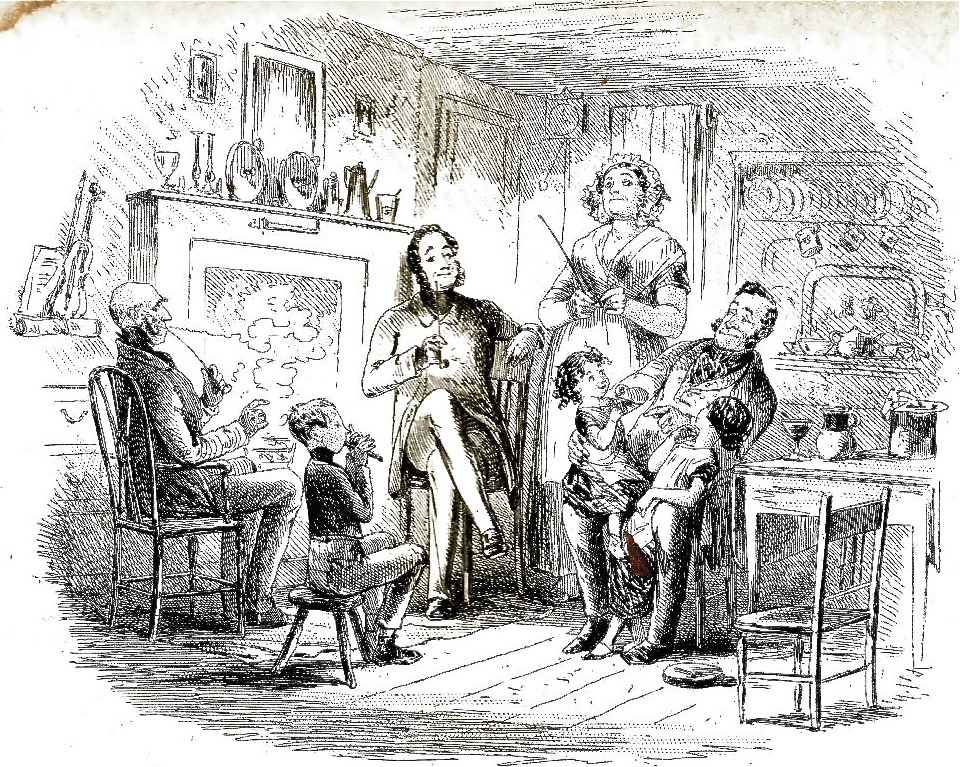 Above: Phiz's only illustration of the intrepid detective: Friendly Behaviour of Mr. Bucket (May 1853).
Related Material, including Other Illustrated Editions of
Bleak House
Scanned image, colour correction, sizing, caption, and commentary by Philip V. Allingham. [You may use this image without prior permission for any scholarly or educational purpose, as long as you (1) credit the person who scanned the image, and (2) link your document to this URL in a web document or cite the Victorian Web in a print one.]
Bibliography
"Bleak House — Sixty-one Illustrations by Fred Barnard." Scenes and Characters from the Works of Charles Dickens, Being Eight Hundred and Sixty-six Drawings by Fred Barnard, Gordon Thomson, Hablot Knight Browne (Phiz), J. McL. Ralston, J. Mahoney, H. French, Charles Green, E. G. Dalziel, A. B. Frost, F. A. Fraser, and Sir Luke Fildes. London: Chapman and Hall, 1907.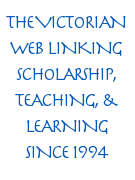 Collins, Philip. Dickens and Crime. London: Macmillan, 1964.
Davis, Paul. Charles Dickens A to Z: The Essential Reference to His Life and Work. New York: Facts On File, 1998.
Dickens, Charles. Bleak House. Illustrated by F. O. C. Darley and John Gilbert. The Works of Charles Dickens. The Household Edition. New York: Sheldon and Company, 1863. Vols. 1-4.
_______. Bleak House. Illustrated by Sol Eytinge, Jr, and engraved by A. V. S. Anthony. 14 vols. Boston: Ticknor & Fields, 1867. VI.
_______. Bleak House, with 61 illustrations by Fred Barnard. Household Edition. London: Chapman and Hall, 1873. IV.
_______. Bleak House. Illustrated by Harry Furniss [28 original lithographs]. The Charles Dickens Library Edition. Vol. 11.​ London: Educational Book, 1910.
_______. Bleak House, ed. Norman Page. Harmondsworth: Penguin, 1971.
Hammerton, J. A. "Chapter 18: Bleak House." The Dickens Picture-Book. The Charles Dickens Library Edition. London: Educational Book, 1910. XVII, 366-97.
Vann, J. Don. "Bleak House, twenty parts in nineteen monthly instalments, October 1846—April 1848." Victorian Novels in Serial. New York: The Modern Language Association, 1985. 69-70.
---
Created 31 March 2021