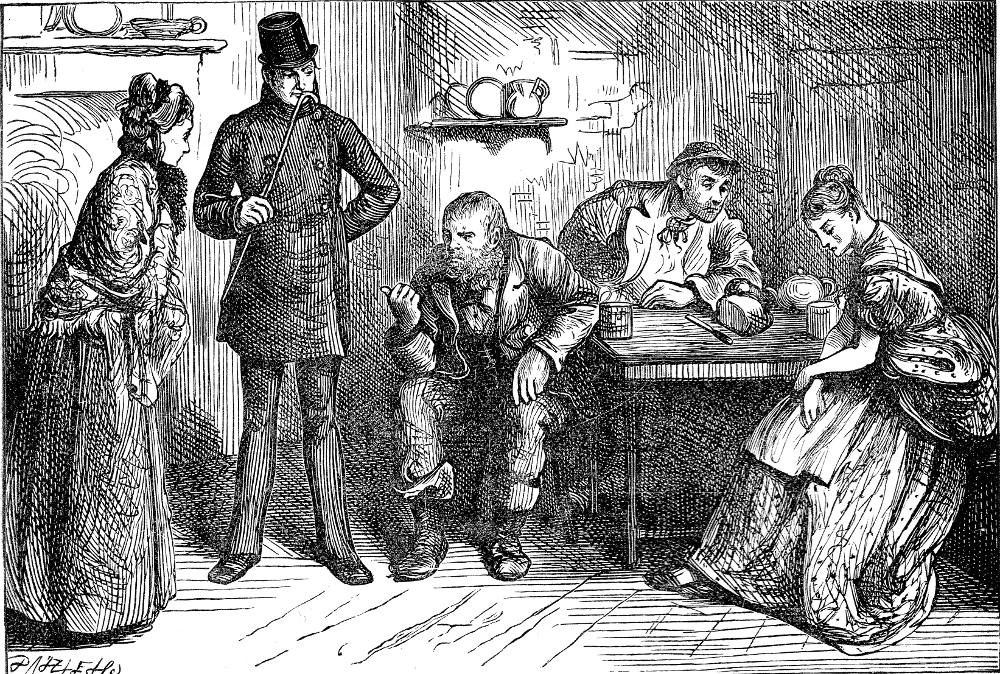 In the brickmaker's cottage. — fifty-third illustration by Fred Barnard in the Household Edition (1873). 9.7 cm high by 13.7 cm wide (3 ⅝ by 5 ⅜ inches), framed, p. 381. Chapter 56. Running head: "Mr. Bucket Quotes One Michael Jackson" (389). [Click on the images to enlarge them.]
Passage Illustrated: Bucket and Esther in the Brickmaker's Cottage, St. Alban's
We set off again immediately. On arriving at the cottage, we found it shut up and apparently deserted, but one of the neighbours who knew me and who came out when I was trying to make some one hear informed me that the two women and their husbands now lived together in another house, made of loose rough bricks, which stood on the margin of the piece of ground where the kilns were and where the long rows of bricks were drying. We lost no time in repairing to this place, which was within a few hundred yards; and as the door stood ajar, I pushed it open.
There were only three of them sitting at breakfast, the child lying asleep on a bed in the corner. It was Jenny, the mother of the dead child, who was absent. The other woman rose on seeing me; and the men, though they were, as usual, sulky and silent, each gave me a morose nod of recognition. A look passed between them when Mr. Bucket followed me in, and I was surprised to see that the woman evidently knew him.
I had asked leave to enter of course. Liz (the only name by which I knew her) rose to give me her own chair, but I sat down on a stool near the fire, and Mr. Bucket took a corner of the bedstead. Now that I had to speak and was among people with whom I was not familiar, I became conscious of being hurried and giddy. It was very difficult to begin, and I could not help bursting into tears.
"Liz," said I, "I have come a long way in the night and through the snow to inquire after a lady —"
"Who has been here, you know," Mr. Bucket struck in, addressing the whole group with a composed propitiatory face; "that's the lady the young lady means. The lady that was here last night, you know." [Chapter LVI, "Pursuit," 389]
Parallel Scene from the Original Serial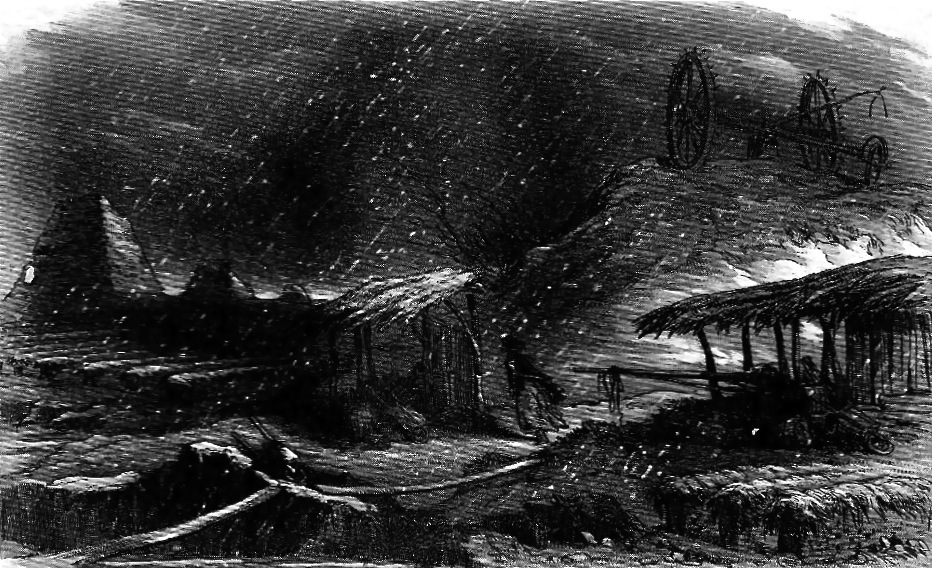 Above: Phiz's atmospheric dark plate suggests the bizarre nature of the communal, working-class hovel: The Lonely Figure (July 1853).
Related Material, including Other Illustrated Editions of
Bleak House
Scanned image, colour correction, sizing, caption, and commentary by Philip V. Allingham. [You may use this image without prior permission for any scholarly or educational purpose, as long as you (1) credit the person who scanned the image, and (2) link your document to this URL in a web document or cite the Victorian Web in a print one.]
Bibliography
"Bleak House — Sixty-one Illustrations by Fred Barnard." Scenes and Characters from the Works of Charles Dickens, Being Eight Hundred and Sixty-six Drawings by Fred Barnard, Gordon Thomson, Hablot Knight Browne (Phiz), J. McL. Ralston, J. Mahoney, H. French, Charles Green, E. G. Dalziel, A. B. Frost, F. A. Fraser, and Sir Luke Fildes. London: Chapman and Hall, 1907.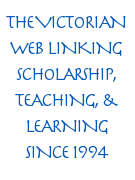 Collins, Philip. Dickens and Crime. London: Macmillan, 1964.
Davis, Paul. Charles Dickens A to Z: The Essential Reference to His Life and Work. New York: Facts On File, 1998.
Dickens, Charles. Bleak House. Illustrated by F. O. C. Darley and John Gilbert. The Works of Charles Dickens. The Household Edition. New York: Sheldon and Company, 1863. Vols. 1-4.
_______. Bleak House. Illustrated by Sol Eytinge, Jr, and engraved by A. V. S. Anthony. 14 vols. Boston: Ticknor & Fields, 1867. VI.
_______. Bleak House, with 61 illustrations by Fred Barnard. Household Edition. London: Chapman and Hall, 1873. IV.
_______. Bleak House. Illustrated by Harry Furniss [28 original lithographs]. The Charles Dickens Library Edition. Vol. 11.​ London: Educational Book, 1910.
_______. Bleak House, ed. Norman Page. Harmondsworth: Penguin, 1971.
Hammerton, J. A. "Chapter 18: Bleak House." The Dickens Picture-Book. The Charles Dickens Library Edition. London: Educational Book, 1910. XVII, 366-97.
Vann, J. Don. "Bleak House, twenty parts in nineteen monthly instalments, October 1846—April 1848." Victorian Novels in Serial. New York: The Modern Language Association, 1985. 69-70.
---
Created 30 March 2021