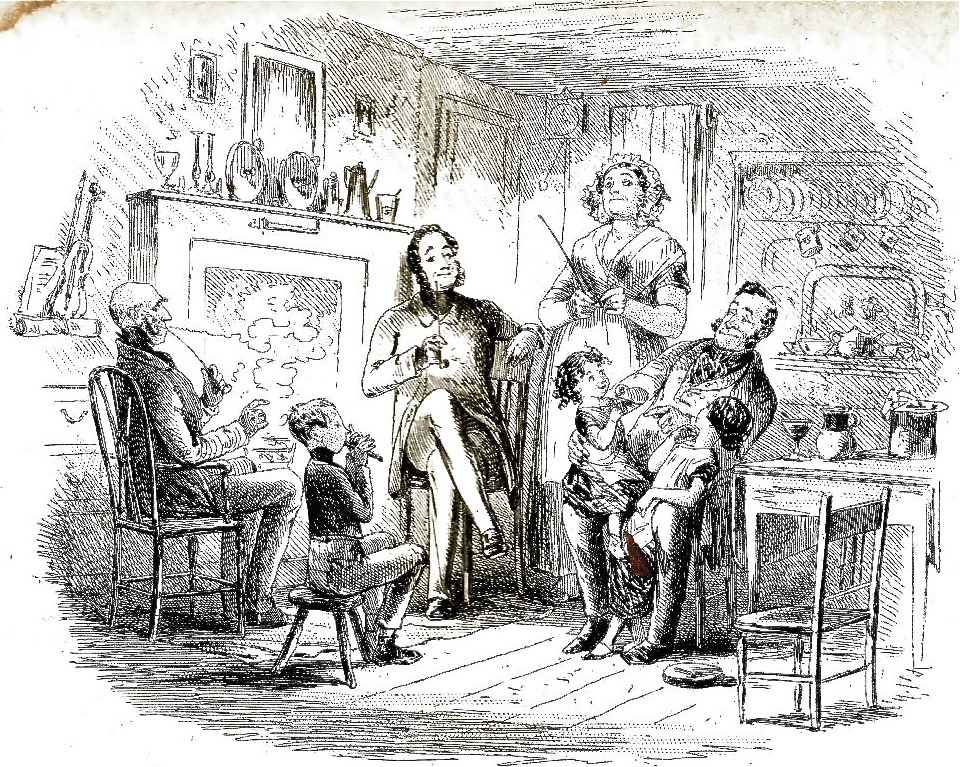 Friendly Behaviour of Mr. Bucket by "Phiz" (Hablot Knight Browne) for Part 15 of Bleak House (May 1853), facing p. 477 (ch. 49, "Dutiful Friendship"). 4 x 5 ⅛ inches (10 cm x 13.2 cm), vignetted. [Click on the images to enlarge them.]
Passage Illustrated: The Detective's Investigation leads him to a Birthday Party
The toast having been drunk with enthusiasm, Mrs. Bagnet returns thanks in a neat address of corresponding brevity. This model composition is limited to the three words "And wishing yours!" which the old girl follows up with a nod at everybody in succession and a well-regulated swig of the mixture. This she again follows up, on the present occasion, by the wholly unexpected exclamation, "Here's a man!"
Here is a man, much to the astonishment of the little company, looking in at the parlour-door. He is a sharp-eyed man — a quick keen man — and he takes in everybody's look at him, all at once, individually and collectively, in a manner that stamps him a remarkable man.
"George," says the man, nodding, "how do you find yourself?"
"Why, it's Bucket!" cries Mr. George.
"Yes," says the man, coming in and closing the door. "I was going down the street here when I happened to stop and look in at the musical instruments in the shop-window — a friend of mine is in want of a second-hand wiolinceller of a good tone — and I saw a party enjoying themselves, and I thought it was you in the corner; I thought I couldn't be mistaken. How goes the world with you, George, at the present moment? Pretty smooth? And with you, ma'am? And with you, governor? And Lord," says Mr. Bucket, opening his arms, "here's children too! You may do anything with me if you only show me children. Give us a kiss, my pets. No occasion to inquire who YOUR father and mother is. Never saw such a likeness in my life!"
Mr. Bucket, not unwelcome, has sat himself down next to Mr. George and taken Quebec and Malta on his knees. "You pretty dears," says Mr. Bucket, "give us another kiss; it's the only thing I'm greedy in. Lord bless you, how healthy you look! And what may be the ages of these two, ma'am? I should put 'em down at the figures of about eight and ten."
"You're very near, sir," says Mrs. Bagnet.
"I generally am near," returns Mr. Bucket, "being so fond of children. A friend of mine has had nineteen of 'em, ma'am, all by one mother, and she's still as fresh and rosy as the morning. Not so much so as yourself, but, upon my soul, she comes near you! And what do you call these, my darling?" pursues Mr. Bucket, pinching Malta's cheeks. "These are peaches, these are. Bless your heart! And what do you think about father? Do you think father could recommend a second-hand wiolinceller of a good tone for Mr. Bucket's friend, my dear? My name's Bucket. Ain't that a funny name?"
These blandishments have entirely won the family heart. Mrs. Bagnet forgets the day to the extent of filling a pipe and a glass for Mr. Bucket and waiting upon him hospitably. She would be glad to receive so pleasant a character under any circumstances, but she tells him that as a friend of George's she is particularly glad to see him this evening, for George has not been in his usual spirits.
"Not in his usual spirits?" exclaims Mr. Bucket. "Why, I never heard of such a thing! What's the matter, George? You don't intend to tell me you've been out of spirits. What should you be out of spirits for? You haven't got anything on your mind, you know."
"Nothing particular," returns the trooper.
"I should think not," rejoins Mr. Bucket. "What could you have on your mind, you know! And have these pets got anything on their minds, eh? Not they, but they'll be upon the minds of some of the young fellows, some of these days, and make 'em precious low-spirited. I ain't much of a prophet, but I can tell you that, ma'am."
Mrs. Bagnet, quite charmed, hopes Mr. Bucket has a family of his own.
"There, ma'am!" says Mr. Bucket. "Would you believe it? No, I haven't. My wife and a lodger constitute my family. Mrs. Bucket is as fond of children as myself and as wishful to have 'em, but no. So it is. Worldly goods are divided unequally, and man must not repine. What a very nice backyard, ma'am! Any way out of that yard, now?"
There is no way out of that yard.
"Ain't there really?" says Mr. Bucket. "I should have thought there might have been. Well, I don't know as I ever saw a backyard that took my fancy more. Would you allow me to look at it? Thank you. No, I see there's no way out. But what a very good-proportioned yard it is!"
Having cast his sharp eye all about it, Mr. Bucket returns to his chair next his friend Mr. George and pats Mr. George affectionately on the shoulder.
"How are your spirits now, George?"
"All right now," returns the trooper.
"That's your sort!" says Mr. Bucket. "Why should you ever have been otherwise? A man of your fine figure and constitution has no right to be out of spirits. That ain't a chest to be out of spirits, is it, ma'am? And you haven't got anything on your mind, you know, George; what could you have on your mind!"
Somewhat harping on this phrase, considering the extent and variety of his conversational powers, Mr. Bucket twice or thrice repeats it to the pipe he lights, and with a listening face that is particularly his own. But the sun of his sociality soon recovers from this brief eclipse and shines again.
"And this is brother, is it, my dears?" says Mr. Bucket, referring to Quebec and Malta for information on the subject of young Woolwich. "And a nice brother he is — half-brother I mean to say. For he's too old to be your boy, ma'am."
"I can certify at all events that he is not anybody else's," returns Mrs. Bagnet, laughing.
"Well, you do surprise me! Yet he's like you, there's no denying. Lord, he's wonderfully like you! But about what you may call the brow, you know, There his father comes out!" Mr. Bucket compares the faces with one eye shut up, while Mr. Bagnet smokes in stolid satisfaction.
This is an opportunity for Mrs. Bagnet to inform him that the boy is George's godson.
"George's godson, is he?" rejoins Mr. Bucket with extreme cordiality. "I must shake hands over again with George's godson. Godfather and godson do credit to one another. And what do you intend to make of him, ma'am? Does he show any turn for any musical instrument?"
Mr. Bagnet suddenly interposes, "Plays the fife. Beautiful."
"Would you believe it, governor," says Mr. Bucket, struck by the coincidence, "that when I was a boy I played the fife myself? Not in a scientific way, as I expect he does, but by ear. Lord bless you! 'British Grenadiers' — there's a tune to warm an Englishman up! Could you give us 'British Grenadiers,' my fine fellow?"
Nothing could be more acceptable to the little circle than this call upon young Woolwich, who immediately fetches his fife and performs the stirring melody, during which performance Mr. Bucket, much enlivened, beats time and never fails to come in sharp with the burden, "British Gra-a-anadeers!" In short, he shows so much musical taste that Mr. Bagnet actually takes his pipe from his lips to express his conviction that he is a singer. Mr. Bucket receives the harmonious impeachment so modestly, confessing how that he did once chaunt a little, for the expression of the feelings of his own bosom, and with no presumptuous idea of entertaining his friends, that he is asked to sing. Not to be behindhand in the sociality of the evening, he complies and gives them "Believe Me, if All Those Endearing Young Charms." This ballad, he informs Mrs. Bagnet, he considers to have been his most powerful ally in moving the heart of Mrs. Bucket when a maiden, and inducing her to approach the altar — Mr. Bucket's own words are "to come up to the scratch." [Chapter XLIX, "Dutiful Friendship," 475-478; Project Gutenberg etext (see bibliography below)]
Commentary: A Jolly Family Party turns out badly for one Celebrant
Tulkinghorn had planned to inform Sir Leicester Dedlock about his wife's youthful indiscretion and her having given birth to an illegitimate child, but somebody apparently has forestalled this move by shooting him in his house that previous evening. Dickens places suspicion upon Lady Deadlock, who leaves the townhouse for a walk in the garden that evening. But the narrator reveals that at least one other person has both motive and opportunity, to say nothing of his expertise with firearms. Bucket picks the second suspect, since he has deduced that George may have acted to protect the Bagnets from the machinations of Tulkinghorn and Smallweed, and has been seen hanging about Tulkinghorn's at all hours, trying to pay his bill.
The next day, Detective Bucket unexpectedly turns up at the Bagnets' music shop shortly after George's 4:30 P. M. arrival, and participates convivially in their after-dinner birthday party for "the old girl" (Mrs. Bagnet). He throws his hosts and George off the scent by making much of the children and being thoroughly jolly. Noting that the back yard offers no means of escape, Bucket offers to walk George home. However, he formally arrests George for Tulkinghorn's murder as soon as they are clear of Hanging Sword Alley, and are in a private room of an adjacent public house. George is thunderstuck, but then realizes that his being out of sorts as a result of Jo's death at the shooting-gallery could be easily misconstrued as the appearance of guilt.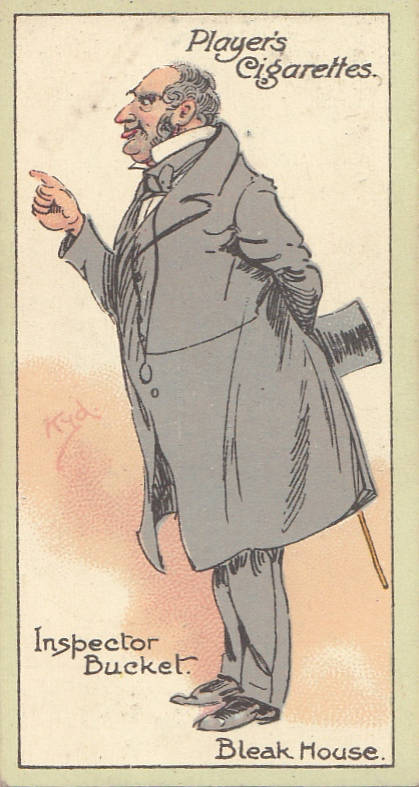 Kyd's Player's Cigarette Card No. 49: Inspector Bucket. (1910).
All nineteenth-century programs of illustration for Bleak House prominently feature Dickens's dogged criminal investigator, Inspector Bucket, a detective in London's Metropolitan Police charged with investigating the murder of the attorney Tulkinghorn. He is as important as Edgar Allen Poe's Surete detective C. Auguste Dupin, theforerunner of Conan Doyle's Sherlock Holmes, as he shares honours as the first professional criminal investigator in literature written in English. Dickens seems to have based the character of Detective Bucket on the real-life Scotland Yard investigator  Charles Frederick Field (1805-74).The tdetective and the writer became associates through Dickens's nocturnal tours of areas of seemier parts of London known to be hotbeds of criminal activity. In Household Words in its initial year of publication Dickens described his adventures with an "Inspector Wield," a thinly-disguised version of Field, in "A Detective Party" (Collins, 204-207). Dickens may also have based the character of Inspector Bucket on Jack Whicher, one of the 'original' eight detectives set upin the Detective Branch, founded at Scotland Yard in 1842.
Other​ Illustrations​ of Mr. Bucket's Pleasant Evening, 1867 and 1910
​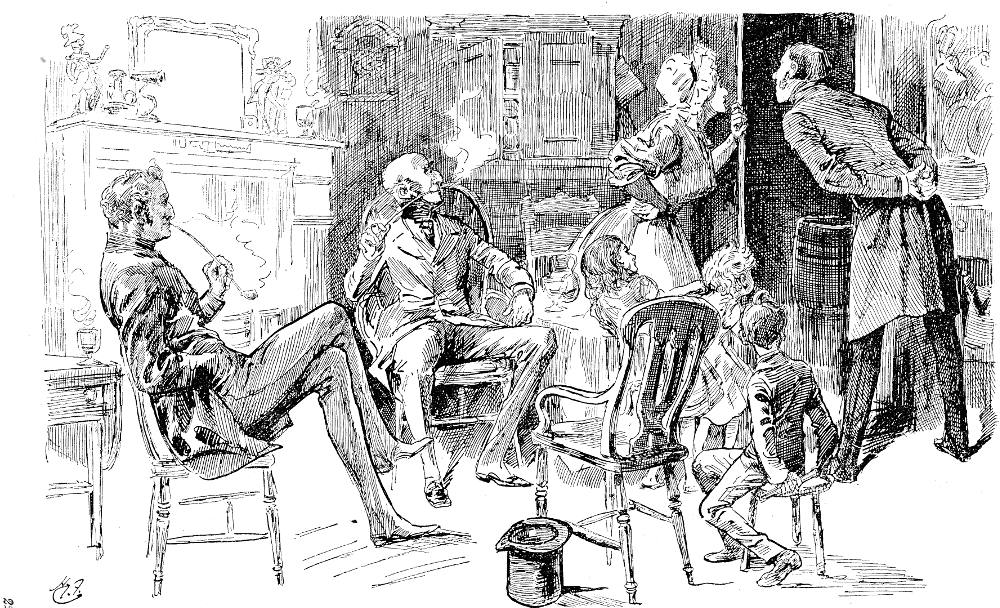 ​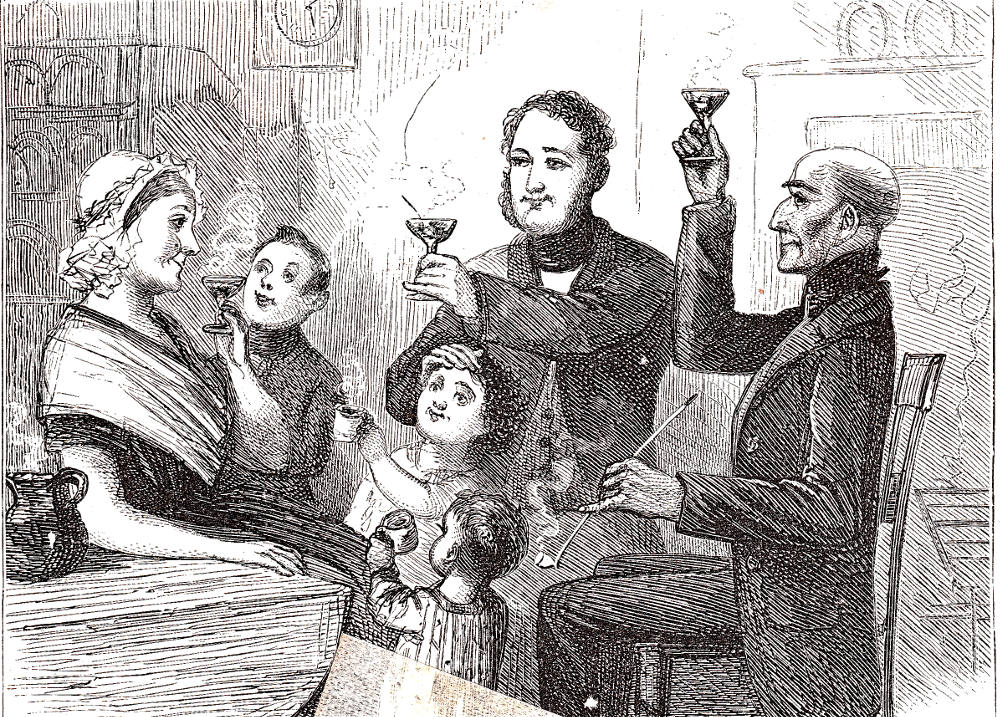 Left: Harry Furniss's version of the convivial birthday party: Mr. Bucket's Pleasant Evening (1910). Right: Sol Eytinge, Jr.'s portrait of the cheerful military family and their intimate friend, the shooting-gallery proprietor: Mr. George and the Bagnets (1867).
Related Material, including Other Illustrated Editions of
Bleak House
Image scan and text by George P. Landow. [You may use this image without prior permission for any scholarly or educational purpose as long as you (1) credit the person who scanned the image, and (2) link your document to this URL in a web document or cite the Victorian Web in a print one.]
Bibliography
"Bleak House — Sixty-one Illustrations by Fred Barnard." Scenes and Characters from the Works of Charles Dickens, Being Eight Hundred and Sixty-six Drawings by Fred Barnard, Gordon Thomson, Hablot Knight Browne (Phiz), J. McL. Ralston, J. Mahoney, H. French, Charles Green, E. G. Dalziel, A. B. Frost, F. A. Fraser, and Sir Luke Fildes. London: Chapman and Hall, 1907.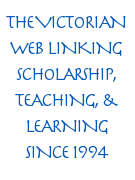 Bentley, Nicolas, Michael Slater, and Nina Burgis. The Dickens Index. New York and Oxford: Oxford U. P., 1990.
Brown, John Buchanan. Phiz! Illustrator of Dickens' World. New York: Charles Scribner's, 1978.
Burton, Anthony. "Vision and Designs. Review of John Harvey, Victorian Novelists and heir Illustrators. Sidgwick & Jackson, 1970. Pounds 3.50." Dickensian, 67.2 (1971): 105-109.
Collins, Philip. Dickens and Crime. London: Macmillan, 1964.
Dickens, Charles. Bleak House. Illustrated by Hablot Knight Browne ("Phiz"). London: Bradbury & Evans. Bouverie Street, 1853.
_______. Bleak House. Project Gutenberg etext prepared by Donald Lainson, Toronto, Canada (charlie@idirect.com), with revision and corrections by Thomas Berger and Joseph E. Loewenstein, M.D. Seen 9 November 2007.
_______. Bleak House. Illustrated by F. O. C. Darley and John Gilbert. The Works of Charles Dickens. The Household Edition. New York: Sheldon and Company, 1863. Vols. 1-4.
_______. Bleak House. Project Gutenberg etext prepared by Donald Lainson, Toronto, Canada (charlie@idirect.com), with revision and corrections by Thomas Berger and Joseph E. Loewenstein, M.D. Seen 9 November 2007.
_______. Bleak House. Illustrated by Harry Furniss. The Charles Dickens Library Edition. London: Educational Book Company, 1910. XI.
Harvey, John R. "Conditions of Illustration in Serial Fiction." Victorian Novelists and Their Illustrators. London: Sidgwick and Jackson, 1970. Pp. 182-198.
Lester, Valerie Browne. Phiz: The Man Who Drew Dickens. London: Chatto and Windus, 2004.
Steig, Michael. Chapter 6. "Bleak House and Little Dorrit: Iconography of Darkness." Dickens and Phiz. Bloomington & London: Indiana U. P., 1978. 131-172.
Vann, J. Don. "Bleak House, twenty parts in nineteen monthly instalments, October 1846—April 1848." Victorian Novels in Serial. New York: The Modern Language Association, 1985. 69-70.
---
Created 15 November 2007 Last modified 22 March 2021