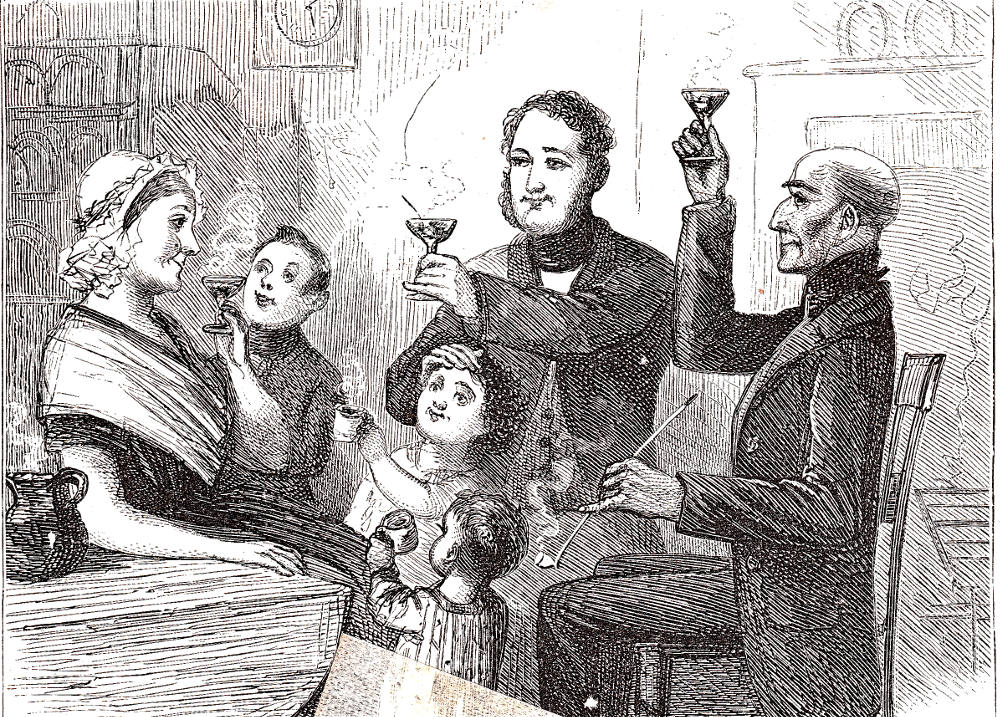 The fourteenth full-page illustration for Bleak House: Mr. George and the Bagnets, by Sol Eytinge, Jr. 7.4 cm high by 10 cm wide (2 ⅞ by 4 inches), framed. The Diamond Edition of Dickens's Works, Volume VI (Boston: Ticknor and Fields, 1867), facing p. 381. [Click on the images to enlarge them.]
Dickens's earlier description of Trooper George Rouncewell
He is a swarthy brown man of fifty, well made, and good looking, with crisp dark hair, bright eyes, and a broad chest. His sinewy and powerful hands, as sunburnt as his face, have evidently been used to a pretty rough life. What is curious about him is that he sits forward on his chair as if he were, from long habit, allowing space for some dress or accoutrements that he has altogether laid aside. His step too is measured and heavy and would go well with a weighty clash and jingle of spurs. He is close-shaved now, but his mouth is set as if his upper lip had been for years familiar with a great moustache; and his manner of occasionally laying the open palm of his broad brown hand upon it is to the same effect. Altogether one might guess Mr. George to have been a trooper once upon a time. [Chapter XXI, "The Smallweed Family," 168]
Trooper George and His Military Friends: Mrs. Bagnet's Birthday Party
Mr. George produces his present, which is greeted with admiring leapings and clappings by the young family, and with a species of reverential admiration by Mr. Bagnet. "Old girl," says Mr. Bagnet. "Tell him my opinion of it."
"Why, it's a wonder, George!" Mrs. Bagnet exclaims. "It's the beautifullest thing that ever was seen!"
"Good!" says Mr. Bagnet. "My opinion."
"It's so pretty, George," cries Mrs. Bagnet, turning it on all sides and holding it out at arm's length, "that it seems too choice for me."
"Bad!" says Mr. Bagnet. "Not my opinion."
"But whatever it is, a hundred thousand thanks, old fellow," says Mrs. Bagnet, her eyes sparkling with pleasure and her hand stretched out to him; "and though I have been a crossgrained soldier's wife to you sometimes, George, we are as strong friends, I am sure, in reality, as ever can be. Now you shall fasten it on yourself, for good luck, if you will, George."
The children close up to see it done, and Mr. Bagnet looks over young Woolwich's head to see it done with an interest so maturely wooden, yet pleasantly childish, that Mrs. Bagnet cannot help laughing in her airy way and saying, "Oh, Lignum, Lignum, what a precious old chap you are!" But the trooper fails to fasten  the brooch. His hand shakes, he is nervous, and it falls off. "Would any one believe this?" says he, catching it as it drops and looking round. "I am so out of sorts that I bungle at an easy job like this!"
Mrs. Bagnet concludes that for such a case there is no remedy like a pipe, and fastening the brooch herself in a twinkling, causes the trooper to be inducted into his usual snug place and the pipes to be got into action. "If that don't bring you round, George," says she, "just throw your eye across here at your present now and then, and the two together must do it. . . . .
"George. Woolwich. Quebec. Malta. This is her birthday. Take a day's march. And you won't find such another. Here's towards her!"
The toast having been drunk with enthusiasm, Mrs. Bagnet returns thanks in a neat address of corresponding brevity. This model composition is limited to the three words "And wishing yours!" which the old girl follows up with a nod at everybody in succession and a well-regulated swig of the mixture. This she again follows up, on the present occasion, by the wholly unexpected exclamation, "Here's a man!" [Chapter XLIX, "Dutiful Friendship," 380-381]
Commentary: Mr. George's Surrogate Family
The military couple, a bandsman and his practical wife ("the old girl"), have three small children nicknamed for the military bases upon which they were born: Quebec, Malta, and Woolwich. Dickens introduces the reader to the well-grounded family through the medium of their musical instrument shop in Hanging Sword Alley when George needs their advice about releasing Hawdon's correspondence to Smallweed and Tulkinghorn. Eytinge, however flags a later moment, when bald-headed Joseph ("Lignum Vitae") celebrates his wife's birthday with roasted fowls in Chapter 49, with a toast in which George participates just prior to Inspector Bucket's arrival. In terms of the plot, Dickens introduces the theatre-bassoonist Bagnet in Chapter 27 as the guarantor of George's loan with Smallweed. The disreputable loan-shark later threatens the Bagnets directly with financial ruin if George fails to give up the papers. Tulkinghorn, who is acting as Smallweed's agent in the matter, becomes the object of George's frustration in trying to clear himself of the obligation. George consequently becomes a suspect in Tulkinghorn's murder. The scene occurs just prior to Detective Bucket's arrival, which later that evening will lead to George's arrest.
Other​ Illustrations​ of Mr. Bucket's Pleasant Evening, 1853 and 1910
​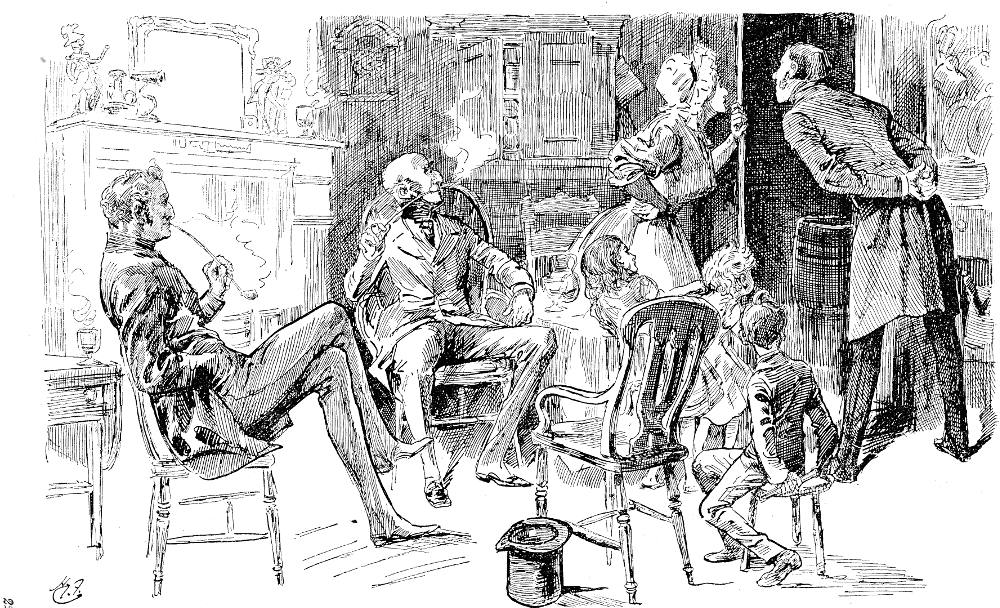 ​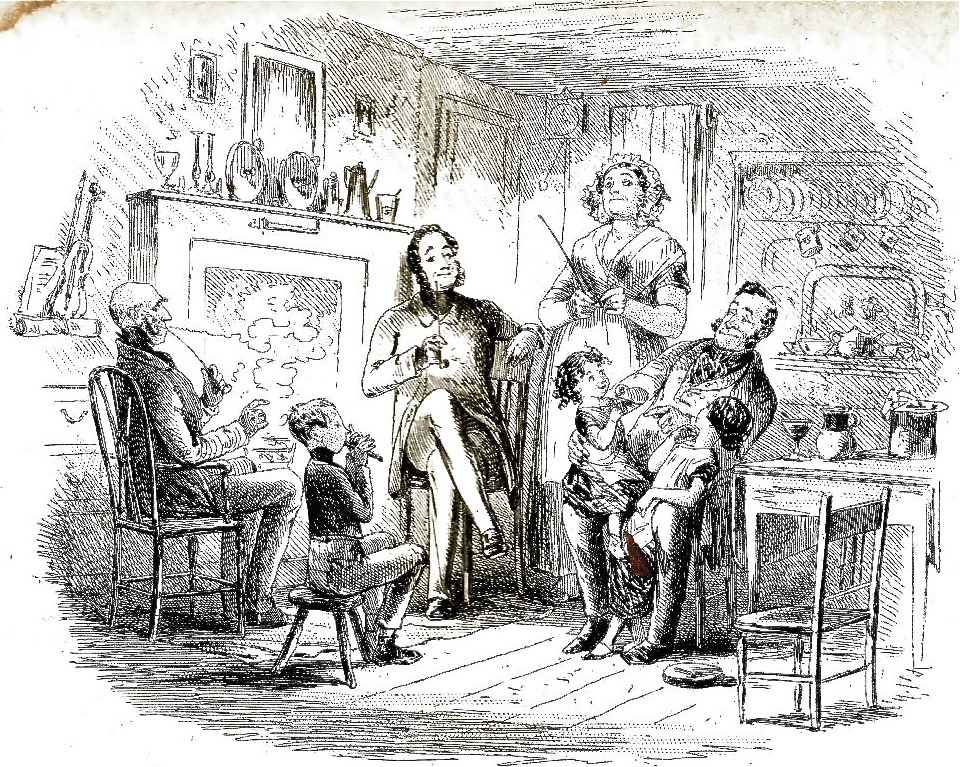 Left: Harry Furniss's version of the convivial; birthday party: Mr. Bucket's Pleasant Evening (1910). Right: Phiz's original serial portrait of Mrs. Bagnet's birthday party: Friendly Behaviour of Mr. Buckets (May 1853).
Related material, including front matter and sketches, by other illustrators for
Bleak House

(1852-1910)

Image scan and text by Philip V. Allingham. [You may use this image without prior permission for any scholarly or educational purpose as long as you (1) credit the person who scanned the image, and (2) link your document to this URL in a web document or cite the Victorian Web in a print one.]
Bibliography
Dickens, Charles. Bleak House. Illustrated by Hablot Knight Browne ("Phiz"). London: Bradbury & Evans. Bouverie Street, 1853.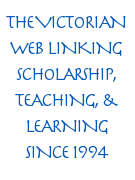 Dickens, Charles. Bleak House. Illustrated by Hablot Knight Browne. London: Bradbury and Evans, 1853.
_______.  Bleak House. Illustrated by F. O. C. Darley and John Gilbert. The Works of Charles Dickens. The Household Edition. New York: Sheldon and Company, 1863. Vols. 1-4.
_______. Bleak House. Illustrated by Sol Eytinge, Jr, and engraved by A. V. S. Anthony. 14 vols. Boston: Ticknor & Fields, 1867. VI.
_______. Bleak House, with 61 illustrations by Fred Barnard. Household Edition, volume IV. London: Chapman and Hall, 1873.
_______. Bleak House. Illustrated by Harry Furniss. The Charles Dickens Library Edition. 18 vols. London: Educational Book, 1910. Vol. XI.
Hammerton, J. A. "Ch. XVIII. Bleak House."  The Dickens Picture-Book. London: Educational Book Co., [1910], 294-338.
Lester, Valerie Browne. Phiz: The Man Who Drew Dickens. London: Chatto and Windus, 2004.
Steig, Michael. Chapter 6. "Bleak House and Little Dorrit: Iconography of Darkness." Dickens and Phiz. Bloomington & London: Indiana U. P., 1978. 131-172.
Vann, J. Don. "Bleak House, twenty parts in nineteen monthly instalments, October 1846—April 1848." Victorian Novels in Serial. New York: The Modern Language Association, 1985. 69-70./
---
Created 21 March 2021