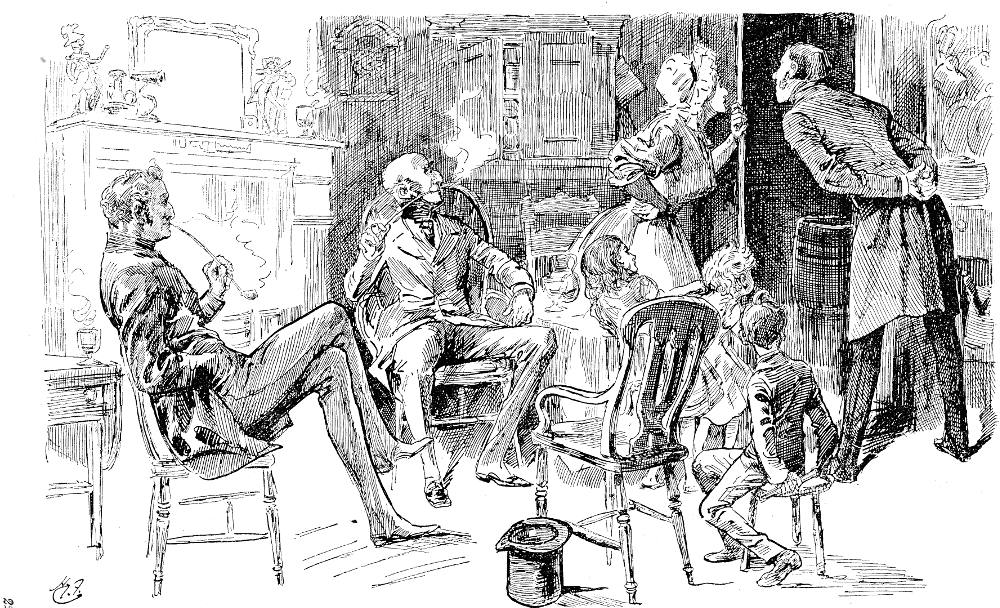 Mr. Bucket's Pleasant Evening (680) — Chapter 49, 3 ½ by 5 ⅝ inches (9 cm high x 14.3 cm wide), vignetted, twenty-third illustration in Charles Dickens's Bleak House, Charles Dickens Library Edition (1910), facing XI, 689. Original caption: Well, I don't know know as I ever saw a backyard that took my fancy more. Would you allow me to look at it? Thank you. No, I see there's no way out. But what a very good-proportioned yard it is!" [Click on the images to enlarge them.]
Passage Illustrated: No Escape from the Back Yard
Mrs. Bagnet, quite charmed, hopes Mr. Bucket has a family of his own.
"There, ma'am!" says Mr. Bucket. "Would you believe it? No, I haven't. My wife and a lodger constitute my family. Mrs. Bucket is as fond of children as myself and as wishful to have 'em, but no. So it is. Worldly goods are divided unequally, and man must not repine. What a very nice backyard, ma'am! Any way out of that yard, now?"
There is no way out of that yard.
"Ain't there really?" says Mr. Bucket. "I should have thought there might have been. Well, I don't know as I ever saw a backyard that took my fancy more. Would you allow me to look at it? Thank you. No, I see there's no way out. But what a very good-proportioned yard it is!"
Having cast his sharp eye all about it, Mr. Bucket returns to his chair next his friend Mr. George and pats Mr. George affectionately on the shoulder.
"How are your spirits now, George?"
"All right now," returns the trooper.
"That's your sort!" says Mr. Bucket. "Why should you ever have been otherwise? A man of your fine figure and constitution has no right to be out of spirits. That ain't a chest to be out of spirits, is it, ma'am? And you haven't got anything on your mind, you know, George; what could you have on your mind!" [Chapter XLIX, "Dutiful Friendship," 679-680]
Commentary: A Jolly Family Party turns out badly for one Celebrant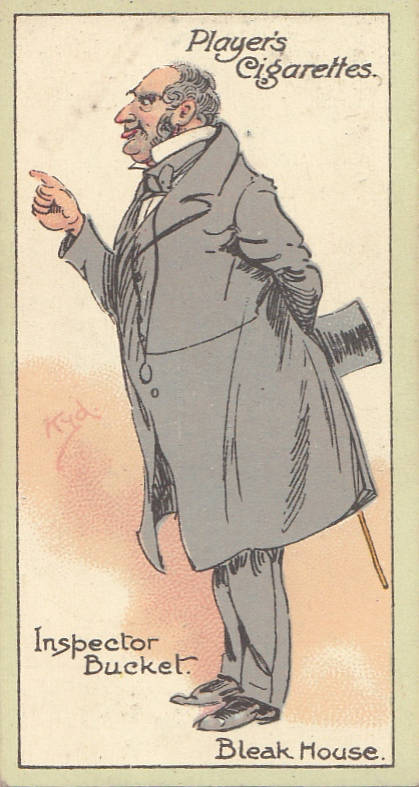 Kyd's Player's Cigarette Card No. 49: Inspector Bucket. (1910).
The Dedlocks' secretive attorney, Mr. Tulkinghorn had planned to inform Sir Leicester about his wife's youthful indiscretion and having given birth to an illegitimate child, but somebody has apparently forestalled this move by shooting the lawyer in his house on the previous evening. Bucket has his suspicions, but picks George as a likely suspect, since he has deduced that George may have acted to protect the Bagnets from the machinations of Tulkinghorn and Smallweed. The next afternoon, Bucket turns up at the Bagnets' music shop shortly after George, and participates convivially in their birthday festivities, flattering "the old girl," promising Bagnet a handsome sale, making much of the children, and being thoroughly jolly. He offers to walk George home, but puts the cuffs on him for Tulkinghorn's murder as soon as they are clear of Hanging Sword Alley.
Other​ Illustrations​ of Mr. Bucket's Pleasant Evening, 1853 and 1867
​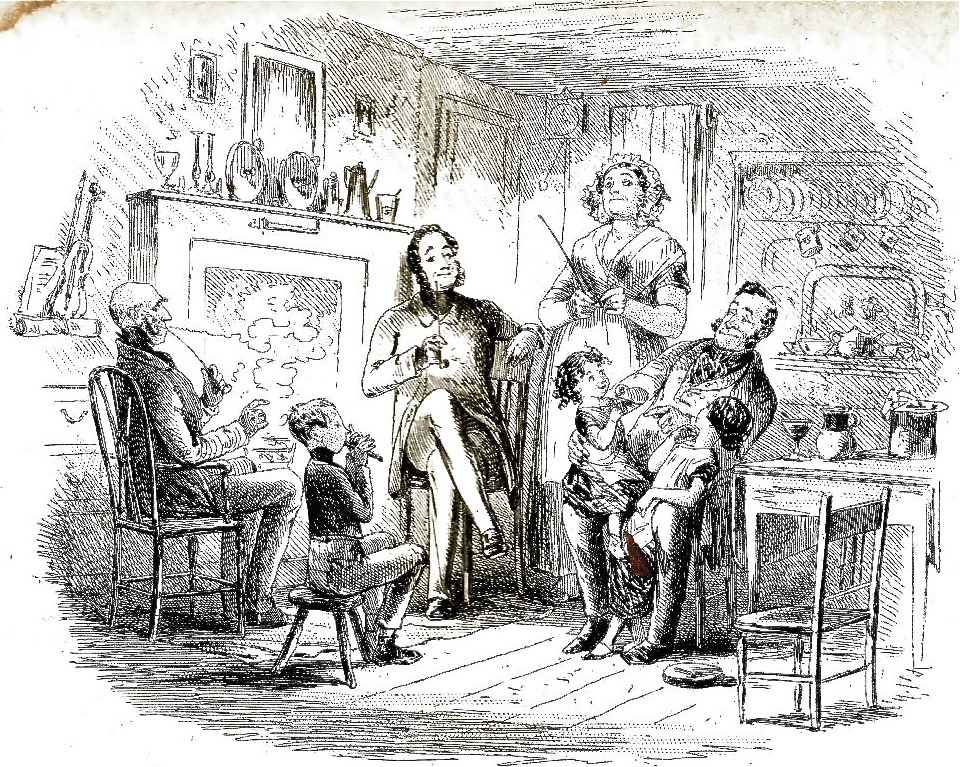 ​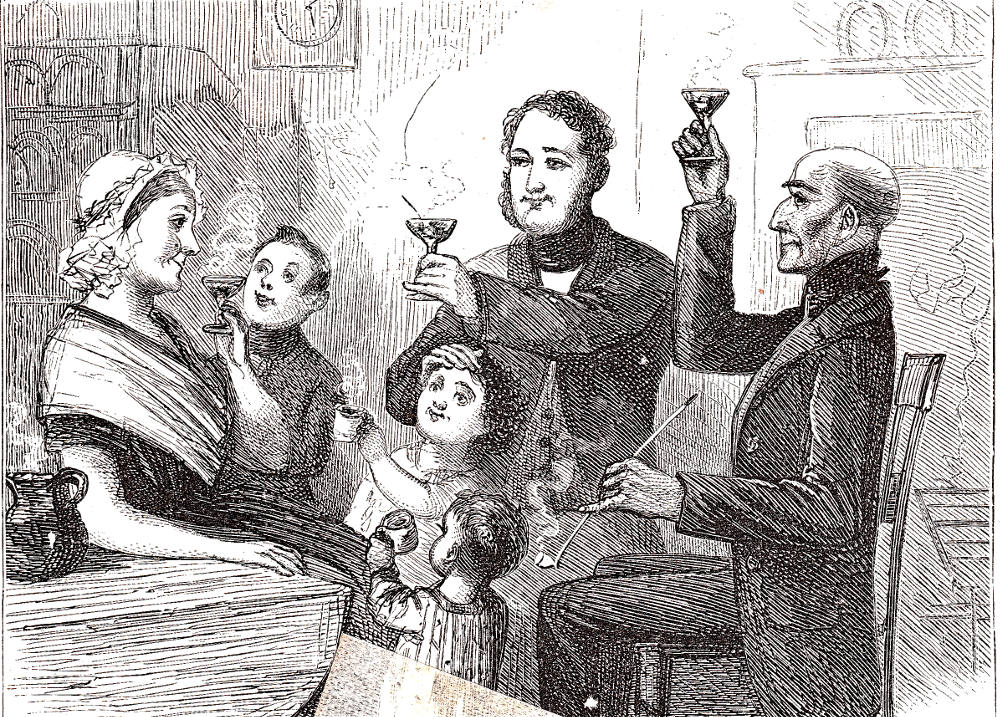 Left: Phiz's original serial portrait of Mrs. Bagnet's birthday party: Friendly Behaviour of Mr. Buckets (May 1853).. Right: Sol Eytinge, Jr.'s portrait of the cheerful military family and their intimate friend, the shooting-gallery proprietor: Mr. George and the Bagnets (1867).
Related Material, including Other Illustrated Editions of
Bleak House
Scanned image, colour correction, sizing, caption, and commentary by Philip V. Allingham. [You may use this image without prior permission for any scholarly or educational purpose, as long as you (1) credit the person who scanned the image, and (2) link your document to this URL in a web document or cite the Victorian Web in a print one.]
Bibliography
Bentley, Nicolas, Michael Slater, and Nina Burgis. The Dickens Index. New York and Oxford: Oxford U. P., 1990.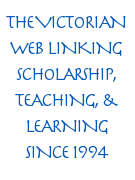 "Bleak House — Sixty-one Illustrations by Fred Barnard." Scenes and Characters from the Works of Charles Dickens, Being Eight Hundred and Sixty-six Drawings by Fred Barnard, Gordon Thomson, Hablot Knight Browne (Phiz), J. McL. Ralston, J. Mahoney, H. French, Charles Green, E. G. Dalziel, A. B. Frost, F. A. Fraser, and Sir Luke Fildes. London: Chapman and Hall, 1907.
The Characters of Charles Dickens pourtrayed in a series of original watercolours by "Kyd." London, Paris, and New York: Raphael Tuck & Sons, n. d.
Darley, Felix Octavius Carr. Character Sketches from Dickens. Philadelphia: Porter and Coates, 1888.
Davis, Paul. Charles Dickens A to Z: The Essential Reference to His Life and Work. New York: Facts On File, 1998.
Dickens, Charles. Bleak House. Illustrated by F. O. C. Darley and John Gilbert. The Works of Charles Dickens. The Household Edition. New York: Sheldon and Company, 1863. Vols. 1-4.
_______. Bleak House, with 61 illustrations by Fred Barnard. Household Edition. 21 vols. London: Chapman and Hall, 1873. IV.
_______. Bleak House. Illustrated by Harry Furniss [28 original lithographs]. The Charles Dickens Library Edition. 18 vols.​ London: Educational Book, 1910. XI.
Hammerton, J. A. "Chapter 18: Bleak House." The Dickens Picture-Book. The Charles Dickens Library Edition. London: Educational Book, 1910. XVII. 366-97.
Kyd [Clayton J. Clarke]. Characters from Dickens. Nottingham: John Player & Sons, 1910.
Vann, J. Don. "Bleak House, twenty parts in nineteen monthly instalments, March 1852 — September 1853." Victorian Novels in Serial. New York: Modern Language Association, 1985. 69.
---
Created 21 March 2021