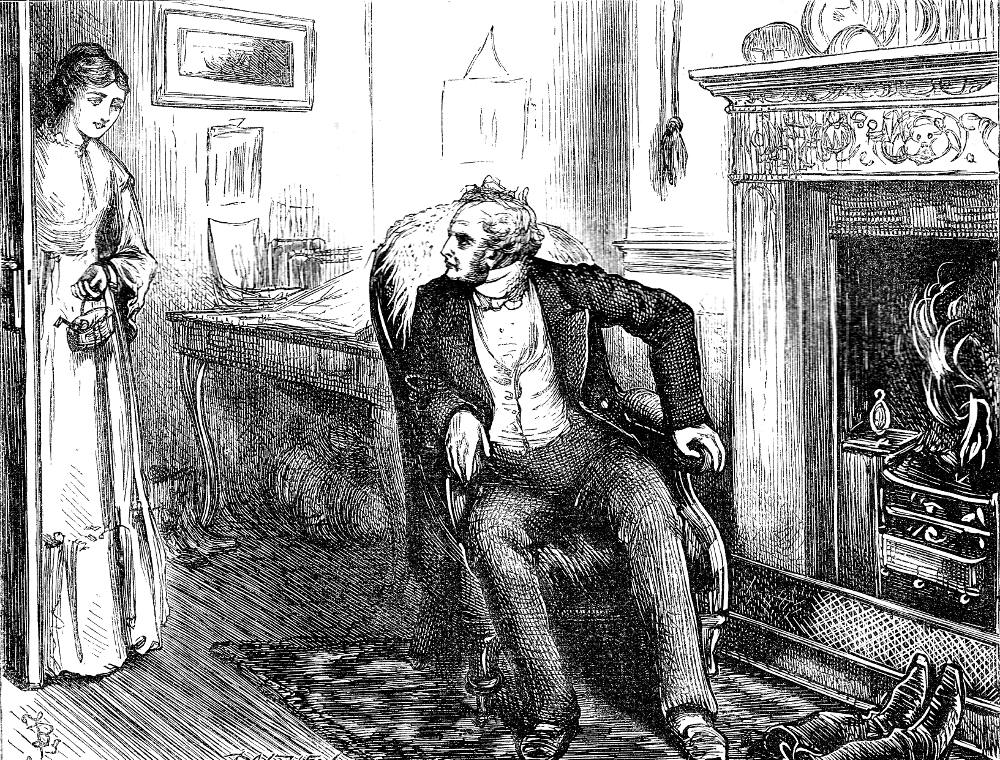 The Growlery., eighth illustration by Fred Barnard in the Household Edition (1873). 10.7 x 13.8 cm (4 ⅛ by 5 ⅜ inches), framed, p. 37. Chapter 8. Running head: "Mr. Skimpole." [Click on the images to enlarge them.]
Passage Illustrated
"Sit down, my dear," said Mr. Jarndyce. "This, you must know, is the growlery. When I am out of humour, I come and growl here."
"You must be here very seldom, sir," said I.
"Oh, you don't know me!" he returned. "When I am deceived or disappointed in — the wind, and it's easterly, I take refuge here. The growlery is the best-used room in the house. You are not aware of half my humours yet. My dear, how you are trembling!" [Chapter VIII, "Covering a Multitude of Sins," 48]
Commentary
After the wards and John Jarndyce have finished their first breakfast at Bleak House, he invites Esther to his study. He calls this comfortable room his "Growlery" because it is his retreat when he is in a bad mood. The time seems particularly appropriate for the guardian to reveal to the sensitive orphan whom he has made his housekeeper the horrible history of the Chancery suit. Jarndyce confides that the point of contention has been a will whose terms left a fortune on Jarndyce's uncle, Tom.
He walked a little to and fro after saying this to himself with a shudder, and then looked at me, and brightened, and came and sat down again with his hands in his pockets."I told you this was the growlery, my dear. Where was I?"I reminded him, at the hopeful change he had made in Bleak House. [48]
Related Material, including Other Illustrated Editions of
Bleak House
Scanned image, colour correction, sizing, caption, and commentary by Philip V. Allingham. [You may use this image without prior permission for any scholarly or educational purpose, as long as you (1) credit the person who scanned the image, and (2) link your document to this URL in a web document or cite the Victorian Web in a print one.]
Bibliography
"Bleak House — Sixty-one Illustrations by Fred Barnard." Scenes and Characters from the Works of Charles Dickens, Being Eight Hundred and Sixty-six Drawings by Fred Barnard, Gordon Thomson, Hablot Knight Browne (Phiz), J. McL. Ralston, J. Mahoney, H. French, Charles Green, E. G. Dalziel, A. B. Frost, F. A. Fraser, and Sir Luke Fildes. London: Chapman and Hall, 1907.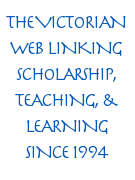 Davis, Paul. Charles Dickens A to Z: The Essential Reference to His Life and Work. New York: Facts On File, 1998.
Dickens, Charles. Bleak House. Illustrated by F. O. C. Darley and John Gilbert. The Works of Charles Dickens. The Household Edition. New York: Sheldon and Company, 1863. Vols. 1-4.
_______. Bleak House. Illustrated by Sol Eytinge, Jr, and engraved by A. V. S. Anthony. 14 vols. Boston: Ticknor & Fields, 1867. VI.
_______. Bleak House, with 61 illustrations by Fred Barnard. Household Edition. London: Chapman and Hall, 1873. IV.
_______. Bleak House. Illustrated by Harry Furniss [28 original lithographs]. The Charles Dickens Library Edition. Vol. 11.​ London: Educational Book, 1910.
_______. Bleak House, ed. Norman Page. Harmondsworth: Penguin, 1971.
Hammerton, J. A. "Chapter 18: Bleak House." The Dickens Picture-Book. The Charles Dickens Library Edition. London: Educational Book, 1910. XVII, 366-97.
Vann, J. Don. "Bleak House, twenty parts in nineteen monthly instalments, October 1846—April 1848." Victorian Novels in Serial. New York: The Modern Language Association, 1985. 69-70.
---
Created 26 February 2021