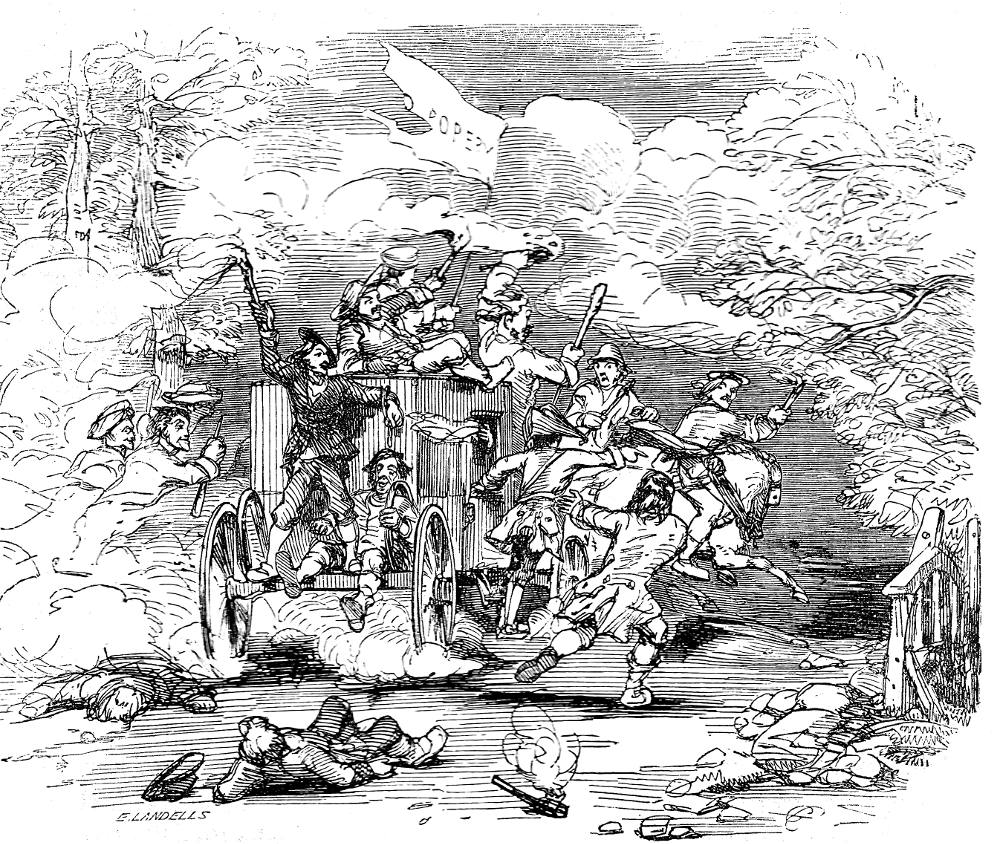 The Ladies' Escort by George Cattermole. 3 ⅝ x 4 ½ inches (9.2 cm by 11.5 cm). Framed, wood-engraved. Chapter LIX, Barnaby Rudge. 11 September 1841 in serial publication (fifty-sixth full-page plate in the series). Part 31 in the novel, serialised in Master Humphrey's Clock, Vol. III (part 74), 279. [Click on the images to enlarge them.]
Context of the Illustration: Emma Haredale and Dolly Varden Abducted
"Come!" said Mr. Tappertit, who had waited during this speech with considerable impatience. "There's enough of that. Come down."
The little hand seconded this admonition by thrusting Hugh's great head away with all its force, and drawing up the blind, amidst his noisy laughter, and vows that he must have another look, for the last glimpse of that sweet face had provoked him past all bearing. However, as the suppressed impatience of the party now broke out into open murmurs, he abandoned this design, and taking his seat upon the bar, contented himself with tapping at the front windows of the carriage, and trying to steal a glance inside; Mr. Tappertit, mounting the steps and hanging on by the door, issued his directions to the driver with a commanding voice and attitude; the rest got up behind, or ran by the side of the carriage, as they could; some, in imitation of Hugh, endeavoured to see the face he had praised so highly, and were reminded of their impertinence by hints from the cudgel of Mr Tappertit. Thus they pursued their journey by circuitous and winding roads; preserving, except when they halted to take breath, or to quarrel about the best way of reaching London, pretty good order and tolerable silence. [Chapter the Fifty-ninth, 278-80]
Parallel Scenes from the Household and Charles Dickens Library Editions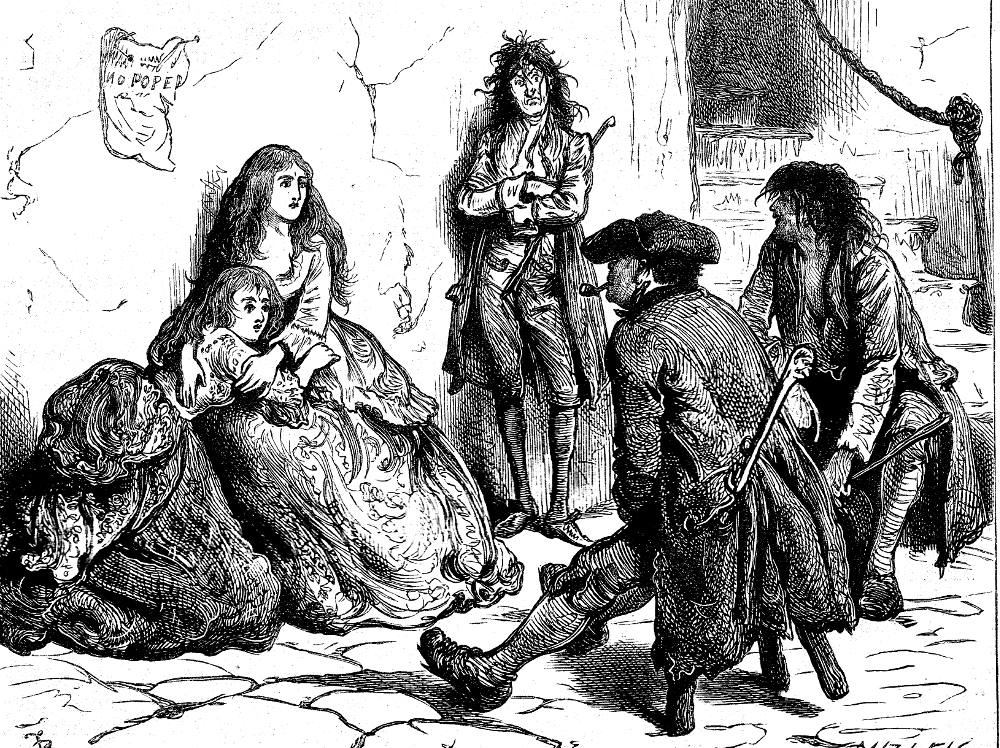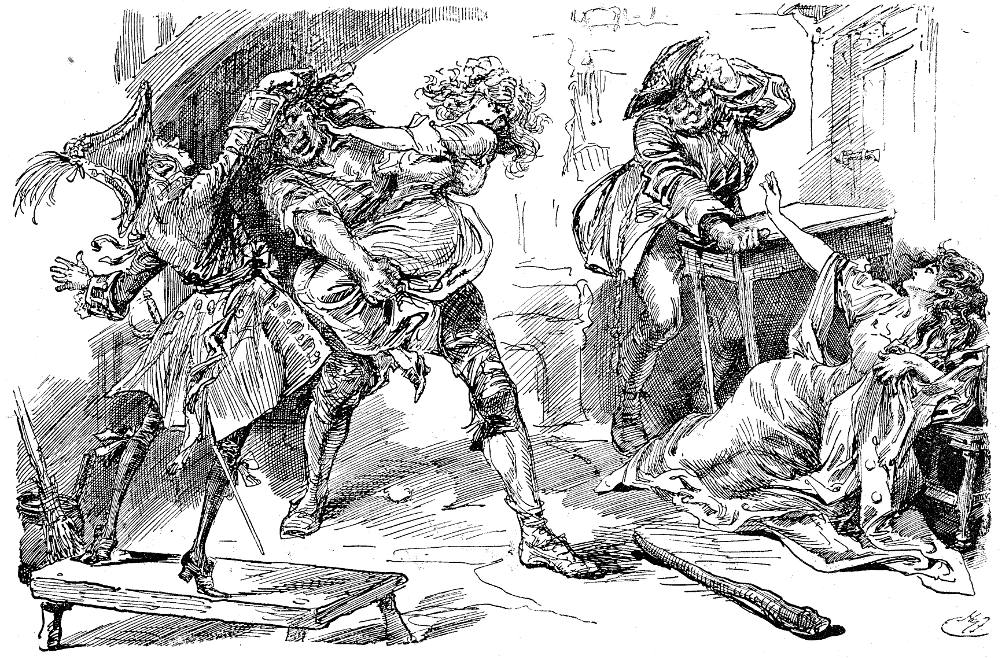 Left: Fred Barnard's more prosaic version of Emma and Dolly's abduction: Looked moodily on as she flew to Miss Haredale's side (1874). Right: Harry Furniss's dynamic scene involves both Hugh and Sim fully engaged: Emma and Dolly Prisoners (1910).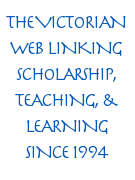 Related Material including Other Illustrated Editions of
Barnaby Rudge
Scanned image, colour correction, sizing, caption, and commentary by Philip V. Allingham. [You may use this image without prior permission for any scholarly or educational purpose, as long as you (1) credit the person who scanned the image, and (2) link your document to this URL in a web document or cite the Victorian Web in a print one.]
Bibliography
Dickens, Charles. Barnaby Rudge. Illustrated by Hablot K. Browne ('Phiz') and George Cattermole. London: Chapman and Hall, 1841; rpt., Bradbury & Evans, 1849.
________. Barnaby Rudge. Illustrated by Harry Furniss. The Charles Dickens Library Edition. London: Educational Book Company, 1910. VI.
Hammerton, J. A. "Ch. XIV. Barnaby Rudge." The Dickens Picture-Book. The Charles Dickens Library Edition, illustrated by Harry Furniss. London: Educational Book Co., 1910. 213-55.
Vann, J. Don. "Barnaby Rudge in Master Humphrey's Clock, 13 February 1841-27 November 1841." Victorian Novels in Serial. New York: MLA, 1985. 65-6.
---
Created 4 January 2006

Last modified 15 December 2020