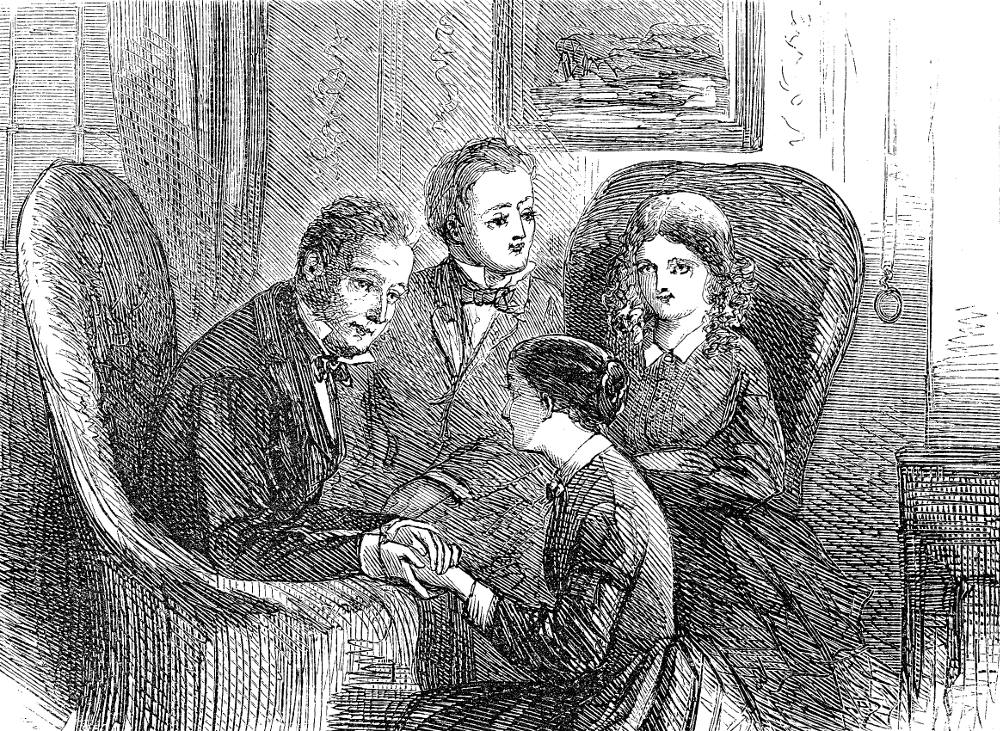 The first full-page illustration for Bleakhouse: Mr. Jarndyce and his Wards, frontispiece by Sol Eytinge, Jr. 7.4 cm high by 10 cm wide (2 ⅞ by 4 inches), framed. The Diamond Edition of Dickens's Works, Volume VI (Boston: Ticknor and Fields, 1867), facing title-page. [Click on the image to enlarge it.]
Passage Anticipated: Jarndyce welcomes the Wards of Chancery to Bleak House
The gentleman who said these words in a clear, bright, hospitable voice had one of his arms round Ada's waist and the other round mine, and kissed us both in a fatherly way, and bore us across the hall into a ruddy little room, all in a glow with a blazing fire. Here he kissed us again, and opening his arms, made us sit down side by side on a sofa ready drawn out near the hearth. I felt that if we had been at all demonstrative, he would have run away in a moment.
"Now, Rick!" said he. "I have a hand at liberty. A word in earnest is as good as a speech. I am heartily glad to see you. You are at home. Warm yourself!"
Richard shook him by both hands with an intuitive mixture of respect and frankness, and only saying (though with an earnestness that rather alarmed me, I was so afraid of Mr. Jarndyce's suddenly disappearing), "You are very kind, sir! We are very much obliged to you!" laid aside his hat and coat and came up to the fire.
"And how did you like the ride? And how did you like Mrs. Jellyby, my dear?" said Mr. Jarndyce to Ada.
While Ada was speaking to him in reply, I glanced (I need not say with how much interest) at his face. It was a handsome, lively, quick face, full of change and motion; and his hair was a silvered iron-grey. I took him to be nearer sixty than fifty, but he was upright, hearty, and robust. From the moment of his first speaking to us his voice had connected itself with an association in my mind that I could not define; but now, all at once, a something sudden in his manner and a pleasant expression in his eyes recalled the gentleman in the stagecoach six years ago on the memorable day of my journey to Reading. I was certain it was he. I never was so frightened in my life as when I made the discovery, for he caught my glance, and appearing to read my thoughts, gave such a look at the door that I thought we had lost him. [Ch. 6, "Quite at Home," 36-37]
Commentary
Phiz's original illustration of the young Chancery wards: The Little Old Lady in the first monthly part (March, 1852).
After Dickens through various characters has alluded to the children's court-appointed guardian, John Jarndyce, the wards (Ada Clare and Richard Carstone) finally meet the kindly litigant in the suit of Jarndyce v. Jarndyce in the sixth chapter. He also becomes Esther Summerson's guardian at his substantial home, called "Bleak House." The illustrator has presented the scene from the perspective of an objective third person rather than that of the narrator, Esther, who appears in the foreground, holding her guardian's hand.
Related material, including front matter and sketches, by other illustrators for
Bleak House

(1852-1910)

Scanned image and text by Philip V. Allingham. [You may use this image without prior permission for any scholarly or educational purpose as long as you (1) credit the person who scanned the image and (2) link your document to this URL in a web document or cite the Victorian Web in a print one.]
Bibliography
Bentley, Nicolas, Michael Slater, and Nina Burgis. The Dickens Index. New York and Oxford: Oxford U. P., 1990.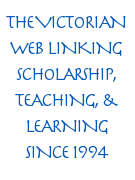 Dickens, Charles. Bleak House. Illustrated by Hablot Knight Browne. London: Bradbury and Evans, 1853.
_______.  Bleak House. Illustrated by F. O. C. Darley and John Gilbert. The Works of Charles Dickens. The Household Edition. New York: Sheldon and Company, 1863. Vols. 1-4.
_______. Bleak House. Illustrated by Sol Eytinge, Jr, and engraved by A. V. S. Anthony. 14 vols. Boston: Ticknor & Fields, 1867. VI.
_______. Bleak House, with 61 illustrations by Fred Barnard. Household Edition, volume IV. London: Chapman and Hall, 1873.
_______. Bleak House. Illustrated by Harry Furniss. The Charles Dickens Library Edition. 18 vols. London: Educational Book, 1910. Vol. XI.
Hammerton, J. A. "Ch. XVIII. Bleak House."  The Dickens Picture-Book. London: Educational Book Co., [1910], 294-338.
Lester, Valerie Browne. Phiz: The Man Who Drew Dickens. London: Chatto and Windus, 2004.
Steig, Michael. Chapter 6. "Bleak House and Little Dorrit: Iconography of Darkness." Dickens and Phiz. Bloomington & London: Indiana U. P., 1978. 131-172.
Vann, J. Don. "Bleak House, twenty parts in nineteen monthly instalments, October 1846—April 1848." Victorian Novels in Serial. New York: The Modern Language Association, 1985. 69-70./
---
Created 12 February 2021