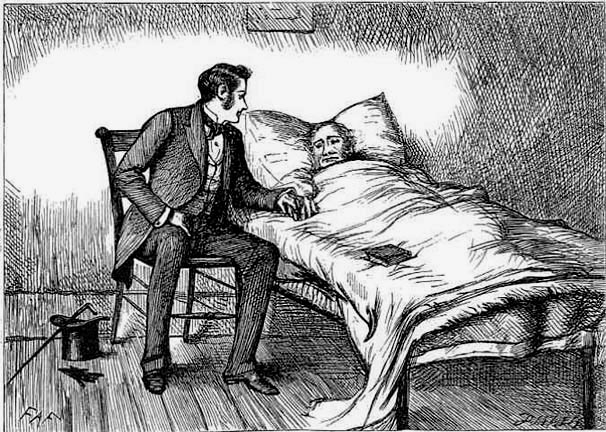 He had spoken his last words by F. A. Fraser (1844-1896). 9.8 cm high by 13.8 cm wide (3 ¾ by 5 ⅜ inches), framed (half-page, horizontally mounted), on page 216. Twenty-ninth illustration; for Chapter Fifty-six in Charles Dickens's Great Expectations, which appeared as Volume 11 in the Household Edition in 1876. Running head for page of text: "Magwitch Tried and Sentenced" (213). [Click on the images to enlarge them.]
Passage Illustrated: The Death of Magwitch in Prison
"Dear boy," he said, as I sat down by his bed: "I thought you was late. But I knowed you couldn't be that."
"It is just the time," said I. "I waited for it at the gate."
"You always waits at the gate; don't you, dear boy?"
"Yes. Not to lose a moment of the time."
"Thank'ee dear boy, thank'ee. God bless you! You've never deserted me, dear boy."
I pressed his hand in silence, for I could not forget that I had once meant to desert him.
"And what's the best of all," he said, "you've been more comfortable alonger me, since I was under a dark cloud, than when the sun shone. That's best of all."
He lay on his back, breathing with great difficulty. Do what he would, and love me though he did, the light left his face ever and again, and a film came over the placid look at the white ceiling.
"Are you in much pain to-day?"
"I don't complain of none, dear boy."
"You never do complain."
He had spoken his last words. He smiled, and I understood his touch to mean that he wished to lift my hand, and lay it on his breast. I laid it there, and he smiled again, and put both his hands upon it. [Clapter LVI, 214]
Commentary: Extending Middle-Class Sympathy to a Member of the Criminal Class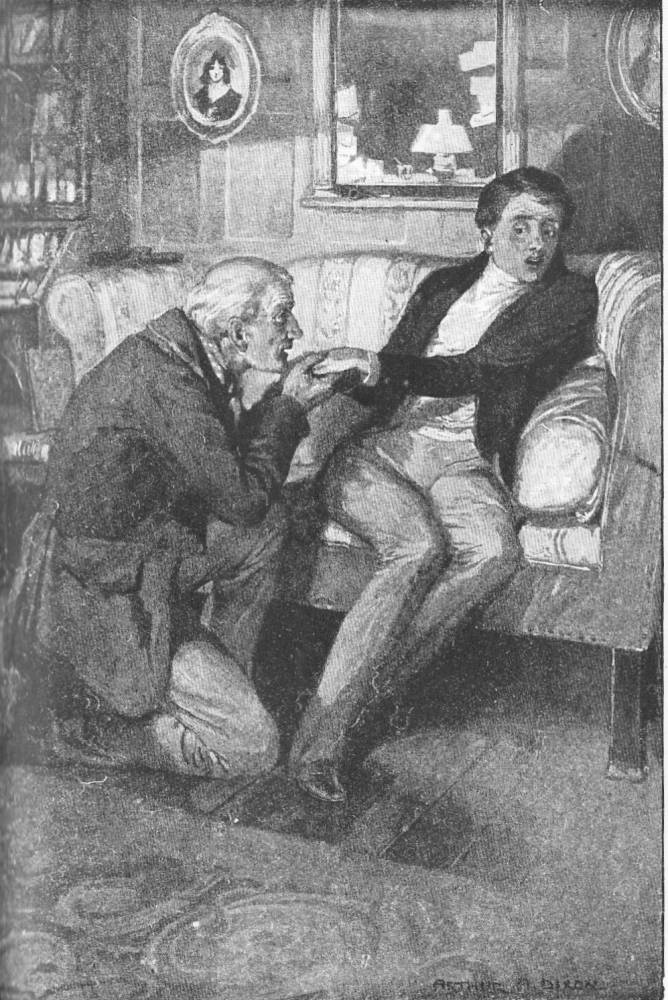 A. A. Dixon's Collins' Pocket Edition lithograph reveals Pip's disgust for the convict who has funded his gentlemanly lifestyle: Again he took both my hands and put them to his lips (1905).
A perfectly respectable-looking young man, his class-signifiers of cane, kid gloves, and top-hat put aside, holds the hands of the dying convict in the prison infirmary. Although the floor is bare, the illustrator does not particularize the physical setting, and we must read the text to determine where the scene transpires. Shortly Magwitch will avoid the noose by succumbing to his injuries. And then Pip will have his own ordeal as he comes down with a serious fever, and must deal with the bailiffs over his debts. In his psychological development Pip has come far from his revulsion when an adoring Magwitch kissed his hand upon his return.
The treatment which Fraser gives his sentimental materials is prosaic. Whereas other illustrators have injected emotion into their final portraits of Magwitch, the returned felon, the Household Edition illustrator provides only subtle effects: although Magwitch seems comatose, Pip holds his hand, and we may presume has been reading to him out of the Bible lying on the bed.
Relevant Scenes from Other Editions (1861 through 1910)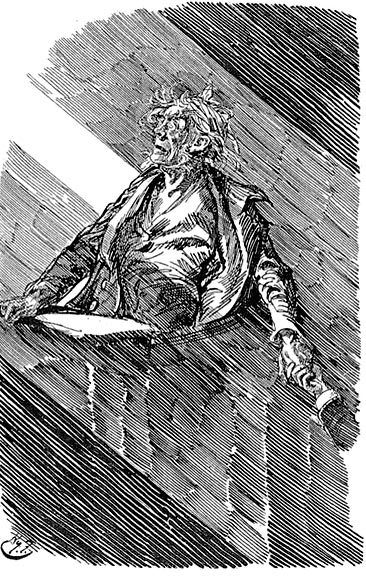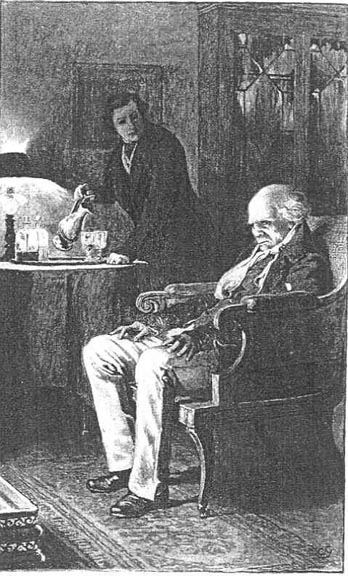 Left: American serial illustrator John McLenan in Harper's Weekly: The placid look at the white ceiling came back, and passed away, and his head dropped quietly on his breast. (27 July 1861). Centre: In the 1910 Charles Dickens Library Edition Magwitch stands confidently and even defiantly at the prisoner's dock: Magwitch under Sentence of Death. Right: Charles Green's scene in Chapter 39 when Pip entertains a gloomy visitor from the Antipodes: Pip and Magwich (The Gadshill Edition, 1898).
Related Discussions
Other Artists' Illustrations for Dickens's
Great Expectations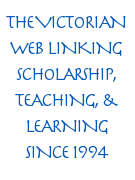 A Comparison of Fraser's Illustrations in the original 1870s Household Edition plates and those in the Collier New York edition of 1900
H. M. Brock (8 plates)
J. Clayton Clarke or "Kyd"
(2 plates)

Scanned images and text by Philip V. Allingham. [You may use these images without prior permission for any scholarly or educational purpose as long as you (1) credit the photographer and (2) link your document to this URL in a web document or cite the Victorian Web in a print one.]

Bibliography

Allingham, Philip V. "The Illustrations for Great Expectations in Harper's Weekly (1860-61) and in the Illustrated Library Edition (1862) — 'Reading by the Light of Illustration'." Dickens Studies Annual, Vol. 40 (2009): 113-169.

Dickens, Charles. Great Expectations. Illustrated by John McLenan. [The First American Edition]. Harper's Weekly: A Journal of Civilization, Vols. IV: 740 through V: 495 (24 November 1860-3 August 1861).

______. ("Boz."). Great Expectations. With thirty-four illustrations from original designs by John McLenan. Philadelphia: T. B. Peterson (by agreement with Harper & Bros., New York), 1861.

______. Great Expectations. Illustrated by Marcus Stone. The Illustrated Library Edition. London: Chapman and Hall, 1862. Rpt. in The Nonesuch Dickens, Great Expectations and Hard Times. London: Nonesuch, 1937; Overlook and Worth Presses, 2005.

______. A Tale of Two Cities and Great Expectations. Illustrated by Sol Eytinge, Jr. The Diamond Edition. 16 vols. Boston: Ticknor and Fields, 1867.

______. Great Expectations. Volume 6 of the Household Edition. Illustrated by F. A. Fraser. London: Chapman and Hall, 1876.

______. Great Expectations. Illustrated by Frederic W. Pailthorpe. 16 unnumbered pages of plates: color illustrations. London: Robson and Kerslake, 1885.

______. Great Expectations. The Gadshill Edition. Illustrated by Charles Green. London: Chapman and Hall, 1898.

______. Great Expectations. The Grande Luxe Edition, ed. Richard Garnett. Illustrated by Clayton J. Clarke ('Kyd'). London: Merrill and Baker, 1900.

______. Great Expectations. "With 28 Original Plates by Harry Furniss." Volume 14 of the Charles Dickens Library Edition. London: Educational Book Co., 1910.

______. Great Expectations. Illustrated by Henry Matthew Brock. London: Hodder and Stoughton, n. d. [1916].

---

Created 19 March 2004 Last modified 28 September 2021