Pip Does Not Enjoy His Christmas Dinner by Harry Furniss. 1910. 9 x 14 cm vignetted. Dickens's Great Expectations, Charles Dickens Library Edition, Chapter IV, facing p. 33. Original caption: "After Mr. Wopsle had said grace, my sister said to me, "Do you hear that? Be grateful." "Especially," said Mr. Pumblechook, "to them which brought you up by hand." Mrs. Hubble added, "Why is it that the young are never grateful?" which Mr. Hubble solved by answering, "Naterally wicious." Joe spooned into my plate, at this point, about half a pint of gravy. — p. 23.
Passage Illustrated: A Tension-filled Christmas Feast
Left: H. M. Brock's And then they both stared at me.
Among this good company I should have felt myself, even if I hadn't robbed the pantry, in a false position. Not because I was squeezed in at an acute angle of the table-cloth, with the table in my chest, and the Pumblechookian elbow in my eye, nor because I was not allowed to speak (I didn't want to speak), nor because I was regaled with the scaly tips of the drumsticks of the fowls, and with those obscure corners of pork of which the pig, when living, had had the least reason to be vain. No; I should not have minded that, if they would only have left me alone. But they wouldn't leave me alone. They seemed to think the opportunity lost, if they failed to point the conversation at me, every now and then, and stick the point into me. I might have been an unfortunate little bull in a Spanish arena, I got so smartingly touched up by these moral goads.
It began the moment we sat down to dinner. Mr. Wopsle said grace with theatrical declamation — as it now appears to me, something like a religious cross of the Ghost in Hamlet with Richard the Third — and ended with the very proper aspiration that we might be truly grateful. Upon which my sister fixed me with her eye, and said, in a low reproachful voice, "Do you hear that? Be grateful."
"Especially," said Mr. Pumblechook, "be grateful, boy, to them which brought you up by hand."
Mrs. Hubble shook her head, and contemplating me with a mournful presentiment that I should come to no good, asked, "Why is it that the young are never grateful?" This moral mystery seemed too much for the company until Mr. Hubble tersely solved it by saying, "Naterally wicious." Everybody then murmured "True!" and looked at me in a particularly unpleasant and personal manner. [Chapter IV, 22-23]
Pertinent Illustrations in Other Editions: 1860, 1861, 1867, 1885, and 1903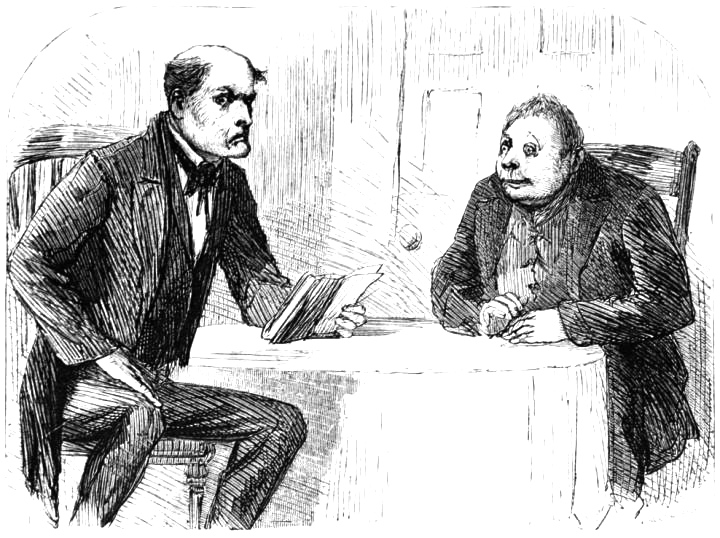 Left: John McLenan's "Oh, Un-cle Pum-ble-chook! This is kind!". Right: Sol Eytinge, Jr.'s "Pumblechook and Wopsle".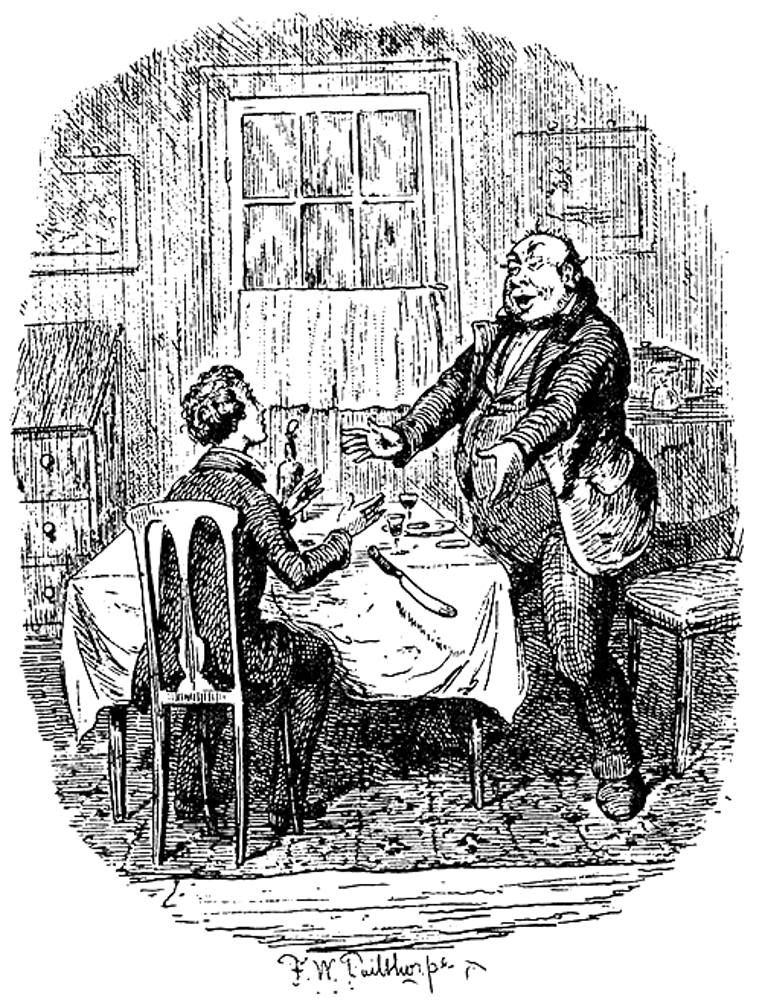 Left: Felix Octavius Darley's "Mrs. Gargery on the Ram-page." Right: F. W. Pailthorpe's "May I — May I?".
Commentary: Pip lives under a less-than-Benevolent Dictatorship
Whereas the original Illustrated Library Edition and Household Edition illustrations do not reference this awkward moment in Pip's tense home-life, as he anticipates any moment that he will be arrested for the theft of the pork pie and the file, Harry Furniss realizes most effectively this supremely comic passage which builds up to the consumption of the tar-water. Dickens's character comedy and social satire of the overreaching bourgeois "Uncle" Pumblechook and his theatrical companion, the village clerk and aspiring Shakespearean actor, Wopsle, appear in action, so to speak, rather than in a static portrait, as in Eytinge's illustration for the Diamond Edition (1867).
Other illustrators have focused on the character comedy and social satire which the pompous, self-aggrandizing seed merchant Pumblechook presents throughout the early chapters, with McLenan and Pailthorpe both exaggerating his corpulence and complacency to contrast the lean, insecure Pip and his shrewish sister so effectively drawn by F. O. C. Darley in an early American piracy of the novel. Whereas other illustrators seem to have preferred scenes involving just a few characters, particularly interchanges between Pip and Magwitch and between Pip and Joe, in these opening chapters, Furniss depicts the oppressive social milieu in which Pip has grown up. Dickens's chosen illustrator, Marcus Stone, depicts this environment just twice, once when Pip as a youth is still "under the government" of Mrs. Joe — Old Orlick among the cinders and again when, freed from Mrs. Joe's domestic tyranny by Orlick's assault, Pip bids farewell to Biddy and Joe in Taking leave of Joe in Chapter 35. Although the combat between the journeyman and the burly blacksmith as Stone visualises it in the forge is highly dramatic, Marcus Stone never deals effectively with one of the novel's strengths, its wonderful sense of fun, which H. M. Brock's stolid realism also fails to capture.
Furniss as an impressionistic illustrator attempts to convey (as so often the earlier illustrators do not) the acute discomfort, embarrassment, and terror that Pip feels as a child through the postures and expressions of Pumblechook (left) and the hawk-faced Wopsle (right of centre). In what we today would label a situation comedy, Furniss effectively translates the first-person reminiscence of the child-victim of the Christmas dinner, extreme right, between the bulk of the shock-haired Joe and the scowling visage and watchful gaze of his dictatorial sister; Furniss virtually dismisses the wheelwright, Mr. Hubble, as a non-entity, cramming him in behind Wopsle's outstretched arm, but showing the other adult diners as larger-than-life caricatures to give the reader a sense of the much-put-upon child's perspective.
One must read the illustration analeptically, thumbing through the text to compare Dickens's handling of the scene and descriptions of the characters to sort out who is who. The "well-to-do cornchandler" is not a mere misshapen ogre with an enormous alcoholic nose and massive belly (as he is in McLenan); rather, Furniss characterizes him as large and domineering. Pailthorpe's corpulent Pumblechook (from a later scene) in May I — May I? comes closest to realising Dickens's comical description of Joe's prosperous relative as "a large, hard-breathing middle-aged slow man, with a mouth like a fish, dull staring eyes, and sandy hair standing upright on his head" (p. 22-23). Wopsle, on the other hand, is easily distinguished by his Roman nose and energetic gesticulation, his clothing suggesting the garb of an Anglican minister, although as clerk he is a mere lay-preacher and clergyman's assistant, and therefore does not wear a clerical collar.
Related Material
Other Artists' Illustrations for Dickens's
Great Expectations
Scanned image, colour correction, sizing, caption, and commentary by Philip V. Allingham. [You may use this image without prior permission for any scholarly or educational purpose, as long as you (1) credit the person who scanned the image, and (2) link your document to this URL in a web document or cite the Victorian Web in a print one.]
Bibliography
Dickens, Charles. Great Expectations. Illustrated by John McLenan. [The First American Edition]. Harper's Weekly: A Journal of Civilization, Vols. IV: 740 through V: 495 (24 November 1860-3 August 1861).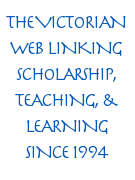 ______. ("Boz."). Great Expectations. With thirty-four illustrations from original designs by John McLenan. Philadelphia: T. B. Peterson (by agreement with Harper & Bros., New York), 1861.
______. Great Expectations. Illustrated by Marcus Stone. The Illustrated Library Edition. London: Chapman and Hall, 1862. Rpt. in The Nonesuch Dickens, Great Expectations and Hard Times. London: Nonesuch, 1937; Overlook and Worth Presses, 2005.
______. A Tale of Two Cities and Great Expectations. Illustrated by Sol Eytinge, Jr. The Diamond Edition. 16 vols. Boston: Ticknor and Fields, 1867.
______. Great Expectations. Volume 6 of the Household Edition. Illustrated by F. A. Fraser. London: Chapman and Hall, 1876.
______. Great Expectations. The Gadshill Edition. Illustrated by Charles Green. London: Chapman and Hall, 1898.
______. Great Expectations. The Grande Luxe Edition, ed. Richard Garnett. Illustrated by Clayton J. Clarke ('Kyd'). London: Merrill and Baker, 1900.
______. Great Expectations. Illustrated by H. M. Brock. Imperial Edition. 16 vols. London: Gresham Publishing Company [34 Southampton Street, The Strand, London], 1901-3.
______. Great Expectations. "With 28 Original Plates by Harry Furniss." Volume 14 of the Charles Dickens Library Edition. London: Educational Book Co., 1910.
Paroissien, David. The Companion to "Great Expectations." Westport, Conn.: Greenwood, 2000.
---
Created 28 January 2014 Last updated 8 October 2021