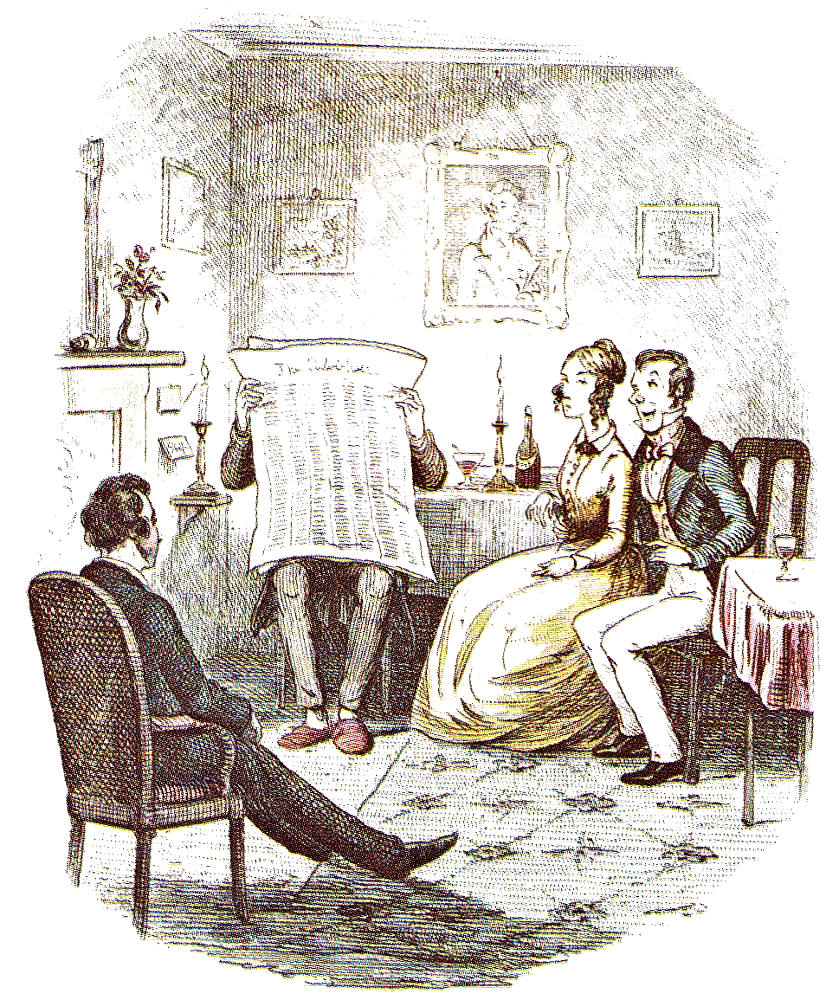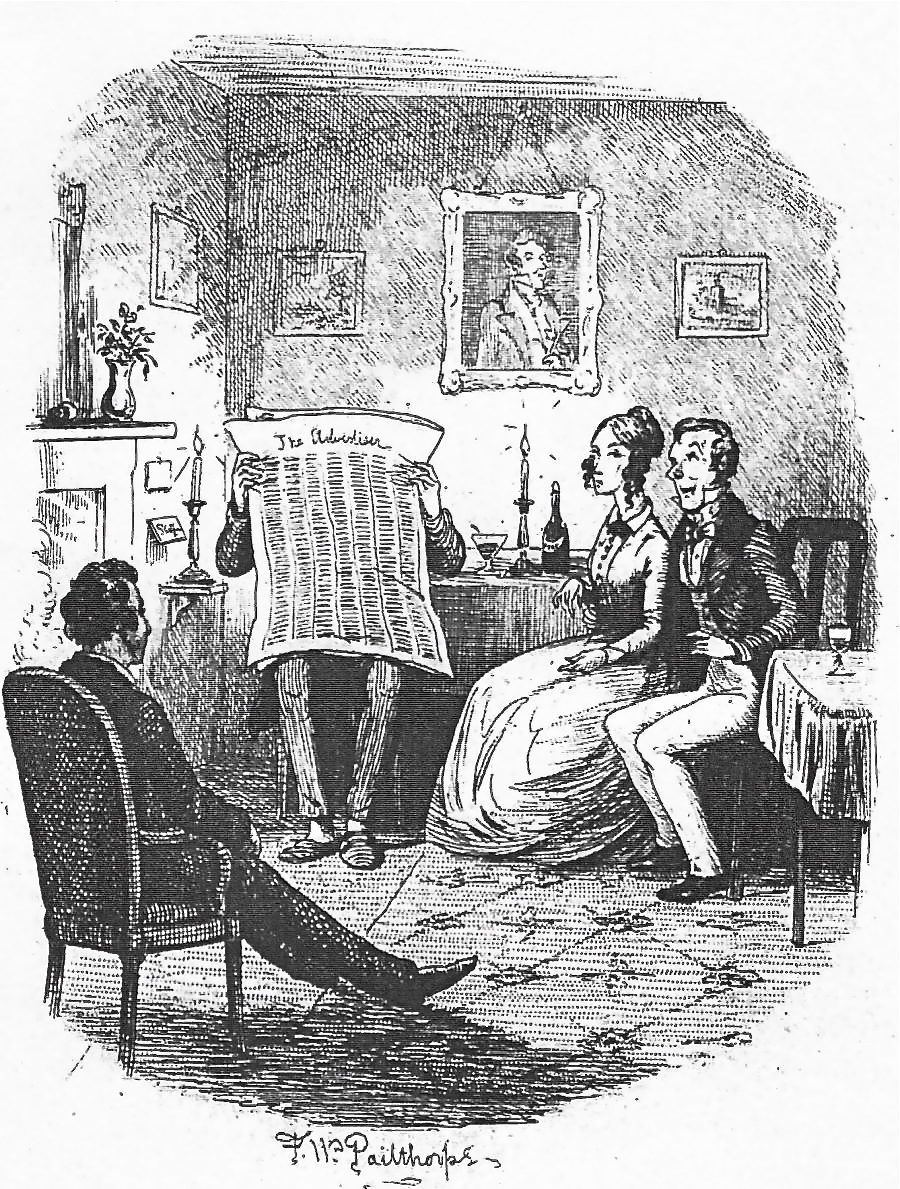 "Now, Aged Parent, tip us the Paper" (page 323) — thirteenth black-and-white lithograph from engraving (1885), but tenth hand-coloured lithograph (1979) for Charles Dickens's Great  Expectations, first published in the Robson and Kerslake edition, Chapter XXXVII.  3 ¾ by 3 inches (9.4 cm by 7.6 cm), vignetted, facing p. 278.
The Passage Illustrated: Once More with the Aged P.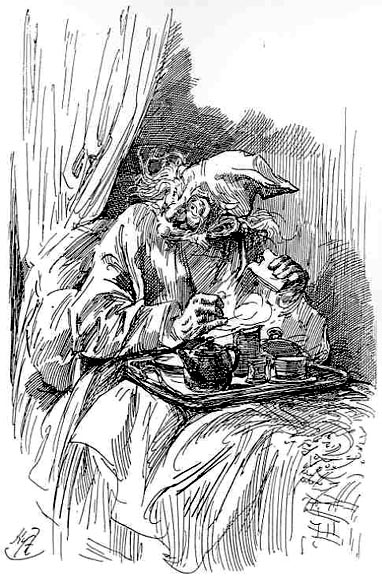 Right: Furniss's portrait for the Charles Dickens Library Edition of John Wemmick's father, in his nightcap: Mr. Wemmick, Senior, has Breakfast in Bed (1910).
We ate the whole of the toast, and drank tea in proportion, and it was delightful to see how warm and greasy we all got after it. The Aged especially, might have passed for some clean old chief of a savage tribe, just oiled. After a short pause of repose, Miss Skiffins — in the absence of the little servant who, it seemed, retired to the bosom of her family on Sunday afternoons — washed up the tea-things, in a trifling lady-like amateur manner that compromised none of us. Then, she put on her gloves again, and we drew round the fire, and Wemmick said, "Now, Aged Parent, tip us the paper."
Wemmick explained to me while the Aged got his spectacles out, that this was according to custom, and that it gave the old gentleman infinite satisfaction to read the news aloud. "I won't offer an apology," said Wemmick, "for he isn't capable of many pleasures — are you, Aged P.?"
"All right, John, all right," returned the old man, seeing himself spoken to."Only tip him a nod every now and then when he looks off his paper," said Wemmick, "and he'll be as happy as a king. We are all attention, Aged One."
"All right, John, all right!" returned the cheerful old man, so busy and so pleased, that it really was quite charming.
The Aged's reading reminded me of the classes at Mr. Wopsle's great-aunt's, with the pleasanter peculiarity that it seemed to come through a keyhole. As he wanted the candles close to him, and as he was always on the verge of putting either his head or the newspaper into them, he required as much watching as a powder-mill. But Wemmick was equally untiring and gentle in his vigilance, and the Aged read on, quite unconscious of his many rescues. Whenever he looked at us, we all expressed the greatest interest and amazement, and nodded until he resumed again. [Chapter XXXVII, 323]
Commentary: Blowing Away the Newgate Cobwebs with Tea at Walworth
Pip visits the Wemmicks and Miss Skiffins, John Wemmick's fiancée, at the Castle in Walworth one Sunday afternoon in winter, and stays for tea and toast. Afterward, the couple take advantage of the old man's being distracted by reading the newspaper aloud, and snuggle up together opposite him. An appreciative Pip observes all. His Walworth mission, however, is much more targeted, for he has approached Wemmick with a request to help him do something financially for his best friend, Herbert Pocket, whom he fears Miss Havisham may have passed over as she prepares Pip to become a gentleman worthy of marrying Estella. Coincidentally, remarks Wemmick, Miss Skiffins' brother is an accountant, and may therefore be of use of devising a scheme to see that Herbert gets an annuity of one hundred pounds and possibly a business partnership.
The delightful scene after the trio have consumed buckets of tea and piles of buttered toast has not been the subject of a number of the previous nineteenth-century programs, which have focussed instead on John Wemmick, Senior's wielding a toasting fork in front of the fireplace. Thus, Pailthorpe emphasizes the post-prandial conviviality at The Castle which is so lacking in John Wemmick, Junior's business affairs. The scene in the text presents considerable opportunities for character comedy, albeit at the expense of the good-natured but stone-deaf "Aged P." However, Pailthorpe focuses our attention on the middle-aged lovers, hiding the Aged P. behind the massive folio sheet of The London Times and rendering Pip inscrutable as he observes the parlour scene with his face turned away from the viewer. Despite Dickens's emphasis on the consumption of tea, a bottle of wine is prominently positioned beside the Aged's reading candle, and Wemmick, dressed in his Sunday best, has a half-full glass on the small table beside him.
Other Artists' Renderings of Wemmick's Aged P., 1867 to 1916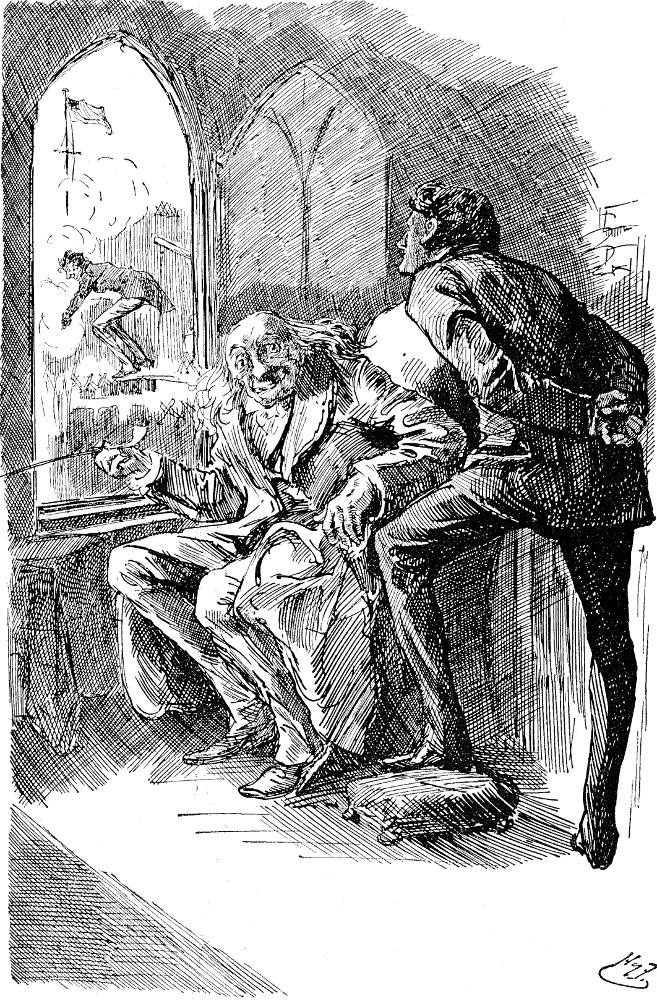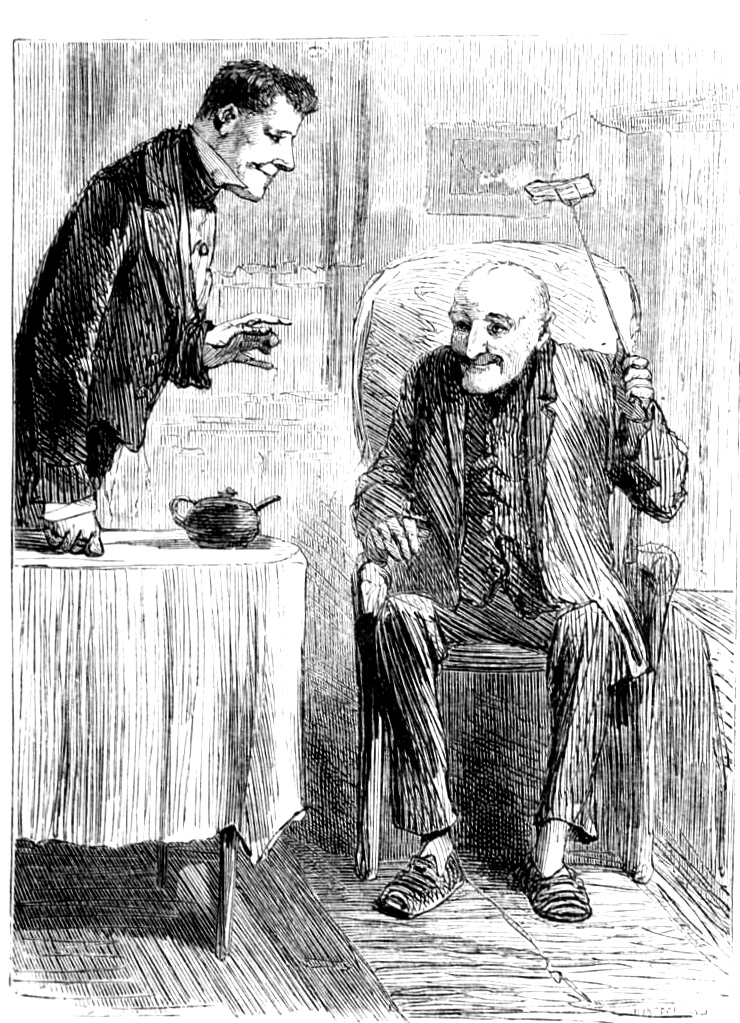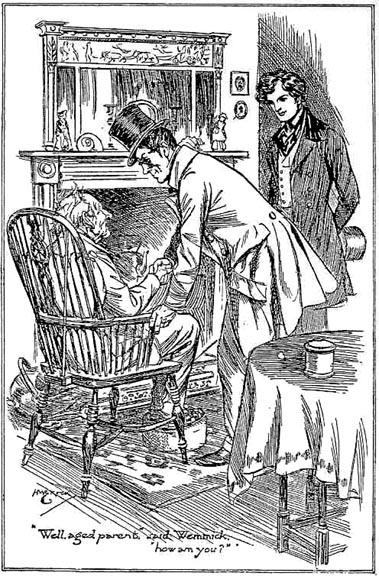 Left: Harry Furniss's Charles Dickens Library Edition illustration of a scene at Wemmick's castle: Pip shares the Treat of Mr. Wemmick, Senior (1910). Centre: Sol Eytinge, Jr.'s Diamond Edition version, a dual portrait of father and son: Wemmick and "The Aged" (1867). Right: H. M. Brock's revision of the same scene: "Well, aged parent." said Wemmick, "how am you?", in the Hodder and Stoughton Edition (1916).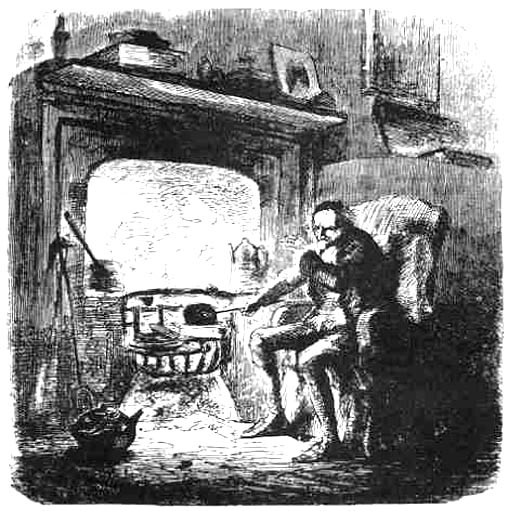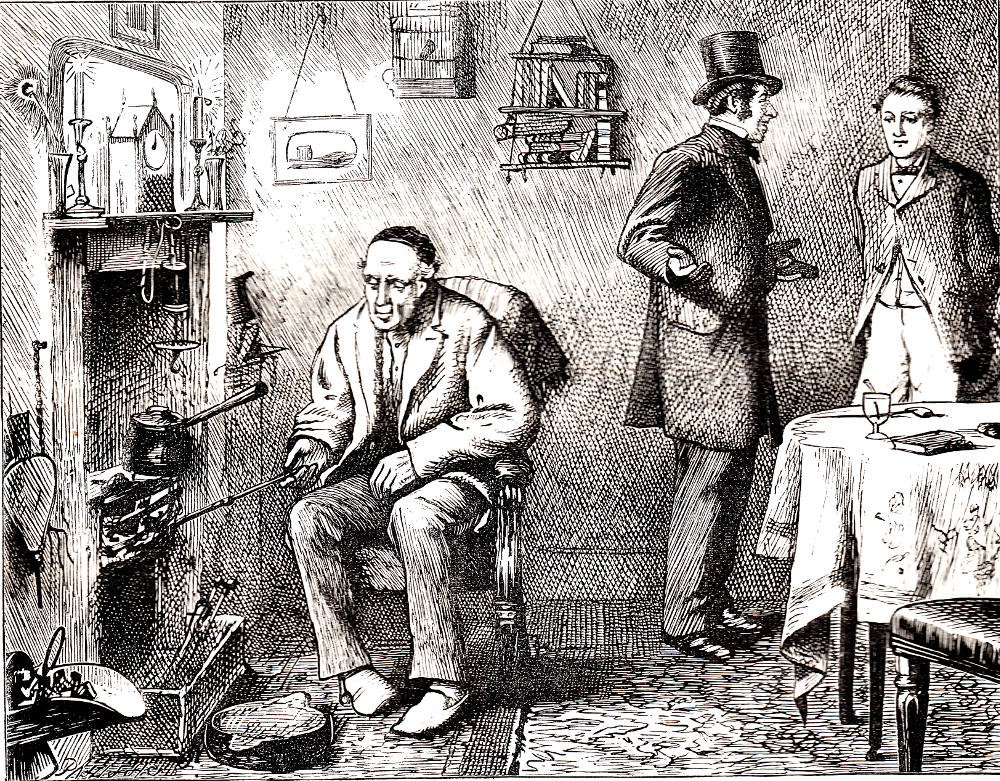 Left: In the first American serialisation, periodical illustrator John McLenan emphasizes the cozziness of Mr. Wemmick, Sr.'s rooms in The responsible duty of making the toast was delegated to the Aged for the 27 April 1861 number of Harper's Weekly. Right: F. A. Fraser's Household Edition version of the same scene: We found the aged heating the poker, with expectant eyes (1876).
Related Material
Other Artists' Illustrations for Dickens's
Great Expectations
Scanned images and text by Philip V. Allingham. [You may use these images without prior permission for any scholarly or educational purpose as long as you (1) credit the photographer and (2) link your document to this URL in a web document or cite the Victorian Web in a print one.]
Bibliography
Allingham, Philip V. "The Illustrations for Great Expectations in Harper's Weekly (1860-61) and in the Illustrated Library Edition (1862) — 'Reading by the Light of Illustration'." Dickens Studies Annual, Vol. 40 (2009): 113-169.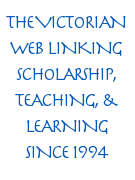 Dickens, Charles. Great Expectations. Illustrated by John McLenan. [The First American Edition]. Harper's Weekly: A Journal of Civilization, Vols. IV: 740 through V: 495 (24 November 1860-3 August 1861).
______. ("Boz."). Great Expectations. With thirty-four illustrations from original designs by John McLenan. Philadelphia: T. B. Peterson (by agreement with Harper & Bros., New York), 1861.
______. Great Expectations. Illustrated by Marcus Stone. The Illustrated Library Edition. London: Chapman and Hall, 1862. Rpt. in The Nonesuch Dickens, Great Expectations and Hard Times. London: Nonesuch, 1937; Overlook and Worth Presses, 2005.
_____. Great Expectations. Illustrated by Sol Eytinge, Junior. Diamond Edition. 14 vols. Boston: Ticknor & Fields, 1867. XIII.
______. Great Expectations. Volume 6 of the Household Edition. Illustrated by F. A. Fraser. London: Chapman and Hall, 1876.
______. Great Expectations. The Gadshill Edition. Illustrated by Charles Green. London: Chapman and Hall, 1898.
______. Great Expectations. The Grande Luxe Edition, ed. Richard Garnett. Illustrated by Clayton J. Clarke ('Kyd'). London: Merrill and Baker, 1900.
______. Great Expectations. "With 28 Original Plates by Harry Furniss." Volume 14 of the Charles Dickens Library Edition. London: Educational Book Co., 1910.
_____. Great Expectations. Illustrated by Frederic W. Pailthorpe with 17 hand-tinted water-colour lithographs. The Franklin Library. Franklin Center, Pennsylvania: 1979. Based on the Robson and Kerslake (London) edition, 1885.
Harmon, William, and C. Hugh Holman. "Picaresque Novel." A Handbook to Literature. Upper Saddle River, NJ: Prentice Hall, 2000. Pp. 389-390.
Paroissien, David. The Companion to "Great Expectations." Westport, Conn.: Greenwood, 2000.
---
Created 26 February 2007 Last modified 25 October 2021