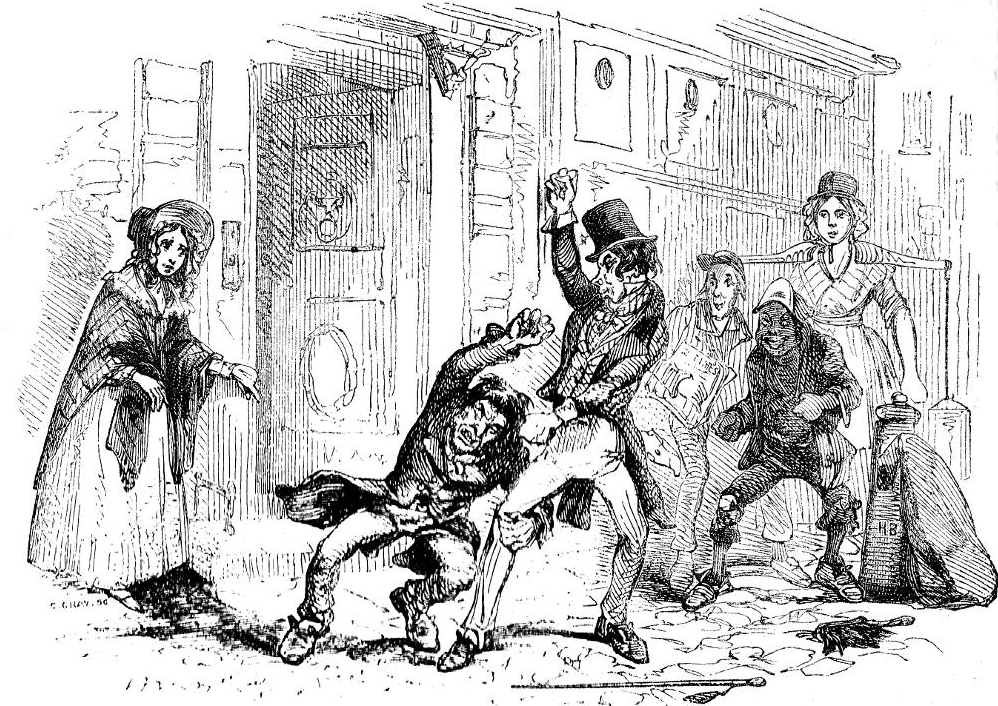 Mr. Swiveller's Appointment by Hablot Knight Browne (Phiz). Wood engraving, 3 3/8 by 4 5/8 inches (8.9 x 11.5 cm). — Chapter 13, The Old Curiosity Shop, Part Nine. [For passage illustrated see below.] Date of original serial publication: 4 July 1840. Master Humphrey's Clock, Part 12, 158. [Click on images to enlarge them.]
Passage Illustrated: Swiveller assaults Quilp in the Street
So far, however, from rushing upon somebody who offered no resistance and implored his mercy, Mr. Quilp was no sooner in the arms of the individual whom he had  taken for his wife than he found himself complimented with two staggering blows on the  head, and two more, of the same quality, in the chest; and closing with his assailant, such a shower of buffets rained down upon his person as sufficed to convince him that he was in skilful and experienced hands. Nothing daunted by this reception, he clung tight to his opponent, and bit and hammered away with such good-will and heartiness, that it was at least a couple of minutes before he was dislodged. Then, and not until then, Daniel Quilp found himself, all flushed and dishevelled, in the middle of the street, with Mr. Richard Swiveller performing a kind of dance round him and requiring to know "whether he wanted any more?"
"There's plenty more of it at the same shop," said Mr. Swiveller, by turns advancing and retreating in a threatening attitude, "a large and extensive assortment always on hand — country orders executed with promptitude and despatch — will you have a little more, Sir — don't say no, if you'd rather not." [Chapter XIII, 158-59]
Commentary
Phiz's illustration has the virtue of its highly engaged incidental observers, the porters and the dairy-maid, who add to Quilp's sense of being humiliated in the public thoroughfare, before the very substantial door of the business he has just acquired. In particular, the blackened figure, possibly a coal-delivery worker, seems to be enjoying the spectacle.
By this point, Phiz possibly understood that Dickens intended to develop Dick as more than merely a witty law-clerk (not unlike young Dickens himself and his many young male protagonists in Sketches by Boz). The illustrator now transforms the young Swiveller from having the appearance of a drunken sot got up in fashionable clothing of the Regency in Mr. Swiveller Seeks to Gain Attention in the second chapter. Swiveller continues to offer considerable comic relief in both the text and accompanying illustration, but he also functions here as an agent of Nemesis, for Quilp had rushed out with the intention of physically chastizing his much-put-upon wife on the pavement outside the Old Curiosity Shop, where he and his attorney have been encamped. It is now a Friday morning in June, and the movers are about to arrive. Quilp's triumph, however, is spoiled by Nell's having muysteriously decamped before he and Sampson Brass awoke.
Although he had studied the text, possessed a thorugh knowledge of the entire novel, and was undoubtedly familiar with the illustrations in the first edition, Charles Green, the Household Edition illustrator, elected instead to illustrate Quilp's energetically assisting in the removal of the shop's stock later in this chapter. Pure chance seems to dictate that the person knocking at the door is not Quilp's timid wife but the robust Dick Swiveller. He had not bargained on confronting so formidable an opponent when he stormed out of the sho[. The illustration marks Quilp's contiNuing to dominate both the illustrations and the plot, and also continues the shift away from the story's chief setting for the first eleven chapters. In The Pilgrimage Begins Phiz has already taken us out of the shop, which Quilp and his minions will shortly sack, and onto the street.Not knowing how to proceed, Grandfather Trent yields the role of guardian and guide to Nell as the pair start to make their escape from London — and from Quilp.
Depictions of Quilp by Charles Green and Felix Octavius Carr Darley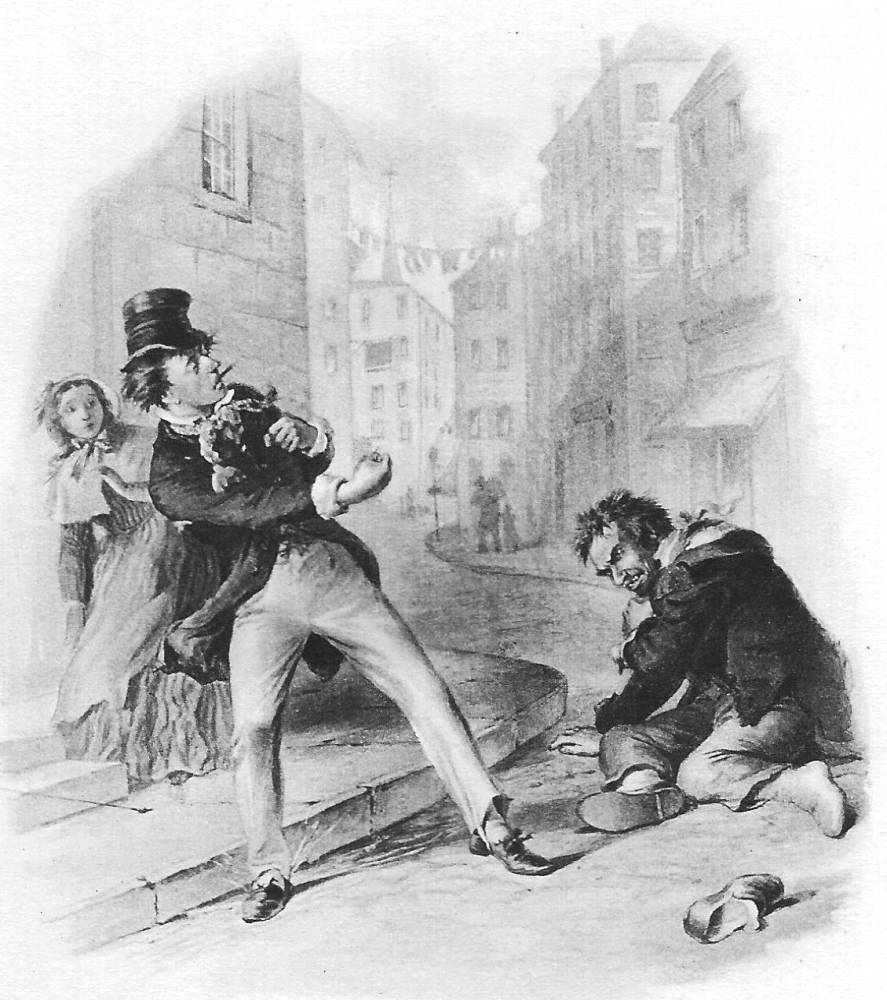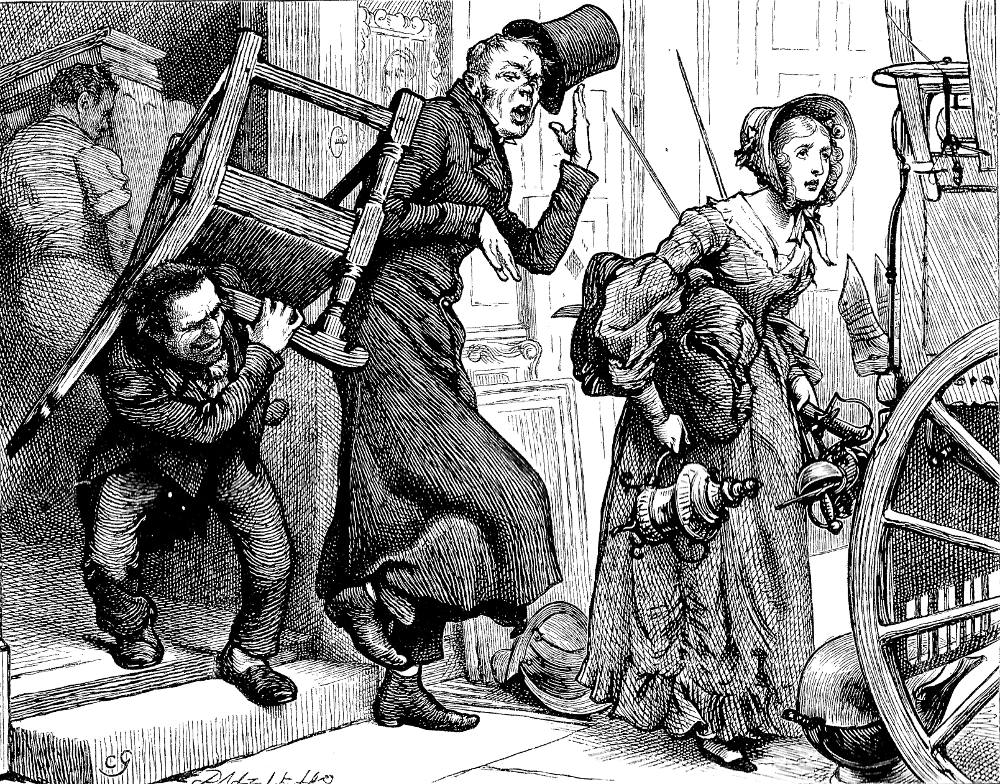 Left: Felix Octavius Carr Darley's 1888 study of the situation in which Quilp suddenly finds himself, knocked down and humiliated in front of his wife: Dick Swiveller and Quilp in Character Sketches from Dickens. Right: Charles Green, a member of the team of 1860s illustrators who worked on the Household Edition, illustrated the same scene in a markedly realistic manner in Not to be behindhand in the bustle, Mr. Quilp went to work with surprising vigour. (Ch. 13: 1876).
Related Resources Including Other Illustrated Editions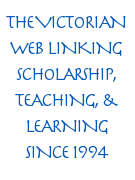 Scanned image, colour correction, sizing, caption, and commentary by Philip V. Allingham. [You may use this image without prior permission for any scholarly or educational purpose, as long as you (1) credit the person who scanned the image, and (2) link your document to this URL in a web document or cite the Victorian Web in a print one.]
Bibliography
Dickens, Charles. The Old Curiosity Shop in Master Humphrey's Clock. Illustrated by Phiz, George Cattermole, Samuel Williams, and Daniel Maclise. 3 vols. London: Chapman and Hall, 1840.
_____. The Old Curiosity Shop. Illustrated by Charles Green. The Household Edition. London: Chapman and Hall, 1876. XII.
Hammerton, J. A. "XIII. The Old Curiosity Shop." The Dickens Picture-Book. The Charles Dickens Library Edition. London: Educational Book, 1910. XVII, 170-211.
---
Created 10 May 2020

Last modified 12 November 2020