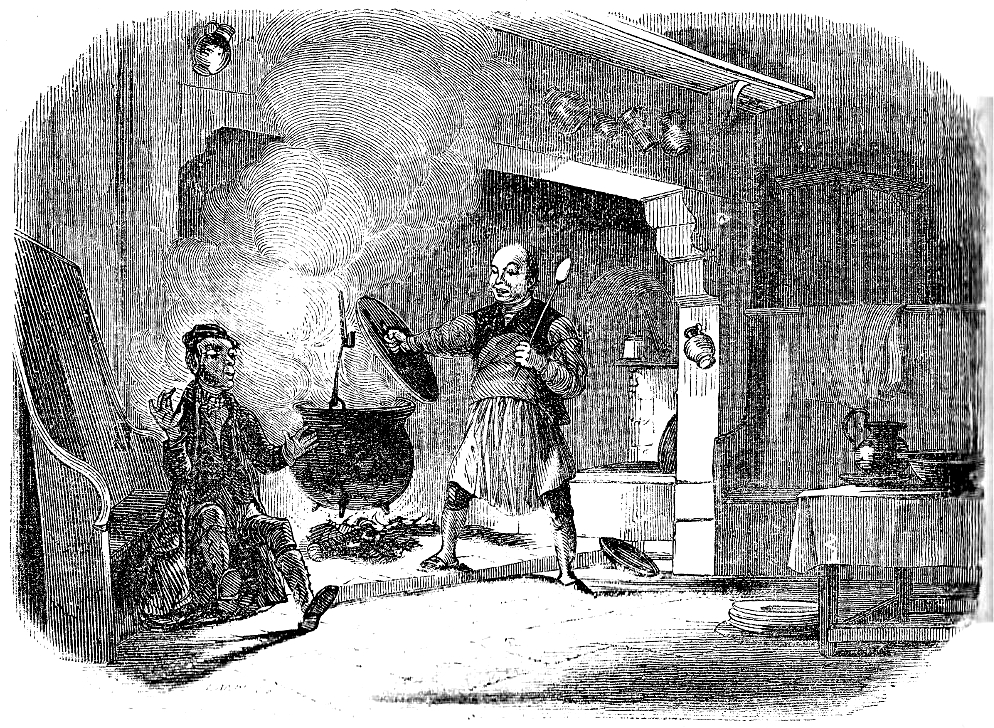 At the Jolly Sandboys by Hablot Knight Browne (Phiz). Wood engraving, 3 ⅛ x 4 ¼ inches (7.9 x 10.9 cm). — Part Eleven, Chapter 18, The Old Curiosity Shop. Date of original serial publication: 18 July 1840. Master Humphrey's Clock, no. 14, 188. [Click on images to enlarge them.]
Passage Illustrated: A Welcome Dinner at a Wayside Inn
"All alone?" said Mr. Codlin, putting down his burden and wiping his forehead.
"All alone as yet," rejoined the landlord, glancing at the sky, "but we shall have  more company to-night I expect. Here one of you boys, carry that show into the barn. Make haste in out of the wet, Tom; when it came on to rain I told 'em to make the fire up, and there's a glorious blaze in the kitchen, I can tell you."
Mr. Codlin followed with a willing mind, and soon found that the landlord had not  commended his preparations without good reason. A mighty fire was blazing on the hearth and roaring up the wide chimney with a cheerful sound, which a large iron cauldron, bubbling and simmering in the heat, lent its pleasant aid to swell. There was a deep red ruddy blush upon the room, and when the landlord stirred the fire, sending the flames skipping and leaping up — when he took off the lid of the iron pot and there rushed out a savoury smell, while the bubbling sound grew deeper and more rich, and an unctuous steam came floating out, hanging in a delicious mist above their heads — when he did this, Mr. Codlin's heart was touched. He sat down in the chimney-corner and smiled. [Chapter XVIII, 180]
Commentary: Remarkable Detailing and Light-and-Dark Effects
Phiz achieves a remarkable variety of effects in what, after all, is a wood-engraving: for example, steam does not merely rise from the cauldron of beef-and-tripe stew; rather, it swirls in cloud, engulfing the room. The dimly lit room has significant highlights that create chiaroscuro, so that Phiz renders the welcoming scene at The Jolly Sandboys with a panache that one might reasonably expect in one of his Bleak House steel-engravings, but not in such an early work by him and certainly not in a wood-engraving. In his ability to control light, to use dark spaces so effectively, and to infuse the whole composition with atmosphere, Phiz here anticipates the dark plates of the 1850s, particularly W. Harrison Ainsworth's Mervyn Clitheroe and Charles Lever's Davenport Dunn, for example, Going Home (November 1857).
Related Illustrations in Other Editions, 1872-1910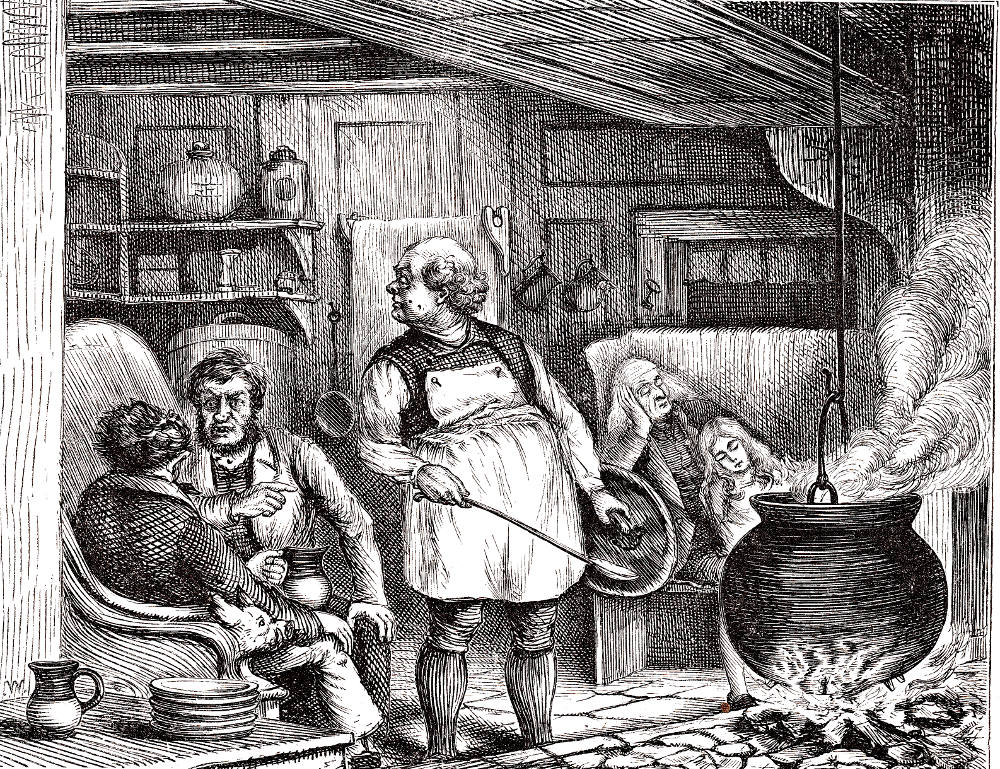 Above: Thomas Worth's realistic American Household Edition illustration incorporates significant details of the initial scene at the public house: "Remember that we're partners in everything" (1872).
Above: Charles Green's less whimsical Household Edition illustration focuses on Gerry as a strict task-master fior his troupe: "Now, gentlemen," said Jerry, looking at them attentively. "The dog who's name's called, eats. (1876).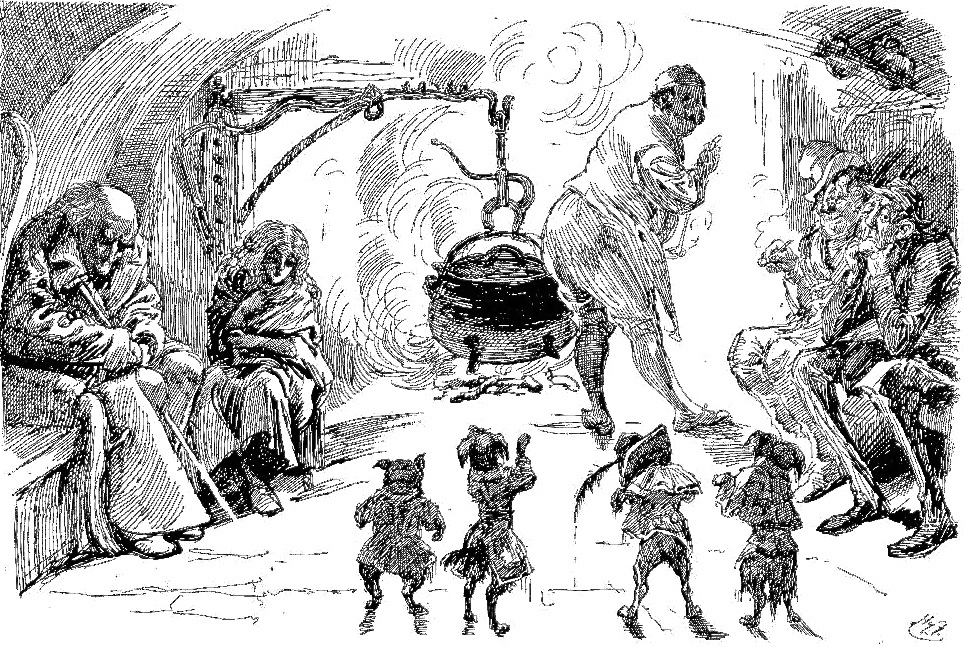 Above: Harry Furniss's study of a jollier Gerry and his performing dogs in the great kitchen of The Joly Sandboys, The new Visitors to the Jolly Sandboys (1910), with the Trents already half-asleep in the welcome heat.
Relevant Illustrations from the 1861 and 1888 editions by Darley
Related Resources Including Other Illustrated Editions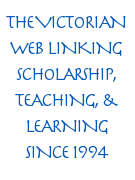 Scanned image and text by Philip V. Allingham. [You may use this image without prior permission for any scholarly or educational purpose as long as you (1) credit the person who scanned the image and (2) link your document to this URL in a web document or cite the Victorian Web in a print one.]
Bibliography:
The Old Curiosity Shop

(1841-1924)

Dickens, Charles. The Old Curiosity Shop in Master Humphrey's Clock. Illustrated by Phiz, George Cattermole, Samuel Williams, and Daniel Maclise. 3 vols. London: Chapman and Hall, 1840.

_____. The Old Curiosity Shop. Illustrated by Harry Furniss. The Charles Dickens Library Edition. London: Educational Book, 1910. V.

Illustrated by Charles Green. The Household Edition. 22 vols. London: Chapman and Hall, 1876. XII.

_____. The Old Curiosity Shop. Illustrated by Thomas Worth. The Household Edition. New York: Harper & Bros., 1872. I.

_____. The Old Curiosity Shop.

Hammerton, J. A. "XIII. The Old Curiosity Shop." The Dickens Picture-Book. The Charles Dickens Library Edition. London: Educational Book, 1910. 170-211.
---
Created 10 May 2020

Last modified 9 October 2020