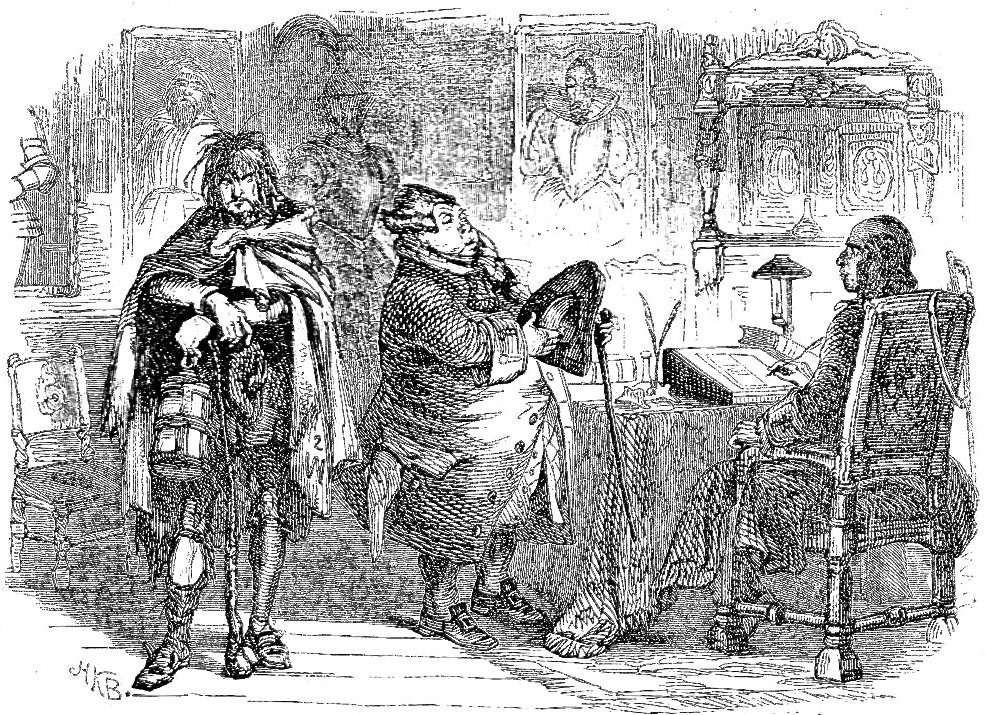 Old John's Bodyguard — Phiz's twenty-fifth regular contribution, the thirty-first illustration in the series, Chap. XXXIV (12 June 1841, Part 18). 3 ¼ x 4 ½ inches (8.3 cm high by 11.1 cm wide), vignetted. Volume Three, Part 61 of Master Humphrey's Clock, in which Dickens's Barnaby Rudge originally appeared. The 1849 Bradbury and Evans two-volume edition: top of p. 131 in Vol. III. Running Head: "Master Humphrey's Clock" (130). [Click on the images in order to enlarge them.]
Context of the Illustration: Another Visit to The Warren
It terminated in a little ante-room adjoining that from which they had seen the light. Mr. Haredale entered first, and led the way through it into the latter chamber, where he seated himself at a writing-table from which he had risen when they had rung the bell.
"Come in," he said, beckoning to old John, who remained bowing at the door. "Not you, friend," he added hastily to Hugh, who entered also. "Willet, why do you bring that fellow here?"
"Why, sir," returned John, elevating his eyebrows, and lowering his voice to the tone in which the question had been asked him, "he's a good guard, you see."
"Don't be too sure of that," said Mr. Haredale, looking towards him as he spoke. "I doubt it. He has an evil eye."
"There's no imagination in his eye," returned Mr Willet, glancing over his shoulder at the organ in question, "certainly."
"There is no good there, be assured," said Mr. Haredale. "Wait in that little room, friend, and close the door between us."
Hugh shrugged his shoulders, and with a disdainful look, which showed, either that he had overheard, or that he guessed the purport of their whispering, did as he was told. When he was shut out, Mr Haredale turned to John, and bade him go on with what he had to say, but not to speak too loud, for there were quick ears yonder.
Thus cautioned, Mr. Willet, in an oily whisper, recited all that he had heard and said that night; laying particular stress upon his own sagacity, upon his great regard for the family, and upon his solicitude for their peace of mind and happiness. The story moved his auditor much more than he had expected. [Chapter the thirty-fourth, 130-31]
Commentary: Developing Hugh
Wearing glasses and having a slightly fuller face, as he looks over his account books Geoffrey Haredale looks somewhat older than when last we saw him, forbidding Edward Chester from seeing his niece. Hugh, the ostler of The Maypole, looks no older, but he is now less a caricature and more a character. Clad in a horse-blanket, he appears indignant at having been ordered into the anteroom, and must be aware that Haredale regards him with some suspicion. The illustration prepares readers for Hugh as a smouldering rebel, dissatisfied with the present system and therefore a suitable candidate for rabble-rouser. Originally Dickens had thought to make three escaped lunatics from Bedlam the ringleaders of the insurrection, but settled on two established characters and one new one: Hugh, Barnaby, and Ned Dennis, the Newgate hangman.
Previous Illustrations: developing surly Hugh into a Byronic Rebel
Related Material including Other Illustrated Editions of
Barnaby Rudge
Scanned image and text by Philip V. Allingham. [You may use this image without prior permission for any scholarly or educational purpose as long as you (1) credit the person who scanned the image and (2) link your document to this URL in a web document or cite the Victorian Web in a print one.]
Bibliography
Dickens, Charles. Barnaby Rudge. Illustrated by Hablot K. Browne ('Phiz') and George Cattermole. London: Chapman and Hall, 1841; rpt., Bradbury & Evans, 1849.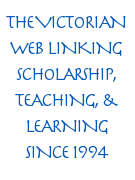 ________. Barnaby Rudge. Ed. Kathleen Tillotson. Illustrated by Hablot K. Browne ('Phiz') and George Cattermole. The New Oxford Illustrated Dickens. London: Oxford University Press. 1954, rpt. 1987.
Hammerton, J. A. "Ch. XIV. Barnaby Rudge." The Dickens Picture-Book. The Charles Dickens Library Edition, illustrated by Harry Furniss. London: Educational Book Co., 1910. 213-55.
Vann, J. Don. "Charles Dickens. Barnaby Rudge in Master Humphrey's Clock, 13 February-27 November 1841." New York: MLA, 1985. 65-66.
---
Created 9 November 2007

Last modified 17 December 2020