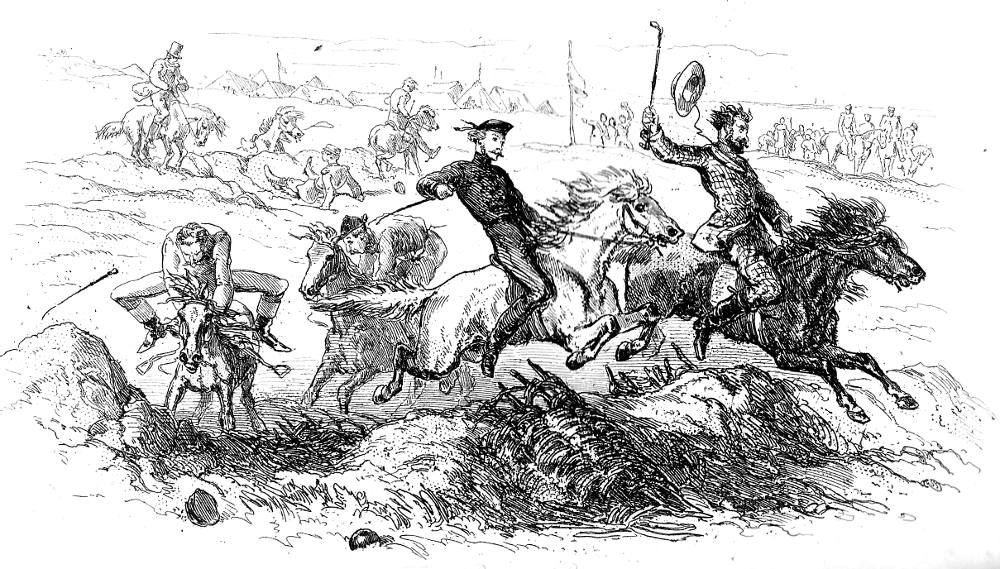 The Pony Race by Phiz (Hablot K. Browne), an illustration for Chapter 14 of Charles Lever's Davenport Dunn: A Man of Our Time (October 1857).
Scanned image by Simon Cooke; colour correction, sizing, caption, and commentary by Philip V. Allingham. [You may use this image without prior permission for any scholarly or educational purpose, as long as you (1) credit the person who scanned the image, and (2) link your document to this URL in a web document or cite the Victorian Web in a print one.] Click on the image to enlarge it.
Bibliographical Note
This, the eighth serial illustration, which occurs in Chapter 14 ("A Dinner at Paul Kellett's") and faces page 125, is a steel-plate etching measuring 4 by 7 ½ inches (10 cm high by 18.5 cm wide), vignetted. The story was serialised by Chapman and Hall in monthly parts, from July 1857 through April 1859. The ninth and tenth illustrations in the volume initially appeared in reverse order at the very beginning of the fourth monthly instalment, which went on sale on 1 October 1857. This number included Chapters XII through XIV, and ran from page 97 through 128.
Passage Illustrated: Conway proves a Blade of the Turf in the Crimea
"There's not a man has done anything on the turf for fifty years I can't give you his history; not a horse I won't tell you all his performances, just as if you were reading it out of the Racing Calendar. As Bell's Life said t' other day, 'If Annesley Beecher can't answer that question,' — and it was about Running Rein, — 'no man in England can.' I'm 'The Fellow round the corner' that you always see alluded to in 'Bell."
"Indeed!" exclaimed Conway, with assumed deference.
"That I am, — Kellett knows it. Ask old Paul there, — ask Grog, — ask any one you like, whether A. B. is up to a thing or two. But we 're forgetting this match, — the best thing you said you ever had."
"I'm not so sure you'll be of my mind when you hear it," said Conway, smiling. "It was a race we had t'other day in the Crimea, — a steeplechase, over rather a stiff course, with Spanish ponies; and I rode against Lord Broodale, Sir Harry Curtis, and Captain Marsden, and won five pounds and a dozen of champagne. My comrades betted something like fifty shillings on the match, and there would have been a general bankruptcy in the company if I had lost. Poor Jack mortgaged his watch and a pilot coat that he was excessively proud of, — it was the only bit of mufti in the battalion, I think; but he came off all right, and treated us all to a supper with his winnings, which, if I don't mistake, didn't pay more than half the bill." [Chapter XIV, "A Dinner at Paul Kellett's," pp. 125-126]
Commentary: A Horse-racious Reminiscence
Lever prided himself on writing what we might call "action stories," particularly stories set in his native Ireland that involve combat, hunting, and horse-racing, so that his novels prior to Davenport Dunn possess a markedly pugnacious and "horse-racious" quality. And rather than attempt to describe another dinner scene and inject interest in mere table-talk, Phiz follows Lever's cue by describing the type of action scene that was had been dear to him since when, just seventeen-years-old, he won the Society of Arts' medal for his etching of John Gilpin's Ride (1832). The prize-winning engraving, though crude, showed Phiz's considerable skill in drawing horses (especially evident in his plates for Lever's "horse-racious" and pugnacious Irish novels). This "good will" — that is, non-wagering — pony race is the first scene in the novel's illustrations that transports the serial readers of late 1857 to the scene of the Crimean War.
In The Diverting History of John Gilpin (1782) by English poet William Cowper, the hapless protagonist rides an unruly horse at breakneck speed by accident. Losing control of his mount, the draper from Cheapside, London, is carried ten miles out of his way, to the town of Ware. Never one to pass up an opportunity to show a horse at a gallop, Phiz injects that same humorous note into The Pony Races as he had in John Gilpin's Ride by showing the ineptitude of some of the riders competing against Conway (centre, in the uniform of the Rifle Battalion) as well as the intractable nature of the other mounts. So effective is Phiz's depiction of the impromptu steeple-chase that Chapman and Hall used it as the title-page vignette for the first volume in the the 1862, two-volume edition of the Lever novel.
The first-person narrative merely mentions Conway's competitors, "It was a race we had t'other day in the Crimea, — a steeplechase, over rather a stiff course, with Spanish ponies; and I rode against Lord Broodale, Sir Harry Curtis, and Captain Marsden, and won five pounds and a dozen of champagne. (138). In contrast, Phiz individualizes them, making most of them look ridiculous on the packhorses they are attempting to race. Moreover, whereas Conway gives no indication as to the closeness of the competition, Phiz depicts a rider in civilian dress (perhaps Sir Harry Curtis, in a tweed suit) actually ahead of Conway at the moment depicted. Thus, Phiz does not merely realise a moment in the narrative; rather, he reconstructs it so that the scene possesses humour, suspense, and individualised figures. One rider has fallen on the ground, another two are well back, essentially out of the running, whereas the two pressing from behind Conway seem ridiculously large for the diminutive ponies they are riding up the hill. Phiz depicts army tents in the background, upper left, and cheering spectators, upper right — presumably the members of Conway's regimental who have wagered that he will win. In the distance, in the upper right quadrant, the illustrator gives a glimpse of the shore of the Black Sea. This is the first plate (discounting the 1859 frontispiece, executed much later) depicting the theatre of combat and thereby qualifying Davenport Dunn as a war novel, as well as a Silver Fork novel and and exposé of financial chicanery in the 1850s.
As for Conway's being a member of the 12th Lancers, Lever seems to be tampering with the chronology of the Crimean conflict since this elite unit was stationed in India when the war broke out, quartered at Bangalore between February 1854 and February 1855, when they re-deployed to the Crimea. Marching overland and then shipping from Alexandria, the regiment did not arrive in the Crimea until May 1855. It seems highly unlikely, then, that Conway cashed out and joined the Rifles in time to become fast friends with Jack Kellett. Moreover, extended service in India would have limited Conway's recent involvement in English horse-races, as described by Mr. Beecher. The unit, however, would have been well-known to the British public for its 1855 involvement in supporting the Light Cavalry Brigade after the disastrous Charge of the Light Brigade at Balaclava 25 October 1854.
Lord Lackington's half-brother and Paul Kellett's bosom friend, Annesley Beecher, it turns out, has an accurate record of winning horses and jockeys going back decades. Consequently, he has avidly followed Conway's career as an owner and racer of thoroughbreds, recording his many victories in detail and noting the odds in each of these sporting events. However, he doesn't know that Conway's catastrophic losses in betting on his horse forced him to sell his commission in the socially prestigious 12th Lancers. His horses had been tampered with ("doctored") by unscrupulous adversaries like Grog Davis, who will feature prominently later in the novel.
Phiz and Horses
Other Illustrations involving the Crimean War background of the story
References
Lester, Valerie Browne. Phiz: The Man Who Drew Dickens. London: Chatto and Windus, 2004.
Lever, Charles. Davenport Dunn: A Man of Our Day. Illustrated by "Phiz" (Hablot Knight Browne). London: Chapman and Hall, 1859.
Lever, Charles. Davenport Dunn: The Man of The Day. Illustrated by "Phiz" (Hablot Knight Browne). London: Chapman and Hall, October 1857 (Part IV).
---
Last modified 28 August 2019