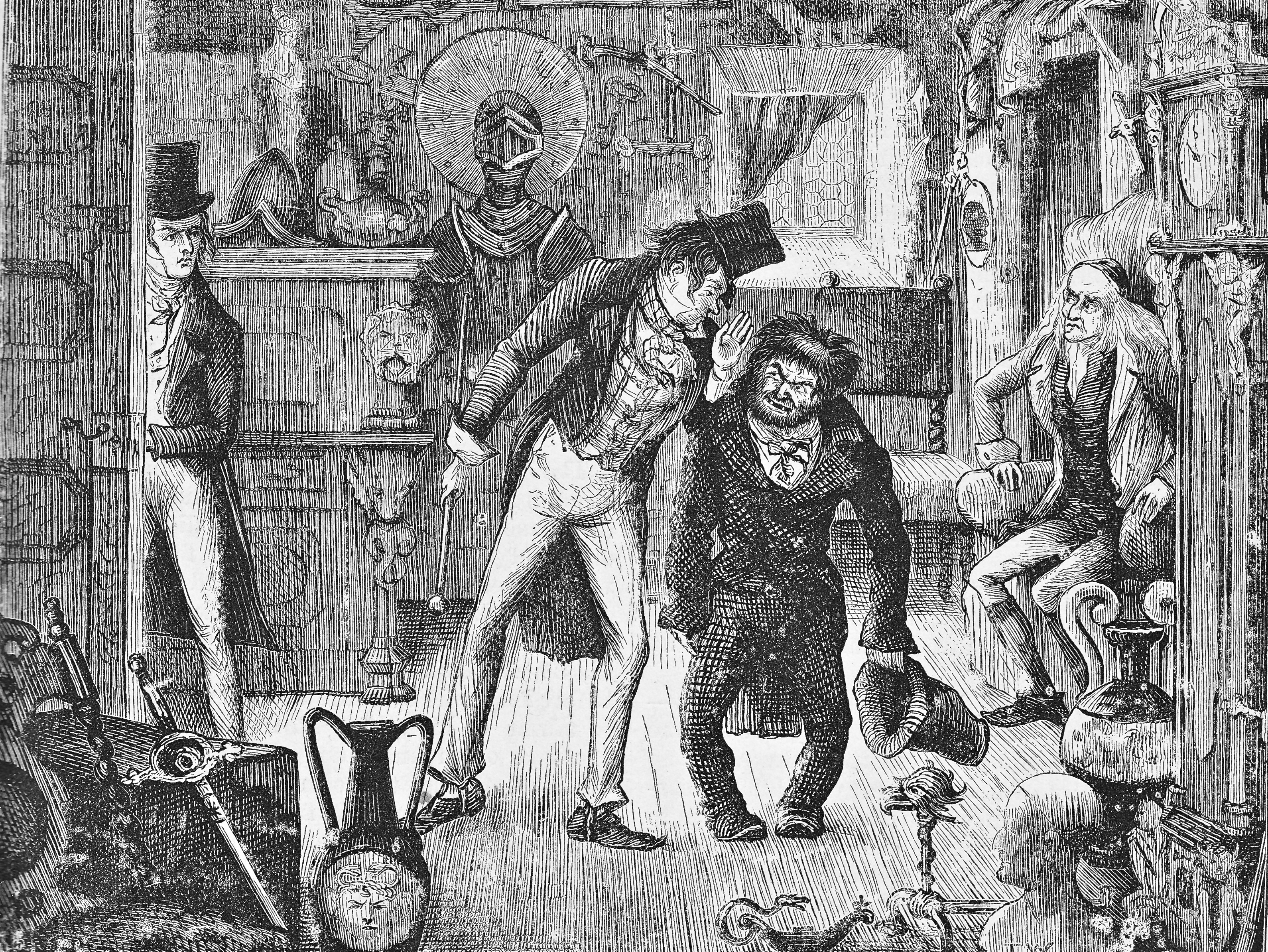 "The watch-word to the old min is — fork." Chapter III of Dickens's Old Curiosity Shop by Thomas Worth in the first Household Edition volume, published by Harper & Bros., New York (1872), 12: 3 ½ x 5 ¼ inches (9.2 x 13.5 cm) framed.
Context of the Illustration: Swiveller and Quilp reach an Understanding of Sorts
"Before I leave the gay and festive scene, and halls of dazzling light, sir," said Mr. Swiveller, "I will with your permission, attempt a slight remark. I came here, sir, this day, under the impression that the old min was friendly."
"Proceed, sir," said Daniel Quilp; for the orator had made a sudden stop.
"Inspired by this idea and the sentiments it awakened, sir, and feeling as a mutual friend that badgering, baiting, and bullying, was not the sort of thing calculated to expand the souls and promote the social harmony of the contending parties, I took upon myself to suggest a course which is the course to be adopted to the present occasion. Will you allow me to whisper half a syllable, sir?"
"Without waiting for the permission he sought, Mr. Swiveller stepped up to the dwarf,  and leaning on his shoulder and stooping down to get at his ear, said in a voice which  was perfectly audible to all present,
"The watch-word to the old min is — fork."
"Is what?" demanded Quilp.
"Is fork, sir, fork," replied Mr. Swiveller slapping his pocket. "You are awake,  sir?"
The dwarf nodded. [Chapter III, 17]
Commentary: Will the real Daniel Quilp step forward?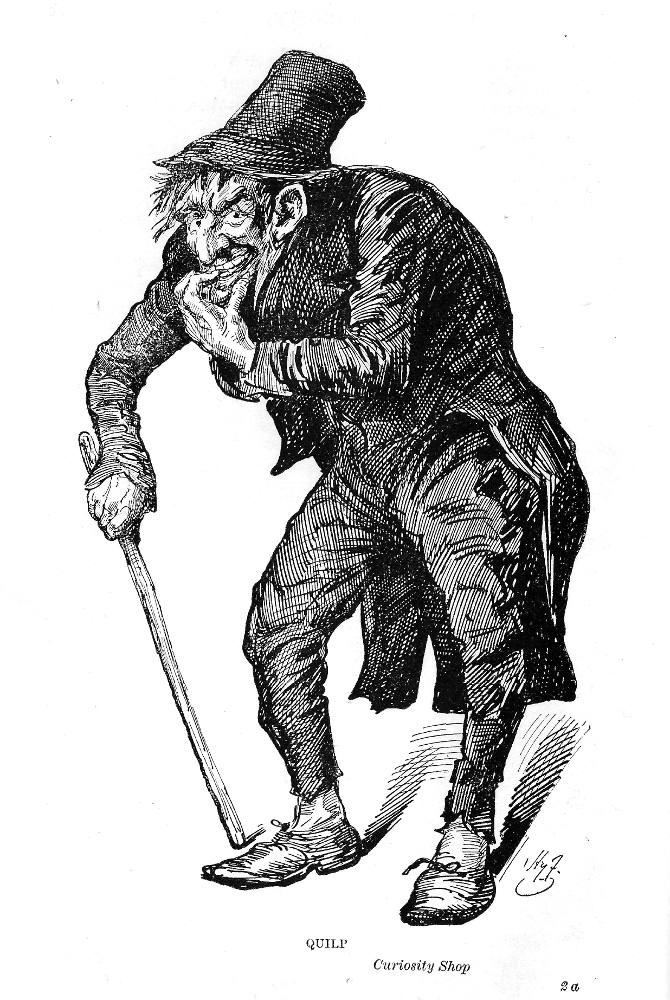 Right: Harry Furniss's study of the obnoxious antagonist: Quilp (1910).
The child was closely followed by an elderly man of remarkably hard features and forbidding aspect, and so low in stature as to be quite a dwarf, though his head and face were large enough for the body of a giant. His black eyes were restless, sly, and cunning; his mouth and chin, bristly with the stubble of a coarse hard beard; and his complexion was one of that kind which never looks clean or wholesome. But what added most to the grotesque expression of his face was a ghastly smile, which, appearing to be the mere result of habit and to have no connection with any mirthful or complacent feeling, constantly revealed the few discoloured fangs that were yet scattered in his mouth, and gave him the aspect of a panting dog. His dress consisted of a large high-crowned hat, a worn dark suit, a pair of capacious shoes, and a dirty white neckerchief sufficiently limp and crumpled to disclose the greater portion of his wiry throat. Such hair as he had was of a grizzled black, cut short and straight upon his temples, and hanging in a frowzy fringe about his ears. His hands, which were of a rough, coarse grain, were very dirty; his fingernails were crooked, long, and yellow. [III, 16]
There seem to be as many versions of the villain of The Old Curiosity Shop as there are illustrators. The commonalities lie in Dickens's psychological profile, the grotesque expression, the ghastly smile, and the high-crowned hat of the Abraham Lincoln fashion. Curiously, although Dickens describes Quilp as "elderly," no visual interpretation suggests that he is anything more than middle-aged. Worth has emphasized Quilp's "frowzy fringe" and dark suit, but has made his clothes particularly ill-fitting (with as suggestion, if one studies the jacket's sleeves, that Quilp is attempting to wear a standard, off-the-rack size rather than a tailored garment). As opposed to his counterpart in the British Household Edition, Worth's figure does not wear a solidly black suit, but one of a chequered pattern. Worth's Quilp stands uncomfortable beside Dick, and is bow-legged. In short, the reader is not impressed by Quilp's being physically powerful or even comfortable in his own skin. In contrast, the smart young men, Dick Swiveller and, just departing from the curiosity shop, Fred Trent, are smartly dressed in the latest Regency fashion. Worth distinguishes the racy, exuberant Dick from his more self-controlled, cerebral companion, Fred, by their postures and expressions.
Although the term "midget" is now in disfavour as small persons consider it derogatory, "midget" (a person of normal proportions, but under 58 inches tall) describes accurately describes Worth's conception of Quilp. In particular, his head is not excessively large, but of normal proportion to his body mass. Since Dick Swiveller in the Worth illustration seems be about a foot taller than Quilp, Worth is here representing Dickens's villain as being about 52 inches in height. In terms of height, then, Worth has adhered to the standard definition of a dwarf, that is, a person whose height does not exceed 4' 10" and is typically less than 4' 5". Worth's Quilp is not markedly misshapen and ugly here, but certainly appears so in Worth's representation of Quilp's intervening in the fight between kit and Quilp's wharf-boy, "Now, my boys, fight away. I'll fight you both." (Chapter VI). Other illustrators of the novel have correctly represented Quilp as a dwarf, with a disproportionately large head, short arms and legs.
Other Introductory Illustrations of Daniel Quilp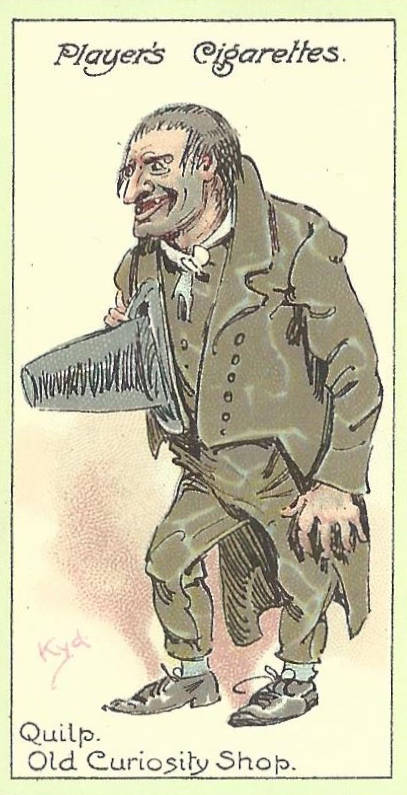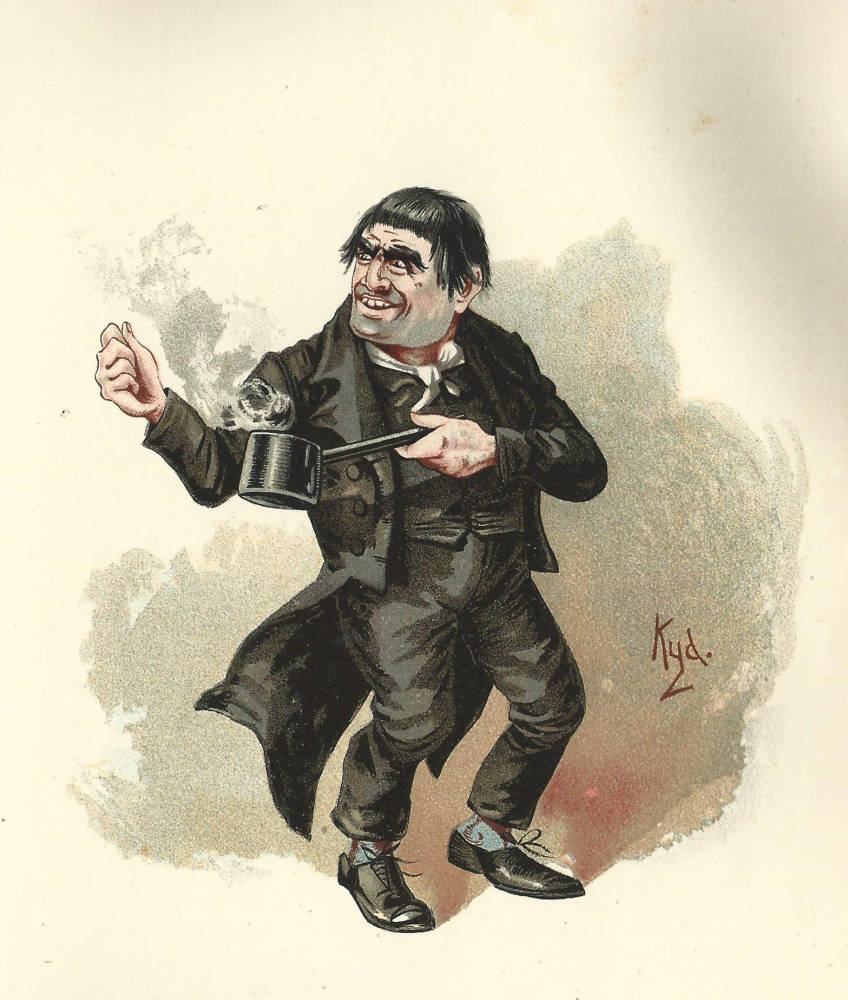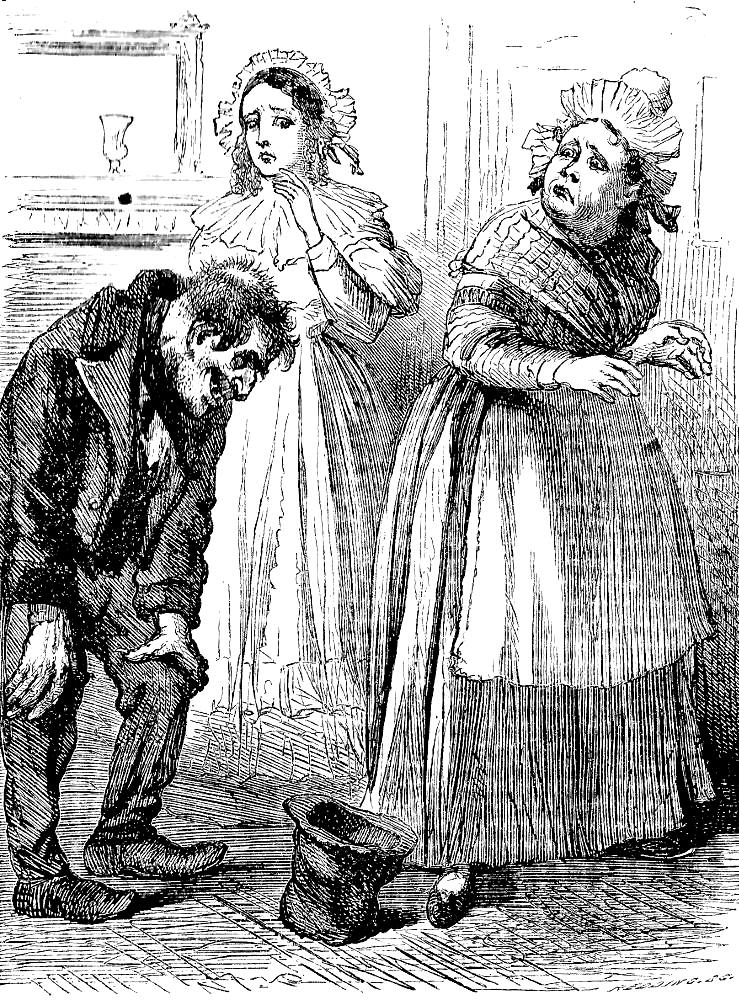 Left and centre: Clayton J. Clarke's amusing caricatures of the demonic villain in the Player's Cigarette card series, Quilp (Card No. 27, 1910) and Quilp in his series of Dickens characters, dating from 1888. Right: Sol Eytinge, Jr.s's character study of the novel's self-satisfied, diminutive villain, his much-put-upon wife, and her feisty mother: Quilp, Mrs. Quilp, and Mrs. Jiniwin (1867).
Relevant Illustrations from various editions
Scanned image and text by Philip V. Allingham. [You may use this image without prior permission for any scholarly or educational purpose as long as you (1) credit the person who scanned the image and (2) link your document to this URL in a web document or cite the Victorian Web in a print one.]
Bibliography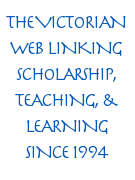 Davis, Paul. Charles Dickens A to Z: The Essential Reference to His Life and Work. New York: Facts On File, 1998.
Dickens, Charles. The Old Curiosity Shop in Master Humphrey's Clock. Illustrated by Phiz, George Cattermole, Samuel Williams, and Daniel Maclise. 3 vols. London: Chapman and Hall, 1841; rpt., Bradbury and Evans, 1849.
_____. The Old Curiosity Shop. Frontispieces by Felix Octavius Carr Darley and Sir John Gilbert. The Household Edition. 55 vols. New York: Sheldon & Co., 1863. 4 vols.
_____. The Old Curiosity Shop. Illustrated by Sol Eytinge, Jr. The Diamond Edition. 14 vols. Boston: Ticknor & Fields, 1867. XII.
_____. The Old Curiosity Shop. Illustrated by Thomas Worth. The Household Edition. New York: Harper & Bros., 1872. I.
_____. The Old Curiosity Shop. Illustrated by Charles Green. The Household Edition. London: Chapman and Hall, 1876.
_____. The Old Curiosity Shop. Illustrated by William H. C. Groome. The Collins' Clear-Type Edition. Glasgow & London: Collins, 1900.
_____. The Old Curiosity Shop. Illustrated by Harry Furniss. The Charles Dickens Library Edition. London: Educational Book, 1910. V.
Hammerton, J. A. The Dickens Picture-Book. The Charles Dickens Library Edition. 18 vols. London: Educational Book, 1910. XVII.
Kitton, Frederic George. "Phiz" (Hablot Knight Browne), a Memoir, Including a Selection From His Correspondence and Notes on His Principal Works. London, George Redway, 1882.
Lester, Valerie Browne. Phiz: The Man Who Drew Dickens. London: Chatto and Windus, 2004.
Matz, B. W., and Kate Perugini. Character Sketches from Dickens. Illustrated by Harold Copping. London: Raphael Tuck, 1924.
Steig, Michael. Dickens and Phiz. Bloomington & London: Indiana U. P., 1978.
---
Last modified 31 August 2020