Thank you to the knowledgeable guides and kind receptionists at Strawberry Hill who helped me on my visits there. Main photograph by the author. You may use this image without prior permission for any scholarly and educational purpose as long as you (1) credit the source and (2) link your document to this URL, or cite the Victorian Web in a print one. Many thanks also to Jonathan Cardy, whose much higher resolution image in Wikimedia Commons, also available for reuse with attribution under the terms of the Creative Commons License, enabled me to crop the subsequent details for discussion. The last image is also his, with the perspective corrected. [Click on the images to enlarge them.]
Renaissance Glass from the Low Countries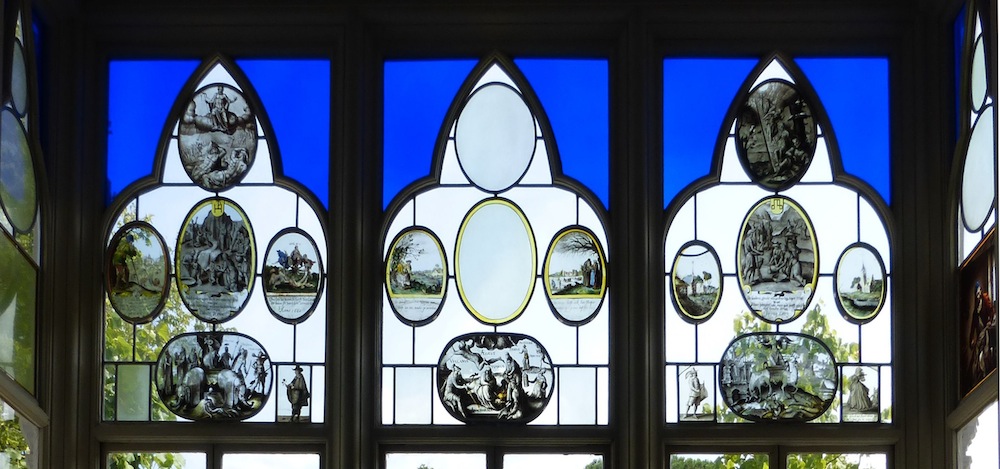 Painted glass in the Great Parlour/Refectory of Horace Walpole's Strawberry Hill.
There is only one window in the Great Parlour where Walpole entertained his dinner guests at Strawberry Hill. But it is a bay of five panes, with the inserted roundels of painted glass at the front depicting some exceptionally powerful scenes. Along with the Gothic chimney-piece, it serves as an important feature of this elegant room. Michael Peover suggests that Walpole gathered all the "major representations of classical subjects" here because his Cambridge days had made him associate learning "with meals in hall" (21). It could be, though, that these were simply the ones that he most wished to display to his guests while they were gathered at the table. They are exquisite pieces, which only yield up their treasures when examined at close quarters. There are, incidentally, more biblical than classical subjects here, and an historical one, as well as a few of the usual little homely scenes and figures that lighten the mood.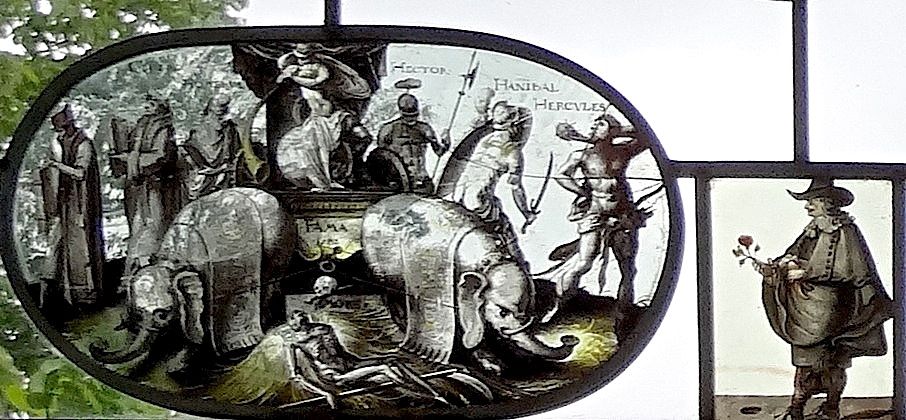 The Triumph of Fame, and a cavalier, on the left-hand part of the window.
Looking more closely at the window, with the sale catalogue as a guide (Items 62-65, Robins pp. 244-45), we can identify all the scenes it shows. The stirring scene on the left is The Triumph of Fame. Two lightly caparisoned elephants draw the chariot of Fame, as she blows her great curved trumpet. On one side are Cato, Cicero and Homer, with academic caps, all bearing large volumes of their work, and on the other are Hector, Hannibal and Hercules. Their names are helpfully written above them, though some are easy enough to recognise: Hannibal, spelt here with one "n," leans back against the elephant on his side, and Hercules has a spiked club at the ready, and a longbow at his back. Walpole thought this all quite "ridiculous" (11), but he evidently liked it well enough to show it off here. Next to this roundel, as if in tribute to the stalwarts, a charming cavalier holds out a rose.
A classical group on the central panel.
In the roundel to the right of the cavalier are a group labelled Heathen Deities in the sale catalogue (Item 62, p. 244). Their names written in Latin, these figures represent fire, wind, cold, poverty, rebellion etc. They seem to show the troubles of life, which the philosopher Anarcharses, named at the bottom of the roundel, is engaged in observing — definitely a conversation piece.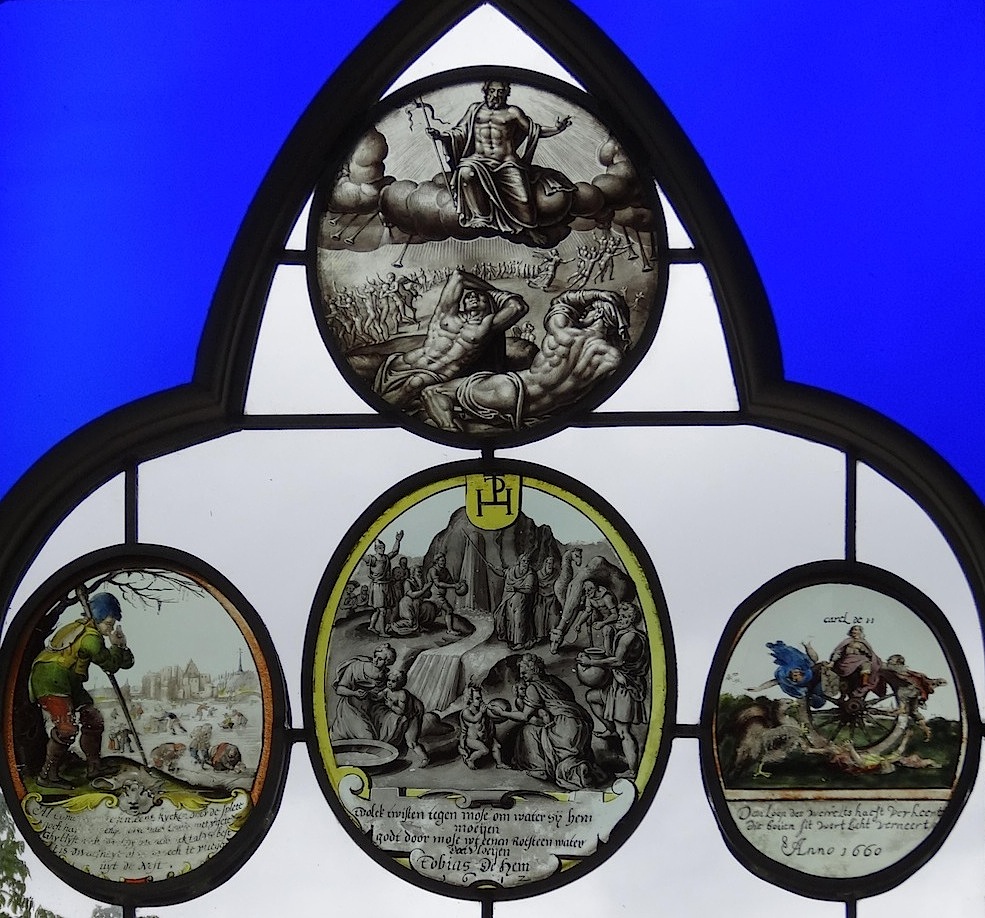 The Last Judgement, Moses strikes the Rock, Winter, and The Wheel of Fortune.
The panel on the right shows (from top to bottom): The Last Judgement, a stirring depiction based on a painting by Maerten van Heemskerck (Peover 16), with two muscular men hiding their eyes in the foreground, and, in the background, a winged and hoofed devil pushing sinners down to the left, and angels shepherding the righteous up to heaven on the right. Both classes of people have their arms raised, some in supplication or terror, and some in joyful anticipation — the amount of detail is amazing. In the roundel below that, men, women, children — and camels — all reach eagerly for water after Moses has struck the rock in the desert. It is another masterpiece of miniature art. On either side of this lower one are (left) a peasant watching people slipping, sliding etc. on a frozen river, clearly representing winter; and (right), unexpectedly perhaps for a Dutch piece, a smug Charles II high on the Wheel of Fortune, which is crushing beneath it the figure of Cromwell. Both these names are painted in by the artist, the latter as "Cromwel."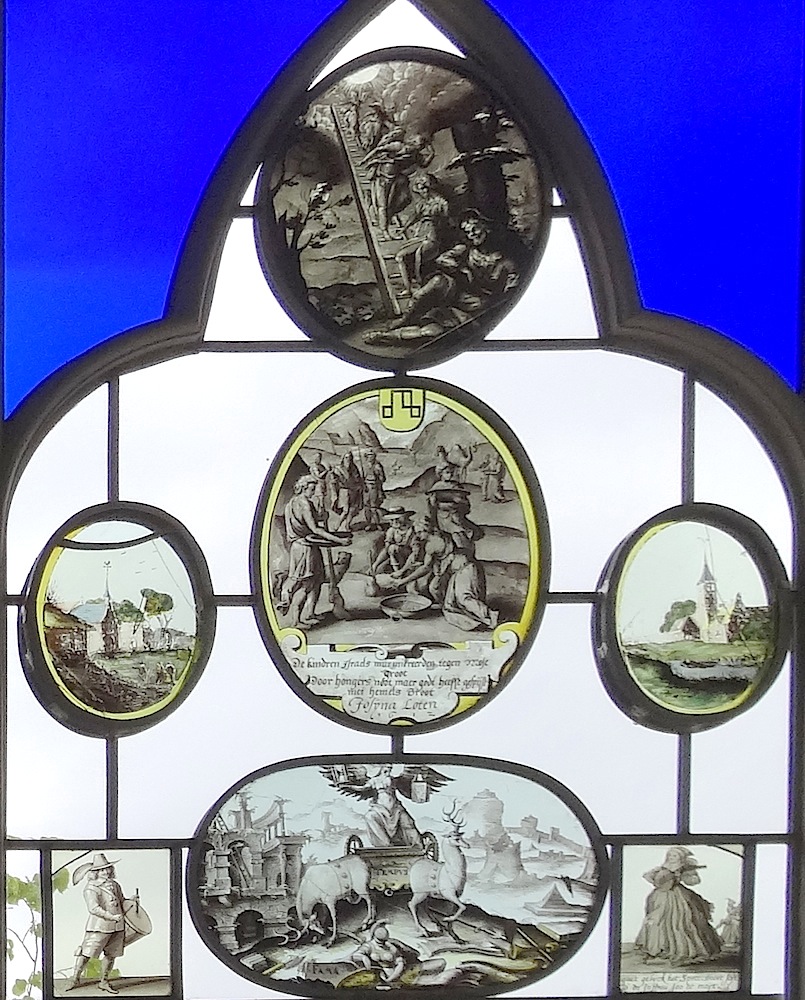 Jacob's Dream, The Triumph of Time, and small vignettes.
The panel on the right shows Jacob's Dream, with four angels on the ladder, and Jacob in a big broad-rimmed hat napping against a tree; Israelites gathering manna in Moses's presence, this one very clearly signed "Josyna (for Joshua?) Loten, 1612"; and another "Triumph," this time the ultimate one: The Triumph of Time, with winged Time in a chariot pulled by two fine stags. Everything around it, including the city of Troy and the chariot of Fame, lies in ruins. Fame has fallen to the ground, her trumpet lying beside her. Again, a conversation piece (but one that might take away the appetite of the more aspiring dinner guests).
James Pearson's Glass
James Pearson's contribution to the right-hand side pane of the oriel, showing a cobbler whistling to his canary.
The original window here was flush with the wall, but it was changed to a bay in about 1774, probably in order to give it more light (see Lombardo and Orama 41). At that time, a glass-painter called James Pearson (c.1750-1838), whom Walpole describes as "scholar" of William Price, his first glass-painter (11), added a lovely glass-painting of his own to the new pane on the right. Its position can just be seen at the far right of the first image on this web-page. Much more in the homely style and modulated colours of the Dutch "Golden Age" than the Renaissance, it shows a cobbler with lips pursed as he whistles to his canary in its cage by a leaded window (cobblers traditionally kept canaries). In the sale catalogue it is described as "most humorous" (Item 65, p. 245). George Eliot would perhaps have found it poignant. As she said in a famous passage in Adam Bede (1859): "let us always have men ready to give the loving pains of a life to the faithful representing of commonplace things — men who see beauty in these commonplace things, and delight in showing how kindly the light of heaven falls on them" (158).
Pearson's is the only English piece to be seen in this window now, but Walpole mentions in his description many pieces that are missing, and these would also have been English: they were family portraits, arms and crests. The effect would once have been more colourful and varied, and would have said something about his direct encouragement of the art of glass-painting in England. But the mere fact that Price had taken on a student, and one of real talent, is significant. Pearson would, in fact, become "one of the prominent stained glass artists" of the late eighteenth and early nineteenth centuries (Cobb). There would be some notable glass-painters in the nineteenth century, such as Thomas Willement, who started out as a painter of heraldry, but turned to stained glass as the medieval process came into fashion again; and George Hedgeland, often described as a "pictorialist" — that is to say, an artist who used glass as his canvas — who continued to paint in this way well into the Victorian age.
Looking at the window as it is now, it easy to see the appeal of such finely executed scenes for Walpole, with his special love of small and delicate artwork. These diminutive Netherlandish masterpieces are really in a class of their own. But they showed others what could be done by painting on glass, and, as Pearson's contribution shows, helped to revive and popularise what had been, earlier in the century, a dying art.
More Stained Glass at Strawberry Hill
Sources
Cobb, Joanna. "From Parrots to Princes: Exhibitions of Contemporary Stained Glass in Late Eighteenth-century London." Vidimus. (online magazine). Issue 53. Web. 2 September 2014.
Eliot, George Adam Bede. World's Classics. Oxford: Oxford University Press, 2001.
Lombardo, Christy, and Sadally Orama. "Considerations for Strawberry Hill 40: The First Big Addition." University of Pennsylvania (Summer Conservation 2006). Web. 2 September 2014.
Peover, Michael. Strawberry Hill: Renaissance Glass. London: Scala, 2010.
Robins, George. A Catalogue of the Classic Contents of Strawberry Hill Collected by Horace Walpole (auction catalogue). Internet Archive. Contributed by the Philadelphia Museum of Art, Library. Web. 2 September 2014.
Walpole, Horace. A Description of the Villa of Mr Horace Walpole at Strawberry-Hill near Twickenham, Middlesex. Edited version in a booklet compiled and written by Carole Patey and published by the Strawberry Hill Trust, 2014. Available at the house.
---
Last modified 2 September 2014