Thank you to the knowledgeable guides and kind receptionists at Strawberry Hill who helped me on my visits there. Photographs by the author. You may use these images without prior permission for any scholarly and educational purpose as long as you (1) credit the source and (2) link your document to this URL, or cite the Victorian Web in a print one. [Click on the images to enlarge them.]
Left: Round Tower, with bay seen from outside. Right: Round Drawing-Room window.
Another of the planned architectural surprises at Strawberry Hill, the Round Drawing-Room opens out unexpectedly from the long rectangular Gallery. Part of the contrast is produced by the large semi-circular oriel, so different from the tall row of separate windows in the previous room. From the sale catalogue of 1842 we learn that the oriel always had heraldic glass, but as one element in the kind of mixture seen elsewhere in the house. The "seven pieces of old stained glass at the top of the oriel window, ... most beautiful in colour, and very rich in effect" (Robins 243), included Biblical subjects, a Flemish scene and so forth, as well as heraldry. Most or all of these were sold, and subsequently installed at St John's Chapel in the Tower of London during Anthony Salvin's restoration work there in the mid-1860s (see both entries for "The White Tower," and, for some telling examples, "Plate 38"). This was at least a good home for them. By this time, the new owner of Strawberry Hill, Lady Waldegrave, had already compensated for losses in other windows by having the stained glass firm of Thomas Baillie & Co. rearrange and "renew the decorative settings" of the remaining pieces (see "Technical Case-Study"). The panels in the Round Drawing-Room, however, are uniform in design, custom-made so to speak, and set off by quarries with brighter contrasting borders. They are neither antique glass nor replicas, but completely Victorian (see Walpole 24, note; also Cherry and Pevsner 549).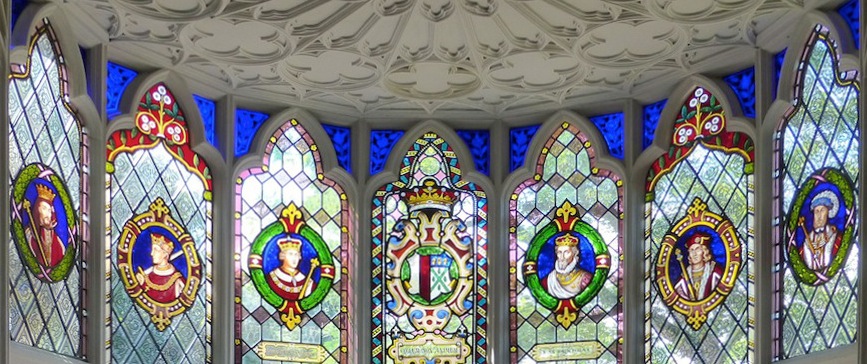 The top row of lights in the Round Drawing-Room window, showing portraits of Tudor monarchs either side of the Waldegrave armorial, and the three mottoes.
Right in the centre here is the ducal coronet of the Waldegraves with a stylised representation of its cascading plumes, a variation on the heraldic design inset in the Gallery's parquet floor. Underneath is the Waldegrave motto, "Coelum non Animum," roughly translatable as "You may change where you are, but not what you are." Lady Waldegrave herself kept the Waldegrave name of her first two husbands, even after her subsequent remarriages: once a Waldegrave, it seems, always a Waldegrave.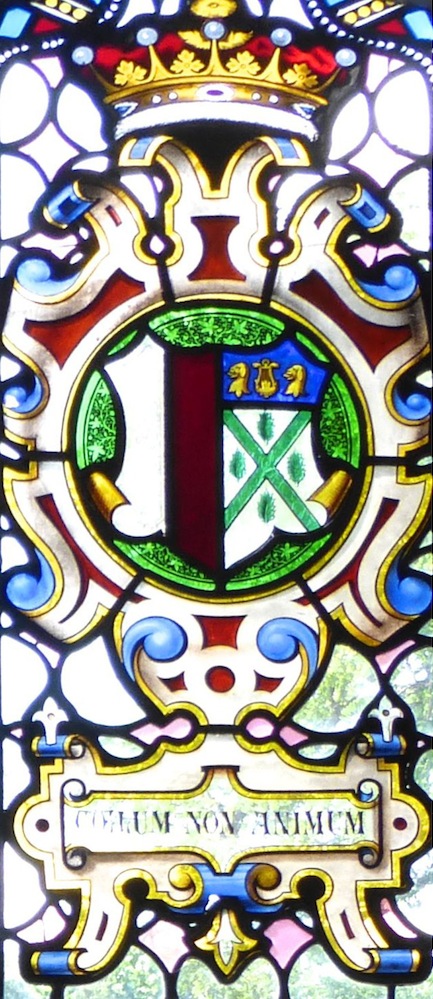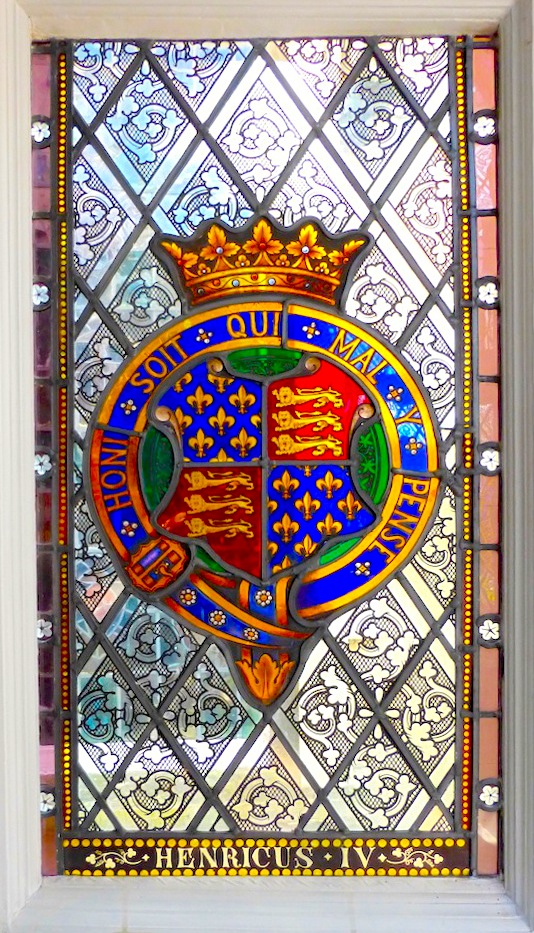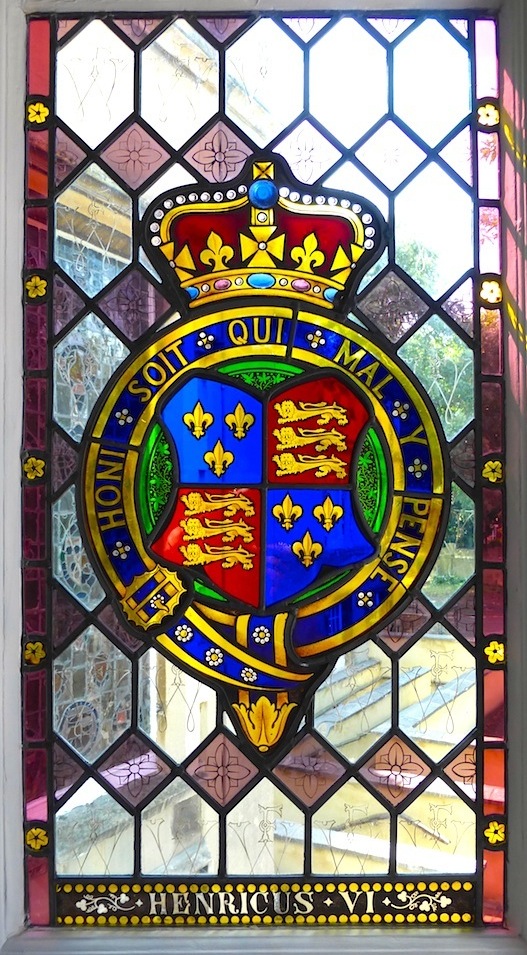 Some individual panels, left to right. (a) Close-up of the Waldegrave arms and motto, "Coelum non Animim." (b) To the left of the Waldegrave arms, a portrait of Henry VI against quarries bearing the "FW" monogram for Frances Waldegrave, and with another Waldegrave motto below: "Passez Avant" ("Pass forward," or "Go Ahead"). (c) The arms below a portrait of Henry IV. (d) The arms below a portrait of Henry VI.
Lady Waldegrave had another "glass man" besides Thomas Baillie (qtd. in Katz 133). The Milan-born Charles Francis Nosotti (c.1831-1909) was one of the many Italians then living and working in London. As well as being a carver, gilder, frame-maker and so forth, he produced looking-glasses, and his work, often of composite materials, graced the most fashionable of homes (see White 141ff. and "British Picture Framemakers"). The Round Drawing-Room windows are thought to be his work (see Peover 54). If so, this is proof indeed that stained glass in the domestic context had now gone from being unusual to being fashionable — in no small part due to Walpole himself.
Claire Leighton suggests that the new owner of Strawberry Hill had another reason, too, for creating a display window like this: "Lady Waldegrave clearly had a keen awareness of the politics of display, and firmly attached herself to the past and to Walpole's interest in antiquity with a liberal use of coats of arms in the house," deliberately including "new heraldic badges" in the Round Room window (163). The most prominent of these heraldic designs were the Waldegrave arms and mottoes. But, of uncertain origin herself, she needed all the props she could get, and found them not only in the Walpoles and the Waldegraves, but also in her third husband's family, the Harcourts (see Leighton 163). A third motto here reads "J'attendrai," most probably a short form of the Harcourts' hopeful motto, "Le Bon Temps Viendra."

"Passez Avant" — which would be Lady Waldegrave's wish for her last husband.
Both inside and out, the oriel is a striking feature of this novel tower-room. Unlike Walpole's antique glass though, the panes are showy rather than picturesque, and tell only one story, that of a society hostess intent on connecting herself with illustrious forebears. It might seem vulgar to promote oneself in this way, and indeed Lady Waldegrave struck some people as an "upstart adventuress" (Reynolds). But that seems not to have been the general verdict, and during her fourth marriage at least, her main concern was to create an ambience that would boost her husband's political career. Stained glass, whether or not it is inside a church, has its meanings and functions as well as its aesthetic appeal.
More Stained Glass at Strawberry Hill
Sources
Berry, William. Encyclopaedia Heraldica; or, Complete Dictionary of Heraldry. London: Sherwood, Gilbert and Piper, (?)1828-(?)40. Internet Archive. Contributed by the Boston Public Library. Web. 6 September 2014.
"British Picture Framemakers 1610-1950 — N." National Portrait Gallery. Web. 6 September 2014.
Cherry, Bridget, and Nikolaus Pevsner. London: South. Buildings of England series. New Haven and London: Yale University Press, 2002.
Katz, Sarah R. "Strawberry Hill: A Landscape Study with Recommendations for Restoration." University of Pennsylvania. Web. 6 September 2014.
Leighton, Claire. "Designing a Political Space." In Narrating Objects, Collecting Stories. Ed. Sandra Dudley et al. London: Routledge, 2012. 153-66.
Peover, Michael. "Strawberry Hill, Middlesex: Horace Walpole's Stained Glass." Country Life. 26 October 1995: 54-57.
Plate 38 in An Inventory of the Historical Monuments in London, Volume 5: East London (1930). British History Online. Web. 6 September 2014. (This illustrates some of the pieces, and they are so typical of Walpole's collection.)
Reynolds, K. D. "Fortescue, Frances Elizabeth Anne Parkinson [née Frances Elizabeth Anne Braham; other married name Frances Elizabeth Anne Waldegrave, Countess Waldegrave] (1821–1879)." Oxford Dictionary of National Biography. Online ed. Web. 6 September 2014.
Robins, George. A Catalogue of the Classic Contents of Strawberry Hill Collected by Horace Walpole (auction catalogue). Internet Archive. Contributed by the Philadelphia Museum of Art, Library. Web. 6 September 2014.
"T Baillie and Co." Sussex Parish Churches. Web. 6 September 2014.
"Technical Case Study: Decorated Glass." Projects: Strawberry Hill, Twickenham. World Monuments Fund, Britain. Web. 6 September 2014.
Walpole, Horace. A Description of the Villa of Mr Horace Walpole at Strawberry-Hill near Twickenham, Middlesex. Edited version in a booklet compiled and written by Carole Patey and published by the Strawberry Hill Trust, 2014. Available at the house.
White, Jerry. London in the Nineteenth Century: "A Human Awful Wonder of God." London: Cape, 2007.
"The White Tower." English Heritage. Web. 6 September 2014.
"The White Tower. The Chapel of St John the Evangelist. Detail of a stained-glass window." Historic Royal Palaces. Web. 6 September 2014.
---
Last modified 8 September 2014