Thank you to the knowledgeable guides and kind receptionists at Strawberry Hill who helped me on my visits there. Photographs by the author. You may use these images without prior permission for any scholarly and educational purpose as long as you (1) credit the source and (2) link your document to this URL, or cite the Victorian Web in a print one. [Click on the images to enlarge them.]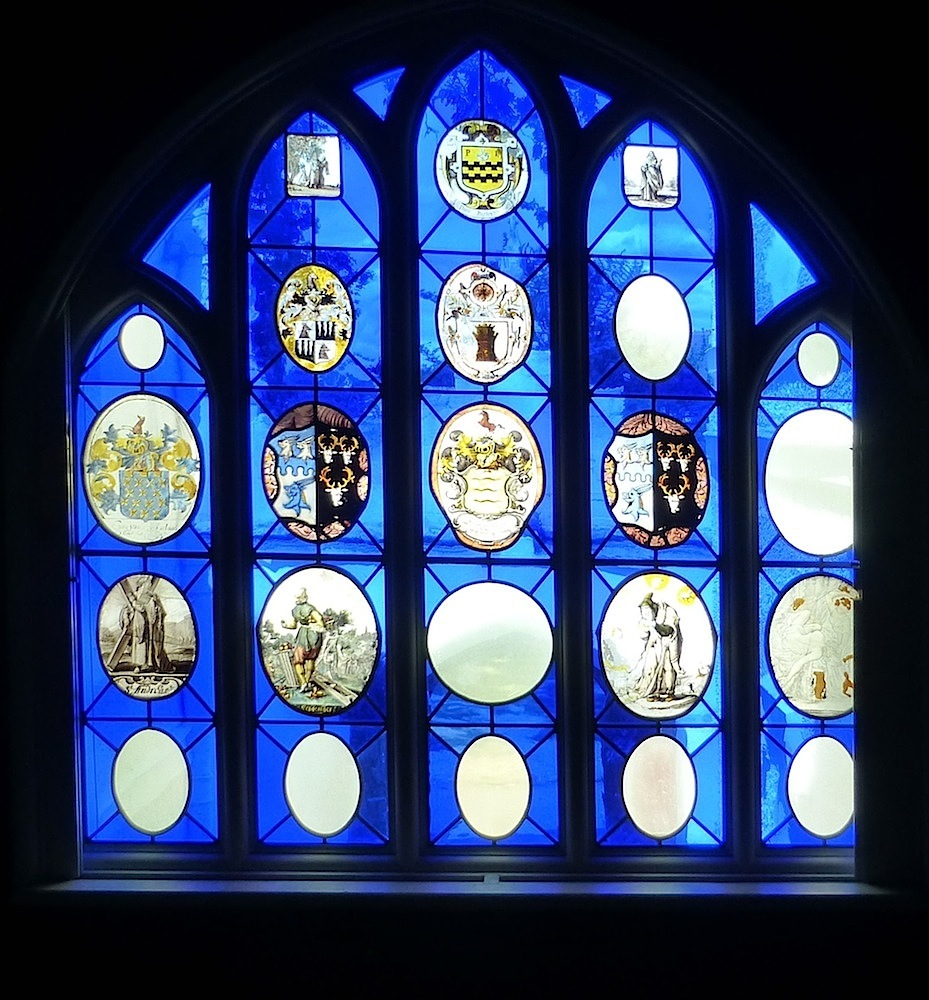 Painted glass in the Star Chamber window of Horace Walpole's Strawberry Hill.
The Star Chamber is a small room just at the top of the stairs on the first floor of Walpole's Strawberry Hill, on the way to the Gallery. It was so-called because its walls were originally "painted green with golden stars in mosaic" (Walpole 16), apparently in reference to the historical "Star Chamber" of Tudor times (see Snodin 43). It is a room with a particular function: visitors would emerge from its dimness into the dazzling splendour of the fan-vaulted Gallery with a start of surprise — one of the dramatic surprises deliberately cultivated here. There was a particularly happy consequence of this plan: Walpole oould fill the whole window with painted glass, rather than just a part of it. Ten of the roundels are currently unfilled, but the rest include some lovely examples of heraldry, figures from religious or allegorical meaning, and tiny scenes of everyday life.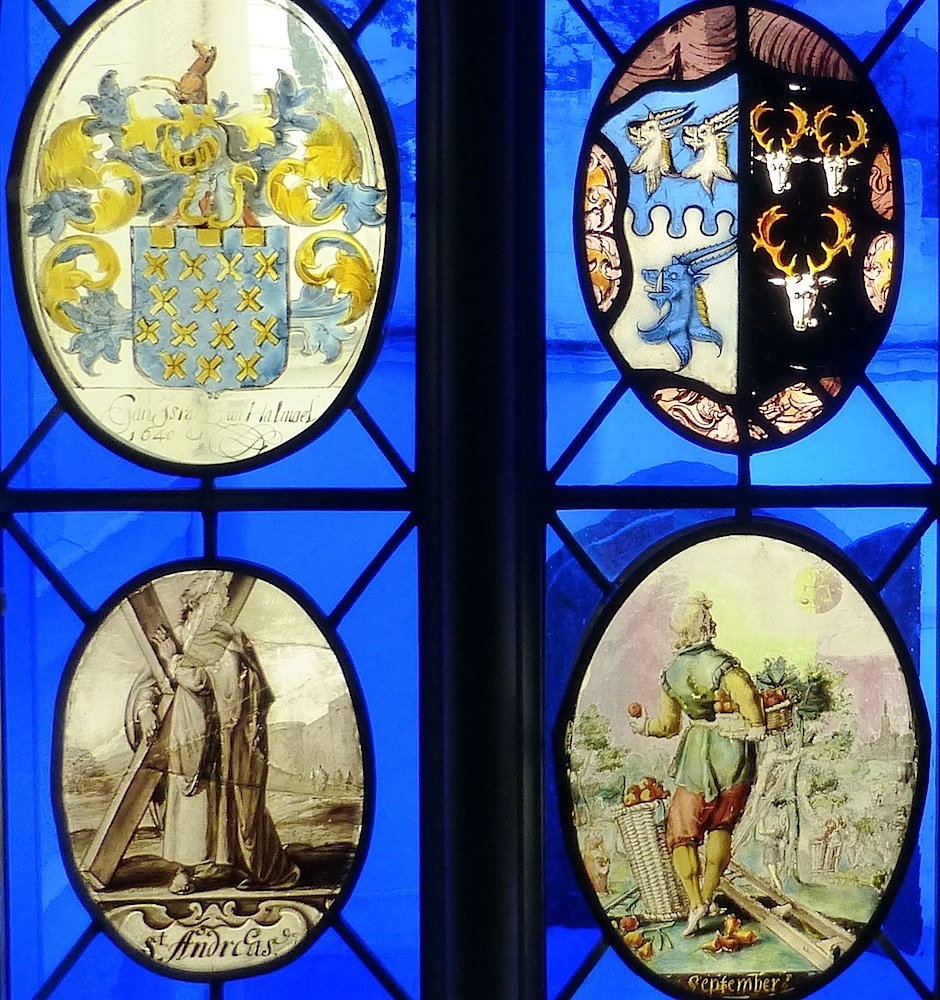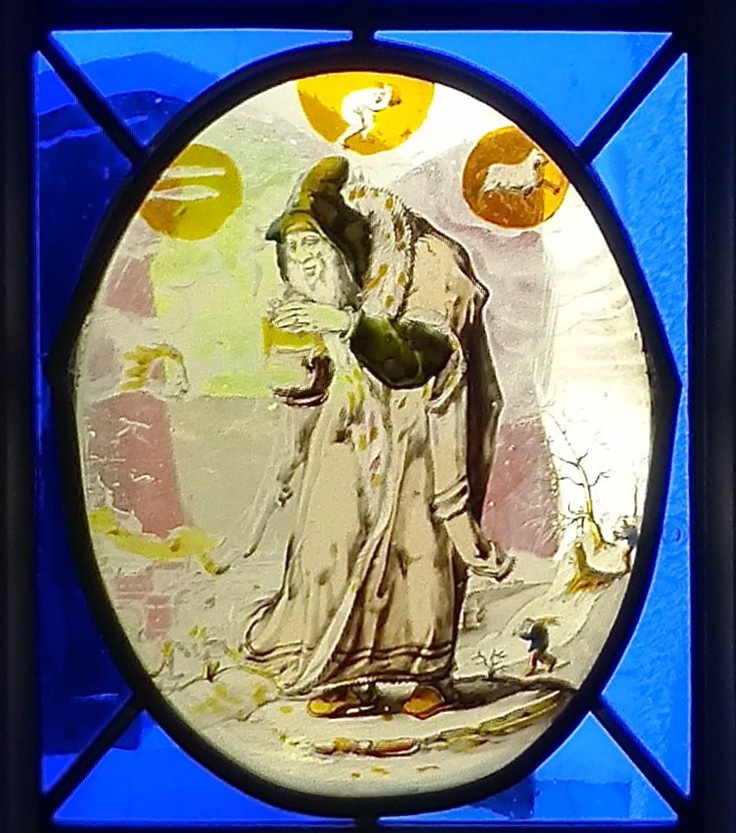 Left: A detail of the window giving a closer view of four left-hand panels. Right: The depiction of Winter, on the right.
The roundels on the left constitute rather a typical mixture of heraldry with a religious subject (St Andreas, that is, St Andrew with the large transverse cross on which he was martyred, below on the left), and an allegorical figure ("September" on the right next to St Andrew). The shields are continental, the left-hand one marked as belonging to the Halmael family and dated 1640. The representation of September is one of the gems of the painted glass collection. A peasant with his basket of apples beside him surveys the scene in which others are still engaged in apple-picking, including a woman to his left with her apron full of apples. Still others wend their way back to town in the distance, one heavily laden with a pannier. Windfalls lie in the foreground, along with the man's ladder. One thinks of Frost's poem, "After Apple-Picking," about the richness of the harvest, and the impossibility of gathering it all in — "There were ten thousand thousand fruit to touch, / Cherish in hand, lift down, and not let fall." Tiny scales, the astrological sign of Libra, appear in the upper right. It is a rich and delicately coloured (perhaps recoloured?) autumnal scene.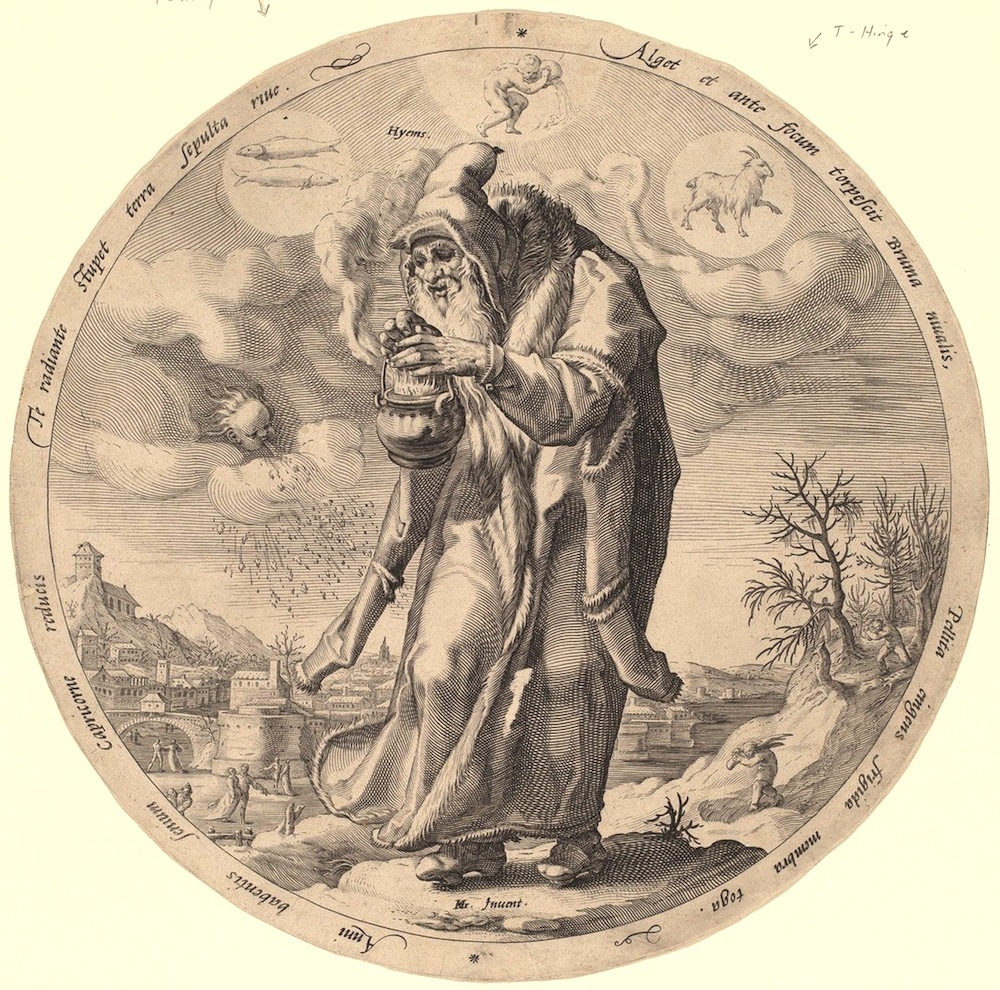 Winter, by Jacob Matham after Hendrik Goltzius, 1589, an engraving on laid paper, 25.7 cm in diameter, Courtesy National Gallery of Art, Washington D.C.
The figure of Winter as an old man provides an even more "arresting scene" (Peover 32). Heavily hooded, he is huddled into a voluminous fur-trimmed cloak, warming his hands against a pot of glowing coal while the wind puffs out its cheeks and blows from the left-hand side. This is another gem, copied from Goltzius's original composition shown alongside. Over the man are the astrological signs of Pisces (two fish), Aquarius (a bear as water-bearer) and Aries (a ram stepping forth), tracing the course of winter.
The association of these windows with history, religious and cultural iconography, as well as with the fine arts, must have been a truly potent one. There is nothing to suggest that A. W. N. Pugin (who also brought back home specimens of fine old Continental glass), or indeed any other Gothic Revivalist or stained glass craftsman of the Victorian period, ever actually saw the windows. But Walpole's own craftsmen did reset and colour them, and, in general, the house's fame did spread — so much so that Pugin's father Auguste himself wrote: "That lively and acute genius, the Hon. Horace Walpole, contributed so much to spread a taste for the beauties of Gothic Architecture, especially amongst people of fashion, both by his writings, and the construction of his celebrated villa of Strawberry-Hill, that his name cannot be silently passed over" (xiii).
More Stained Glass at Strawberry Hill
Sources
Peover, Michael. Strawberry Hill: Renaissance Glass. London: Scala, 2010.
Pugin, Auguste. Specimens of Gothic Architecture; Selected from Various Antient Edifices in England.... London: J. Taylor; A. Pugin; J. Britton, 1821. Internet Archive. From the collections of Oxford University. Web. 4 September 2014.
Robins, George. A Catalogue of the Classic Contents of Strawberry Hill Collected by Horace Walpole (auction catalogue). Internet Archive. Contributed by the Philadelphia Museum of Art, Library. Web. 4 September 2014.
Snodin, Michael. "Going to Strawberry Hill." Horace Walpole's Strawberry Hill. Ed. Michael Snodin, assisted by Cynthia Roman. New Haven and London: The Lewis Walpole Library and others, in association with Yale University Press, 2009. 15-57.
Walpole, Horace. A Description of the Villa of Mr Horace Walpole at Strawberry-Hill near Twickenham, Middlesex. Edited version in a booklet compiled and written by Carole Patey and published by the Strawberry Hill Trust, 2014. Available at the house.
---
Last modified 4 September 2014