how easily Dickens moved from his fictional family to his real family, and how in giving them all nicknames he was in a sense turning them into fiction, too. But with them he was..."always considerate, always gentle to them about their small troubles and childish terrors." [Ackroyd 452-53]
Charles Culliford Boz Dickens (6 January 1837 — 20 July 1896)
Coming from large families themselves — she was the eldest of nine surviving children and he the second of eight, six of whom reached adulthood — Charles and Catherine expected to have several children and viewed a series of closely spaced pregnancies as the norm. [Nayder 69]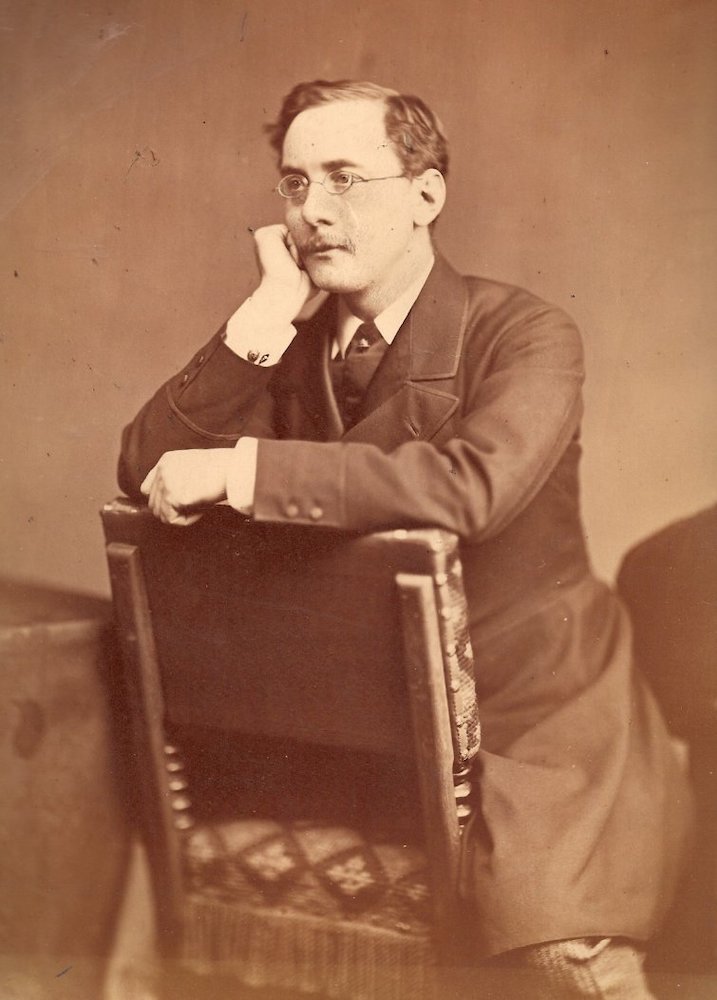 Charles Dickens Jr, in 1874. Source: Wikipedia, public domain.
Charles Culliford Boz Dickens, Junior, known in the family as "Charley," was born about nine months after the marriage of Charles John Huffam Dickens, aged twenty-four, and Catherine Thomson Hogarth, aged twenty-one. The first of their ten children, he was born at six o'clock on the evening of Friday, 6 January 1837 — The Feast of the Epiphany, or Twelfth Night. It was not an easy beginning for the young mother. For some weeks, she seemed to suffer from postpartum depression, then gradually began to improve physically and psychologically, a pattern which would be repeated with each successive pregnancy. "Catherine's experiences with her next three deliveries — on 6 March 1838 (Mamie), 29 October 1839 (Katey), and 8 February 1841 (Walter) — lend force to the idea that postpartum restrictions were largely responsible for her depression" (Nayder 75), and possibly for her inability to breastfeed.
The boy, however, thrived. Although he was born in the couple's somewhat cramped quarters at Furnival's Inn, Holborn, Dickens's success, as he earned larger and larger sums for his works, meant that Charley should have had an easy, affluent, upper-middle class life. Indeed, he enjoyed some considerable advantages, including attending the junior department of King's College, London when he was ten, studying at Eton, and in 1853 at the age of sixteen travelling to Leipzig in Germany, to learn German and business at Baron Tauchnitz's publishing company (his father's major continental publisher). In 1855, aged 18, he returned from Germany and entered Barings Bank.
Family life for the Dickenses in the 1850s often involved such amateur theatricals as the June 1857 performance of The Lighthouse, These theatricals were staged in the converted schoolroom ("The Smallest Theatre in the World") at Tavistock House, Bloomsbury. Charley played a number of roles in these rather involved productions, notably Lieutenant Steventon in Wilkie Collins's The Frozen Deep in January 1857; he reprised the role at the Gallery of Illustration in July and August of that same year, as Dickens prepared the melodrama for the public stage.
Of all the Dickens children, only Charley, then aged 21, was allowed to choose to live with his mother at Gloucester Crescent after the marital breakup of 1858. Then, hoping to become a tea merchant, Charley visited China, Hong Kong, and Japan in 1860. When he returned, his father was already writing Great Expectations. Biographer Peter Ackroyd has suggested that Dickens based the character of the ambitiously mercantile Herbert Pocket on his own son. However, he reposed enough confidence in Charley, despite the impending bankruptcy of his paper-mill, to put him in charge of the production of the Collins-Dickens melodrama No Thoroughfare in 1867, under the management of Ben Webster at The Adelphi.
In 1861, Charley had married Elisabeth Matilda Moule Evans, daughter of Frederick Mullett Evans, his father's former publisher. Dickens disapproved of the match because he was convinced that the bride's father was antagonistic towards him and his publications. Charley and Elizabeth had eight children, the most famous of whom was their eldest, Mary Angela (1862–1948), a novelist and journalist. The remaining seven children were as follows:
Ethel Kate (1864–1936)
Charles Walter (1865–1923)
Sydney Margaret (1866–1955)
Dorothy Gertrude (1868–1923)
Beatrice (1869–1937)
Cecil Mary (1871–1952)
Evelyn Bessie (1873–1924).
After his father's death, Charley lived at Gads Hill Place in Higham, Kent, but was forced to give it up in 1879 because of his own ill-health. Perhaps because he had been sub-editor of All the Year Round as of May 1870 (after standing in for Wills and Morley in an editorial capacity), and also perhaps because, as eldest son, he would take charge of Dickens's most valuable commercial property after his death, Charley inherited his father's books, engravings, and prints. Some of these had in fact been Catherine's prior to 1858; thus, for example, Charley inherited his mother's six-volume edition of the works of Milton which had been given her by Dickens's first publisher, John Macrone.
Jointly with his father-in-law Charley published two dictionaries, Dickens's Dictionary of London and Dickens's Dictionary of the Thames and Dickens's Dictionary of the Thames (both 1879). Macmillan and Company republished these in 1882, long with Dickens's Dictionary of Paris, An Unconventional Handbook, which the publisher's fact-checking had delayed.
Charles Dickens, Jr., died of heart disease, at his home in Fulham, London, on 20 July 1896, aged 59. He was buried at Mortlake Cemetery in the Borough of Richmond on 23 July 1896, and eleven years later his wife joined him in the same plot. The inscription on the granite slab above the couple reads : "'I am the Resurrection and the Life saith the Lord.' Charles Dickens the Younger. Eldest son of Charles Dickens. Bessie Dickens, born June 15th. 1840, died April 18th. 1907, aged 66 years." Charles Dickens Junior's estate was valued at a mere £17 5s. 3d at his death.
Related Materials
Bibliography
Ackroyd, Peter. Dickens. London: Sinclair-Stevenson, 1990.
Davis, Paul. Charles Dickens A to Z: The Essential Reference to His Life and Work. New York: Facts On File, 1999.
Nayder, Lillian. The Other Dickens: A Life of Catherine Hogarth. Ithaca, New York: Cornell U. P., 2011.
Schlicke, Paul (ed.). The Oxford Readers's Companion to Dickens. Oxford: Oxford U. P., 1999.
---
Created 1 September 2019