"how easily Dickens moved from his fictional family to his real family, and how in giving them all nicknames he was in a sense turning them into fiction, too. But with them he was . . ."always considerate, always gentle to them about their small troubles and childish terrors" [cited in Dickens, pp. 452-453]
Mary "Mamie" Dickens (6 March 1838 — 23 July 1896)
Like most fathers, perhaps, Dickens seems to have been able to remain closer, emotionally, to his daughters than to his sons as his children grew up and the bond with Katey was a particularly close one. Mamie, noting that she herself had sometimes been called her father's "favourite daughter," commented, "If he had a favourite daughter ... my dear sister must claim that honor." There was no "if" about the matter, in fact. [Slater, Dickens and Women, 179]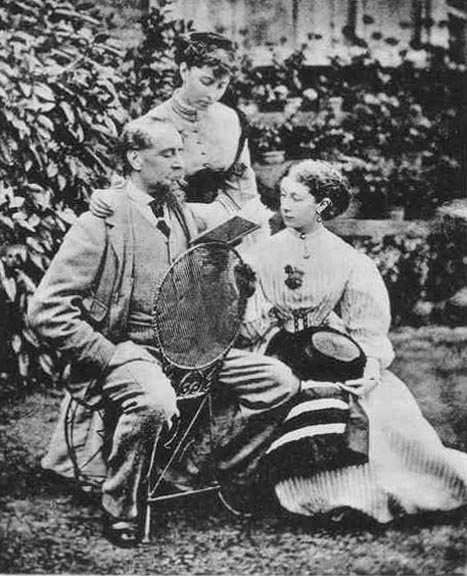 Charles Dickens and his wife, Catherine, named their second child and eldest daughter Mary (known as "Mamie" in the family) after Catherine's beloved sister Mary Scott Hogarth, who died so suddenly at the age of eighteen — and, as family tradition has it, in Dickens's arms — on 7 May 1837. As a child, Mamie was always gentle and good-tempered, and thereby earned her father's laudatory nickname, "Mild Glos'ter."
Although biographer Percy Fitzgerald recalled that Mamie had a wilful side, and point out that she went so far as to affront her Liberal father by canvassing on behalf of the Tories in July 1865, Mamie was for the most part the good Victorian daughter. She dutifully remained with her father after the marital breakup of 1858. Along with her maternal aunt, Georgina Hogarth, she served as Charles Dickens's companion and housekeeper at Gad's Hill in Kent, outside Rochester, and therefore a considerable distance from the social life of London. The photograph reproduced above, left, of Dickens and his daughters in the Rose Garden at Gad's Hill (circa 1870) shows Mamie looking over her father's shoulder at his open book, in an obviously attentive pose.
Indeed, Mamie prided herself on her unswervingly loyalty to her father. For instance, she obeyed him with respect to remaining estranged from her mother: she never visited her at Gloucester Crescent during her father's lifetime because he would have viewed such a call as a sign of disloyalty. She did not even see or speak to her mother again until after the death of her father. One story is that she even turned down the proposal of a Major Lynch because her father disapproved of him.
Katey hinted to George Bernard Shaw in 1897 that she had a secret about her sister that would explain much about Mary's nature and their shared childhood. Whatever tht secret might have been, she was, as Michael Slater suggests, an odd fusion of opposites. As noted above, she played the role expected of her by her father, as hostess, housekeeper, and superintendent of the servants. She acted in a "very lady-like" (Slater 191) manner, according to Annie Fields when she visited Gad's Hill in 1869, and was pretty, "mild and attentive" when entertaining, according to the wife of Dickens's American publisher. But then she would periodically shed the shackles of domesticity by dashing off for social events — either in the metropolis, or at friends' homes in Hampshire.
Indeed, the season had such an attraction for her that in the spring of 1861 Dickens leased "primarily for Mamie's benefit" (Ackroyd, 888) a temporary residence at 3 Hanover Terrace, opposite Regent's Park, within a pleasant walk of the offices of All the Year Round in Wellington Street. Again, in 1869, Dickens leased Milner Gibson's house opposite Marble arch so that Mamie would have a convenient base for the London season; he joked to a correspondent that Mary "will probably go somewhere else, the moment I take possession!" (qtd. in Slater 193).
In the decade prior to her father's death, Mamie became something of a celebrity in rural Kent, "renowned for being the first woman seen riding a bicycle" (Hawksley, 33). She was asked in 1867 to christen at its launching a new ship in the dockyard at Chatham, perhaps in part because her grandfather had once worked in the Naval Pay Office nearby.
As for rejecting suitors, Slater asserts that Lynch, like journalist and Dickens disciple Percy Fitzgerald, was in fact eminently acceptable to both Katey and her father as a prospective husband for Mamie. She herself seems to have chosen not to marry weither of these suitors: she was proud of the blood in her veins. "I am so glad I never changed my name," she wrote to Annie Fields (qtd. in Slater, p. 191). One biographer, Robert Gottlieb, contends that she may have had "lesbian tendencies." Without endorsing this, Michael Slater does remark upon her passionate relationships with women friends: "Nina Lehman wrote to her husband after visiting Mamie once, I was received as a lover might be by a loving and beloved mistress'" (qtd. in Slater 190).
Three weeks after their father's death, with the household belongings readied for auction, Katey, Georgina and Mamie made a final circuit of the rooms at Gad's Hill: "going into every room, and saying goodbye to every dear corer." Mamie wrote that "... We three, who have been best friends and companions all our lives, went out of the dear, old Home together" (Ackroyd, pp. 1082-1083). After her father's death she entered a prolonged period of depression. Mamie then lived with her brother, Henry Dickens, and her aunt, Georgina Hogarth, until she entered a peculiar menage a trois:
Regardless of Mamie's sexual orientation, she ended up in a situation more out of a Henry James novel than a Dickens one: she did not leave home until after her father's death, whereupon she entered into a possibly sexual relationship with a clergyman and his wife, a "shadowy couple" that she had met through her involvement in a charity movement called Muscular Christianity. The rest of the family thought they might have exploited her for her money. [Witt]
Coincidences and conjunctions characterize the death of Mary Dickens. To begin with, abandoned by the clergyman and his wife, she died at almost exactly her father's age when he died: 58 years and four months. Dying at Farnham Royal, Buckinghamshire, far removed from the metropolis, she was buried at Sevenoaks, Kent, on precisely the same day as her brother Charley. In 1929, her sister Kate Perugini, twice married, was buried in the same grave as her beloved spinster sister.
Publications
The Charles Dickens Birthday Book

. (London: Chapman & Hall), Illustrated by Kate Perugini (1882)

The Letters of Charles Dickens

. Edited by his sister-in-law and his eldest daughter, 3 vols. (Leipzig: Bernhard Tauchnitz, 1880)

Charles Dickens By His Eldest Daughter

. (London: Cassell & Co, 1885)

My Father as I Recall Him

. (Roxburghe Press, 1896)

Cross Currents

. (London: Chapman & Hall, 1890)
Related Materials
Bibliography
Ackroyd, Peter. Dickens. London: Sinclair-Stevenson, 1990.
Davis, Paul. Charles Dickens A to Z: The Essential Reference to His Life and Work. New York: Facts On File, 1999.
Dickens, Mamie. My Father as I Recall Him. New York: E. P. Dutton, n. d. Published originally as Charles Dickens by his Edlest Daughter [Mary Dickens]. London: Cassell, 1885.
Hawksley, Lucinda Dickens. Charles Dickens. Dickens' Bicentenary 1812-2012. San Rafael, California: Insight, in association with the Charles Dickens Museum, London, 2012.
Nayder, Lillian. The Other Dickens: A Life of Catherine Hogarth. Ithaca, New York: Cornell U. P., 2011.
Schlicke, Paul (ed.). The Oxford Readers's Companion to Dickens. Oxford: Oxford U. P., 1999.
Slater, Michael. "Father and Daughters." Dickens and Women. London and Melbourne: J. M. Dent, 1983.
Witt, Emily. "Daddy Issues: On the Worthless Brood of Charles Dickens. Review of Great Expectations: The Sons and Daughters of Charles Dickens (FSG, 256 pp., $25) by Robert Gottlieb". Online version available from The Observer. Web. 12/04/12.
---
Created 1 September 2019