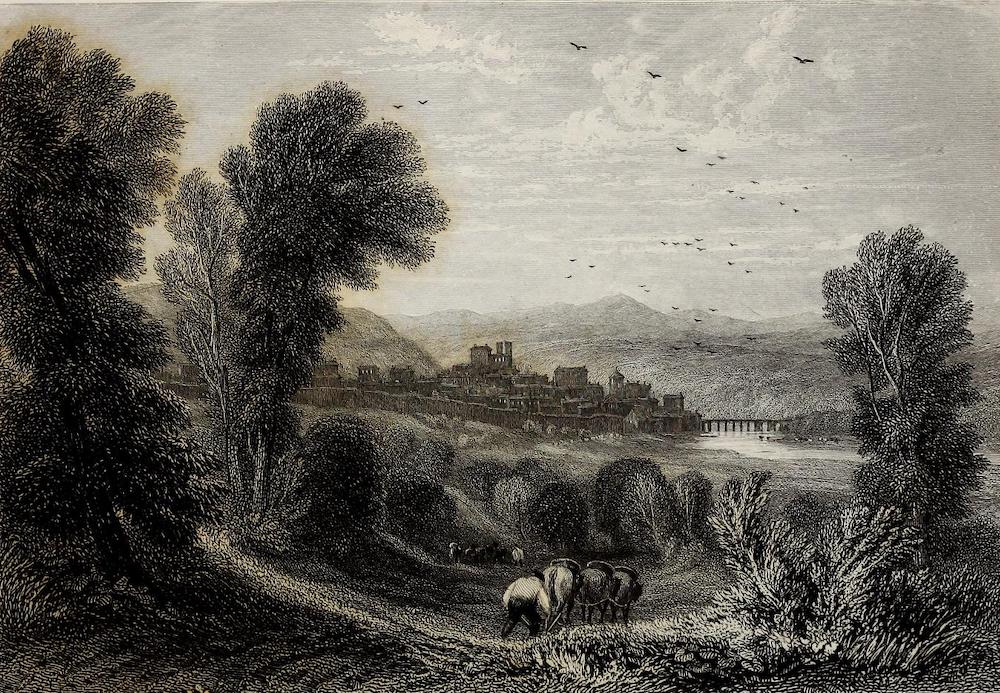 Hay by David Cox the elder, engraved by W. Radclyffe. Source: Roscoe, facing p. 90. [Click on the image to enlarge it.]
Saturday, 5 March [1870]
Very cold last night, and sharp frost and the day brilliant and the air exquisitely clear though the wind was East. The view from the banks lovely, the river winding down from Glasbury like a silver serpent, flowing beneath at the foot of the poplars. Hay in the distance bright in brilliant sunshine. Every watercourse clear upon the mountains in the searching light. As the sun went down a pink and then a deep purple glow bathed the mountains and Cusop Hill and a keen frost set in. The rich pink and deep purple light very unusually splendid. [16-17]
Thursday, 17 November [1870]
The trees blazed with the diamonds of the melting hoar frost. The wet village roads shone like silver below, and the market folk thronged past the Vicarage and School. A railway engine shot up a bright white jet of steam over the bank from Hay Station, the oaks were still tawny green and glittering with diamond dews, Hay Church in a tender haze beyond the gleaming of the broad river reach and rapids above the Steeple pool. How indescribable, that lovely brilliant variegated scene. A rook shot up out of the valley and towered above the silver mist into the bright blue sky over the golden oaks, rising against the dark blue mountains still patched and ribbed with snow. [94]
Commentary
Kilvert lived and worked in a beautiful part of the world, and appreciated all the features of the landscape. He revelled in the way the light or mist played on them, and noted the influence on them of the time of day, and the season. He responded to the natural life: the oaks still tawny green and glistening with dew, or even, against the blue sky, golden at the end of autumn; the rook not just rising but shooting up above the valley. But he also responded to the human element, as throngs of villagers pass along roads wet from melted frost. These are not purple passages. They are full of close observation: every detail has its place and is accurate and genuine. Names help here. Glasbury, Hay, Cusop Hill and Steeple pool are all identified. Hay was particularly dear to him, because his brother-in-law William Lathan Bevan (1821-1908) was the vicar of Hay, as well as archdeacon of Brecon; Kilvert often visited the family at their home in Hay Castle. But family attachment was not needed: even the station is part of his generous and yet particular response, the "bright white jet of steam" from an engine adding a fillip to the second passage. These are vital, moving, changing scenes, and their impact on the writer is movingly conveyed, even as he calls them ultimately "indescribable." — Jacqueline Banerjee.
Related Material
Bibliography
Kilvert's Diary (a selection). Ed. William Plomer. Harmondsworth: Penguin, 1977.
[Illustration source] Roscoe, Thomas. Wanderings and Excursions in South Wales, with the Scenery of the River Wye. 1837. London: H. G. Bohn, 1862. Internet Archive. Contributed by the University of Illinois Urbana-Champaign. Web. 9 April 2020.
---
Created 9 April 2020