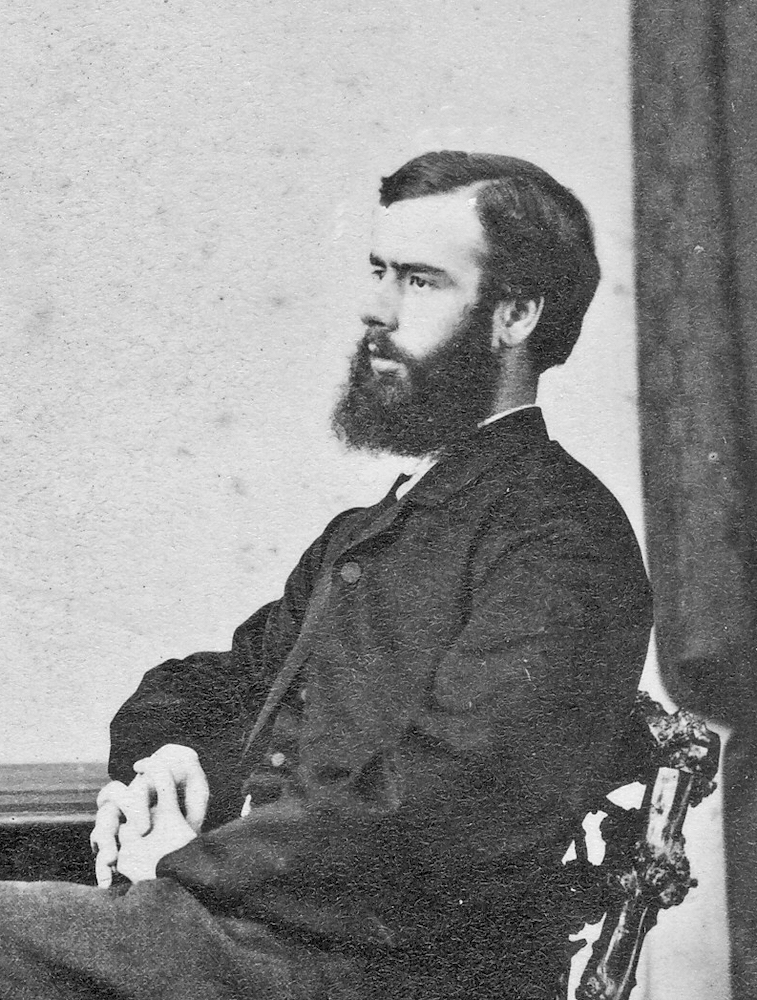 Francis Kilvert, reproduced here by kind permission of the Kilvert Society (see web resources).
(Robert) Francis Kilvert (1840-79) was born on 30 December 1840 in Hardenhuish, Wiltshire, the second child and first son of the Reverend Robert Kilvert and his wife Thermuthis Coleman. He received his earliest education in his father's rectory, before becoming a pupil of his uncle at Claverton Lodge School in Bath. From there he went up to Wadham College, Oxford, in 1858. His academic career was less than brilliant: he took a fourth-class honours degree in law and modern history in 1862. But he was duly ordained deacon in the following year, and entered the priesthood in 1864, first serving as his father's curate in Langley Burrell, Wiltshire. He then went as curate to the Reverend Richard Lister Venables in Clyro, Radnorshire. He started keeping a diary at the beginning of 1870, and, as William Plomer says in his introduction to the selected edition of it, "[t]he charming and lifelike account he has left of the places and people he knew has caused the still beautiful region centred upon Clyro to be known as the Kilvert Country and to become a place of literary pilgrimage" (6).
St Michael and All Angels, Clyro — Kilvert's Church. © Philip Pankhurst, first posted on the Geograph website, and available for reuse (with attribution) on the Creative Commons Licence.
His years at Clyro were happy ones, and the ones we know most about. They lasted until 1872, when Kilvert returned to his father in Langley Burrell, Wiltshire, as a curate. In 1876 he moved on, appointed first as vicar of St Harmon, Radnorshire, and then as vicar of Bredwardine, Herefordshire. It was at this time that the biggest change came to his life. When he was on holiday in Paris, his good friend from Wadham, Anthony Mayhew, introduced him to a young woman called Elizabeth Anne Rowland (1846-1911), and the pair were married at Bredwardine in August 1879. Sadly, only a few weeks after their marriage, Kilvert died suddenly of peritonitis on 23 September 1879. He had continued to keep the diary until shortly before his death.
According to the Kilvert Society, his nine years' worth of entries had filled as many as twenty-nine notebooks. Unfortunately, his young widow destroyed those parts that recorded such personal matters as his earlier relationships, and their own courtship. Eventually, however, the remainder came into Plomer's hands. Plomer, a poet, novelist and biographer himself, was then a reader for Jonathan Cape. He saw its value, and produced a three-volume edition in 1938-40, making use of about a third of the material. He claimed to have had all the notebooks transcribed before returning them, but, if so, the transcription has been lost. Three of the original notebooks did come to light later. These have since been published. The Kilvert Society explains, "The notebook for 27 April to 10 June 1870 was published in 1982. The one for 11 June to 18 July 1870 was published in 1989. The Cornish Holiday [recording a trip that was one of the highlights of the diary] was also published in 1989." All three are now out of print, but two of the originals are lodged at the Welsh National Library in Aberystwyth, and the third at Durham University Library.
Kilvert was a well-liked and warm-hearted country pastor, who carried out his duties cheerfully and conscientiously. He was not simply an onlooker. He entered into the life of the rural communities that he served, and his detailed accounts of them provide invaluable first-hand material for social historians. In one respect, he was too much of his time for later readers: he shared Lewis Carroll's predilection for pretty young girls, once frankly confessing that he had "travelled ten miles for a kiss" — from a schoolgirl (38). But it should be noted that his widow left such passages intact, presumably not having found them at all troubling. Kilvert had another dimension, too, perhaps not unconnected. Fully alive in the moment, he was greatly susceptible to beauty. In his moments of solitude he was often transported by the lovely scenery around him. When writing about such moments, he was able to convey both the big picture, and its tiniest details. In this respect, he belongs with country writers like Richard Jefferies, and can be our own window on a world that has not completely vanished. — Jacqueline Banerjee
Excerpts from the diaries, with commentaries
Literary relations and other contextual material
Web resources
Bibliography
Fairlie, Charlotte. "Kilvert's Diary and Landscape" (review). Victorians Institute Journal Annex 38 (2010).
Kilvert's Diary (a selection). Ed. William Plomer. Harmondsworth: Penguin, 1977.
King, David R. "Francis Kilvert: The Faith of a Rural, Victorian Pastor." Historical Magazine of the Protestant Episcopal Church 50/1 (March, 1981): 73-82. Available on Jstor.
Lockwood, David. Francis Kilvert. Brigend: Seren (Poetry Wales Press), 1990.
Quesne, A.L.Le, & Colloms, B. "Kilvert, (Robert) Francis (1840–1879), diarist." Oxford Dictionary of National Biography. Online ed. 8 April 2020.
Toman, John. The Books that Kilvert Read. Hereford: Kilvert Society, n.d.
_____. Kilvert's Diary and Landscape. Cambridge: Lutterworth Press, 2009.
_____. Kilvert's World of Wonders: Growing up in Victorian England. Cambridge: Lutterworth Press, 2013.
---
Created 8 April 2020