"Whatever he told, he told with style." — Nancy Cunard (172)
Introduction
George Moore, a novelist, short story writer, dramatist, poet, autobiographer, biographer, essayist and editor, was one of the most significant figures in Irish and English literature between the 1880s and 1930s. He published over sixty books: collections of poems, novels, short stories plays, autobiographies, and criticism, many of them in revised editions.
Moore is credited with the introduction of Naturalism to English literature, but his literary merits are far greater than that. Inspired by Zola, Flaubert, Turgenev, Balzac, Ibsen, Henry James and Eduard Dujardin, Moore oscillated in his fiction between naturalism, realism, impressionism, symbolism, and finally, mysticism. Long before James Joyce and Virginia Woolf, he experimented with interior monologue and transgressed boundaries between literary autobiography and fiction. A gifted stylist, Moore was also concerned with the craft of writing and the interplay between art and life. Far from being a dedicated feminist, Moore showed in his fiction concern for New Woman issues, gender relations and female consciousness. As an influential critic, Moore contributed to the popularisation of contemporary French fiction and the impressionist school of painting in England.
Childhood and Youth
George Moore — in full George Augustus Moore — was born at Moore Hall, Ballyglass by Lough Carra, County Mayo, Ireland, on February 24, 1852. His family, who had lived in Ireland for three generations, claimed to be descendants in the male line from Sir Thomas More, author of The Utopia. Born into a Catholic landholding family, George Augustus was the eldest son of George Henry Moore (1810-1870) and Mary Moore née Blake (1830-1895). Moore's father was a well-known Irish orator and politician, one of the founders of the Catholic Defence Association and a leader of the Independent Irish Party. He had a passion for horses and had a racing stable on his estate. Young George spent his boyhood in Moore Hall listening keenly to Irish stories told by domestic servants, riding horses, and reading voraciously books from his father's library.
In 1861, he was sent to the Catholic St. Mary's College, Oscott, near Birmingham, but as he wrote in his autobiography, Confessions of a Young Man: "I was a boy that no schoolmaster wants, and the natural end to so wayward a temperament as mine was expulsion. I was expelled when I was sixteen, for idleness and general worthlessness" (4). Instead of getting proper education at school, Moore became immersed in literature. He read books by Walter Scott, Charles Dickens, George Eliot, and Mary Elizabeth Braddon, but above all he was fascinated by the personality of Percy Bysshe Shelley, whose poetry led him to read other English lyric poets, and Shelley's agnosticism prompted him to study the works of Kant, Spinoza, Godwin, Darwin, and John Stuart Mill.
The Bohemian Years in London and Paris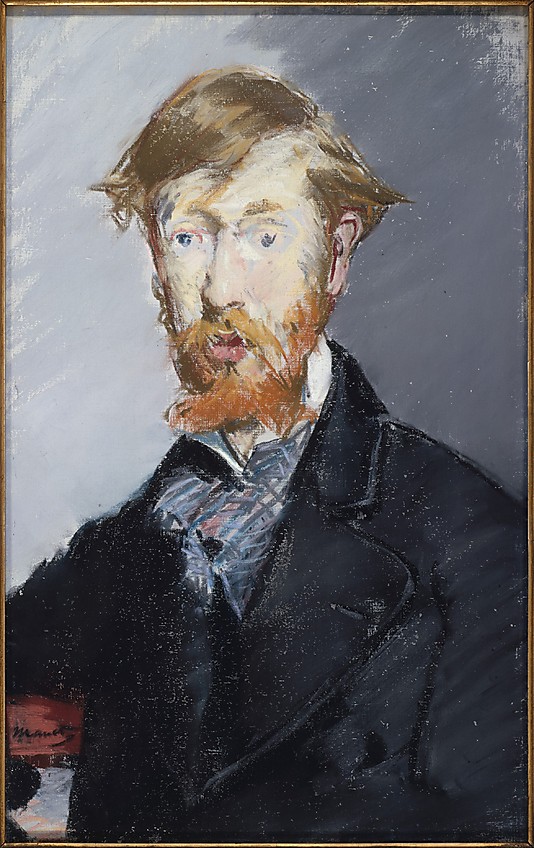 George Moore by Édouard Manet (1832–1883).
Collection of the Metropolitan Museum of Art, New York. [Click on image to enlarge it.]
When his father was elected to Parliament in 1868, the family moved to London. Through the influence of a distant cousin, Jim Browne, a painter of pseudo-heroic pictures, Moore became interested in art and took evening classes at the South Kensington School of Art against the wish of his father, who urged him to pursue a military career. At that time he was acquainted with the painters, James McNeill Whistler, John Everett Millais, and his fellow pupil, Oliver Madox Brown (1855–1874), the son of the well-known painter Ford Madox Brown. In 1870, after his father's death, George Moore inherited the heavily mortgaged family estate in Ireland, which gave him an irregular income of about L500 a year.
In 1873, on the advice of Browne, Moore, aged 21, moved to Paris to study painting. Apart from occasional returns to London and Ireland, he spent seven formative years in France, which had a profound influence on his later development as a writer and critic. At the beginning he attended both the École des Beaux-Arts (for a few weeks) and then the Académie Julian, and was soon immersed in the bohemian circles of painters and writers. In Paris, Moore was acquainted with a number of leading French painters, including Edgar Degas, Claude Monet, Camille Pissarro, Auguste Renoir, and especially Édouard Manet, who painted at least three portraits of him. Moore claimed that the Café Nouvelle Athenes in the Place Pigalle, which was frequented by the leading French artists, writers and intellectuals, provided him with an education he could not have received at Oxford or Cambridge.
In 1874, Moore returned to London and rented a studio in Cromwell Mews, where he painted Rossetti-type women with long red hair. A year later he went back to Paris again, where he continued painting without great success. He rented out a studio, which he shared with a fellow student, Lewis Welden Hawkins (1849-1910). He then realised that he had no natural aptitude for painting and turned to poetry, in 1878 publishing Flowers of Passion and in 1881, Pagan Poems. Moore's early poems were hardly original and reflected his fascination with French symbolism, particularly Baudelaire and Verlaine, and the poetry of the English aesthetes, Gabriel Dante Rossetti and Algernon Charles Swinburne. In his first volume of poetry, Moore shocked his readers with his themes of lesbianism, homosexuality, incest, and necrophilia.
At about that time Moore met Émile Zola and became fascinated by his style of writing. In 1882, Moore visited Zola in his house at Médan, outside Paris, where he was acquainted with Guy de Maupassant and Joris Karl Huysmans. In 1886, Moore began a lifelong friendship with Edouard Dujardin, editor of the Revue indépendante, the organ of the Symbolist group, and a precursor of the stream-of-consciousness technique in fiction. In later years, Moore travelled at least once a year to Paris from his homes in Ireland or London.
Ireland
In the 1880s Moore returned to Ireland several times to take care of his family estate, which deteriorated in his absence. In 1883, he published his first novel, A Modern Lover. "It was the first published English novel directly affected by the traditions of French realism" (Chaikin 259). He spent the winter 1883-84 in Ireland, at Moore Hall, and later in Dublin, collecting material for his next novel, A Drama in Muslin (1886). In 1901, disappointed by English cultural life and outraged by the English jingoism during the Boer War, Moore decided to move back to Dublin where he resided at 4 Upper Ely Place for a decade. While living in Dublin, Moore became involved in the Celtic Revival, and under the influence of Yeats, Moore turned from naturalism to mysticism and symbolism. He supported the Irish language movement and urged his brother Maurice that his children should be taught Irish at his expense. He contributed to the Irish literary revival and helped Yeats and Lady Gregory in creating the Irish National Theatre. However, after a few years Moore, who found Ireland "bigoted and unsympathetic" (Langaker and Bolles 204), became disillusioned with an Ireland "mummified by priest-dominated Catholicism, by religion-haunted zealots, by ill-founded dreams of opulence in America, by the omnipresent alcohol politics, by never-to-be-tilled fields of smug self-satisfaction" (Eakin and Gerber 41). He moved back to England. In 1923, during the Irish civil war, his ancestral house with its library was burned down by the anti-Treaty (Republican) forces. Eventually, Moore got compensation of £7,000 from the Irish Free State for the loss of the estate, but he remained disappointed with his homeland. He then wrote: "I don't think I shall ever be able to set foot in Ireland again."(Hone 267)
Late Years: "The Sage of Ebury Street"
In his later years, George Moore attracted the attention of young writers, artists, editors and publishers, British and foreign, who often visited him in his London home at 121 Ebury Street in the district of Pimlico, to which he moved in 1911. He was recognised as a versatile artist, major influence in modern Irish writing, social commentator, a courageous critic of Victorian patriarchy, and a knowledgeable Wagnerite.
Despite serious illness, he continued to write and entertain visitors until the last week of his life. He died of kidney failure on January 21, 1933, leaving a fortune of £80,000. His body was cremated at Golders Green and ashes buried in a replica of a Celtic urn on Castle Island in Lough Carra nearby the ruins of his family seat, Moore Hall.
Wagnerite
George Moore, like Audrey Beardsley, Algernon Charles Swinburne, Arthur Symons and Oscar Wilde, was an ardent Wagnerite. Also some of his friends and acquaintances were fascinated by Wagner's art, e.g. Eduard Dujardin, Edward Martyn, and Annie Horniman, who subsidised the Abbey Theatre. Moore went to Bayreuth several times to watch Wagnerian performances and tried to incorporate Wagner's art in literature. Some of his novels, e.g. Evelyn Innes(1898), Sister Teresa(1901), and Héloise and Abélard (1921) contain numerous Wagnerian allusions. In his later fiction Moore experimented with the Wagnerian monologue as an interior monologue of his protagonists.
Religion
Moore was raised in a Catholic family, his father and grandfather were Catholics, although their ancestors were Protestant. As an adult, he renounced Catholic faith arguing that "the Irish priesthood was largely to blame for the failure of Ireland to achieve national independence." (Schwab 259) Eventually, Moore made a public avowal that he was Protestant. However, as James Huneker wrote:
Whether he is a Catholic or not, I cannot say, but the Church literally obsesses him. Her ritual dominates his vision, and, like a sickly woman, he loves to finger the gorgeous livery of the Lord. He continually returns to this topic. He is exercised, almost haunted by the notion that outside of her pale salvation is impossible… Religion is one of his leading motives, art the other. [Schwab 266]
Relationships with Women
Moore was a dedicated bachelor, but had several more or less platonic relationships with literary women, including Olive Schreiner, a South African writer; Virginia Crawford, a Catholic essayist and reviewer; Maud Burke (Lady Cunard), a London society hostess; Pearl Craigie (pseudonym "John Oliver Hobbes"), a wealthy American heiress, novelist and playwright; and Hilda Hawthorne, granddaughter of Nathaniel Hawthorne.
Apart from these, Moore was involved in extended epistolary romances with women he never met. Adrian Frazier remarked convincingly that
Moore is happiest when sex is polymorphous: that is, when it is transferred from genital intercourse to touch and talk, to sight and speculation, to future prospects or long retrospection, where it can be indefinitely prolonged through thought. Sex that is only speculative, or better yet, speculations that are sexualized, he preferred to the brief deed of procreation. [Grubgeld 196]
References and Further Reading
Blissett, William F. "George Moore and Literary Wagnerism", Comparative Literature, 13.1 (Winter 1961): 52-71.

Brown, Malcolm. George Moore: a Reconsideration. Seattle: University of Washington Press, 1955.

Cave, Richard A. A Study of the Novels of George Moore. Gerrards Cross: Colin Smythe; 1978.

Chaikin, Milton. "The Composition of George Moore's A Modern Lover," Comparative Literature, 7.3 (Summer 1955): 259-264.

Cunard, Nancy. Memories of George Moore. London: Rupert Hart-Davis, 1956.

DiGaetani, John Louis. Richard Wagner and the Modern British Novel. Cranbury: New Jersey: Associated University Presses, Inc., 1978.

Dunleavy, Janet E. George Moore in Perspective. Naas: Malton, 1984.

Farrow, Anthony.George Moore. London: Prior, 1978.

Frazier, Adrian.George Moore, 1852-1933. New Haven: Yale University Press, 2000.

Gerber, Helmut E. "George Moore: From Pure Poetry to Pure Criticism", The Journal of Aesthetics and Art Critic. 25.3 (Spring, 1967: 281-291.

Edwin Gilcher. span class ="book">A Bibliography of George Moore

. Dekalb, Illinois: Northern Illinois University Press, 1970.

Grubgeld Elizabeth. George Moore and the Autogenous Self. The Autobiographies and Fiction. Syracuse: Syracuse University Press, 1994.

Heywood, Christopher. "Olive Schreiner's Influence on George Moore and D. H. Lawrence," in Christopher Heywood&rdquo,; ed., Aspects of South African Literature. London: Heinemann, 1976.

Hone, Joseph. The Life of George Moore. New York: The Macmillan Company, 1936.

____. The Moores of More Hall. London: Jonathan Cape, 1939.

Hughes, Douglas A., ed. The Man of Wax: Critical Essays on George Moore. New York: New York University Press, 1971.

Lagerfeld, Robert (compiler). George Moore, an Annotated Secondary Bibliography of Writings About Him. New York: AMS Press, 1987.

Owens, Graham, ed. George Moore's Mind and Art. New York: Barnes and Noble, 1968.

Mitchell, Susan L. George Moore. Dublin & London: Maunsel & Co. Ltd. 1916. Also available at www.forgottenbooks.org.

Moore, George. Esther Waters. 1894. Introduction by David Skilton. Oxford: Oxford University Press, 1999.

____. Confessions of a Young Man. (1916) London: William Heinemann, reprinted 1952; also available at www.forgottenbooks.org

___. In Minor Keys: The Uncollected Short Stories of George Moore. Introduction by David B. Eakin and Helmut E. Gerber. New York: Syracuse University Press, 1985.

___. Literature at Nurse, Or Circulating Morals: A Polemic on Victorian Censorship. 1885. Ed. by Pierre Coustillas. Brighton: Harvester, 1976.

___. George Moore on Parnassus: Letters (1900-1933) to Secretaries, Publishers, Printers, Agents, Literati, Friends, and Acquaintances. Edited by Helmut E. Gerber and O. M. Brack, Jr. Cranbury, NJ: Associated University Presses, 1988.

___. The Collected Short Stories of George Moore [5 vols.]. Ed. by Ann Heilmann and Mark Llewellyn. London: Pickering & Chatto, 2007.

Pierse, Mary, ed. George Moore: Artistic Visions and Literary Worlds. Newcastle: Cambridge Scholars Press, 2006.

Schwab, Arnold, T. "Irish Author and American Critic: George Moore and James Huneker." Nineteenth-Century Fiction, 8.4 (Mar., 1954): 256-271.

Sessa, Anne Dzamba. Richard Wagner and the English. London: Associated University Presses,1979.

Starkie, Enid. From Gautier to Eliot: The Influence of France on English Literature, 1851-1939. London: Hutchinson, 1960.
---
Last modified 5 July 2012