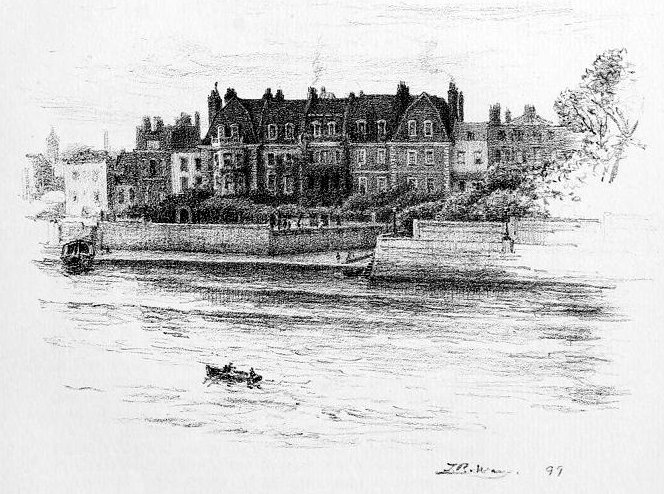 Lindsay Row. T. R. Way. Signed and dated 1899. Lithograph. Source: Reliques of Old London, 61.
Commentary by H. B. Wheatley from
Reliques of Old London
This handsome block of fine red-brick houses stands close to the Chelsea end of Battersea Bridge, and is now included in Cheyne Walk. It was originally built as one house by Robert Bertie, third Earl of Lindsay, Lord Great Chamberlain about 1668, and the two end houses, forming wings to the entire block, project slightly and are ornamented with stone dressings.
The site was originally occupied by a house built by the celebrated Sir Theodore Mayeme, physician to James I. and Charles I., who also lived in St Martin's Lane. He died at Chelsea, March 22nd, 1654-55, and was buried in St. Martin's churchyard. There is a fine portrait of Mayeme at the Royal College of Physicians.
Lord Lindsay bought the old house and rebuilt it. During Us lifetime it was occupied by the notorious Duchess of Mazarin, niece of the Cardinal (1694-99), one of the most prominent beauties of Charles II.'s court, and here the popular litterateur, St. Evremond, was domiciled in her house.
Subsequently Lindsay House was occupied by Francis Lord Conway, and his son Francis Seymour Conway, Marquis of Hertford (cousin of Horace Walpole), was born here in 1719.
Count Zinzendorf determined in 1750 to form a Moravian centre in England, and in 1751 he purchased Lindsay House, and obtained firom Sir Hans Sloane the gardens of Beaufort House for a graveyard. The stables of the same house he turned into a chapel. The brethren who inhabited Lindsay House were mostly missionaries, for whom it was intended that this should be a kind of "pilgrim house" and temporary home. Count Zinzendorf resided here as long as he remained in England. When subsequently the mansion was divided into five houses, the large house in the centre was named Lindsay House, and became the residence of Henry Constantine Jennings, generally known as "Dog Jennings," the celebrated connoisseur, who here preserved his magnificent collections which he ruined himself by collecting.
The house was afterwards occupied by the eminent engineers Brunel, father and son, and subsequently by Bramah, the inventor of the hydraulic press, and by John Martin, the painter.
In later days Mr. Whistler lived at No. 96 the easternmost house.
[You may use this image without prior permission for any scholarly or educational purpose as long as you (1) credit the Boston Public Library and the Internet Archive and (2) link your document to this URL in a web document or cite it in a print one.]
Bibliography
Way, T. R., and H. B. Wheatley. Reliques of Old London upon the Banks of the Thames and in the Subburbs South of the River. London: George Bell and Sons, 1909. [title page] Internet Archive version of a copy in the Boston Public Library. Web. 22 April 2012.
---
Last modified 22 April 2012