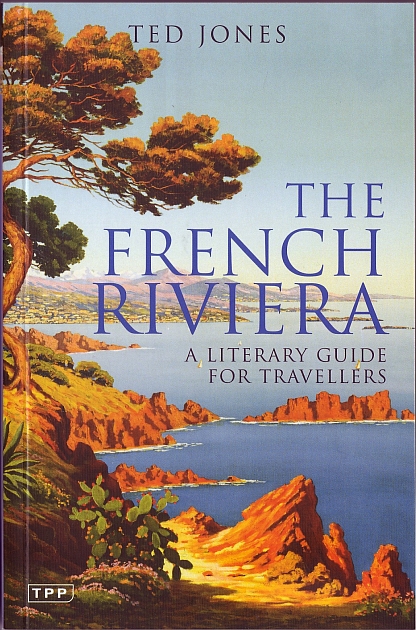 Front cover of the book under review, featuring La Cote d'Azur, a poster by M.Tangray, ca.1910.

number of Victorians were among the many writers who have visited or lived on the Riviera for health and other reasons, making Ted Jones's literary guide to the area an ideal companion-piece to
Michael Nelson's

Queen Victoria and the Discovery of the Riviera
(both paperbacks were issued in the same year by the same publisher).
Dealing with over 150 authors, ranging from Dante to J. G. Ballard, Jones has chosen to organise his guide according to place rather than period — a more convenient arrangement anyway for the literary pilgrim. His chapters are on Hyères, Cannes, Antibes, "The Back Country" (i.e.the foothills of the Alpes-Maritimes, including Grasse and Vence), Nice, Cap Ferrat, Monaco and Menton. A brief, reflective epilogue is followed by useful author profiles and several pages of bibliography. For the Victorianist, the main attractions will be accounts of visits to Menton by Thomas Carlyle, Augustus Hare, Algernon Swinburne and also Aubrey Beardsley, who spent his last two years there; visits to Hyères by Robert Louis Stevenson (who stayed in other parts of the Riviera as well); to Nice and Cannes by Edward Lear; and to La Napoule, near Cannes, by Oscar Wilde, after his release from Reading Goal. Dickens gets a mention for having made "brief visits into and through the Riviera" during his tour of Italy in 1844-45 (198-99): he had planned to visit Nice, but was prevented from doing so by quarantine restrictions; Tennyson is also mentioned in passing, for having gone through La Turbie on his way to the eastern Pyrenees. Others went out to the Riviera later on: Kipling, for example, spent his winters in Cannes and Hyères after World War I.
Carlyle's stay is one of the more noteworthy. He went out to Menton, where the French Riviera abuts Italy, in the winter of 1866 when he was already 71. Although he was heartened at first, enjoying his pleasant surroundings at the second Lady Ashburton's villa, and getting on well with his Reminiscences, he soon caught a cold. A "serial hypochondriac" who was not tubercular but was "prone to most other ailments known to science" (175), he was soon feeling low again, and returned to his home in Cheyne Row at the end of March 1867. Continuing in this anecdotal, rather humorous vein, Jones follows the description of his subject's stay with its sequel: Ruskin claimed that Carlyle reported having been greeted more respectfully in his superior attire by the French peasantry than he was by the common folk of England, something that Carlyle was forced to deny having said (although, in fact, it rings true enough). This titbit could have led to a few words about dandyism, which Carlyle lambasted in Sartor Resartus, but with which, it has been argued, he felt some affinity (see Adams 213). But of course the point here is simply to relate the chief connections between writer and place.
Perhaps Jones could have given a little more space to the more important literary visitors if he had been more selective: he has included well-known figures like Harpo Marx simply because they wrote their autobiographies. However, comprehensiveness is a virtue in this kind of book, and everyone will find something here to look out for when visiting the region. Besides, one of the pleasures of travelling is to have one's interest piqued. One can follow up Jones's intriguing clues at leisure, after the trip.
Related Material
Bibliography
Adams, James Eli. "The Hero as Spectacle." In Victorian Literature and the Victorian Literary Imagination, ed. Carol T. Christ and John O. Jordan. Berkley: University of California Press, 1995. 213-32.
Jones, Trevor. The French Riviera: A Literary Guide for Travellers. New York: Tauris Parke, 2007. 244 + xxv pp. £11.99. ISBN 978-1-84511-455-8.
---
Last modified 28 May 2011