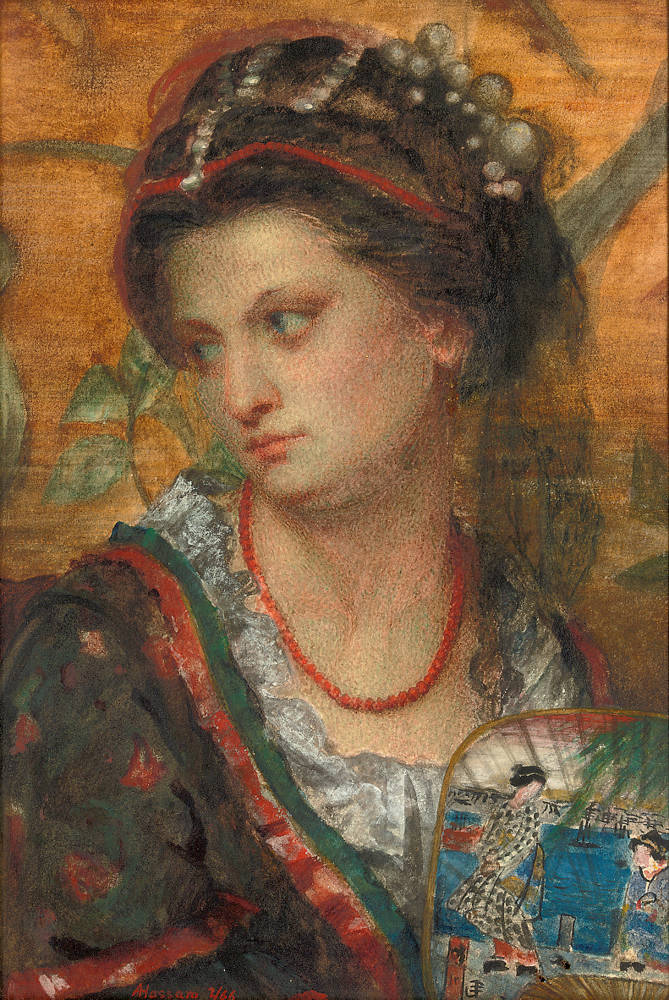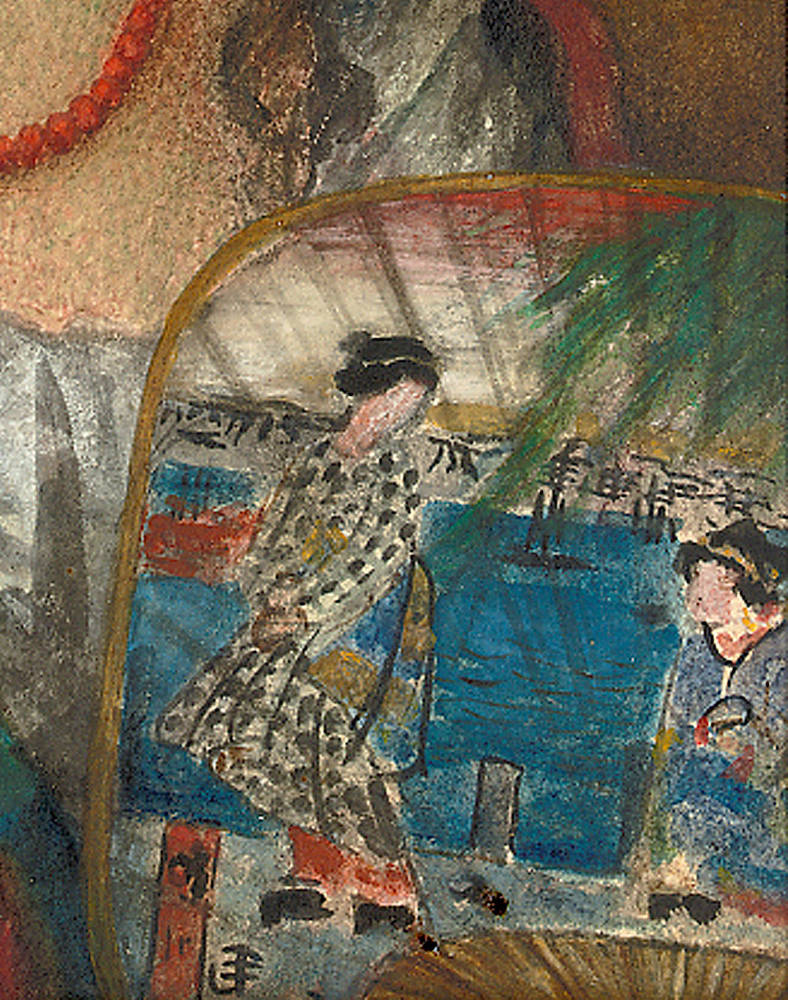 A Softened Luster in Her Eye by Alfred Hassam, 1866. Watercolour and gouache on paper, 915/16 x 67/8 inches (25.2 x 17.4 cm). Signed "A Hassam" and dated "2/66," lower left. Collection of the National Gallery of Canada. Accession no. 49233. Gift of the Dennis T. Lanigan Collection, 2020. [Click on images to enlarge them.]

ot a great deal is known about Alfred Hassam (1842-69), particularly his artistic training, but he likely studied at the South Kensington Schools. He began designing stained glass as early as 1858 at age sixteen. He is now best known for being one of the most innovative stained-glass designers for the firm of Heaton, Butler and Bayne. Hassam and Robert Turnill Bayne both joined Heaton Butler in around 1860. Hassam became one of the most progressive artists of his day but his promising career was cut short by his premature death from consumption (pulmonary tuberculosis) on June 2, 1869 at the age of twenty-seven. Hassam was principally a watercolour painter but also painted in oils. Between 1865-68 he exhibited sixteen works at various public venues including the Society of British Artists, the Dudley Gallery, and the Royal Academy. This particular work was shown at the Dudley in 1867, no. 18. The Dudley Gallery served as the principal artistic venue for young artists associated with the early Aesthetic Movement and this work would have been typical of those that gave the Dudley its particular notoriety.
This watercolour is surprisingly progressive for the year 1866, as avant-garde as anything produced at that time by Dante Gabriel Rossetti, Edward Burne-Jones, James McNeill Whistler, Albert Moore and their circle. How then did a young artist that few people have now ever heard of paint this extraordinary work? Hassam is not mentioned in any published artists' reminiscences dealing with this time period, perhaps because Hassam died so young, these reminiscences were written much later, and he was quickly forgotten. Henry Holiday was the one young artist with advanced tastes that Hassam must surely have come in contact with early on because Holiday had begun his association with the firm of Heaton, Butler, and Bayne in 1865. Through Holiday, Hassam could possibly have met Simeon Solomon and other members of the wider Pre-Raphaelite circle. Simeon Solomon was one of the artistic stars exhibiting at the Dudley Gallery and Hassam cannot have failed to notice his work there.
This watercolour in particular resembles the half-length paintings of women with flat decorative backgrounds that Rossetti and Frederick Sandys were painting in the 1860s. Similar decorative jewelry, including what appears to be a necklace of red coral beads, can be seen in their works from this period. The model also holds a Japanese fan. The Victorian artist best known for painting works that included Japanese accessories was, of course, Whistler and Hassam would have seen such works that Whistler had exhibited at the Royal Academy. There is no doubt that Hassam was interested in Pre-Raphaelite art. If Hassam had no direct contact with members of the wider Pre-Raphaelite circle, and didn't have access to their studios, then he can only have assimilated his Aesthetic Movement tendencies by seeing their works at exhibition, which makes this watercolour all the more of an impressive achievement.
On the old backboard of the painting are these lines of a poem:
A softened luster in her eye,
All crimson like the rose.
Scarce tinged her cheek"
It is unknown whether these lines of poetry were written by Hassam, or taken from a literary source, but if the later its origins so far have not been traced.
Bibliography
Waters, William and Carew-Cox, Alastair. Angels & Icons. Pre-Raphaelite Stained Glass 1850-1870, Worchester: Seraphim Press Ltd., 2012, 200-218, fig. 300. [Review]
---
Last modified 25 October 2021