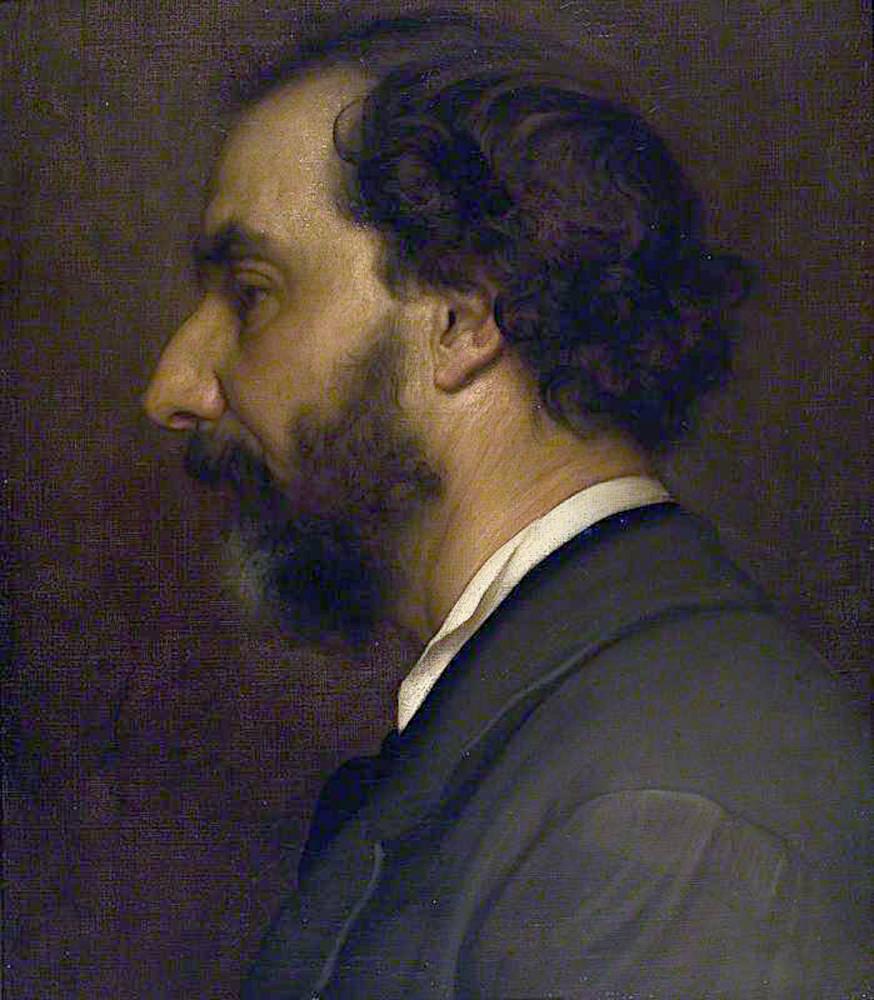 Portrait of Professor Giovanni Costa, c.1878. Oil on canvas; 29 x 251/4 inches (73.5 x 64 cm). Collection of Leighton House Museum, London, accession no. LH2187. Click on image to enlarge it
Giovanni Costa, better known as Nino Costa, was born in Rome on October 15, 1826. His father Gioacchino Costa was the wealthy owner of a wool-spinning factory. Although his family was initially opposed to his desire to train as an artist, when Nino was twelve he was introduced to the neo-classical painter Baron Vincenzo Camuccini who, after seeing his work, gave him advice and encouraged him to study nature and to work from life. In 1843, at age seventeen, he attended the Collegio Bandinelli for two years where he was taught drawing by Luigi Durantini. In 1845 Costa entered the schools of the Accademia di San Luca, studying under Vincenzo Camuccini and Vincenzo Coghetti, but did not find academic training and its conventions helpful.
Costa was an Italian patriot and a great supporter of the fight for Italian unity. In 1847 he joined the association of Young Italy. He served with the Legione Romane against the Austrians in Northern Italy in 1848 and joined the army of Giuseppe Garibaldi the following year in the unsuccessful defence of Rome against the French. After the fall of the Roman Republic in 1849 Costa lived mostly in small towns and villages in the Roman Campagna around Ariccia for much of the next decade in order to take refuge from the papal police. He still maintained a studio at No. 33, Via Margutta in Rome, however, which he was to occupy until 1902.
In the Roman Campagna, Costa devoted himself to landscape painting. His exile from Rome lasted until 1862. In 1859 Costa again served as a volunteer in Garibaldi's army fighting against the Austrians. After leaving the army in 1859 his involvement in this latest insurrection prevented him from returning to Rome. He therefore settled, albeit intermittently, in Florence where he became an influence on the innovative group of young Tuscan artists known as the Macchiaioli school of painters. Their ideas were based partly on Costa's teachings that the study of nature is the only true school for the artist. In 1863 his painting A Study of Olive Trees was shown in Paris at the infamous Salon de Refusés where it hung next to Whistler's famous Symphony in White No. 1. It was during this visit to Paris that Costa became reacquainted with Camille Corot and stayed with him for a few months at Barbizon. He also met other French artists like Troyon and Decamps.
Before returning to Florence, Costa made a short visit to London in 1862 where he stayed with Frederic Leighton, who introduced him to G. F. Watts and Edward Burne-Jones. In 1863 Costa again returned to England where he stayed with G. H. Mason at his mansion house Wetley Abbey in Staffordshire. Costa exhibited at the Royal Academy in London from 1869 onwards and in later years he was invited to exhibit his paintings at the Grosvenor Gallery and the New Gallery.
From November 1867 to August 1870 Costa lived in Florence with a studio at No. 10, Via San Frediano. In 1870 Costa was elected Professor of painting at the Accademia di Belle Arti in Florence but in August that same year he returned to Rome, the new capital of a united Italy. In the winter of 1883-84 he founded the Etruscan School at his studio in Rome. In 1885 he was involved in the founding of In Arte Libertas, which held its first exhibition in Rome in 1886. In 1896 he paid his last visit to England. He died of ischemic heart disease at his villa at Marina di Pisa on January 31, 1903. He was buried initially in the cemetery of Pisa but Rome decreed a public funeral for him and his remains were moved to Rome to the cemetery at Campo Verano.
Links to Related Material
---
Created 17 December 2022