When the Grosvenor Gallery opened, Tite Street was almost completely unknown and stark naked. Sewers had been laid and lampposts installed, but the lots were mostly vacant. The old Gough House stood in its austere brick form now converted to a childrens hospital, and opposite, a pair of architects-cum-property developers, Frederick Beeston and Francis Butler, had bought seven empty plots on the north-west side of Tite Street where construction had already begun on a row of red-brick, Queen Anne-style houses. The two architects jointly bankrolled the investment in a speculative gamble that paid off. One by one the houses were built, and less than a year later they all were inhabited. The riverfront of Chelsea had already changed dramatically. The mud banks had been replaced with a new tree-lined embankment. Along the new embankment from the Royal Hospital to the Chelsea Physic Garden, a row of elegant houses had been built. Numbers 4, 5 and 6 Chelsea Embankment, near the corner of Tite Street, were the work of E.W. Godwin. [33]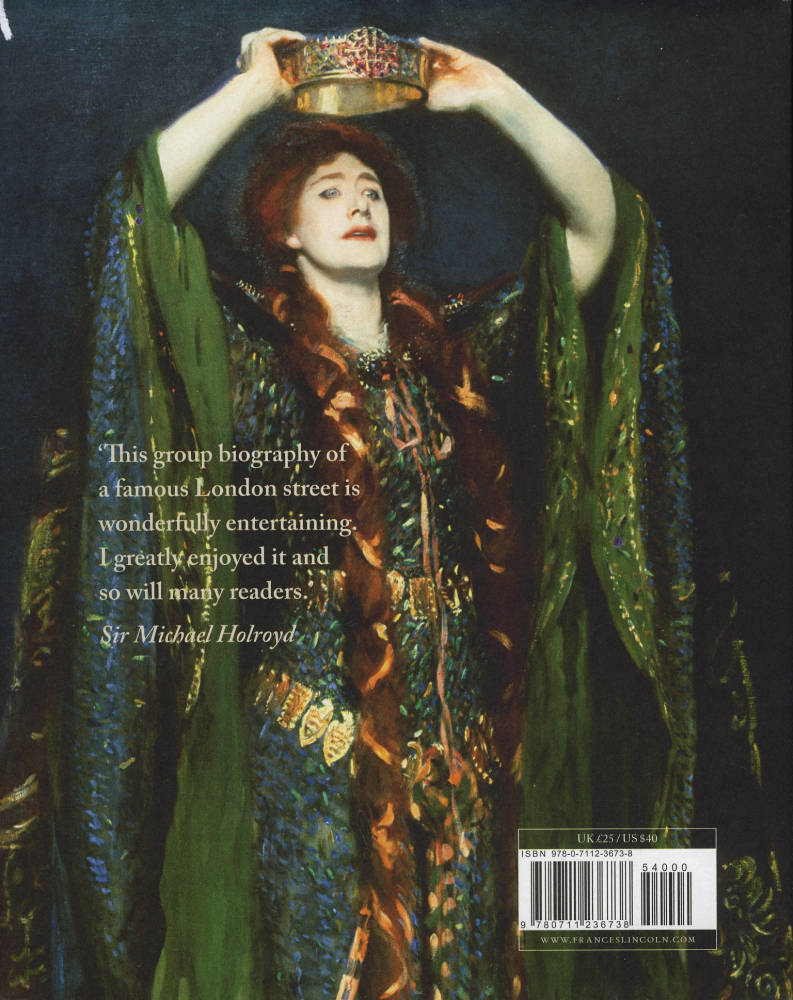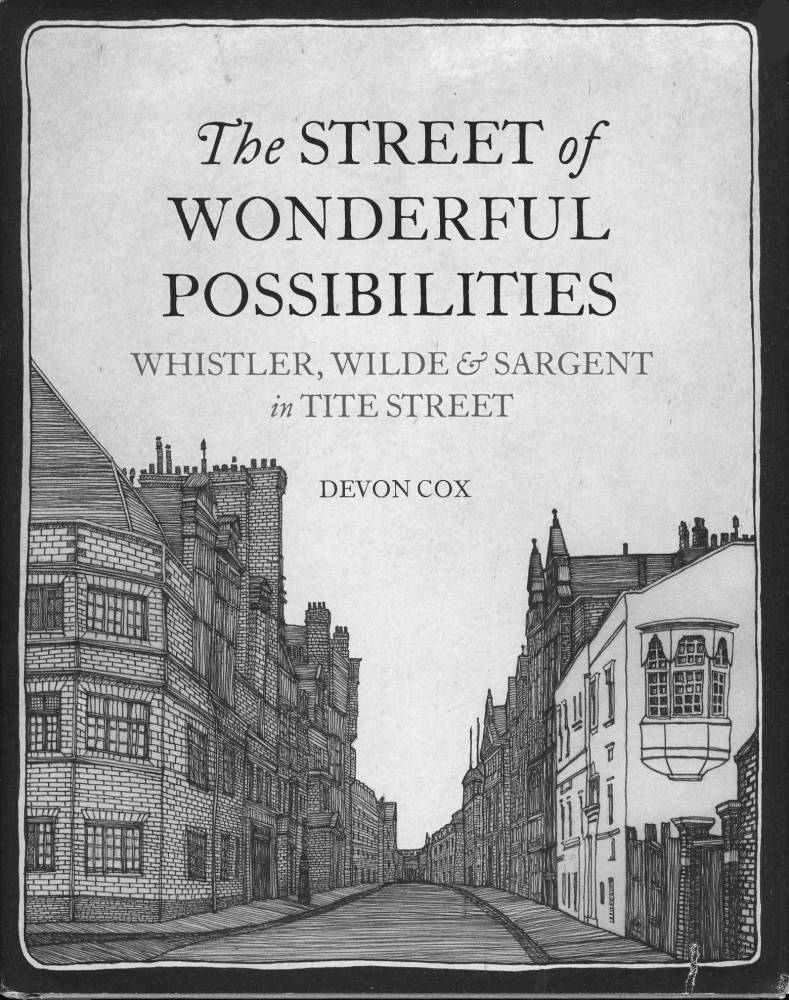 Devon Cox has succeeded brilliantly in creating a book that will fascinate and entertain the general reader, art historians, those interested in late-Victorian and early twentieth-century English culture. We've become familiar with family biographies, but Cox's book, as its title makes clear, makes a single Chelsea Street rather than a family the nexus in a complex network of people. Throughout this beautifully designed and lavishly illustrated volume, the author provides interesting and generally accurate information about major and minor figures. It usefully places the three main ones mentioned in the book's title — Whistler, Wilde, and Sargent — in the context of this neighborhood of artists and authors (sometimes the same person, as was the case with Whistler and Collier). I found particularly valuable the way Cox skillfully weaves lesser known, if still important and often very interesting, people into the lives of her major figures. Explaining the relation of E. W Godwin, who designed the homes in which Whistler, Wilde, and Sargent lived, to the development of Tite Street, for example, provides an excellent view of the relations of architect, client, and city officials while simultaneously helping characterize people central to the narrative. Cox's ability to create little set pieces traversed by multiple connections creates what anthropologists call thick description, and this in turn creates a rich sense of this now-vanished world.
Starting with Godwin and Whistler, The Street of Wonderful Possibilities takes us chronologically through the various circles surrounding each figure, pausing briefly to introduce us — and make us want to know more about — other artists. Take, for instance, the case of the married painters, John and Marian Collier. Cox relates that Marian, the daughter of Thomas Huxley, suffered terribly from postpartum depression after the birth of their first daughter, and during a brief recovery painted a portrait of her husband while he painted one of her (see below).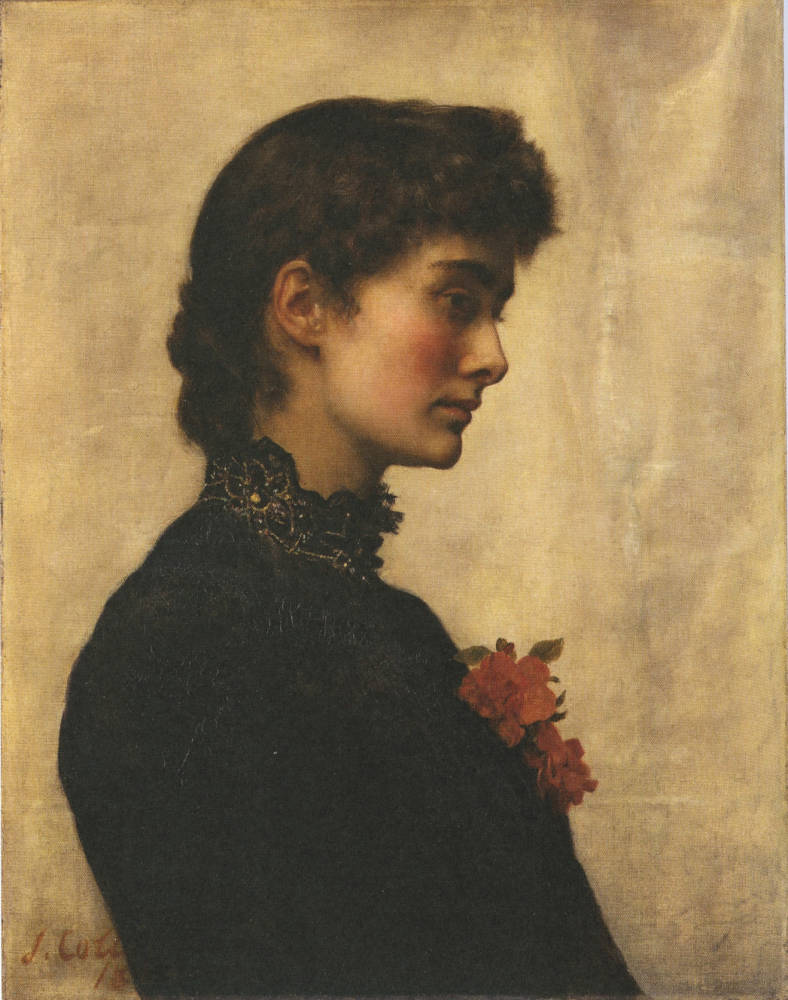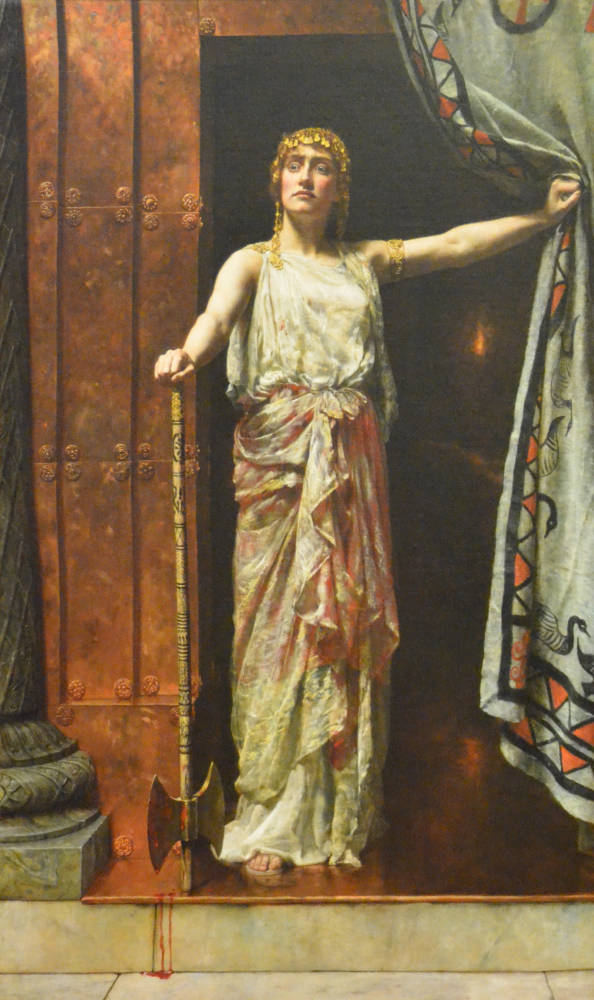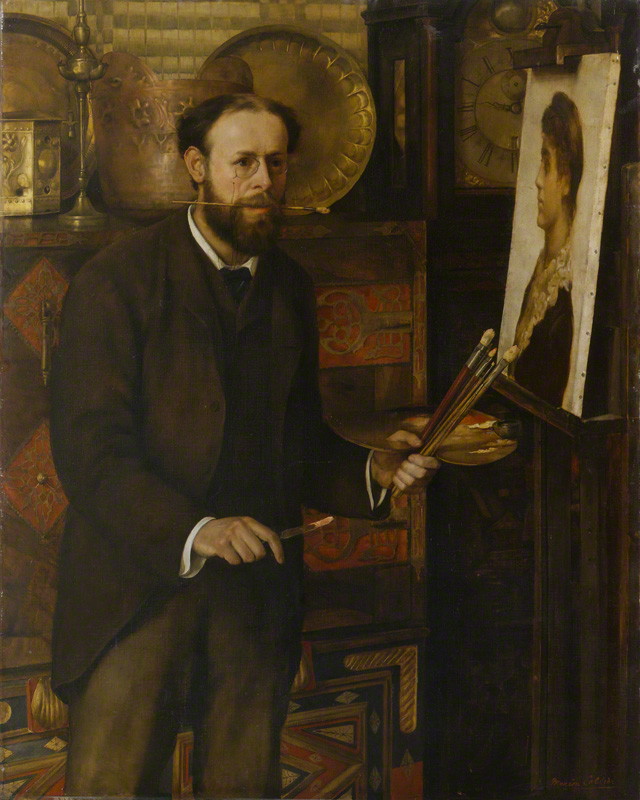 Left: Marian Collier (née Huxley) by John Collier. Middle: Clytemnestra by John Collier. Right: John Collier by Marian Collier. [Click on images to enlarge them.]
Pointing out that John Collier's "depictions of 'wild women' became part of a larger dialogue about gender that was raging in the late Victorian period," Cox also suggests that his "wild women and femmes fatales may have also been evoked from a personal, much darker motivation. They came from the imagination of a man who was trying desperately to understand the perceived 'madwoman' with whom he shared a bed" (119). The question of course is whether Collier's murderous Clytemnestra and female followers of Dionysus communicate his view of women (a matter of gender) or instead represent his way of expressing the terrible forces within all of us (a matter of human nature, both male and female). But we don't expect Cox to resolve that issue. Raising it is enough.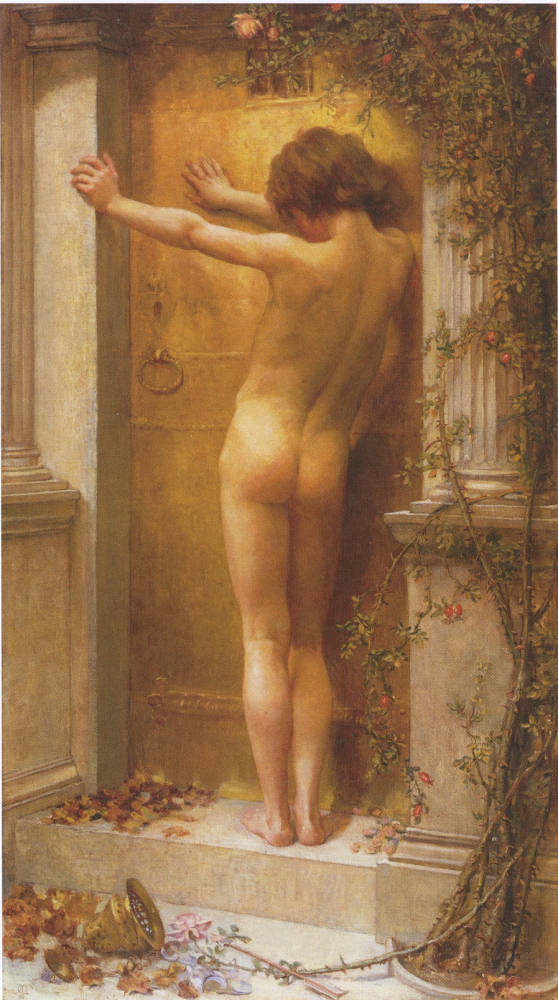 The Street of Wonderful Possibilities takes us next to the American-born painter Anna Lea Merritt, whose depictions of women contrast sharply with those of Whistler and Collier:
Merritt's women were altogether more natural, depicting vulnerability, futility, determination and strength simultaneously. In 1885 she attracted considerable attention with Eve, depicting the biblical Eve in the moment after she has bitten the forbidden fruit. Eve sits on the ground, her undraped figure in profile, her head bent on her knee in evident alarm and amazement; her reddish-golden hair makes a veil around her and cuts a far too yellow reflection on her bosom, while the apple-tree, laden with golden russets, hangs enticingly over her, and the one bitten apple rolls at her feet. [126]
One would certainly like to have seen this painting illustrated, but then the center of this chapter, and the work that gives it its title, is Merritt's Love Locked Out, which was "widely deemed the best painting of 1889" and which received the great honor of being presented to the Tate by the Trustees of the Chantrey Bequest. Love Locked Out (though Cox doesn't seem to realize it) is a another version, essentially a reworking, of William Holman Hunt's The Light of the World, a painting that she saw in the late 1850s when his works toured America and to which she alludes in another painting, I Will Give You Rest (124).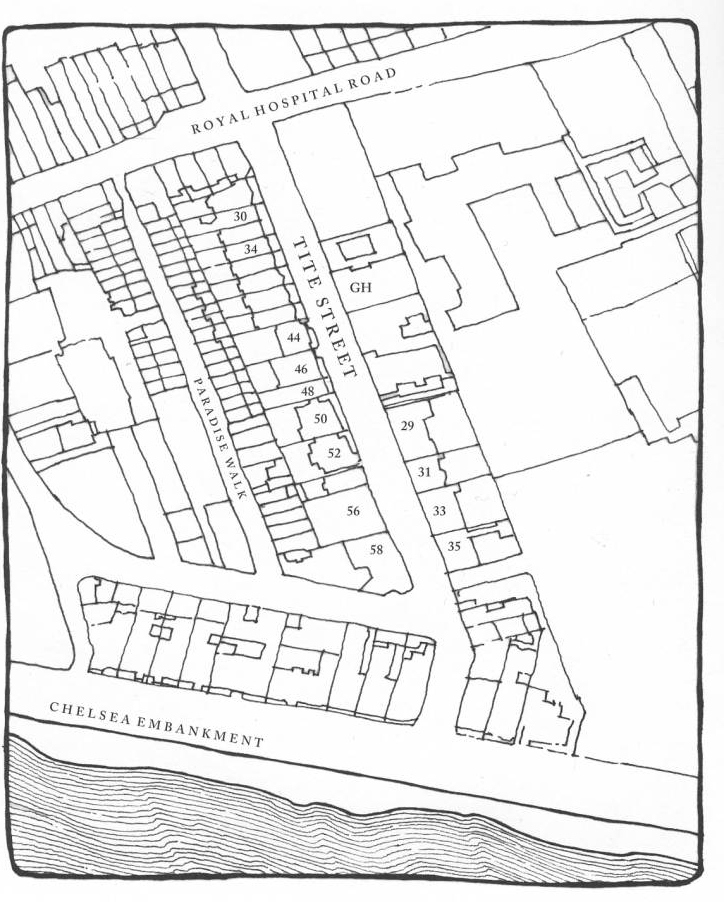 A map of Tite Street showing the location of homes of Abbey, Brough, Collier, Merritt, Sargent, Whistler, Wilde, and others. Click on image to enlarge it.
As The Street of Wonderful Possibilities progresses through the late Victorian years and beyond, we encounter among many others Oscar Wilde and his family, William Rothenstein, Aubrey Beardsley, Edwin Austin Abbey, Hannah Gluckstein, Romaine Brooks, Glyn Philpot, and in a final chapter, "The Last of the Titans," Augustus John. Throughout the illustrations that accompany the text valuably enrich our sense of the period and its people. These illustrations range not only from the familiar paintings of major figures but also those by little known artists, such as Robert Brough, Marian Collier, and Anna Lea Merritt, to photographs, among others, of Sargent's studio, a suffragette demonstration, and Justice Wills, the judge who presided at Wilde's trial and who also lived on Tite Street.
If the book has a weakness, it appears in its slightly out-of-focus discussion of Whistler, Ruskin, and the notorious trial. According to Cox, Ruskin believed that art "should serve a moral as well as an aesthetic purpose in cultivating and elevating society and should not exist solely for itself alone" (55-56). That's fairly accurate about Ruskin, but no one has ever believed that art should (or could) "exist solely for itself alone." In practice Baudelaire's notion of L'Art pour L'Art meant one of two things: First, épater les bourgeois (art exists to stun and annoy the middleclass and the middlebrow). Second, and more highmindedly, art should avoid social, political, and moral themes, concentrating instead on creating beauty; in other words, Art for Art's sake really meant "art for the sake of beauty and its elevating effects." At the same time, for Whistler, as for other artists, Art for Art's sake also clearly provided a means of making a reputation and making a living. Art was never for its own sake whatever that might mean. One must also point out that although Ruskin, whom Arnold Hauser credits with inventing the sociology of art, believed that the arts provide a way into a nation's soul and its morals, he thought art had no place for so-called morals. In fact, he urged that even children's literature should always avoid moral statements since its purpose was to entertain and to stimulate the imagination. (Sounds a lot like the pronouncements of those who advocated Art for Art's sake, doesn't it? Not surprisingly, Wilde was very much a disciple of Ruskin, who visited the Wilde's on Tite Street [133].) According to the second volume of Modern Painters, we naturally — and unconsciously — enjoy things we call beautiful because they figure forth the divine qualities. In other words, experiencing the beautiful is in itself a spiritual, moral act.
Nonetheless, despite an occasional glitch, The Street of Wonderful Possibilities has much to offer in both word and image. The tales it tells in its strong, clear writing make us want to know more about those long-vanished people who once lived on Tite Street.
Bibliography
Cox, Devon. The Street of Wonderful Possibilities: Whistler, Wilde, and Sargent in Tite Street. London: Frances Lincoln, 2015. Pp. 287. ISBN 978-0-7112-3673-8.
---
Last modified 18 May 2016