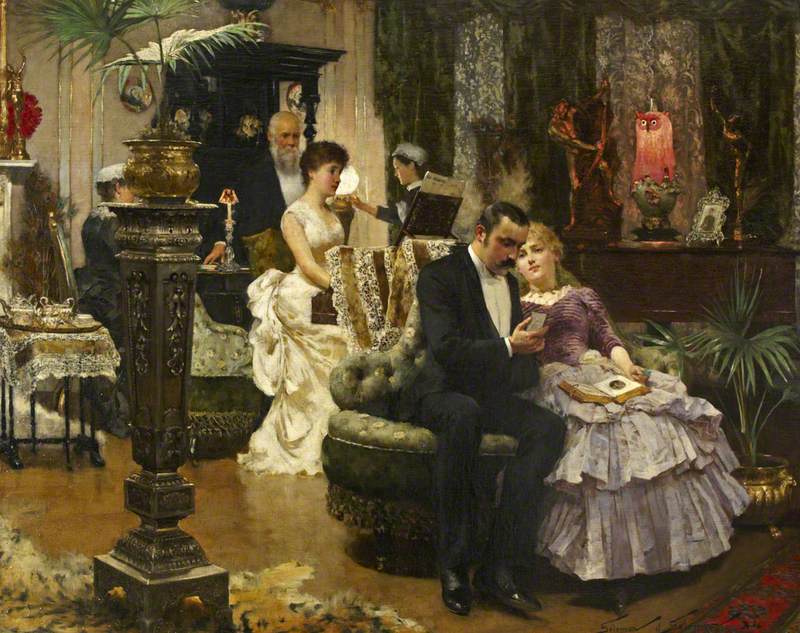 A Conversation Piece. 1884. Solomon J. Solomon (1860-1927). Oil on canvas, 97.5 x 122.5 cm. Collection: Leighton House Museum, London. Image capture, caption and formatting by George P. Landow, with added text by Jaccqueline Banerjee. [Click on the image to enlarge it.]
This painting, the work of Solomon in his early twenties, was displayed during a "Home and Garden" exhibition at the Geffrye Museum in East London in 2004. This was the second part of a show focussed on paintings in the domestic context, and had demonstrated the growth in popularity of genre and narrative painting as the Victorian period wore on — "if anything," said Richard Dorment, reviewing it at the time, "the change gives an even truer picture of how the middle classes saw themselves," and catches them "off their guard." Here, one young woman plays the piano, watched intently from behind by an older man, while (it would seem) a courting couple sit together on the sofa. There are two maids in the background, one apparently lighting a globe lamp. Dorment points out that here, as in other paintings, "the furniture in a picture is part of the narrative. That in Solomon Solomon's Conversation Piece is enormously expensive, but small clues such as a 'novelty' lamp in the shape of an owl hint that the people giving the fashionable dinner party may not have taste to go with their money."
Bibliography
Dorment, Richard. "Parlour Games." The Telegraph. 17 March 2004. Web.16 July 2018.
---
Created 2 February 2015