Introduction
Frank Bowcher (1864-1938) was born in Islington, as the son of the etcher, cartoonist and draughtsman Henry Bowcher (the name is sometimes spelt "Boucher"). He was one of Edward Onslow Ford's most important pupils at the National Art Training School in Kensington (see Stocker), and studied in Paris as well. His career took off after he produced a medallic portrait of the Khedive of Egypt in 1886: in the following year the Royal Mint commissioned him to produce designs for the Egyptian coinage. After that he received similar commissions — "from the City of London for the Visit of the King and Queen of Denmark, the Opening of Tower Bridge and the Diamond Jubilee; from the Geological Society for the Joseph Prestwich medal; and from the Royal College of Science for the Thomas Huxley memorial medal... In 1903, following the death of George William de Saulles, Bowcher stepped in to finish the great seal of Edward VII" ("Frank Bowcher").
Bowcher was one of the select group of founder-members of the Royal Society of British Sculptors, and a regular exhibitor at the Royal Academy. As his obituary in the Times noted, "He was a prolific artist, but as a great deal of his work was small in scale it was not very familiar to the public.... his reputation was made chiefly as a medallist and designer of seals" (18). One of his unsung works is the carving of cherubs round the font in the Arts and Crafts church, Holy Trinity, Sloane Square (see Reed 335). He also worked on bigger pieces, such as a memorial to Huxley for the Ealing Free library, and a similarly large one for the architect Charles Jones, intended for Ealing Town Hall, but now in Walpole Park nearby. — Jacqueline Banerjee
Related Material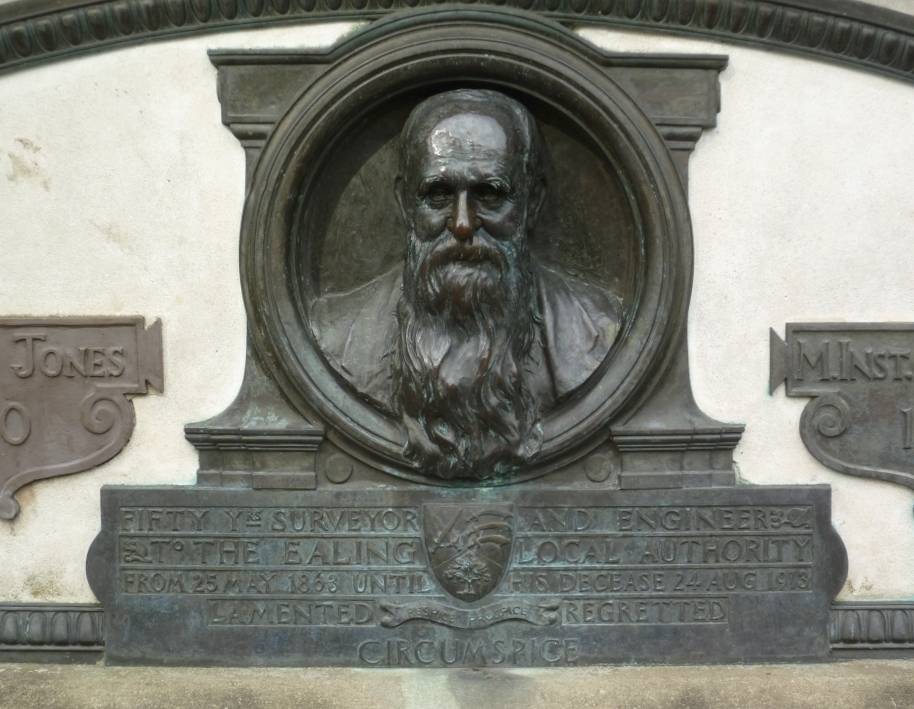 Sculpture
Medals — Royalty
Medals for Institutions and Societies
Medals for Individuals
Bibliography
Cherry, Bridget, and Nikolaus Pevsner. London 3: North West. Pevsner Architectural Guides. New Haven & London: Yale University Press, 2002. Print.
"Frank Bowcher." From The Concise Grove Dictionary of Art (2002) in Answers.com. Web. 5 March 2013.
"Notes." Nature, 66 (30 October 1902). Archive. Web. 5 March 2013.
Read, Benedict. Victorian Sculpture. New Haven and London: Yale University Press, 1982. Print.
Spielmann, M. H. "Our Rising Artists: Frank Bowcher, Medallist, with Some Comments on the Medallic Art." Magazine of Art. 24 (1900): 154-58. Hathi Digital Library Trust version of a copy in the University of Toronto Library. Web. 17 January 2018.
Stocker, Mark. "Ford, (Edward) Onslow (1852-1901)." Oxford Dictionary of National Biography. Online ed. Web. 5 March 2013.
---
Last modified 14 November 2019