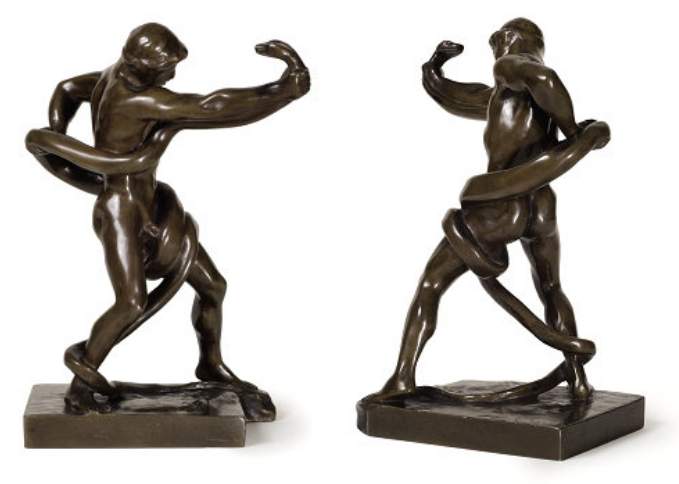 Maquette forAthlete Struggling with a Python by Frederic Lord Leighton, P. R. A. (1830-1896). c. 1877. Bronze, rich mid brown patination, 9 1/2 inches (24 c.). Private collection U. S. A.
Commentary from Robert Bowman's
Sir Alfred Gilbert and the New Sculpture
The clay models on which Leighton worked for the figures in his painting Daphenphoria (1874-76; Lady Lever Art Gallery, Port Sunlight) inspired him to produce his first sculpture Athlete Struggling with a Python. Leighton recollected that "some French sculptor — Dalou" (but more probably Alphonese Legros), had persuaded him to produce a full-size model. The work was undertaken in the studio of Thomas Brock, whose help he enlisted, and the model for the work was Angelo Colorossi.
The bronze was shown as the RA in 1877 (no. 1466) and when it was subsequently exhibited at the Exposition Universelle of 1878, Leighton was awarded a gold medal first-class. Several bronze reductions were made and a full-size marble was carved which was exhibited in 1891, reputed to have belonged to G. F. Watts and at the Victoria and Albert Museum (A.38 - 1954). Many of these sketches were given by Leighton to his friends and other artists of distinction. In all these sketches the composition varies from the final piece, since the python coils around the athlete and stretches between his feet across the base. [74]
Other views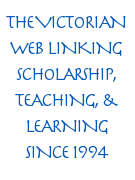 Bibliography
Beattie, Susan. The New Sculpture. New Haven: Yale University Press, 1983. Pp. 149, 190-91.
Bowman, Robert. Sir Alfred Gilbert and the New Sculpture. London: The Fine Art Society, 2008. Pp. 74-75.
Robert Bowman and the Fine Art Society, London, have most generously given their permission to use information, images, and text from Sir Alfred Gilbert and the New Sculpture in the Victorian Web. Copyright on text and images from their catalogues remains, of course, with them. [GPL]
British Sculpture 1850-1914. A loan exhibition of sculpture and medals sponsored by The Victorian Society. London: Fine Art Society, 1968. no. 101.
Ormond, Léonie and Richard. Lord Leighton. New Haven: Yale University Press, 1975.
---
Last modified 7 June 2008