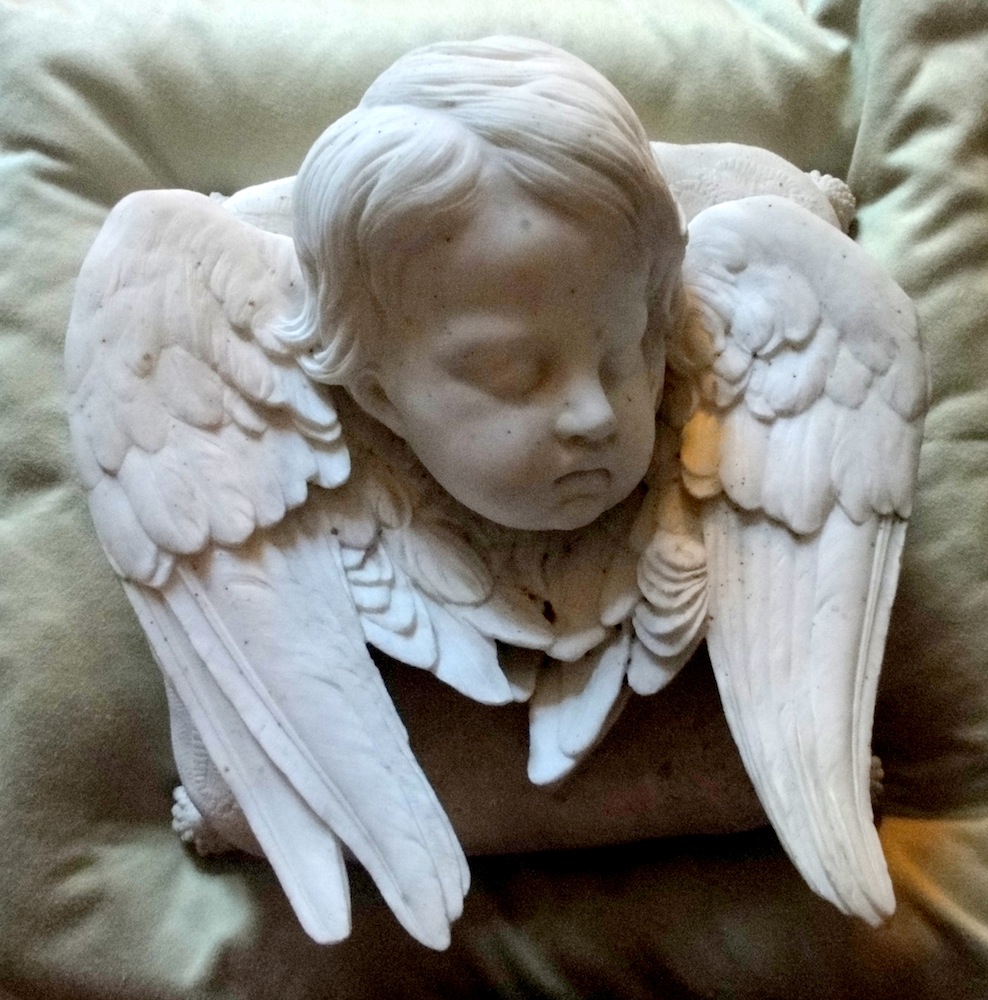 Sleeping Angel, Funerary portrait of Richard Marochetti (1854-1855), by his father Baron Carlo Marochetti (1805-1867). Marble. 16.5 x 33 x 32 cm., from a private collection. [Click on the images to enlarge them.]
Born on 22 January 1854 in London (Kensington), Carlo Marochetti's youngest son was named after the sculptor's English masterpiece, Richard I, Coeur de Lion, just as his brother Philibert / Filiberto had been named after the equestrian statue of Emanuele-Filiberto which had just been unveiled in Turin when the child was born (November 1838). As for the famous London statue, it was raised in Palace Yard on 20 January 1854. The erection of the statue, as Friday's Morning Chronicle recalls on 25 January 1854, was "only temporary, for the purpose of trying its effect and harmony with the new Palace at Westminster." This event explains why the baby was named Richard, three years after the Great Exhibition, where the plaster cast was installed at the western entrance and long before the bronze version was installed in Old Palace Yard at the end of 1860.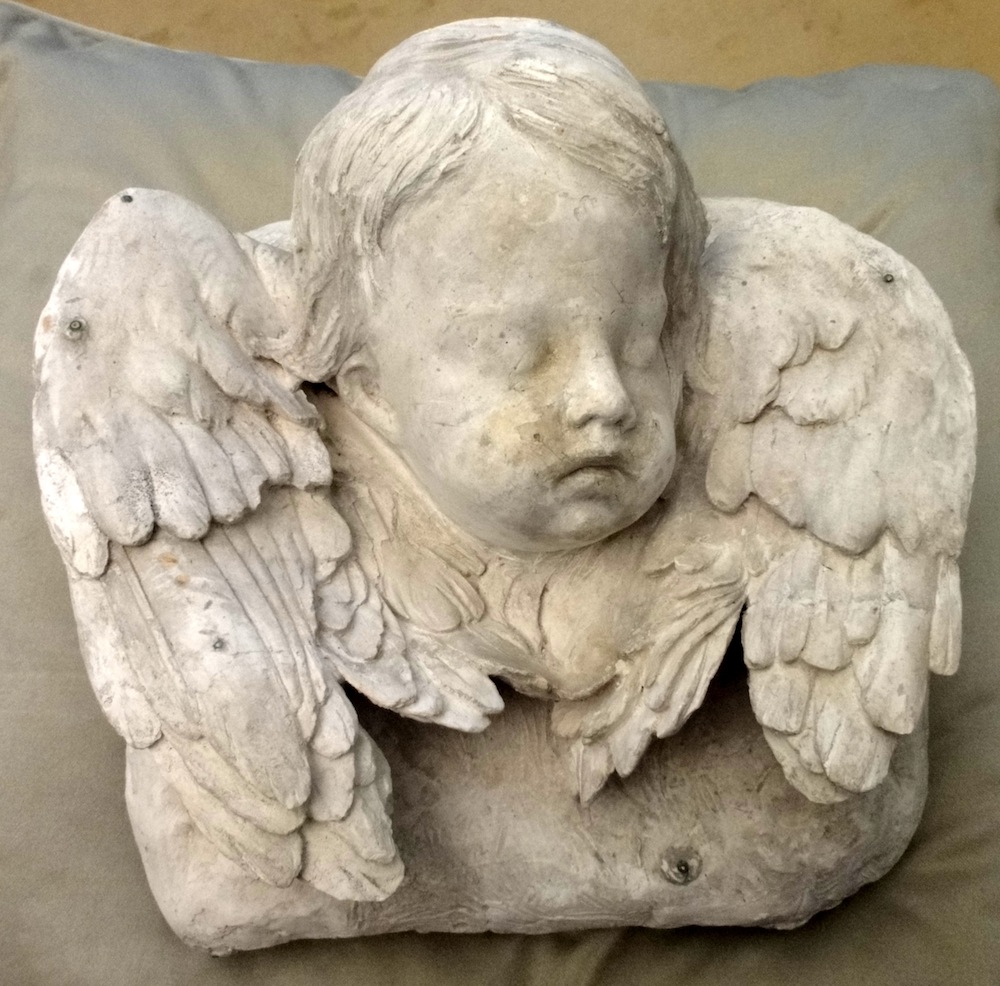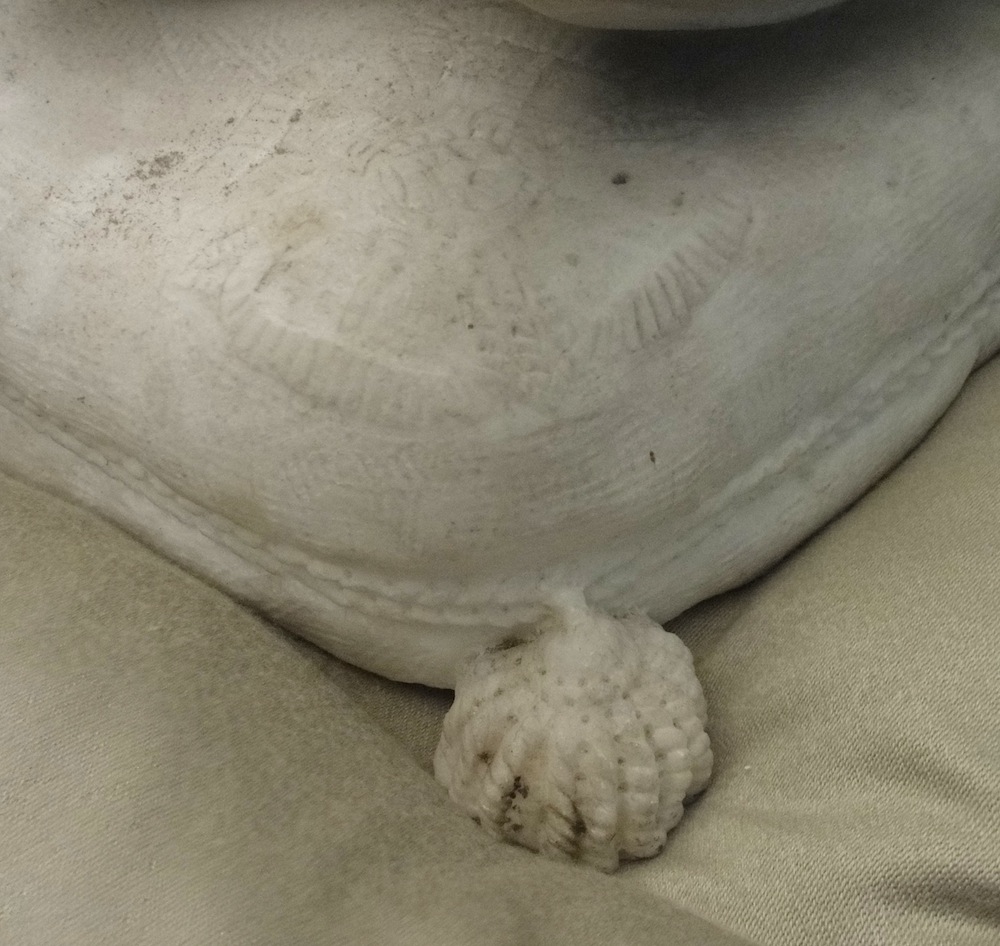 Left: The plaster-cast for the sculpture (the dimensions must be slightly different from the marble version). Right: A corner of the cushion, showing one of the four Tudor roses. Both from a private collection.
Born 14 months after Giovanna's death, little Richard / Riccardo was what we call today a replacement child. Unfortunately the little boy lived a very short life since he died, aged 20 months, of gastric fever, on 9 October 1855, at St Leonard's on Sea and was buried in All Souls Catholic Cemetery, Chelsea. Thackeray, Marochetti's neighbour and friend, was very upset by little Richard's death, as George Hodder recalls in his recollections, but the most moving testimony remains the letter Thackeray wrote to his friend Mrs. James on 11 October 1855, just before his second tour to America, where he intended to take with him Maurice / Maurizio, Richard's eldest brother: "Poor Maurice Marochetti can't go with me. His dear little brother, whom we all loved next door, is gone away to join God's little Angels, his mother is in dreadful grief: and Maurice must stay by her" (Two Hundred Extraordinarily Important Books, 190).
Echoing Thackeray's words, Marochetti's Sleeping Angel represents the little boy as a baby angel, the head with wings on either side, a traditional representation of an innocent soul rising directly to heaven. This Sleeping Angel is the funerary portrait of Richard Marochetti. The sculptor here worked under great urgency, in order to capture the features of the son he had just lost. The head is lying on a cushion, decorated on all four corners with Tudor roses, the symbol of England, where the child was born and died. Additionally, the funerary portrait recalls Grinling Gibbons' wood putti, which strengthens the English character of the work.
Related Material
Photographs by the author. You may use these images without prior permission for any scholarly or educational purpose as long as you (1) credit the photographer and (2) link your document to this URL or cite it in a print document.
Bibliography
"Statue of Richard Coeur-de-Lion in Palace-Yard." Morning Chronicle. 20 January 1854: 6. 19th Century British Newspapers. Web. 9 August 2014.
General Register Office, England.
Hodder, George. Memories of My Time: Personal Reminiscences of Eminent Men. London. London: Tinsley Brothers, 1870. Internet Archive. Uploaded from Robarts Library, University of Toronto. Web. 9 August 2014.
Two Hundred Extraordinarily Important Books, Manuscripts and Autograph Letters. On sale" by J. Pearson & Co. Mocavo (family history site). Web. 9 August 2014.
---
Last modified 4 April 2017