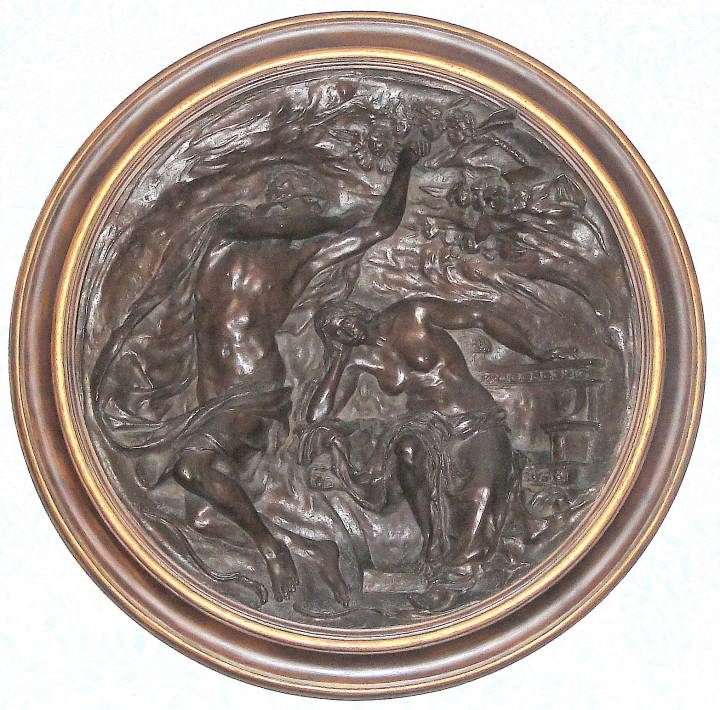 Ignis Fatuus by Henry Alfred Pegram (1862-1937). 1889? Bronze circular relief, 20 ½ diameter; 4 inches deep. In 1889 another cast of this work, which was purchased from the artist by the Trustees of the Chantrey Bequest, and given to what is now Tate Britain, appeared in a 1997 exhibition, The Age of Rossetti, Burne-Jones & Watts. (A third cast was included in the 1992 Fine Art Society exhibition — see bibliography). According to Robert Upstone,
The title translates as 'foolish fire', and is generally used to describe the phenomenon of marsh gas combustion, whose flame-like phosphorescence can sometimes be seen flitting over marshy ground. It is traditionally considered foolhardy to try to follow it into the marshes, and therefore 'Ignis Fatuus' became a description applied to foolish or deluded ventures. Pegram's relief shows a woman sitting on a throne, her head supported by her arm in an attitude that mixes boredom, despair and resignation. Like his broken bow, she has been forsaken by the man in warrior's garb who reaches up towards a group of extraordinary, Redon-like creatures with human heads and the bodies of birds, bats and insects. These are chimeras of his fantasies, imaginations and desires, and represent their ultimate folly.
Pegram was greatly inspired by Alfred Gilbert, and Ignis Fatuus is evidently partly indebted to his relief roundel Post Equitem Sedet Atra Cura (Behind the Horseman Sits Gloomy Care) c.1883-7 (Dorment 1986, no.88), which was exhibited at the Royal Academy in 1887. Similar in technique, format and modelling, this also warns of the danger and vanity of human aspiration.
There is another cast of Ignis Fatuus in the National Museum of Wales, presented by the sculptor William Goscombe John (1860-1952).
Beattie describes Pegram as a sculptor who "specialised in decorative and ideal work but never fulfilled early promise of Ignis Fatuus (p. 248).
References
Dorment, Richard. Alfred Gilbert. New Haven: Yale University Press, 1985.
Gibson to Gilbert: British Sculpture 1840-1914. Exhibition catalogue. London: The Fine Art Society, 1992. No. 47.
Wilton, Andrew, Robert Upstone, and others. The Age of Rossetti, Burne-Jones & Watts: Symbolism in Britain 1860-1910. Exhibition catalogue. London: Tate Gallery, 1997; pp. 234-35, no.101, reproduced in colour p.235
---
Last modified 24 April 2011