Photographs by the author, except for the ones of the Monmouth War Memorial, taken by Helen Steed, and William and Constance Taylor, kindly provided by Lindsey Stewart. Thanks too to Mike Clarke for access to his archive. [Click on all the images to enlarge them, and for more information about them, where available.]

illiam Willingale Taylor (1851 - 1935) was born in Kirkcaldy, Scotland in 1851. His father, William Taylor (c.1811-1881), was originally a mason by trade. However, he joined the Royal Artillery in 1833 and rose to the rank of sergeant but was discharged in 1847 due to disease of the lungs and, as he was deemed unfit to earn a living, was awarded a pension. He must have recovered some time after his discharge because he married, obtained work as a sculptor, and sired several children including another son John, two years William's junior, who was also to become a noted sculptor.
In 1884 William studied at the Lambeth School of Art in London, where he gained several national silver medals, but by 1888 he was resident in Cardiff, where he lived for the rest of his working life. He had a bust of the Roman senator Gaius Cassius exhibited at the 1888 Exhibition of the Royal Academy of Art. In the same year, along with Sir William Goscombe John and others, he was a founder member of the South Wales Art Society and Sketching Club (later The South Wales Art Society, which is still in existence). Between 1890 and 1927 he entered many exhibits at their annual exhibitions and won several prizes. He also exhibited and won prizes at National Eisteddfodau.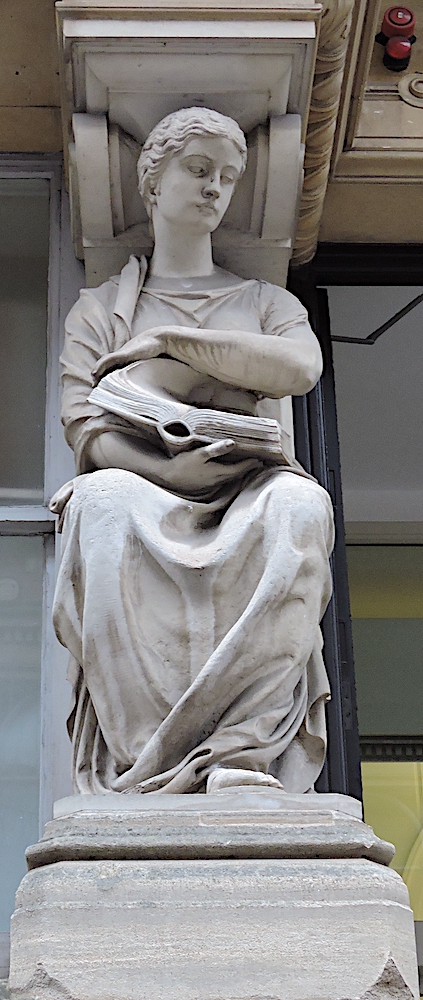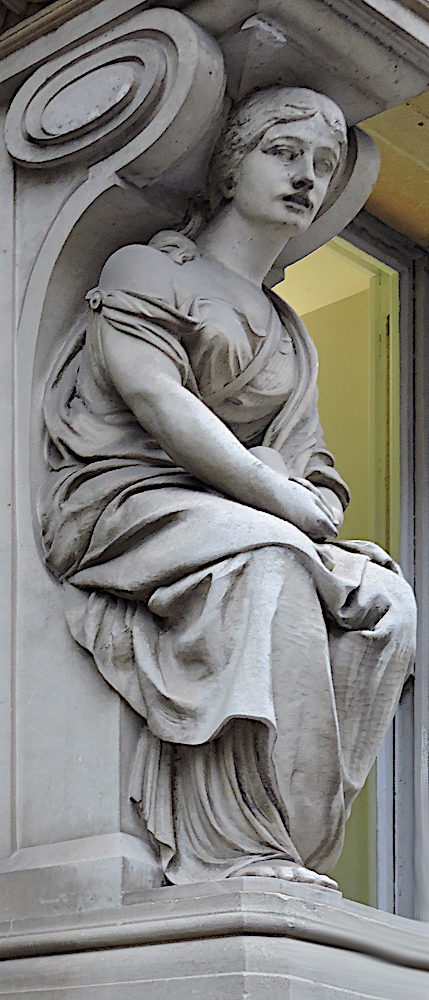 Left: Study, 1894.
Right: Rhetoric, 1894.
Perhaps his best-known works are the carvings at the entrance to Cardiff (Old) Library of Study and Rhetoric completed in 1894. These were not only carved by William but also designed by him and were modelled on his wife Constance née Cater (b 1867), whom he had married in 1893. Turner and Sons of Cardiff was the contractor for building the library, but the carving work was sub-contracted to the family firm of W. Clarke of Llandaff for whom William worked on many projects throughout his working life usually "on his own account."
In 1896 Clarke's certainly made the pulpit and very probably the font and reredos for All Saints church Pontardawe (now a private dwelling). These were all later moved to Ynysmeddwy church which is also now a private dwelling. The font is one of several to be found in the UK based on the design of Bertel Thorvaldsen's font in Copenhagen Cathedral. The face of the angel bears a distinct resemblance to the Cardiff Library figures modelled on Constance.
In 1899 William is known to have contributed carvings on the external elevations of two extensions at Insole Court in Llandaff. He later contributed to carvings on Cardiff City Hall (formerly the Town Hall) including the porch and figures of the four winds on the tower. He carved a statue of Florence Nightingale, designed by Sir William Goscombe John, which once stood in the grounds of Cardiff Royal Infirmary (at that time known as King Edward VII Hospital) and is now high up on the facade of the infirmary building.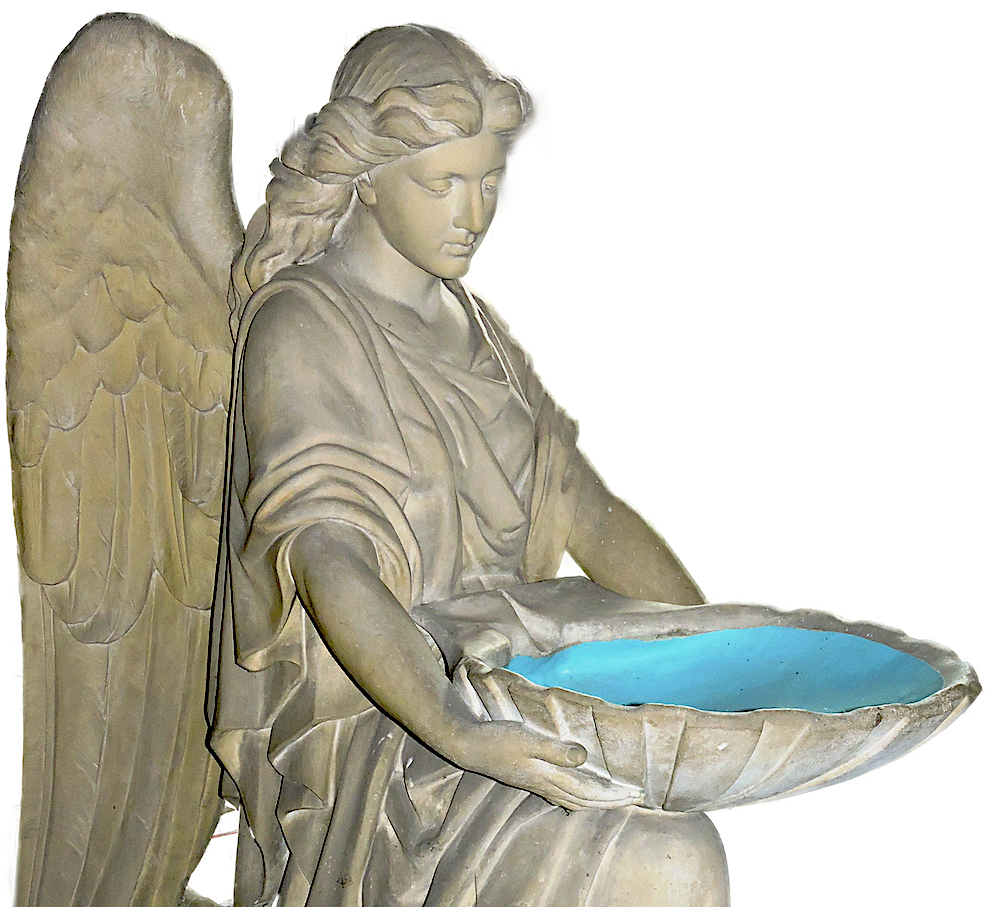 Left: Font for All Saints, Ponterdawe, 1896. Right: Carvings at Insole Court, 1899.
Later still he carved the figure of an infantryman for Monmouth war memorial. Interestingly this was first modelled in clay, a technique William undoubtedly learned at Lambeth School of Art, which had formed a strong association with Henry Doulton and his pottery works. He also carved the statue, again of an infantryman, for Llanharan war memorial and is known to have undertaken carvings for the Stroud School of Science and Art. His last known major works in Cardiff were carvings on the façade of the Medical School in Newport Road.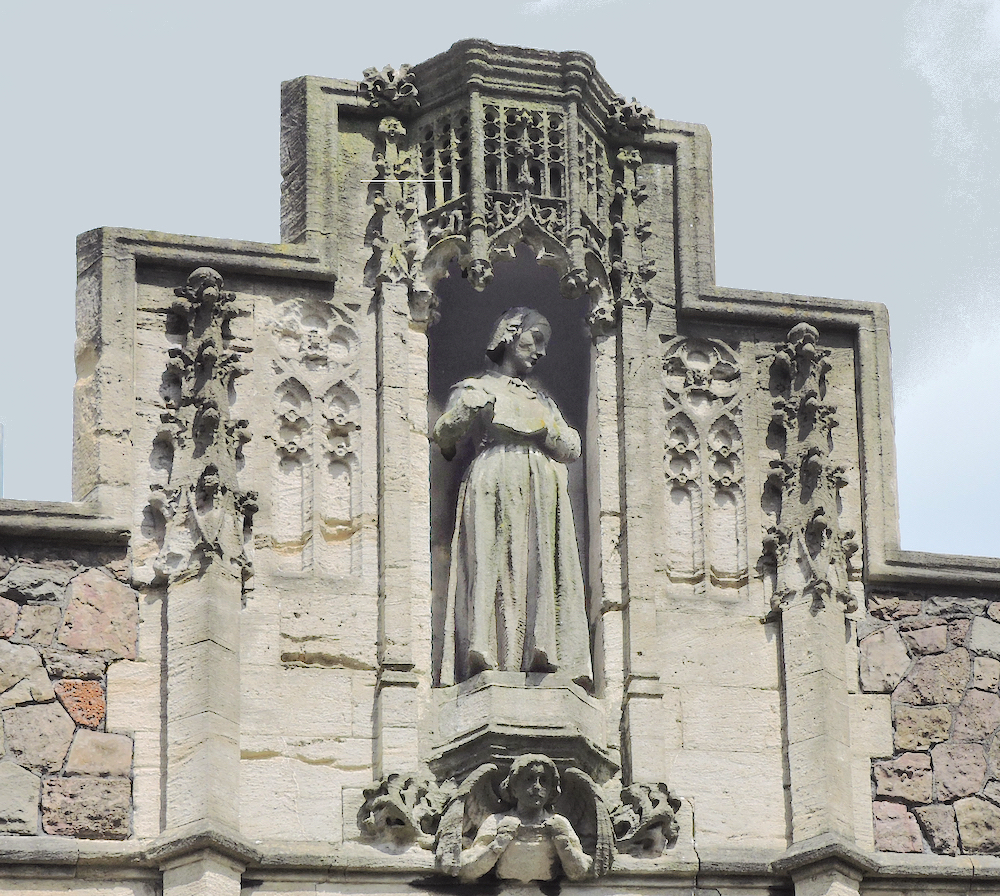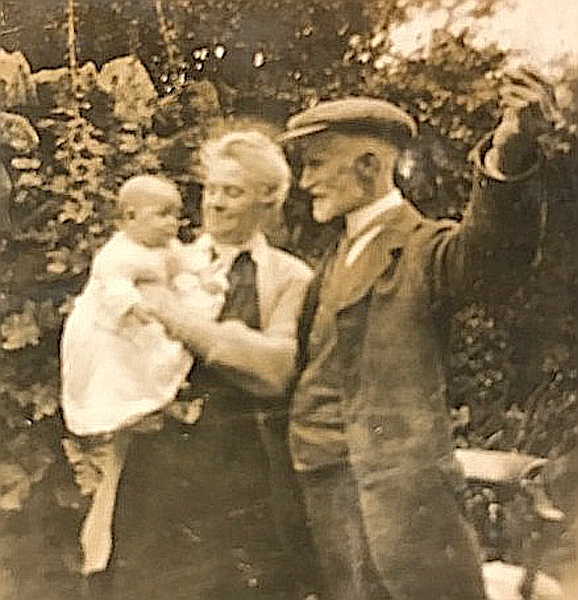 Left to right: (a) The statue of Florence Nightingale on the Cardiff Royal Infirmary, exhibited 1913. (b) The Monmouth War Memorial, with the figure of an infantryman carved by Taylor, dedicated 1921. (c) Photograph of Taylor with his wife and one of their grandchildren.
Towards the end of his time in Cardiff he lived at 12 Ryder Street, Riverside. Here, William and his wife Constance with one of their grandchildren were photographed in the back garden of this house, and one can readily see Constance's resemblance in the faces of Study and Rhetoric. William died aged 84 at his house "Willingale," Cheltenham Road, Evesham in 1935. He was the last surviving founder member of the South Wales Art Society.
Bibliography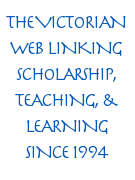 Andrew, Kate. "Hereford Reredos." Earth Heritage Trust News, Herefordshire and Worcestershire. Spring 2016. 18-19.
"Lambeth School of Art." Vauxhall History. Web. 26 November 2022.
"Our History." South Wales Art Society. Web. 26 November 2022.
"Sculptor's Death." Gloucester Citizen. 26 February 1935.
"Sculptor's Death." Monmouthshire Beacon. 1 March 1935.
Statham, Michael. "Undocumented Sculptures by Sir William Goscombe John." Church Monuments Society. Web. 26 November 2022.
"William W. Taylor." Mapping the Practice and Profession of Sculpture in Britain and Ireland 1851-1951, University of Glasgow History of Art and HATII, online database 2011. Web. 26 November 2022.
---
Created 25 November 2022