Photographs by the author. [You may use these photographs without prior permission for any scholarly or educational purpose as long as you (1) credit the photographer and (2) link your document to this URL in a web document or cite the Victorian Web in a print one. Click on the thumbnails for larger images.]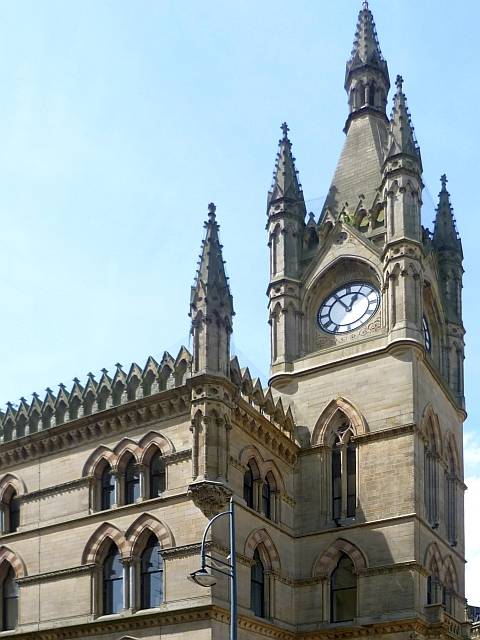 (Former) Wool Exchange, Market Street, Bradford. Listed Building. Lockwood & Mawson. 1864-67. Bradford sandstone, with red and yellow sandstone dressings. Very prominently sited on a triangular island between busy roads near the town hall. It is hard to overstate the significance of this key building, a kind of secular paean to Bradford's role as the hub of the wool trade, complete with rose window designs featuring the Star of David. As Leach and Pevsner say, it was "[t}he central symbol of C19 commercial Bradford" (134), so much so that the foundation stone was laid by Lord Palmerston himself, as Prime Minister. The architects were all local men. Henry Francis Lockwood (1811-1878) came from Doncaster, about 35 miles away, and had had a practice in Hull before going into partnership with Richard (1834-1904) and William (1828-29) Mawson in Bradford in 1849. In the architectural competition for this building, the firm defeated, amongst others, both William Burges and Norman Shaw.
The three-storey building has a grand clocktower and was clearly influenced by Flemish Cloth Halls like the one at Ypres, which also has a tower with four spiky bartizanned turrets, and sports a rather more fanciful spire. But other elements of the Wool Exchange are just as clearly Venetian Gothic. For example, the listing text picks out not only the polychromy but "the serrated openwork of the parapet cresting." Interestingly, the listing text suggests that Sir George Gilbert Scott's unexecuted design for Halifax Town Hall was a model as well. If so, it would have been one of several examples of major architects exerting an influence even when they failed to win a particular commission. Guarding intellectual property was not just a problem for writers.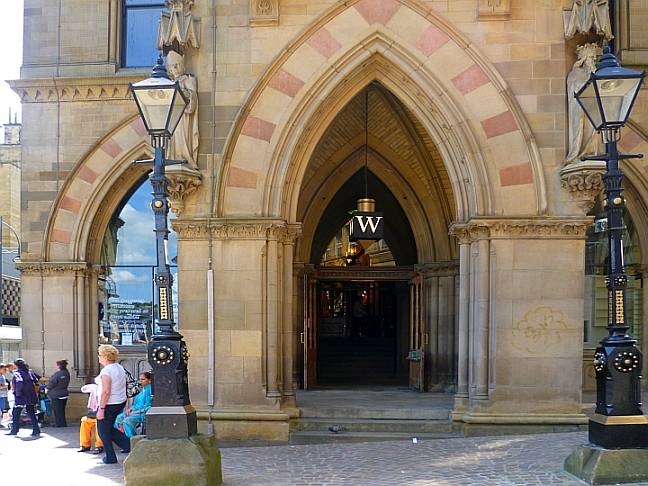 Other noticeable features of the exterior include portrait medallions in the spandrels of the ground floor arcades. The portraits along Bank Street are of those who opened up the world for trade — Raleigh, Drake, Columbus, and so on.. The portraits along Market Street (some of which are shown here) are of relevant worthies who in one way or another facilitated it, including Richard Cobden, Sir Titus Salt (who founded the model milltown of Saltaire), Robert Stephenson (shown more closely here), James Watt, Gladstone and Palmerston. At each side of the porch stand canopied statues, partly obscured by the lampposts. On the left is Bishop Blaize, the patron saint of wool-combers, and on the right King Edward III, who promoted the wool trade. Both are by the sculptor James Tolmie (d. 1866; see Leach and Pevsner 154).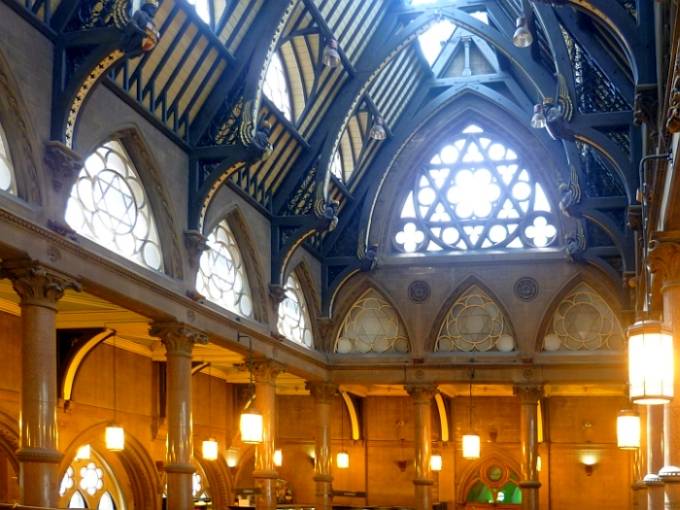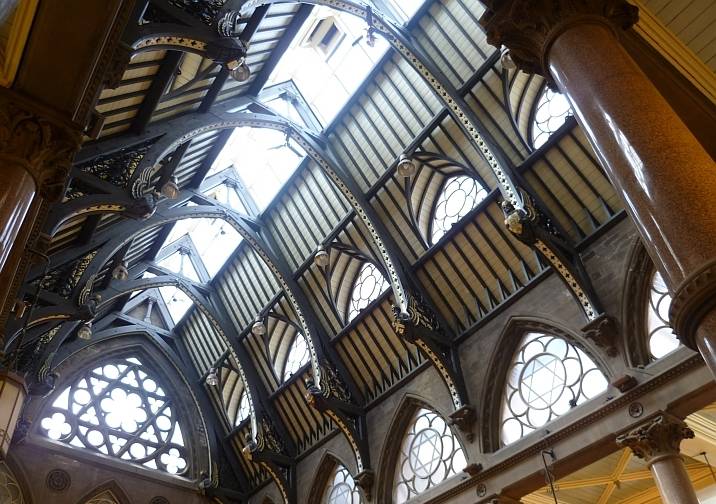 The main hall is very impressive, despite now being used as a bookshop and filled with shelves. It has polished pink granite columns, an ironwork balustrade to the balcony, attractively designed windows with fine iron tracery, and an eye-catching hammer-beam roof with wrought-iron decoration. Occupied by offices, as well as providing retail space, the Bradford Wool Exchange is still a stunning building, both inside and out.
Related Material
The Bradford Exchange and Ruskin's "Traffic"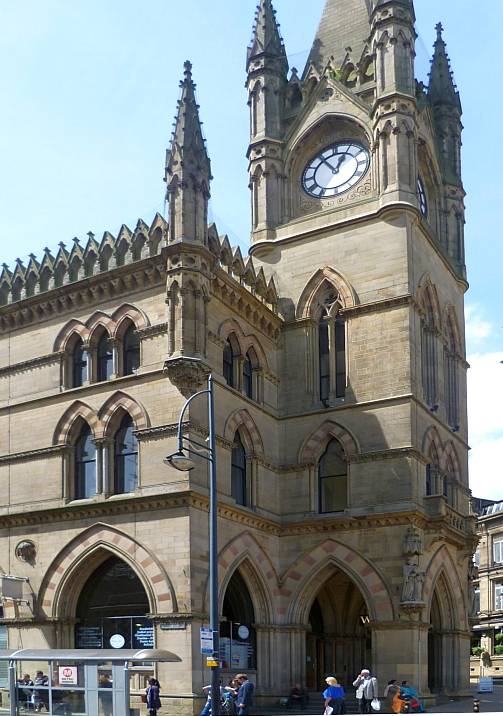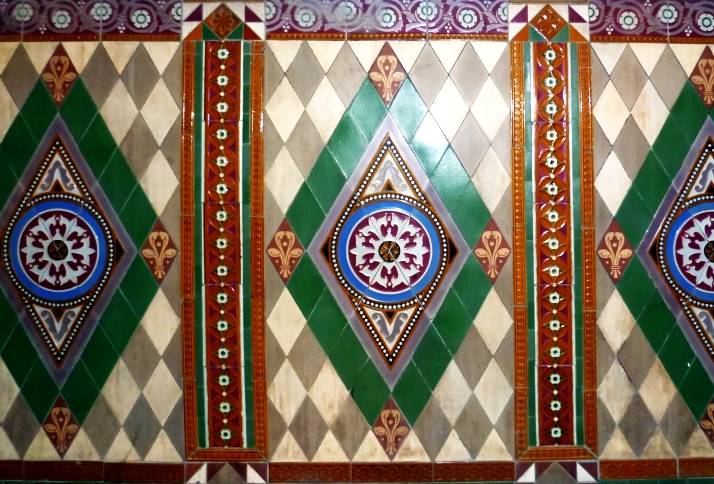 Lockwood and Mawson's beautiful Wool Exchange deserves mention not only because it stands out as a particularly beautiful example of a gothic revival commercial building but also because it occasioned one of John Ruskin's most important public lectures. At an early stage of planning for the exchange, a group of Bradford businessmen invited Ruskin to advise them about which architectural style this important building should have. His response took the form of a brilliant lecture, "Traffic" whose title suggests the sinful "trafficking in the temple," that Christ attacked when he drove out the moneylenders. Ruskin began by telling his listeners that he couldn't care about their planned mercantile exchange because they really didn't, and he added that only a just society can create great architecture. And a society like theirs that worships the "Goddess of Getting-on" while proclaiming itself Christian is not a just society. Then, having explained why he couldn't possibly advise them what style to employ, he does precisely that. Pointing out that Bradford builds its commercial buildings and homes in classical revival styles and churches in gothic, he explains what their taste in architecture suggests about them:
I notice that among all the new buildings that cover your once wild hills, churches and schools are mixed in due, that is to say, in large proportion, with your mills and mansions and I notice also that the churches and schools are almost always Gothic, and the mansions and mills are never Gothic. Will you allow me to ask precisely the meaning of this? For, remember, it is peculiarly a modern phenomenon. When Gothic was invented, houses were Gothic as well as churches. . . . But now you live under one school of architecture, and worship under another. What do you mean by doing this? Am I to understand that you are thinking of changing your architecture back to Gothic; and that you treat your churches experimentally, because it does not matter what mistakes you make in a church? Or am I to understand that you consider Gothic a pre-eminently sacred and beautiful mode of building, which you think, like the fine frankincense, should be mixed for the tabernacle only, and reserved for your religious services? For if this be the feeling, though it may seem at first as if it were graceful and reverent, you will find that, at the root of the matter, it signifies neither more nor less than that you have separated your religion from your life.
Drawing upon the evangelical William Wilberforce's immensely popular Practical Christianity, he shows that their taste in architecture reveals whether they are nominal Christians or real practicing ones. We have, he explains, "a nominal religion, to which we pay tithes of property, and sevenths of time; but we have also a practical and earnest religion, to which we devote nine-tenths of our property and six-sevenths of our time. And we dispute a great deal about the nominal religion; but we are all unanimous about this practical one, of which I think you will admit that the ruling goddess may be best generally described as the 'Goddess of Getting-on,' or 'Britannia of the Market.'" The building committee certainly must have listened to Ruskin, for they followed the sage's instructions and built this neo-gothic exchange, which does look rather like a cathedral, certainly more so than exchanges elsewhere — for example, Brodrick's oval Corn Exchange in nearby Leeds. Unlike the Oxford Natural History Museum on which he had an even greater and more direct influence, this one seems to fulfill Ruskin's idea that good architecture for the nineteenth century must combine gothic inspiration with a building's purpose and local conditions. — George P. Landow, Editor-in-chief, the Victorian Web
Related Material
Sources
Curl, James Stevens. Victorian Architecture. Newton Abbot: David & Charles, 1990.
Leach, Peter, and Nikolaus Pevsner.Yorkshire West Riding: Leeds, Bradford and the North. The Buildings of England series. New Haven & London: Yale University Press, 2009.
Winfrey, Jane. Bradford's Sculpture Trail." Bradford City Centre Management. Web. 26 July 2011.
The Wool Exchange, Bradford. British Listed Buildings. Web. 26 July 2011.
---
Last modified 26 December 2015