Henry Francis Lockwood (1811-78) was a northerner, born in Doncaster into a family involved in the building trade. His father and grandfather were both Mayors of Doncaster in their turn. He himself trained under the influential early-nineteenth century architect, P. F. Robinson, who designed the famous Egyptian Hall in Piccadilly. Through Robinson the young Lockwood had "a good architectural pedigree ... that covered both the Neoclassical and Gothic styles" (Linstrum 2). At the end of his articles, Lockwood superintended rebuilding works at York Castle. In 1834, he started his own practice in Hull, where another important northern architect, Cuthbert Brodrick, was his pupil; he was with him from 1837-43. In 1849, Lockwood moved to the booming industrial town of Bradford, joining the brothers Richard (1834-1904) and William (1828-89) Mawson as a partner in Lockwood & Mawson.
It was just the right time to be there: the partnership had its first big competition success soon afterwards, winning the commission to build St George's Hall, Bradford (1851-52). The three, with Lockwood as the head of the firm, went on to win the commissions for two more of Bradford's most distinguished buildings, the Wool Exchange (1864-67) and the Town Hall (1869-73). Another of their major successes was Saltaire, Sir Titus Salt's model milltown on the River Aire just outside Bradford and about ten miles from Leeds (1851-76). But before the end of that project, in 1874, Lockwood had left the partnership and moved to London. Here he designed the City Temple church on the Holborn Viaduct (1873-74), and St Stephen's Church in Twickenham (1874). He died at his home in Richmond Surrey in 1878, still aged 66. — Jacqueline Banerjee.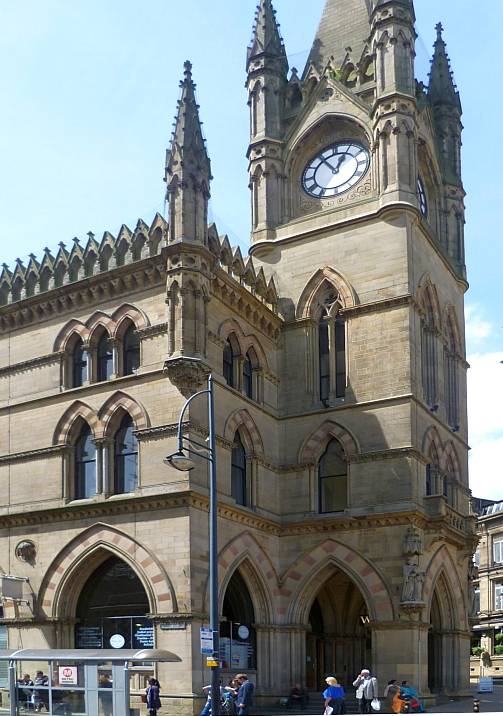 Works
Sources
Announcement of Lockwood's death. British Architect, Vol 10 (July - Dec. 1878), p. 43.
Curl, James Stevens. A Dictionary of Architecture and Landscape Architecture. 2nd ed. Oxford: Oxford University Press, 2006 (see p. 447).
_____. Victorian Architecture. Newton Abbot: David & Charles, 1990.
Linstrum, Derek. Towers and Colonnades: The Architecture of Cuthbert Brodrick. Leeds: Leeds Philosophical Society, 1999.
---
Last modified 11 October 2011