Nicholas as the tutor to the little Kenwigses (89) — Chapter 8, 3 ⅝ by 5 ⅝ inches (9.3 cm high x 14.2 cm wide), vignetted, sixth illustration in Charles Dickens's Nicholas Nickleby, Charles Dickens Library Edition (1910), facing IV, 97. Original caption: On the floor Nicholas was received by by Mrs. Kenwigs; here too he found Mr. Lillyvick and Miss Petowker; the four Miss Kenwigses on their form of audience; and the baby in a dwarf porter's chair with a deal tray before it, amusing himself with a toy horse. (206) [Click on the images to enlarge them.]
Passage Illustrated: More Satire of 19th c. Education
Nicholas Engaged as Tutor in a Private Family (August 1838), in which Phiz depicts Nicholas under the alias "Johnson" as the prospective tutor to the children of a social-climbing London bourgeois couple.
Nicholas, therefore, not being a high-spirited young man according to common parlance, and deeming it a greater degradation to borrow, for the supply of his necessities, from Newman Noggs, than to teach French to the little Kenwigses for five shillings a week, accepted the offer with the alacrity already described, and betook himself to the first floor with all convenient speed.
Here, he was received by Mrs. Kenwigs with a genteel air, kindly intended to assure him of her protection and support; and here, too, he found Mr Lillyvick and Miss Petowker; the four Miss Kenwigses on their form of audience; and the baby in a dwarf porter's chair with a deal tray before it, amusing himself with a toy horse without a head; the said horse being composed of a small wooden cylinder, not unlike an Italian iron, supported on four crooked pegs, and painted in ingenious resemblance of red wafers set in blacking.
"How do you do, Mr. Johnson?" said Mrs. Kenwigs. "Uncle — Mr. Johnson."
"How do you do, sir?" said Mr. Lillyvick — rather sharply; for he had not known what Nicholas was, on the previous night, and it was rather an aggravating circumstance if a tax collector had been too polite to a teacher.
"Mr. Johnson is engaged as private master to the children, uncle," said Mrs Kenwigs.   [Chapter XVI, "Nicholas seeks to employ himself in a New Capacity, and being unsuccessful, accepts an engagement as Tutor in a Private Family," 206-7]
Commentary: Nicholas returns to London under an Alias
Returned from Yorkshire to London, Nicholas casts about him for a suitable situation, turning down the ignominious position of secretary to Member of Parliament Mr. Gregsbury. However, he agrees to act as private French tutor the daughters of Newman Nogg's neighbours, the Kenwigses, for the sum of five shillings per week. He assumes the name of 'Johnson'.
Nicholas meets the Kenwigs family, including Lillyvick, through their mutual acquaintance, Newman Noggs, the Kenwigses' upstairs neighbour who lives in the garrett of their five-storey building, on the top-most floor. They are having to rent a suite of rooms rather than buy their own home because they are financially dependent on Lillyvick, Susan Kenwigs's wealthy uncle. Because they are determined to retain his favour and inherit his estate, the Kenwigs are constantly ingratiating themselves with him. Consequently they have given their baby the improbable Christian name "Lillyvick." In eight years of marriage, the couple have already had five children; the eldest, Morleena, being an awkward seven-year-old. As is appropriate for the social-climbing Kenwigses, the parents have determined that the four girls should learn the language of high society, French.
The Household Edition Renderings of the Kenwigses, 1875
​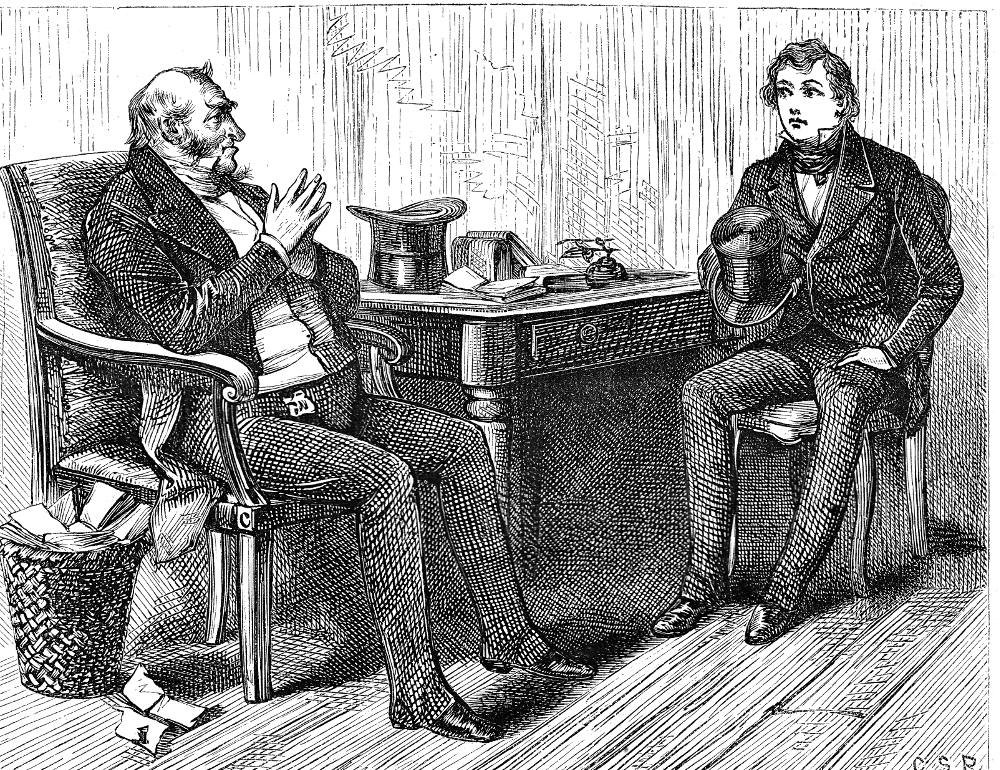 Left: Fred Barnard's British Household Edition illustration for the same chapter: There came into the office an applicant, in whose favour he immediately retired, and whose appearance both surprised and interested him. (1875). Right: C. S. Reinhart's American Household Edition illustration of Nicholas and the Kenwigses: "This is all very well, Mr. Nickleby, and very proper, so far as it goes" (1875).
Related material, including front matter and sketches, by other illustrators
Scanned images and text by Philip V. Allingham. [You may use these images without prior permission for any scholarly or educational purpose as long as you (1) credit the photographer and (2) link your document to this URL in a web document or cite the Victorian Web in a print one.]
Bibliography
Barnard, J. "Fred" (illustrator). Charles Dickens's Nicholas Nickleby, with fifty-eight illustrations. The Works of Charles Dickens: The Household Edition. 22 vols. London: Chapman and Hall, 1875. Volume 15. Rpt. 1890.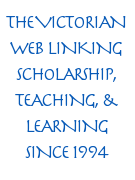 Bentley, Nicolas, Michael Slater, and Nina Burgis. The Dickens Index. Oxford and New York: Oxford U. P., 1988.
Davis, Paul. Charles Dickens A to Z: The Essential Reference to His Life and Work. New York: Facts On File, 1998.
Dickens, Charles. The Life and Adventures of Nicholas Nickleby. With fifty-two illustrations by C. S. Reinhart. The Household Edition. New York: Harper & Brothers, 1872. I.
__________. Nicholas Nickleby. With 39 illustrations by Hablot K. Browne ("Phiz"). London: Chapman & Hall, 1839.
__________. Nicholas Nickleby. Illustrated by Harry Furniss. The Charles Dickens Library Edition. 18 vols. London: Educational Book, 1910. IV.
__________. "Nicholas Nickleby." Scenes and Characters from the Works of Charles Dickens, being eight hundred and sixty-six drawings by Fred Barnard et al.. Household Edition. London: Chapman and Hall, 1908.
---
Created 20 April 2021