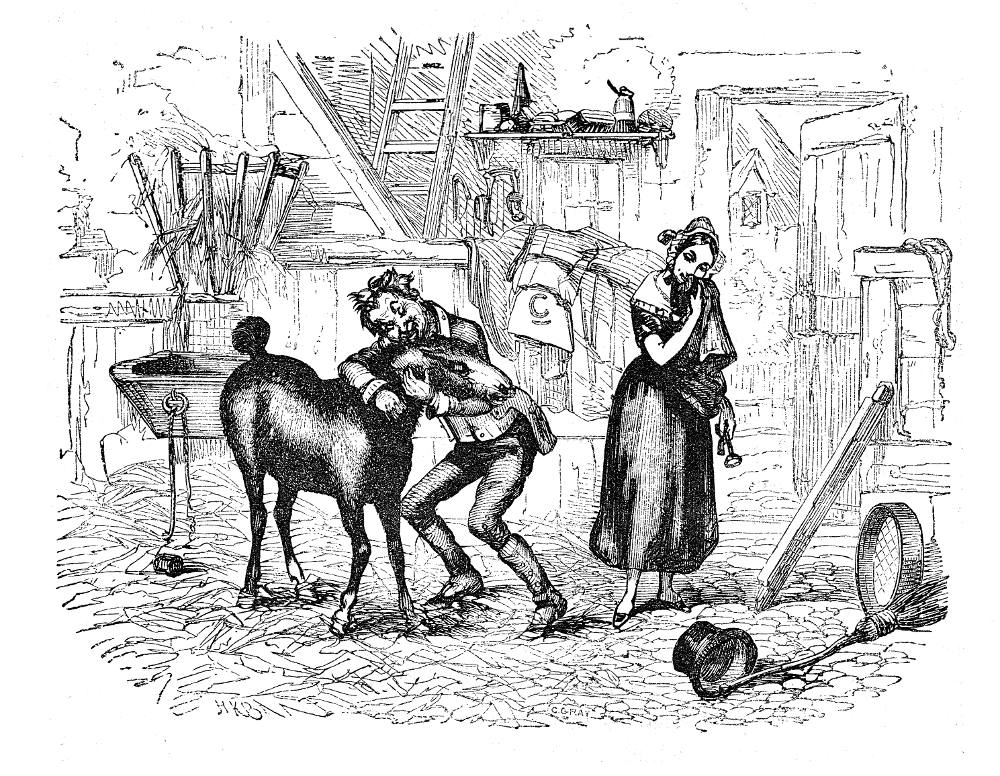 Kit's Visit to the Stable — Phiz's sixty-first illustration for the novel in Master Humphrey's Clock, Part 40. 3 ½ x 4 ½ inches (8.9 cm high x 11.4 cm wide). Charles Dickens's The Old Curiosity Shop, Part 37 (London: Chapman & Hall, 16 January 1841), Chapter 68, Vol. 2, 190. [Click on images to enlarge them.]
Context of the Illustration: A Romantic Closure
There is one friend he has not seen yet, and as he cannot be conveniently introduced into the family circle, by reason of his being an iron-shod quadruped, Kit takes the first opportunity of slipping away and hurrying to the stable. The moment he lays his hand upon the latch, the pony neighs the loudest pony's greeting; before he has crossed the threshold, the pony is capering about his loose box (for he brooks not the indignity of a halter), mad to give him welcome; and when Kit goes up to caress and pat him, the pony rubs his nose against his coat, and fondles him more lovingly than ever pony fondled man. It is the crowning circumstance of his earnest, heartfelt reception; and Kit fairly puts his arm round Whisker's neck and hugs him.
But how comes Barbara to trip in there? and how smart she is again! she has been at her glass since she recovered. How comes Barbara in the stable, of all places in the world? Why, since Kit has been away, the pony would take his food from nobody but her, and Barbara, you see, not dreaming that Christopher was there, and just looking in, to see that everything was right, has come upon him unawares. Blushing little Barbara!
It may be that Kit has caressed the pony enough; it may be that there are even better things to caress than ponies. He leaves him for Barbara at any rate, and hopes she is better. Yes. Barbara is a great deal better. She is afraid—and here Barbara looks down and blushes more—that he must have thought her very foolish. "Not at all," says Kit. Barbara is glad of that, and coughs — Hem! — just the slightest cough possible — not more than that.What a discreet pony when he chooses! He is as quiet now as if he were of marble. He has a very knowing look, but that he always has. "We have hardly had time to shake hands, Barbara," says Kit. Barbara gives him hers. Why, she is trembling now! Foolish, fluttering Barbara! [Chapter the Sixty-sixth, 190-91]
Household Illustrations from the Household and Charles Dickens Library Editions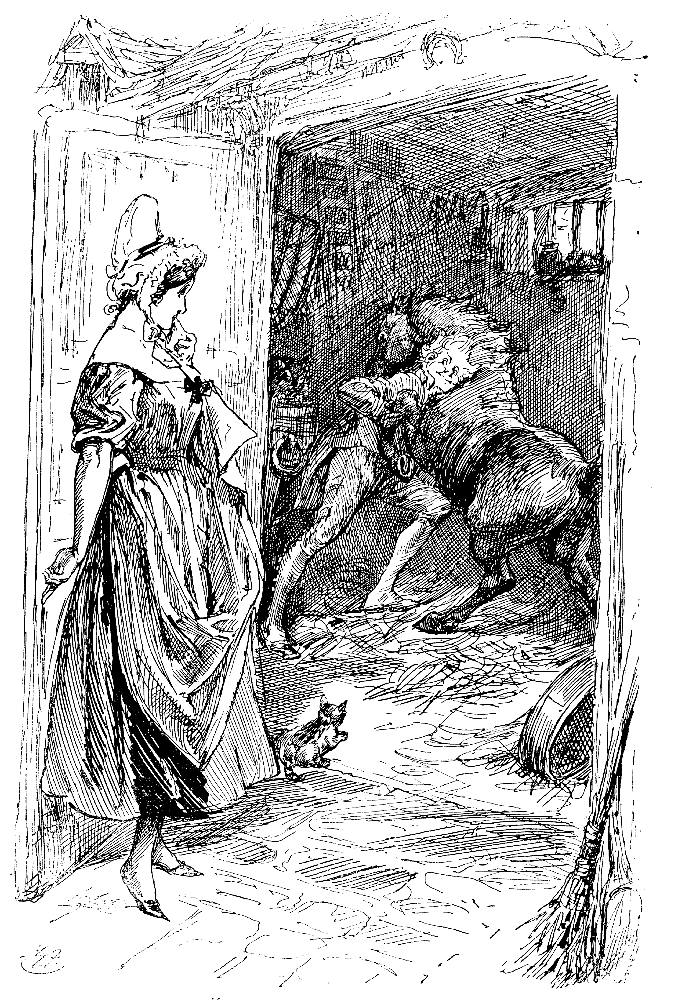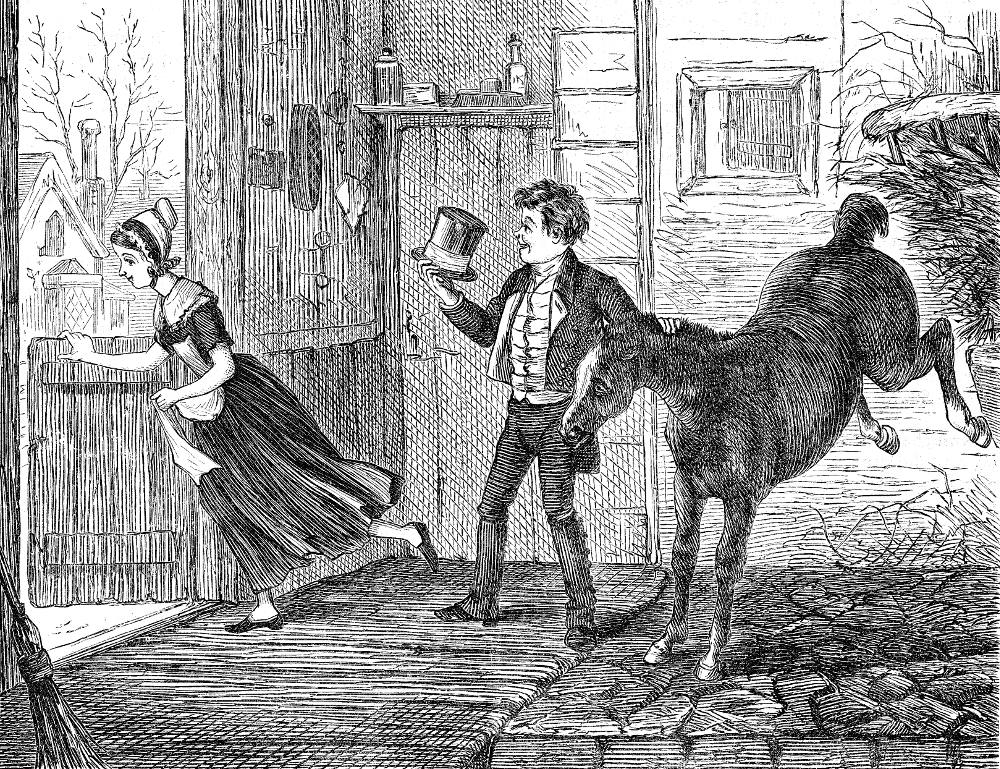 Left: Harry Furniss's penultimate illustration, Blushing little Barbara (1910). Right: Phiz's original "welcome home" scene at the Garlands' cottage was clearly the basis for this later illustration: The pony kicked up his heels and shook his head (1872).
Related Resources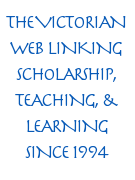 Scanned images and texts by Philip V. Allingham. [You may use this image without prior permission for any scholarly or educational purpose as long as you (1) credit the person who scanned the image and (2) link your document to this URL in a web document or cite the Victorian Web in a print one.]
Bibliography
Dickens, Charles. The Old Curiosity Shop in Master Humphrey's Clock. Illustrated by Phiz, George Cattermole, Samuel Williams, and Daniel Maclise. 3 vols. London: Chapman and Hall, 1840.
_____. The Old Curiosity Shop. Illustrated by Thomas Worth. The Household Edition. New York: Haper & Bros., 1872.
_____. The Old Curiosity Shop. Illustrated by Harry Furniss. The Charles Dickens Library Edition. 18 vols. London: Educational Book Co., 1910. Volume V.
Hammerton, J. A. "XIII. The Old Curiosity Shop." The Dickens Picture-Book. The Charles Dickens Library Edition. London: Educational Book, 1910. 170-211.
Vann, J. Don. "The Old Curiosity Shop in Master Humphrey's Clock, 25 April 1840-6 February 1841." Victorian Novels in Serial. New York: MLA, 1985. 64-5.
---
Last modified 13 November 2020